Site News
Warning: This wiki contains spoilers. Read at your own risk!


Discord and Twitter: If you would like, please join our Discord server, and/or follow us on Twitter at @FEWikiOfficial!
Travant
From Fire Emblem Wiki, your source on Fire Emblem information. By fans, for fans.
Travant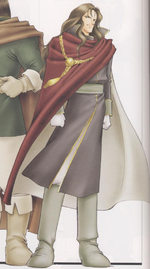 Artwork of Travant from Treasure.
| | | | |
| --- | --- | --- | --- |
| " | My sole desire is to see Thracia restored to Dáinn and Njörun's prosperous nation of old... and if doing so condemns me to hell, so be it. | " | — Travant |
Travant (Japanese: トラバント Trabant) was the king of Thracia during the era of the Grannvale Empire's rise, and a full-blooded descendant of the Crusader Dáinn and inheritor of Gungnir. A prominent figure in the strife facing the Thracian Peninsula, he played a key role in the downfall of the Munster District and was responsible for the deaths of Quan and Ethlyn of Leonster in the Aed Massacre, but was subsequently cowed into submission to the Grannvale occupation of the District led by Bloom. During Seliph's revolution against Grannvale in Grann 777, Travant led Thracia in opposition to Seliph's invasion of the Peninsula, seeking to reunify the Thracian Peninsula as one nation.
Biography
Path to the Aed Massacre
During the Agustrian civil war, Travant was hired by King Chagall to provide reinforcements for his army in resisting Sigurd, and so he deployed a unit of wyvern riders led by Papilio following Eldigan's execution; as soon as Papilio lost the battle, he lost interest in helping Chagall any further and left.
In Grann 761, Travant learned (either directly or indirectly) from Veld of the Loptr Church[1] of the passage of Quan of Leonster, his wife Ethlyn and his Lanceritter across the Aed Desert, and set out with a force of fourteen Thracian Wyvern Riders in pursuit. Slowed down as Quan's army was by the desert sand, Travant and his men quickly overpowered and slaughtered all of them, an event later known as the Aed Massacre. Upon finding that Quan's infant daughter Altena had been travelling with them, Travant took Altena and Gáe Bolg back with him to Thracia; before he left, he entrusted Magorn with the command of the Thracian unit and tasked them with attacking Sigurd's army as they crossed the Aed Desert en route to Grannvale. In the intervening years, Travant raised Altena as his own daughter alongside his biological son, Arion.
Alliance with Grannvale
Shortly after the Aed Massacre, with the defenses of the District depleted and vulnerable, Travant led the Thracian army in a full-scale assault on the north, beseiging the city of Munster, who fought with the aid of the Conote, Ulster and remaning Leonster armies. Partway through the battle, while the Thracian army and Travant waited to observe, the Conote army under General Raydrik turned on Leonster at the Great River of Thracia, slaying King Calf, obliterating its army and ensuring the fall of the Munster District to Thracia. Travant's hold on the peninsula's north did not last long, as the newly-christened Grannvale Empire responded to a plea for reinforcements from Ulster, soundly defeating Thracia's army and forcing it to retreat.[2] The Munster District came under the rule of the Friege family, was renamed the North Kingdom of Thracia, and Duke Bloom of Friege was instated as its king. Although Thracia retained its independence, Travant was forced into alliance with Grannvale, albeit a reluctant alliance on his part.
In Grann 776, Travant and Altena were guided by the Thracian knight Merlock to the valley in which Hannibal's mansion was situated, in order to observe the approach of an alleged bandit mob assaulting the locals (in reality, Leif's group seeking refuge under Hannibal's roof). When Altena noted there was no real reason for him to personally visit the situation, he remarked that it was advisable for him to know of his nation's events and that he enjoyed travelling with his children. After briefly telling her of his vision of a prosperous future for Thracia, he and Altena departed, leaving Merlock in charge of fighting the "bandits".
In Grann 777, following his defeat at Ulster, Bloom sent requests to Travant for reinforcements against Seliph's liberation army; Travant ignored these calls, intending to leave Grannvale and Seliph to weaken each other and leave themselves open to being defeated by Thracia.[3] His plans, however, backfired with the defeat of Bloom at Conote and Seliph's subsequent march on Thracia. In preparation for Seliph's march on Thracia, Travant forced General Hannibal into co-operation by having his adoptive son Coirpre/Charlot held hostage by another commander, Distler.
Following Altena learning and confronting him about her true heritage, he passed on Gungnir and the fate of Thracia's people to his son Arion before setting out to confront Seliph personally, explaining himself as having grown tired of the conflict and wanting to end it by handing himself over, if not without a fight.[4] In the following battle, he was killed.
First generation
Role
Travant is present as an antagonistic NPC in Chapter 5 of Fire Emblem: Genealogy of the Holy War. At the start of the enemy phase after conquering Lubeck Castle, Travant, Magorn and thirteen Wyvern Riders appear in the south-east corner of the map, all as neutral units. After they have killed Quan and Ethlyn, Travant leaves the map and any of his remaining subordinates become enemy units.
Stats
Second generation
Role
Travant is a boss in Chapter 9, deploying from Thracia Castle after Grutia Castle has been seized. His group travels north to attack Meath Castle, the player's starting point.
Stats
Role
Travant appears in the opening cutscene of Chapter 9 with Altena and Merlock, the chapter's boss. Visiting the region housing Hannibal's mansion with Altena, he talks about his vision for Thracia's future and wish to see an end to the suffering of its people. Travant later appears in Chapter 14, bringing a group of soldiers against Tahra helmed by McCloy. Travant explained to McCloy that he should pretend to help the empire's forces while only helping them minimally, and then once the empire's forces were weakened to take over Tahra for themselves. However, Arion convinced Travant to give him free reign to take over Tahra; Arion then convinced Linoan to hand control of Tahra to Thracia.
Role
Travant is playable as a SpotPass character, released in the "Others" character set. He is present as an enemy unit in the first and third installments of the Rogues & Redeemers DLC series.
Starting stats and growth rates
Reclassing options
See
reclass
for more details on the reclassing system.
Growth rates when reclassed
---
This section has been marked as a stub. Please help improve the page by adding information.
---
Promotion stat gains
Archer Barbarian Cavalier Dark Mage Wyvern Rider Fighter Knight Mage Mercenary Myrmidon Priest Tactician Thief
| Class | HP | Str | Mag | Skill | Spd | Lck | Def | Res | Mov | Weapon level |
| --- | --- | --- | --- | --- | --- | --- | --- | --- | --- | --- |
| Sniper | +4 | +2 | +1 | +4 | +3 | +0 | +5 | +3 | +1 | -- |
| Bow Knight | +8 | +3 | +0 | +2 | +4 | +0 | +1 | +2 | +3 | E, E |
Skill set
Like all male bonus units in Awakening, Travant has access to all base class and advanced class skills available to standard male units.
Role
Travant is one of the characters added to the game in the Gullinkambi update, and was made available to players in the thirty-ninth Grand Hero Battle, which initially ran from January 12, 2020 through January 19, 2020. Only one variation of Travant is currently available in Heroes, based on his Genealogy of the Holy War incarnation.
Starting stats
Initial Stats Level 40 Stats

Note: This unit requires the usage of Trait Fruit to access any flaws and assets.
Skill set
Skill set
Skill
Rarity
SP cost
Iron Lance
Innate
Steel Lance
Innate
Silver Lance
★★★
200 SP
Silver Lance+
★★★★★
400 SP
Glowing Ember
★★★
200 SP
Ignis
★★★★
200 SP

B

Vantage 1
★★★
50 SP

B

Vantage 2
★★★
100 SP

B

Vantage 3
★★★★
200 SP

C

Flier Guidance 1
★★★
60 SP

C

Flier Guidance 2
★★★★
120 SP

C

Flier Guidance 3
★★★★★
240 SP
Personality and character
As is inevitable from one raised in as harsh a nation as Thracia, Travant was blunt, cunning and ruthless, willing to go to any means to further his cause, including hiring himself and his army out as mercenaries;[5] he was not, however, totally committed to his mercenary work and had no interest in staying around to die for a lost cause.[6] He held a strong enmity toward Leonster's royalty, given their status as the primary obstacle between him and the realization of his ambitions, but nonetheless saw the value of raising a scion of the family – Altena – as his own if only for access to Gáe Bolg, though he was loath to admit it to his subordinates. Though he cared for both his true son Arion and Altena, he was more than ready to tell them to stop questioning him if he did not appreciate their advice.
Travant was above all else thoroughly committed to the future of Thracia, seeking to improve the quality of life of his people through the reunification of the peninsula.[7] He was well aware of the nature of his methods, and considered himself to be willing to be condemned by history if it meant the well-being of Thracia in the future.[8] Nonetheless, he and his views were popular among the Thracian army, who saw his way as Thracia's road to salvation.[9]
Quotes
Battle quotes
"
Behold, the legendary Gungnir! Heheheh... you look so happy to see it. You will bow to me, and then you will die.
"

— Travant, in Chapter 5 of

Genealogy of the Holy War

. This quote is taken from an older fan translation patch, and should be updated with the equivalent quote from the most recent version if possible.
"
Heh heh heh... Welcome, rebel scum. I am Travant. Remember this well: a final gift from the depths of the inferno!
"

— Travant, in Chapter 9 of

Genealogy of the Holy War

.
"
Heh heh heh... So! You're Quan's troublesome little son, are you? What a fool Bloom was... How could he have failed to kill a runt like you? [...] Heh... As foolish as your father... And unlike him, you can't even wield Gáe Bolg! You don't stand a chance! Now, hold still! It's time you learned the last agonies your father felt at my hands!
"

— Travant, when fighting Leif in Chapter 9 of

Genealogy of the Holy War

.
"
Finn, isn't it? It's been a while. So you're still alive... how stubborn of you.[...] Hahaha, don't make me laugh. What do you think you can do to me!? You're the one who's gonna die!!
"

— Travant, when fighting Finn in Chapter 9 of

Genealogy of the Holy War

. This quote is taken from an older fan translation patch, and should be updated with the equivalent quote from the most recent version if possible.
"
I should withdraw now...but then again, I was well compensated... I suppose I have time to crush one weakling like you.
"

— when fighting Stahl in Rogues & Redeemers 1 in

Awakening

.
"
I cannot stop now. I have yet to earn my gold... [...] I fight for my people—not that some knight like you could understand. What matters is we clash and that I break you!
"

— when fighting Stahl in Rogues & Redeemers 3 in

Awakening

.
| | | | |
| --- | --- | --- | --- |
| " | I show no mercy to the defiant | " | — SpotPass battle |
| | | | |
| --- | --- | --- | --- |
| " | I'll deliver on your expectations. | " | — SpotPass recruitment |
Death quotes
"
I never thought...it would happen...to me...
"

— in Rogues & Redeemers 1 in

Awakening

.
"
No... How can I bring my homeland glory now?
"

— in Rogues & Redeemers 3 in

Awakening

.
Heroes quotes
Main article: Travant/Quotes (Heroes)
Other appearances
Fire Emblem Cipher
Travant is featured on two cards in Fire Emblem Cipher.
Fire Emblem Cipher data for Travant
King of Thracia, Travant
"

All that I desire is to make Thracia whole again. The verdant northern soils would be the perfect cure for the famine and poverty that plague us.

"
"

Why, I daresay this is the long-awaited end of Leonster's famous Lanceritter! Thracia's destiny lies before us at long last, ours for the taking!

"
Attack: 60
Support: 30
Range: 1
Deploy Cost: 5
Class: Wyvern Lord
Tier: Advanced
Class Change Cost: 4
Scorned as a Hyena:

[Always]

If this unit is attacking a non-lord enemy, this unit gains +30 attack.
Bloodstained Gungnir:

[Activate]

[] Until the end of the turn, all allies who are both and may attack enemies regardless of range.
Deathbringing Snare:

[Activate]

[Once per turn]

[Send 1 bond card to the Retreat Area] Your opponent chooses 5 cards from their hand, and sends the remainder to the Retreat Area.
Card #B15-095R(+) • Artist: Yoneko (B15-095R), Tomohide Takaya (B15-095R+)
Ambitious Leader, Travant
"You can rest assured. We'll deliver on your expectations."
Attack: 40
Support: 30
Range: 1
Deploy Cost: 1
Class: Wyvern Rider
Tier: Base
Class Change Cost: --
Mercenary Wyvern Rider King:

[Trigger]

When this unit is deployed, choose 1 of your face-up bond cards, and flip it face-down.
Flying Emblem:

[Support]

You may choose one ally that is not the attacking unit, and move it.
Card #B15-096N • Artist: Yoneko
Some card information translation provided by Serenes Forest.
For more detailed strategic information on these cards, see their TCG wiki article on Travant .
Flavor text
Game
Text
(English)
Text
(Japanese)

Heroes

King of Thracia, and descendant of the crusader
Dáinn. Eying the fertile land to his north, he
hatches a plan to unite the entire peninsula.
Appears in Fire Emblem: Genealogy of the Holy
War.
トラキア王国の国王。竜騎士ダインの直系にあたる。
豊かな土地を目指し、トラキア半島の統一を目論む。
(登場:『ファイアーエムブレム 聖戦の系譜』)
Etymology and other languages
Names, etymology and in other regions
Language
Name
Definition, etymology and notes
English

Travant

As of Fire Emblem Awakening. Possibly derived from the German Trabant, "satellite", in reference to his role as being forced to serve as a satellite state to Grannvale. Additionally, Trabant can mean "comrade", referring to Travant being a king of the common folk, as well as his aspirations to ameliorate their quality of life.

English
(unofficial)

Trabant

Used in the Genealogy and Thracia 776 fan translations.

Japanese

トラバント

Officially romanized as Trabant; as above.

Spanish

Travant

As above.

French

Travant

As above.

German

Travant

As above.

Italian

Travant

As above.

Portuguese
(Brazil)

Travant

As above.

Traditional Chinese

托拉邦特

Trabant
Gallery
Sprite Gallery
Genealogy of the Holy War
Thracia 776
Heroes artwork
Other appearances
References
| | |
| --- | --- |
| | This article is part of Project Characters, a project focused on writing articles for every character present in the Fire Emblem series. |