Site News
Warning: This wiki contains spoilers. Read at your own risk!


Social media: If you would like, please join our Discord server, and/or follow us on Twitter or Tumblr!

Engage info: As the game has only recently released, we lack much key information. Please help add any info that you can.
Arena Ferox
From Fire Emblem Wiki, your source on Fire Emblem information. By fans, for fans.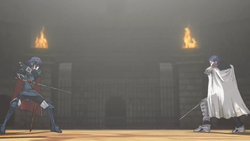 The Arena Ferox (Japanese: フェリア闘技場 Felia Arena) is a gladiatorial combat arena situated in the central-west of Regna Ferox on the continent of Ylisse.
History
Every few years, the Arena Ferox houses the tournament in which the east and west khans of the nation compete to win the dominant position of "khan regnant" for the following few years, granting them total rule over both halves of Ferox and the powers to determine foreign policy and alliances.[1] In each tournament, the khans are represented by chosen teams of gladiators or other warriors typically recruited from outside Ferox, believed to be a necessity to minimize potential conflicts borne as a result of the tournament or deaths therein.[2]
During the last year of the reign of Exalt Emmeryn, the tournament was held between East-Khan Flavia and the regnant West-Khan Basilio. Seeking military support from Ferox in response to the Plegian threat, Prince Chrom of Ylisse and his Shepherds fought as Flavia's representatives. Basilio initially had his right-hand man Lon'qu as his representative, leading a group of anonymous warriors, but prior to the tournament Lon'qu was defeated by "Marth", who took his place as the leader of the west's champions.[3] Chrom won the tournament, elevating Flavia to the position of khan regnant and ensuring the alliance and support of Ferox in assisting Ylisse.
Gameplay
The Arena Ferox is a world map location in Fire Emblem Awakening, and is the subject of Chapter 4. Once this chapter has been cleared, skirmishes can appear here, featuring enemies ranging in strength from unpromoted levels 8 to 14.
Armory contents
Normal stock Possible merchant items
Other appearances
StreetPass Mii Plaza
The Fire Emblem Awakening panel in Puzzle Swap depicts Chrom and "Marth"'s duel in the Arena Ferox.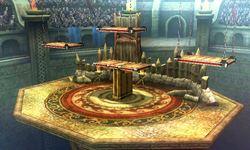 Arena Ferox is a stage in Super Smash Bros. for Nintendo 3DS, as a Nintendo 3DS exclusive unavailable in the Wii U version. Unlike its Awakening appearance, the arena consists of a large stone platform in the middle of a deep pit, better facilitating the gameplay of Super Smash Bros.. The stage periodically transforms between at least four known configurations which have different arrays of platforms above the main stage body:
The first version shown, consisting of four platforms evenly spaced above the stage (pictured right)
A version with three platforms held up by a pair of statues, similar to the second Castle Siege room in Super Smash Bros. Brawl
A version with four platforms, two of which are attached to a gear mechanism and rotate around each other in a circle
A version with an erratic set of five platforms held up by columns
In addition, like all stages in the game, there is also a Final Destination configuration with no platforms at all, disabling the stage's transformation. This variant is used in the "For Glory" online gameplay mode.
Arena Ferox was also the setting of "By Book, Blade and Crest of Flame", the animated trailer which confirmed Lucina and Robin as playable characters. The trailer depicts Lucina duelling with Captain Falcon in the Arena Ferox, Chrom having already been defeated and badly wounded by Falcon.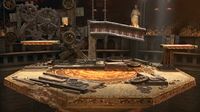 Arena Ferox returns in Super Smash Bros. Ultimate.
Trivia
Arena Ferox was the first Fire Emblem stage in Super Smash Bros. to be based on a specific location in the series. The two older Fire Emblem stages, Castle Siege and Coliseum, are non-specific stages drawing inspiration from multiple parts of the series.
Etymology and other languages
Names, etymology and in other regions
Language
Name
Definition, etymology, and notes
English

Arena Ferox

--

Japanese

フェリア闘技場

Felia Arena

Spanish

Coliseo de Regna Ferox

Coliseum of Regna Ferox

French

Arène de Ferox

Arena of Ferox

German

Feroxer Arena

Feroxi Arena

Italian

Arena Ferox

Arena Ferox

Dutch

Ferox-Arena

Ferox Arena; used in the Super Smash Bros. series, as Fire Emblem Awakening has not been released in Dutch.

Portuguese

Arena Ferox

Used in "The Marty Exalt" Lost Lore event in Fire Emblem Heroes.

Russian

Арена Ферокс

Arena Ferox; used in the Super Smash Bros. series, as no Fire Emblem game has as yet been officially released in Russian.

Korean

페록스 투기장

Arena Ferox; used in the Super Smash Bros. series, as Fire Emblem Awakening has not been released in Korean.

Simplified Chinese

菲利亚斗技场

Felia arena; used in the Super Smash Bros. series, as Fire Emblem Awakening has not been released in Chinese.

Traditional Chinese

菲利亞鬥技場

Felia arena; used in the Super Smash Bros. series and Fire Emblem Heroes.
Gallery
Other appearances
References
↑ "As I said, I am ONE of the khans. In Ferox, the khans of east and west hold a tournament every few years. The victor acquires total sovereignty over both kingdoms. And that means they have the final say when it comes to forging alliances. The West-Khan won the last tournament, you see, and so..." — Flavia, Fire Emblem Awakening
↑ "The khans themselves do not fight—they choose champions to represent them. Otherwise our land would be rife with blood feuds and dead khans! We don't involve comrades or kin for the same reason. Over time, it was decided the tournament should be fought by outsiders. Although the outsiders have never included foreign royalty. ...That I know of! Ha!" — Flavia, Fire Emblem Awakening
↑ "You mean that "Marth"? Bah! He's just some sellsword with delusions of grandeur. All I know is that he turned up one eve and knocked my old champion flat. It was love at first sight, and I'm generally too old for such things! Baha! Anyway, he's gone now. Up and fled the moment the tournament ended." — Basilio, Fire Emblem Awakening