Site News
Warning: This wiki contains spoilers. Read at your own risk!


Social media: If you would like, please join our Discord server, and/or follow us on Twitter or Tumblr!

Engage info: As the game has only recently released, we lack much key information. Please help add any info that you can.
Shepherds (chapter)
From Fire Emblem Wiki, your source on Fire Emblem information. By fans, for fans.
| | |
| --- | --- |
| | It has been requested that image(s) be placed in this page or section. Please submit images to help improve this page and talk on this page's talk page about what images are needed. Remove this when this has been fixed. |
Shepherds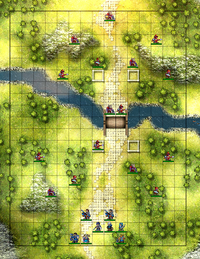 | | |
| --- | --- |
| Location | The Northroad |
| New units | |
| Boss(es) | |
| Previous chapter(s) | |
| Next chapter(s) | |
| | | | |
| --- | --- | --- | --- |
| " | All right, listen, everyone: in the morning, we'll be marching to Regna Ferox. [...] Warriors are what they are, and we'll need their strength to quell this new menace. Typically, the exalt would request such aid in person. But given recent events... Well, the people might worry should my sister suddenly leave the capital. So the task has been passed to us. | " | — Chrom |
Shepherds is the second chapter in Fire Emblem Awakening. It is another chapter against Risen as the Shepherds begin their trek toward Ferox.
Plot
Main article: Shepherds (chapter)/Script
The group finally arrives in Ylisstol, the capital of Ylisse. Exalt Emmeryn makes a public appearance, and Robin's companions explain that the first Exalt slew the fell dragon long ago and that Emmeryn is a symbol of the peace he fought so hard for. Chrom further explains that Emmeryn is the only thing keeping war from breaking out between Ylisse and Plegia. Lissa also reveals that Emmeryn is her and Chrom's older sister and that they are Ylissean royalty, much to Robin's shock. The four visit the palace and meet Emmeryn. Afterwards, Chrom, Frederick, Emmeryn, and Emmeryn's retainer Phila decide to hold a war council concerning the monsters, and Lissa takes her leave with Robin.
Lissa escorts Robin into the Shepherds' garrison and introduces them to most of the rest of the Shepherds. Chrom arrives shortly afterwards and explains that they have been ordered to march to the neighboring kingdom of Regna Ferox to seek a military alliance against the new threat. The group begins to head north, but along the road is ambushed by a group of the humanoid monsters, who have been named Risen by the Ylissean war council. The Shepherds destroy the Risen.
Summary
Lissa introduces the other Shepherds. They head north to Regna Ferox to seek military aid against the creatures from the woods, now named "Risen."
Chapter data
Character data
Characters
New Units
Vaike

Fighter
HP
24

+5

Inventory


--

Level
3
Automatically from turn 1
Required Characters

Available Characters




Item data
Shop data
After clearing chapter 3, the shop at this location will become available.
Armory contents
Normal stock Possible merchant items
Column 4, row 14: On the northeast side of a mountain formation
Column 10, row 7: Southwest of the northeast fort
Enemy data
Stats with two figures separated by a ~ are presented as a range, representing stats that vary due to random growths. The figures to the left and right of the ~ are the stat's minimum and maximum possible values respectively.
Boss data
Main article: Risen Chief
Strategy
This section details unofficial strategies that may help with completion of the chapter. This may not work for everybody.
On Normal and Hard difficulties, the enemies will start packing Iron weapons as standard issue, while on Lunatic and Lunatic+ they start packing Steel. Watch your back. There are a ton of enemies lurking about, so your first order of business is to pair up Frederick and Chrom and send Frederick to face them down. Have Frederick use his Bronze Sword on turn one to evade the Barbarians (incidentally, Hawkeye Barbarians make your life miserable on Lunatic+), pull out the Silver Lance to deal with the Soldiers and Mercenaries, and don't be afraid to chug Virion's Elixir if you need to. Between his base Speed and Chrom's class pair-up bonuses, Frederick can double the enemy Barbarians if two of the following things have happened: Chrom reached 10 Speed, Frederick and Chrom got a C-rank support, and Frederick grew a point of Speed. He can double the Soldiers too if all three have happened. Meanwhile, the other Shepherds should try to pull in the western Mercenary and dogpile him for some quick experience. Virion and the incoming Miriel's 2-range chip damage will be invaluable here. You also want Stahl and Sully to be on the left side of the small four-space safe zone you start in so you can beat a hasty retreat to the southwest corner of the map once he's dead. Once the initial wave is dealt with, heal up and grab the nearby event tile.
Once everyone's patched up, pair Frederick and Chrom again and send them to the northwest fort. There, Frederick can pull in the second wave of enemies and kill them. The boss of this map isn't much different from the last one, and can be dealt with using the same tactics as last time. It definitely helps if you can give this kill to Chrom or Robin.
Trivia
Etymology and other languages
Names, etymology and in other regions
Language
Name
Definition, etymology, and notes
English

Shepherds

--

Japanese

小さな自警団

Little Vigilantes

Spanish

Los Custodios de Ylisse

The Guardians of Ylisse

French

Veilleurs

Watchmen

German

Hirten

Shepherds

Italian

I Pastori

The Shepherds
Gallery
---
This section has been marked as a stub. Please help improve the page by adding information.
---