Site News
Warning: This wiki contains spoilers. Read at your own risk!


Social media: If you would like, please join our Discord server, and/or follow us on Twitter or Tumblr!

Engage info: As the game has only recently released, we lack much key information. Please help add any info that you can.
Gangrel
From Fire Emblem Wiki, your source on Fire Emblem information. By fans, for fans.
Gangrel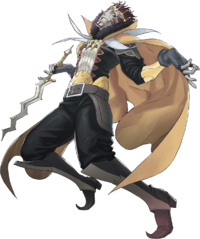 Artwork of Gangrel from Awakening.
---
The self-styled "Mad King of Plegia."
| | |
| --- | --- |
| Gender | Male |
| Race | |
| Birthday | March 16th |
| Nationality | |
| Title(s) | Mad King of Plegia |
| Starting class | |
| Voiced by | |
| Appearance(s) | |
| | | | |
| --- | --- | --- | --- |
| " | Men are beasts! Nothing more! We fight! We kill! We devour our prey! Beasts do not stand behind beasts, little prince... They use each other only so long as it suits their own selfish purpose! | " | — Gangrel, to Chrom |
Gangrel (Japanese: ギャンレル Gangrel) is an antagonist, and later playable character, in Fire Emblem Awakening. He is the king of the nation of Plegia, located to the west of Ylisse. Gangrel takes delight in deceiving others. He is additionally a cruel leader and is easily distracted. His subordinate is Aversa of the Grimleal.
Role
Gangrel is the king of Plegia and could be considered the major antagonist of the first "act" of Awakening's plot. He is fought and defeated during the events of Chapter 11, ending the Plegia–Ylisse war. He can be recruited during the last stretch of the game during the paralogue The Dead King's Lament. He is one of Awakening's two characters that start by default in the Trickster class, with the other being Anna.
Growing up as a pauper in the Plegian slums, Gangrel saw his mother killed and was mocked by other Plegians, instilling a strong hatred in him.[1] Gangrel later rose to became King of Plegia and used his position to turn the country into a Grimleal theocracy, as he had allied with the religion.[2]
Gangrel is responsible for the Plegian troops disguised as bandits being sent into Ylisse during the early stages of the conflict. His goal, to spark a full-out war between Plegia and Ylisse, is successful after he draws Chrom's ire by kidnapping Maribelle, a noble of Ylisse, then claiming she was the aggressor. Emmeryn attempts to parley with him to bring about peace, though he only requests the Fire Emblem be handed over to him and then insults her when she refuses. A battle breaks out between the meeting forces and Gangrel retreats to Plegia.
After receiving information from Ylisse's traitorous Hierarch that Emmeryn is being transported to an eastern stronghold in Ylisse, Gangrel has a regiment of his troops intercept her while he personally assaults Ylisse in an attempt to obtain the Fire Emblem. The interception is directly unsuccessful, being defeated by Emmeryn's guard during Chapter 7: Incursion, but Emmeryn feels obligated to return to the capital to support her people and does so;[3] in doing this she walks straight into Gangrel's hands and becomes his prisoner. He then retreats back to Plegia.
Gangrel awaits Chrom's arrival during Chapter 9: Emmeryn; he has Emmeryn situate herself atop a cliff where she may be easily executed for all to see. Chrom arrives not to negotiate but to take Emmeryn back by force; he arrives just after Gangrel publicly announces his intent to execute Emmeryn as revenge for the previous Exalt's war to the Plegian populace. Emmeryn asks once more if Gangrel is willing to negotiate any sort of truce; unsurprisingly he once again refuses her offer and reiterates his desire her execution. Before the situation can progress Chrom offers the Fire Emblem in exchange for Emmeryn. Emmeryn, refusing to allow that to happen, gives a short speech to the Plegians present that the endless cycle of war needs to end and she steps off the cliff to her death of her own volition, to Gangrel's amusement.[4] Chrom's forces flee, unable to obtain Emmeryn's body.
When Chrom's forces return to face him during Chapter 11: Mad King Gangrel Gangrel is surprised that they have launched their assault so soon; he is initially undaunted and is confident that his troops are much better equipped than the Ylisseans.[5] He does however grow concerned upon hearing reports that his troops are surrendering en masse due to Emmeryn's final speech. During the ensuing battle Gangrel is defeated, with his last words reiterating his belief that every man stands alone.
Two years later, Gangrel somehow ends up in the employ of Zanth, a pirate known as the Southern Sea King. Chrom spots Gangrel during the battle and is baffled by his presence. After several attempts Chrom eventually convinces Gangrel that he should lend his sword to defeat Grima instead of aimlessly serving pirates. Gangrel only relents to Chrom's idea when his requests for execution are denied.
Starting stats and growth rates
Enemy - Chapter 11
Playable
Reclassing options
Growth rates when reclassed
Promotion stat gains
Skill set
Skill set
Skill
Learned at
Locktouch

Thief, level 1

Movement +1

Thief, level 10

Lucky Seven

Trickster, level 5

Acrobat

Trickster, level 15

Lethality
Assassin, level 5
Pass
Assassin, level 15
Despoil
Barbarian, level 1
Gamble
Barbarian, level 10
Wrath
Berserker, level 5
Axefaire
Berserker, level 15
Rally Strength
Warrior, level 5
Counter
Warrior, level 15
Hex
Dark Mage, level 1
Anathema
Dark Mage, level 10
Slow Burn
Dark Knight, level 5
Lifetaker
Dark Knight, level 15
Vengeance
Sorcerer, level 5
Tomebreaker
Sorcerer, level 15
The above skill list does not include skills obtained exclusively via DLC.
Role
Gangrel held control over Nobu Horinozawa. However, Tsubasa broke his control with her new pose she worked on with Itsuki. Gangrel is the boss of Chapter 2. He is revived by Medeus and then fought again during Chapter 6.
Stats
---
This section is missing stats, calculations, or growth rates which may be currently unknown. If this information is available, please help improve the page by adding it.
---
Drop
Skills
Blackguard's Sin
Dire Slice
Strobe Pulse
Reversal of Fortunes
Shield me!
Dire Slice Ultra
Axe-Slash

Weaknesses and resistances

| | | | | | | | | | |
| --- | --- | --- | --- | --- | --- | --- | --- | --- | --- |
| | -- | | Wk | | Rs | | -- | | -- |
| | Wk | | -- | | Rs | | ?? | | -- |
Role
Gangrel is one of the characters added to the game in the Wallowing in Love update, and was made available to players in the 44th Grand Hero Battle, which initially ran from June 6, 2020 through June 17, 2020. Only one variation of Gangrel is currently available in Heroes, based on his Awakening incarnation.
Starting stats
Skill set
Skill set
Skill
Rarity
SP cost
Iron Dagger
Innate
Steel Dagger
Innate
Silver Dagger
★★★
200 SP
Levin Dagger
★★★★★
400 SP
Chilling Wind
★★★
100 SP
Glacies
★★★★
200 SP

B

Chill Atk 1
★★★
60 SP

B

Chill Atk 2
★★★★
120 SP

B

Chill Atk 3
★★★★★
240 SP

C

Panic Ploy 1
★★★
60 SP

C

Panic Ploy 2
★★★
120 SP

C

Panic Ploy 3
★★★★
240 SP
Personality and character
Despite his status as the king of Plegia Gangrel is crass and does not even attempt to act or speak like one of his station.[6] He is also a brutal leader; during the war against Ylisse he would use the lives of the families of generals like Mustafa to guarantee loyalty.[7] Gangrel publicly claimed he wanted to avenge the previous Exalt's crusade at Plegia, but in truth did not care for it or the Grimleal.[8][9] He scorned Plegia in secret due to his life in the slums and the death of his mother.[1]
Additionally, Gangrel appears to subscribe to a "might makes right" philosophy on life in general.[10]
After his fall from grace and becoming an underling of the pirate Zanth, Gangrel grows despondent that all his actions as the king of Plegia were ultimately for nothing.[11] He is frustrated that Chrom will not kill him outright and eventually agrees to aid Chrom in defeating Grima, even if only to get him to shut up.
In his supports with Robin he claims to have started the war with Ylisse to unite the continent against Valm. In incredibly sharp contrast to his actions as king he appears to be remorseful of his deeds if he encounters the amnesiac Emmeryn in Hot-Spring Scramble;[12] he also claims that his barbaric actions were out of necessity to repel Valm.
Supports
Main article: Gangrel/Supports
As with the other characters obtained via the SpotPass paralogues, Gangrel can only support with Robin.
Endings
Gangrel, Mad King (single ending)
With the slaughter done, Gangrel retired to obscurity. While some claim he found another kingdom to rule and ruin, others insist he ended in the gutter. All agree he was dead within a matter of years.
Gangrel, Mad King & Robin, High Deliverer
Many wrote of Robin's legendary exploits, but accounts of her origins and character varied. Scholars, poets, and bards agreed on one thing alone—she loved her husband, Gangrel, above all else.
Quotes
Main article: Gangrel/Quotes (Awakening)
Main article: Gangrel/Quotes (Heroes)
Other appearances
Gangrel is featured on two cards in Fire Emblem Cipher.
Fire Emblem Cipher data for Gangrel
Mad King, Gangrel
"Humans are the same as beasts in the end! Fight! Kill! And eat is all we do!"
Attack: 60
Support: 10
Range: 1
Deploy Cost: 4
Class: Trickster
Tier: Advanced
Class Change Cost: 3
Cowardly Tactics:

[Activate]

[Once per turn]

Your opponent may []. If they do not, until the end of this turn, this unit gains +20 attack, the affinity, and range 1-2.
Card #B08-043HN • Artist: Yoneko
King of Plegia, Gangrel
"The wish of the people of Plegia...is to kill everyone from Ylisse!"
Attack: 30
Support: 10
Range: 1
Deploy Cost: 1
Class: Thief
Tier: Base
Class Change Cost: --
Blade of Slaughter:

[Trigger]

While this unit is attacking an enemy with a Deployment Cost of 1, until the end of the battle, this unit gains +10 attack.
Thief Emblem:

[Support]

Reveal the top card of your opponent's deck. You may place that card in their Retreat Area.
Card #B08-044N • Artist: Yoneko
Some card information translation provided by Serenes Forest.
For more detailed strategic information on these cards, see their TCG wiki article on Gangrel .
Super Smash Bros. Ultimate
Gangrel appears as an Advanced attack-type spirit in Super Smash Bros. Ultimate, using his artwork from Fire Emblem Awakening. When equipped to an AI character, Gangrel grants increased attack power. When equipped to a player character, he grants two support spirit slots and increased electric attack power.
Flavor text
Game
Text
(English)
Text
(Japanese)

Awakening


(Enemy)
The self-styled
"Mad King of Plegia."
ペレジア王国の王
みずから暗愚王を名乗る

Awakening


(Playable)
The cruel and fatalistic
former king of Plegia.
ペレジア王国の王
残虐で冷酷な性格

Heroes

The King of Plegia, who thirsts for battle.
Together with Aversa, he begins a war against
the Halidom of Ylisse. Appears in Fire Emblem
Awakening.
ペレジア国王。争いを好み、
インバースとともにイーリス聖王国に戦争を仕掛ける。
(登場:『ファイアーエムブレム 覚醒』)
Trivia
Etymology and other languages
Names, etymology and in other regions
Language
Name
Definition, etymology, and notes
English

Gangrel

An archaic word meaning a wandering vagabond or someone with a lanky build.[13]

Japanese

ギャンレル

Officially romanized as Gangrel, as above.

Spanish

Gangrel

As above.

French

Gangrel

As above.

German

Gangrel

As above.

Italian

Gangrel

As above.

Dutch

Gangrel

Used in Super Smash Bros. Ultimate.

Portuguese
(Brazil)

Gangrel

As above.

Russian

Гангрел

Gangrel; used in Super Smash Bros. Ultimate.

Traditional Chinese

岡雷爾

Gangrel
Gallery
Heroes artwork
Other appearances
References