Site News
Warning: This wiki contains spoilers. Read at your own risk!


Social media: If you would like, please join our Discord server, and/or follow us on Twitter (X) or Tumblr!
Fire Emblem: Shadow Dragon
From Fire Emblem Wiki, your source on Fire Emblem information. By fans, for fans.
---
This page has been marked as a stub. Please help improve the page by adding information.
---
Developer(s)
Publisher(s)
Director(s)

Masayuki Horikawa
Masaki Tawara

Release date(s)

Nintendo DS
JPAugust 7, 2008
EUDecember 5, 2008
NAFebruary 16, 2009
AUSFebruary 26, 2009
Wii U Virtual Console
EUJuly 2, 2015
JPFebruary 10, 2016
NADecember 8, 2016

Rating(s)
Platform(s)
Predecessor
Successor
Fire Emblem: Shadow Dragon (Japanese: ファイアーエムブレム 新・暗黒竜と光の剣 Fire Emblem: New Dark Dragon and the Sword of Light) is the eleventh game in the Fire Emblem series. It is a Nintendo DS remake of Fire Emblem: Shadow Dragon & the Blade of Light,[1][2], which itself was originally released on the Family Computer. The remake also features elements from Book 1 of Fire Emblem: Mystery of the Emblem, merging elements from both versions; though it is officially stated to be a remake of the Famicom/NES release.[2][1]Shadow Dragon features updated graphics and gameplay mechanics, additional background music, and several new characters, items, and plot devices.
Plot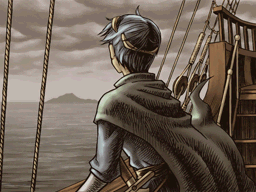 Prologue
Long ago, the continent of Archanea was invaded by the Dolhr Empire, led by the Shadow Dragon, Medeus, and the people lived in fear and despair. However, a miracle occurred. Anri, a youth from Altea, slew the Shadow Dragon using Falchion, The Blade of Light. The Kingdom of Archanea was restored and the world entered an age of peace. But 100 years later... Medeus was resurrected. He joined forces with the Dark Sorcerer Gharnef, who was also the usurper emperor of Khadein and who shared his ambitions of ruling the world, as well as the kingdoms of Macedon and Grust, and launched an attack on Archanea, Altea, Aurelis, and Gra, beginning the long War of Shadows. Cornelius, the king of Altea and successor of the heroic Anri, left to battle Medeus, with the Falchion in hand. Meanwhile, Cornelius's only son and the prince of Altea, Marth, awaits his father's return as he passes his days with his education and sword training, not knowing that Gra had betrayed Altea, sided with the Dolhr empire, and murdered his father. Gra soldiers attempted to take Marth captive; They were unsuccessful and, after several months and seemingly at the cost of the life of Frey, Marth escaped to Talys, a small island kingdom that was allied to Altea. Marth vowed to one day return to Altea and free his homeland and her people. Very shortly thereafter, Archanea was defeated by Grust's General Camus, and, aside from Princess Nyna, the royal family was wiped out.
Marth Embarks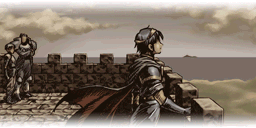 After staying at Talys for several years, training himself in the arts of war, and very shortly after General Camus helped Nyna escape Archanea for Aurelis, pirates assaulted Talys and threatened to destroy it's livelihood. Marth, a handful of knights that escaped with him from Altea, and Talys's Princess Caeda deftly defeated the pirates, and the king of Talys declared that Marth was now fit to challenge Dolhr. Marth embarked on his legendary quest to reclaim his kingdom and slay Medeus. When Marth set out he first answered the call of Nyna, who was currently in Aurelis resisting the Macedon occupied forces in the country. Marth went to Aurelis to free the war torn country, joining forces with Hardin, the younger brother of Aurelis' king and the guardian of Nyna. After a vicious battle Marth set Aurelis free and had made a valuable ally in Hardin, and his loyal knights.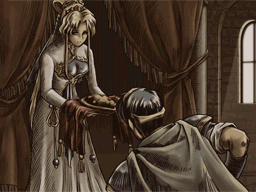 With Aurelis secured, Marth was given the sacred relic known as the Fire Emblem, and the forces resisting Dolhr united under Marth's leadership, symbolized and granted by the shield. The united forces under Marth were dubbed "The Archanean League". The Archanean League traveled south to the Holy Kingdom of Archanea itself, with Marth at it's command. After being attacked by Macedon's princess, Minerva, and her subordinates, the Whitewings, being forced to make a brief detour to Pyrathi, and to defeat its Manakete King Mannu, Marth was approached by Catria of Macedon's Whitewings squadron, who informed him of the plight of Minerva and more importantly her sister, Maria, the latter held hostage by their cruel brother Michalis to force Minerva to serve Dolhr. On this news, Marth led the League to Castle Deil to free Maria, and the grateful Minerva joined with his forces to free Macedon, as did the three Whitewings later in the War. From this victory, they marched on the Archanean capital Pales and liberated it from the Dolhr occupation under Volzhin.
Marth, Star and Savior
The League's next task was to free Altea. The army marched to Gra, Altea's traitorous neighbor and an ally of Dolhr, and brought down the country and its King Jiol; after the fight, Marth was disappointed to find that the Blade of Light, Falchion, said to have been stolen from his dead father by Gra at the war's beginning, was not there. His adviser Malledus theorized that Gharnef, the Dark Pontifex and resurrector of Medeus, was the one truly responsible for the blade's theft, and so the League made a fruitless detour to Khadein, the country under Gharnef's control, to recover it; there, Marth was informed by the White Sage Gotoh that they could not defeat Gharnef and recover Falchion without the Starlight spell, the only weakness of Gharnef's Imhullu spell, and tasked them with finding the Starsphere and Lightsphere, artifacts required to create it. The League then returned to Altea and reclaimed it from its master, Morzas of Dolhr.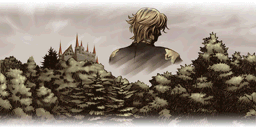 With Altea reclaimed, the League's new task was to defeat the remaining allies of Dolhr: Grust and Macedon. The army first traveled to the southwest, to the Fane of Raman, to find the Spheres and free Tiki, the Divine Dragon princess, from Gharnef's control. From there, they conquered nearby Grust, Marth dueling and seemingly killing general Camus, despite Nyna and Marth both desperately wanting to spare him and Nyna revealing to Marth and his army that she loves him.
The army traveled next to Macedon, now ruled by Minerva's ambitious elder brother Michalis. Minerva challenged and seemingly killed her brother, liberating her country and bringing the Spheres to Gotoh, currently living near its castle, who from them forged Starlight.
The Shadow Dragon & the Blade of Light
Gotoh transported the army to Thabes, a distant ancient city and the current home of Gharnef, where they engaged Gharnef in battle and slew him with Starlight, recovering Falchion. With the tower reclaimed, they found Marth's lost sister Elice, held captive by Gharnef for the past three years. It shortly thereafter was revealed to Marth that his sister was held prisoner due to her ability to make use of the sacred Aum Staff, which Gharnef wanted to exploit for unknown reasons. With no other opposition remaining, the League turned on Dolhr itself, charging into Dolhr Keep. It was discovered Medeus could not take his dragon form outside of Dolhr Keep, nor was he fully revived yet, and thus the Archanean League had effectively cornered him- however, Medeus fully expected an assault on his castle and thus was well prepared to deal with them.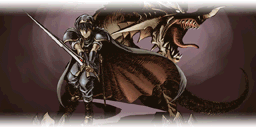 Marth engaged Medeus in an epic battle, wielding Falchion, and the Shadow Dragon once again fell, though not without telling Marth he cannot be destroyed as long as darkness is in the hearts of men. With the war over, at the advice of Nyna, Marth proposed to Caeda, and the two became engaged. Nyna married Hardin, who became Archanea's next king, yet secretly in her heart she still wept for Camus, for she loved him and him alone...
Gameplay
Gameplay is similar to the rest of the Fire Emblem series with a bird's-eye view of the grid-format map. The player can move the character either through using the +Control Pad and buttons, or through tapping on the touch screen using the stylus.
Changes from the original
---
This section has been marked as a stub. Please help improve the page by adding information.
---
Story
Some scenes were changed, ranging from minor to overhauling the scene entirely. Chapter 11 was renamed from "Knorda Slave Market" to "Knorda Market", and the village dialogue was changed accordingly. Every chapter has both an opening narration and a cutscene with characters. In the original, it depended on the chapter. All bosses have battle and death quotes, and all playable characters have death quotes rather than only about half.
Content removed from Mystery of the Emblem Book 1 is re-inserted into the plot of Shadow Dragon, including removed chapters and characters (though a very small amount of certain removed items remain removed).
Gameplay
Several minor mechanical changes were made to modernize the game:
Shadow Dragon was the first game in the series to feature online multiplayer and the first to have multiplayer outside of the Link Arena style of multiplayer. It is also the first to have a maximum number of players less than 4 (in this case, only 2 players may participate). In Shadow Dragon's multiplayer mode, players choose five units to be sent into a battlefield against the other player's team. Each team can also use a Card to give themselves a specific advantage of some kind, if the rules set by the players allow it. The goal is to either rout the opponent, or seize and hold the castle until the turn count runs out. Players who have exchanged friend codes can talk to each other via voice chat using the DS microphone.
The same multiplayer mode returns in Fire Emblem: New Mystery of the Emblem, and a very similar multiplayer mode appears in Fire Emblem Fates. Online play was discontinued after the shutdown of Nintendo Wi-Fi Connection in 2014.
Classes
Classes present in neither Shadow Dragon & the Blade of Light or Mystery of the Emblem Book 1 are added as new additions to the game, and characters from the aforementioned games that have strange class choices by modern standards are given more fitting classes in several cases. Instead of using many different items to promote different units, only one item is used to promote units now- the Master Seal. There is, however, one exception to this.
New Base Classes
Myrmidon – This class was added into the game and is the class of two characters that were formerly Mercenaries: Navarre and Radd.
Dark Mage – This class was originally in Mystery of the Emblem Book 2 as Gharnef's class, but not Book 1 (where he was a Bishop). It is neither a normal enemy class nor a class that any playable unit starts in; it is used only as a class one can reclass their units into in this game.
New Promoted Classes
The Reclass system is an entirely new mechanic in the series that debuts in Shadow Dragon. It is distinct from Class Change, or promotion, because it does not involve a resetting of levels nor enhanced stats- it simply changes the character to a completely different class with a different skill set. The player may only have a set number of a certain class set, so Reclassing should be done with care.
Characters
Fire Emblem: Shadow Dragon features the return of every playable character in Fire Emblem: Shadow Dragon & the Blade of Light, including those removed from Fire Emblem: Mystery of the Emblem, with some new additions. These new characters can only be recruited if the player visits the new chapters exclusive to Shadow Dragon. However, this generally requires an enormous amount of units to die in order to gain access to these chapters. The new characters and their appearance conditions are outlined in the table below:
Portrait
Character
Class
Found in
Accessed if
Frey
Cavalier
Prologue II
Player chooses Normal Mode.
Norne
Archer
Prologue IV
Player has 4 or fewer units at the end of the chapter.
Athena
Myrmidon
Chapter 6x
Player has fewer than 15 units at the end of Chapter 6.
Horace
General
Chapter 12x
Player has fewer than 15 units at the end of Chapter 12.
Etzel
Sorcerer
Chapter 17x
Player has fewer than 15 units at the end of Chapter 17.
Ymir
Warrior
Chapter 20x
Player has fewer than 15 units at the end of Chapter 20.
Nagi
Manakete
Chapter 24x
By the end of Chapter 24, Tiki is dead and Falchion is lost.
Chapters
Fire Emblem: Shadow Dragon includes all of the original chapters of Fire Emblem: Shadow Dragon & the Blade of Light, and then some. Shadow Dragon features the addition of a four-chapter prologue of Marth's story, introducing new players to the gameplay of the Fire Emblem series, as well as a never-before-seen beginning to Marth's quest. Shadow Dragon also features several sidequests, which are accessed if the player has lost too many of his or her units, and feature short plots and new characters.
Fan translation
When Shadow Dragon released in Japan a basic menu patch was produced before the game's English release.
Development
---
This section has been marked as a stub. Please help improve the page by adding information.
---
An interview with Tohru Narihiro in The Making of Fire Emblem reveals Shadow Dragon began development after the disappointing sales of Radiant Dawn caused a staff reset. After the reset the new development team went through a "period of trial and error" while figuring out what kind of Fire Emblem series game to develop next. They initially experimented with a second title for the Wii that was never released. Tohru Narihiro mentions that the Fire Emblem team was told not to release another game on home console that would result in sales like Radiant Dawn, which may be the basis for Shadow Dragon's release on the Nintendo DS console instead of a home console.[3]
Game credits
Reception
---
This section has been marked as a stub. Please help improve the page by adding information.
---
Sales
According to Famitsu Shadow Dragon opened with 180,697 copies sold in Japan.[4]
Reviews
Trivia
Etymology and other languages
Names, etymology, and in other regions
Language
Name
Definition, etymology, and notes
English

Fire Emblem: Shadow Dragon

Refers to Medeus, the Shadow Dragon.

Japanese

ファイアーエムブレム 新・暗黒竜と光の剣

Fire Emblem: New Dark Dragon and the Sword of Light

Spanish

Fire Emblem: Shadow Dragon

As above.

French

Fire Emblem: Shadow Dragon

As above.

German

Fire Emblem: Shadow Dragon

As above.

Italian

Fire Emblem: Shadow Dragon

As above.
Gallery
External links
References