Site News
Warning: This wiki contains spoilers. Read at your own risk!


Social media: If you would like, please join our Discord server, and/or follow us on Twitter or Tumblr!

Engage info: As the game has only recently released, we lack much key information. Please help add any info that you can.
Orb
From Fire Emblem Wiki, your source on Fire Emblem information. By fans, for fans.
This page is about the consumable items in Fire Emblem Heroes. For the legendary Archanean artifacts, see Geosphere, Lightsphere, Lifesphere, Starsphere, or Darksphere.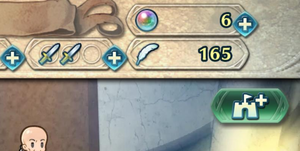 Orbs (Japanese: オーブ Orb) are special consumable items appearing in Fire Emblem Heroes. They are used to summon heroes from across the Outrealms to the world of Zenith.
Overview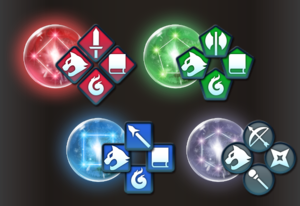 Orbs are necessary in summoning heroes. Orbs come in several colors, representing the weapon types available in Heroes; the color determines what heroes can be summoned, with the hero using the weapon type matching the color of the Orb. For instance, a red Orb can be used to summon Lucina: Future Witness, who uses swords, a weapon situated in the red portion of the weapon triangle.
Red Orbs summon characters with a red weapon type, which includes, swords, red tomes, red bows, and red breaths.
Green Orbs summon characters with a green weapon type, which includes, axes, green tomes, green bows, and green breaths.
Blue Orbs summon characters with a blue weapon type, which includes, lances, blue tomes, blue bows, and blue breaths.
Colorless Orbs summon characters with a gray weapon type, which includes, shuriken, staves, colorless bows, and colorless breaths.
Orbs can also be used to purchase bonuses for the home castle, which grant experience gain boosts.
Obtaining Orbs
---
This section has been marked as a stub. Please help improve the page by adding information.
---
Orbs can be obtained in a few ways. Completing maps in Heroes's story mode grants an Orb when that map is completed the first time. Orbs can also be obtained through special promotions; for instance, My Nintendo linked accounts can obtain 10 free Orbs if redeemed through My Nintendo.
Promotions and bonuses
Currently two special promotions have provided Orbs. Many promotions are limited time, though some, like the weekend log-in bonus, appear to be perpetual.
Orb Promotions and Bonuses
Promotion/Bonus
Duration
Orb #
Details
Weekend log-in bonus
Sundays
1
--
My Nintendo bonus
2 February, 2017 to ?
10
Those with a My Nintendo account linked to Fire Emblem Heroes can redeem a one-time package of 10 free orbs.
App-release bonus
2–15 February, 2017
2 (daily)
Get two free orbs every day simply by using the app that day. This bonus runs alongside Focus: Legendary Heroes and Focus: Deep Devotion. A total of 26 orbs can be obtained from this promotion.
Maps
Sometimes maps that give more orbs than usual are made available for a limited time.
Special Maps
Name
Available Difficulties/Stamina Cost
Duration
Orb #
Details
Part 1: Launch Celebration
Normal (5 Stamina)
Hard (10 Stamina)
6th Feburary—13th March, 2017
3
A total of six orbs can be obtained from beating both difficulties.
Purchase
Orbs can also be purchased with real-life money. Purchasing orbs in this way allows for the player to obtain them and summon characters at an accelerated rate compared to obtaining them through promotions and gameplay.
Purchased orbs can only be used on the operating system they were bought on.[1]
Etymology and other languages
Names, etymology and in other regions
Language
Name
Definition, etymology, and notes
English

Orb

--

Japanese

オーブ

Orb

Spanish

Orbe

Orb

French

Orbe

Orb

German

Sphäre

Sphere

Italian

Sfera

Sphere

Traditional Chinese

寶珠

Orb
Gallery
The graphic used to represent orbs in Heroes.
References
↑ "• Purchased Orbs cannot be used on devices with operating systems other than Android.
• Bonus Orbs are counted as unpaid Orbs. You can check your paid and unpaid Orbs on the balance screen." — Description on purchase orbs page, Fire Emblem Heroes