Site News
Warning: This wiki contains spoilers. Read at your own risk!


Social media: If you would like, please join our Discord server, and/or follow us on Twitter or Tumblr!

Engage info: As the game has only recently released, we lack much key information. Please help add any info that you can.
Fire Emblem Heroes: Mini Acrylic Figure Collection
From Fire Emblem Wiki, your source on Fire Emblem information. By fans, for fans.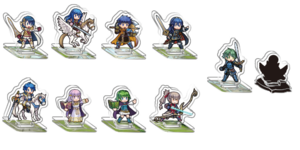 Fire Emblem Heroes Mini Acrylic Figure Collection (Japanese: ファイアーエムブレム ヒーローズ ミニアクリルフィギュアコレクション Fire Emblem Heroes Mini Acrylic Figure Collection) is a collection of acrylic figurines featuring characters appearing in Fire Emblem Heroes. They are currently only released in Japan and feature a wide range of characters. The first volume debuted in Japan in February 2018. These figurines are produced by empty; this is the same company that produced the Chrom chara-forme and the keychain sets for Awakening and Fates.
Overview
Each figurine comes with its own stand so that it may be displayed. The image on each figurine is taken from the character's chibi appearance in Heroes. Currently each volume of figurines features ten characters per release. Each volume has one secret character only shown in promotional materials as a silhouette; though it is generally easy to deduce what character it is.
These are intended to be sold as single blind boxes in stores, but boxes of ten featuring one of each character can be purchased online as well. Before release, the Fire Emblem Heroes Twitter account will usually post a tweet featuring a sample image of the upcoming set's characters.
Release information
Image
Release
Characters released
Details

ファイアーエムブレム ヒーローズ ミニアクリルフィギュアコレクション

Vol.1
Fire Emblem Heroes: Mini Acrylic Figure Collection Vol. 1
Alfonse: Prince of Askr • Caeda: Talys's Heart • Sigurd: Holy Knight • Julia: Naga's Blood • Ike: Brave Mercenary • Lucina: Future Witness • Nino: Pious Mage • Takumi: Wild Card • Alm: Hero of Prophecy
Feh (Secret figurine)
Release date: February 2018[1]

ファイアーエムブレム ヒーローズ ミニアクリルフィギュアコレクション

Vol.2
Fire Emblem Heroes: Mini Acrylic Figure Collection Vol. 2
Fjorm: Princess of Ice • Marth: Altean Prince • Wrys: Kindly Priest • Seliph: Heir of Light • Eirika: Restoration Lady • Sanaki: Begnion's Apostle • Olivia: Blushing Beauty • Leo: Sorcerous Prince • Celica: Caring Princess
Reinhardt: Thunder's Fist (Secret figurine)
Release date: February 2018[2]

ファイアーエムブレム ヒーローズ ミニアクリルフィギュアコレクション

Vol.3
Fire Emblem Heroes: Mini Acrylic Figure Collection Vol. 3
Sharena: Spring Princess • Alfonse: Spring Prince • Catria: Spring Whitewing • Kagero: Spring Ninja • Chrom: Spring Exalt • Lucina: Spring Exalt • Xander: Spring Prince • Camilla: Spring Princess • Anna: Commander
Delthea: Free Spirit (Secret figurine)
Release date: April 2018[3]

ファイアーエムブレム ヒーローズ ミニアクリルフィギュアコレクション

Vol.4
Fire Emblem Heroes: Mini Acrylic Figure Collection Vol. 4
Sharena: Princess of Askr • Leif: Prince of Leonster • Nanna: Nordion Princess • Finn: Lance of Legend • Ephraim: Legendary Lord • Lyon: Shadow Prince • Nowi: Eternal Youth • Effie: Army of One • Lukas: Sharp Soldier
Veronica: Emblian Princess (Secret figurine)
Release date: June 2018[4]

ファイアーエムブレム ヒーローズ ミニアクリルフィギュアコレクション

Vol.5
Fire Emblem Heroes: Mini Acrylic Figure Collection Vol. 5
Roy: Young Lion • Ogma: Loyal Blade • Deirdre: Lady of the Forest • Narcian: Wyvern General • Lilina: Delightful Noble • Tana: Winged Princess • Soren: Shrewd Strategist • Morgan: Lad from Afar • Morgan: Lass from Afar
Gunnthrá: Voice of Dreams (Secret figurine)
Release date: July 2018[5]

ファイアーエムブレム ヒーローズ ミニアクリルフィギュアコレクション

Vol.6
Fire Emblem Heroes: Mini Acrylic Figure Collection Vol. 6
Lyn: Lady of the Wind • Raigh: Dark Child • Ishtar: Thunder Goddess • Julius: Scion of Darkness • Innes: Regal Strategician • Robin: High Deliverer • Robin: Mystery Tactician • Hinoka: Blue Sky Warrior • Berkut: Prideful Prince
Laevatein: Searing Steel (Secret figurine)
Release date: August 2018[6]

ファイアーエムブレム ヒーローズ ミニアクリルフィギュアコレクション

Vol.7
Fire Emblem Heroes: Mini Acrylic Figure Collection Vol. 7
Ike: Young Mercenary • Arvis: Emperor of Flame • Ninian: Oracle of Destiny • Karla: Sword Vassal • Black Knight: Sinister General • Katarina: Wayward One • Ryoma: Supreme Samurai • Elise: Budding Flower • Genny: Endearing Ally
Laegjarn: Sheathed Steel (Secret figurine)
Release date: September 2018[7]

ファイアーエムブレム ヒーローズ ミニアクリルフィギュアコレクション

Vol.8
Fire Emblem Heroes: Mini Acrylic Figure Collection Vol. 8
Corrin: Fateful Princess • Hardin: Dark Emperor • Camus: Sable Knight • Fae: Divine Dragon • Amelia: Rose of the War • Maribelle: Dire Damsel • Corrin: Fateful Prince • Azura: Lady of the Lake • Bruno: Masked Knight
Surtr: Ruler of Flame (Secret figurine)
Release date: November 2018[8]

ファイアーエムブレム ヒーローズ ミニアクリルフィギュアコレクション

Vol.9
Fire Emblem Heroes: Mini Acrylic Figure Collection Vol. 9
Micaiah: Priestess of Dawn • Eliwood: Knight of Lycia • Joshua: Tempest King • Myrrh: Great Dragon • Sothe: Zephyr • Mia: Lady of Blades • Walhart: The Conqueror • Shigure: Dark Sky Singer • Rhajat: Black Magician
Loki: The Trickster (Secret figurine)
Release date: December 2018[9]

ファイアーエムブレム ヒーローズ ミニアクリルフィギュアコレクション

Vol.10
Fire Emblem Heroes: Mini Acrylic Figure Collection Vol. 10
Hector: Marquess of Ostia • Linde: Light Mage • Lewyn: Guiding Breeze • Silvia: Traveling Dancer • Jaffar: Angel of Death • Frederick: Polite Knight • Ophelia: Dramatic Heroine • Nina: Eye Spy • Tharja: "Normal Girl"
Summoner (Secret figurine)
Release date: December 2018[10]

ファイアーエムブレム ヒーローズ ミニアクリルフィギュアコレクション

Vol.11
Fire Emblem Heroes: Mini Acrylic Figure Collection Vol. 11
Ylgr: Fresh Snowfall • Ares: Black Knight • Lene: Yearning Dancer • Olwen: Righteous Knight • Saias: Bishop of Flame • Owain: Chosen One • Aversa: Dark One • Kliff: Curious Spirit • Sakura: Gentle Nekomata
Helbindi: Savage Scourge (Secret figurine)
Release date: February 2019[11]

ファイアーエムブレム ヒーローズ ミニアクリルフィギュアコレクション

Vol.12
Fire Emblem Heroes: Mini Acrylic Figure Collection Vol. 12
Tiki: Legendary Dragon • Navarre: Scarlet Sword • Quan: Luminous Lancer • Ethlyn: Spirited Princess • Kaze: Easygoing Ninja • Mikoto: Caring Mother • Garon: King of Nohr • Clair: Highborn Flier • Elincia: Estival Princess
Hríd: Icy Blade (Secret figurine)
Release date: April 2019[12]

ファイアーエムブレム ヒーローズ ミニアクリルフィギュアコレクション

Vol.13
Fire Emblem Heroes: Mini Acrylic Figure Collection Vol. 13
Eir: Merciful Death • Gharnef: Dark Pontifex • Flora: Cold as Ice • Felicia: Maid Mayhem • Saizo: Angry Ninja • Kana: Dragon Spawn • Kana: Dragon Princess • Gray: Wry Comrade • Cordelia: Perfect Bride
Hel: Death Soverign (Secret figurine)
Release date: June 2019[13]

ファイアーエムブレム ヒーローズ ミニアクリルフィギュアコレクション

Vol.14
Fire Emblem Heroes: Mini Acrylic Figure Collection Vol. 14
Yune: Chaos Goddess • Lugh: Anime Child • Idunn: Dark Priestess • Sumia: Maid of Flowers • Ranulf: Friend of Nations • Tibarn: Lord of the Air • Lethe: Gallia's Valkyrie • Velouria: Renewed Wolfpup • Selkie: Free Spirit
Bruno: Masked Hare (Secret figurine)
Release date: September 2019[14]

ファイアーエムブレム ヒーローズ ミニアクリルフィギュアコレクション

Vol.15
Fire Emblem Heroes: Mini Acrylic Figure Collection Vol. 15
Edelgard: The Future • Lloyd: White Wolf • Linus: Mad Dog • Nah: Little Miss • Cynthia: Hero Chaser • Oboro: Fierce Fighter • Dimitri: The Protector • Claude: The Schemer • Lukas: Buffet for One
Kaden: Kitsune Braggart (Secret figurine)
Release date: November 2019 [15]

ファイアーエムブレム ヒーローズ ミニアクリルフィギュアコレクション

Vol.16
Fire Emblem Heroes: Mini Acrylic Figure Collection Vol. 16
Thrasir: Omnicidal Witch • Leanne: Forest Song • Naesala: Sky's Shadow • Keaton: Lupine Collector • Hubert: Sinister Servant • Hilda: Idle Maiden • Mareeta: The Blade's Pawn • Berkut: Debonair Noble • Rinea: Reminiscent Belle
Sothis: Girl on the Throne (Secret figurine)
Release date: March 2020 [16]
Gallery
References
External links