Site News
Warning: This wiki contains spoilers. Read at your own risk!


Social media: If you would like, please join our Discord server, and/or follow us on Twitter or Tumblr!

Engage info: As the game has only recently released, we lack much key information. Please help add any info that you can.
Fomortiis
From Fire Emblem Wiki, your source on Fire Emblem information. By fans, for fans.
Fomortiis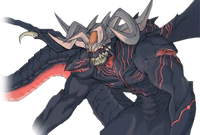 Artwork of Fomortiis from The Sacred Stones.
---
The Demon King, lord of darkness. His sole desire is to remake the world.
| | |
| --- | --- |
| Gender | Genderless[1] (referred to as male by other characters) |
| Race | |
| Title(s) | Demon King |
| Starting class | |
| Appearance(s) | |
| | | | |
| --- | --- | --- | --- |
| " | Oh, please... Are you done turning your failings into some sad epic of personal tragedy? It's time we started then. I have a ritual to complete...and some nuisances to kill. | " | — Fomortiis |
Fomortiis (Japanese: フォデス, Fodeth[2]), is the final boss of Fire Emblem: The Sacred Stones who is usually referred as the Demon King. Eight hundred years before the events of the game, he was defeated by the Five Heroes, their Sacred Twin weapons and the Sacred Stones.
Role
The Demon King is mentioned in the prologue as having been defeated and sealed away in the Sacred Stones. However, in Chapter 4, horrific monsters appear, the same as those from legends of old. They are described as having served the ancient Demon King, a sign of his resurrection.
Another mention of the Demon King occurs in Chapter 10 of Ephraim's route, in which Duessel speaks of a "Dark Stone" created by Prince Lyon and the other court mages, even more powerful than the Sacred Stones. Ephraim notes they had the power to defeat the Demon King, implying this Dark Stone's great might. In the next chapter, Riev appears on the phantom ship, which holds many monsters, and seems to be celebrating the Demon King's rebirth.
The Demon King's role is fully revealed late in the game: sometime before a year before the beginning of the game, Lyon began to research the properties of Grado's Sacred Stone, also known as the Fire Emblem, which had contained the sealed soul of the Demon King. However, a year before the start of the story, the Emperor Vigarde died to illness, leaving Lyon in a heavily panicked state. He began to work tirelessly to research the stone to find a way to revive him. Additionally, some time before the emperor's death, Lyon and the mages had seen a vision of the entire southern continent collapsing; a generally enormous catastrophe.
Somehow, the Stone was broken in two: the original Sacred Stone and the Dark Stone. The former was later destroyed by Lyon. At that moment, the Demon King called out to Lyon, convincing him that his wishes will be granted—the love of Eirika and the safety of his people. The Demon King begins to corrupt Lyon's body. He uses Lyon to control Vigarde and Grado's Imperial army, and sends them to destroy the rest of the Sacred Stones so that he can return to power without the threat of being sealed away once again.
By the end of the game, Lyon meets Eirika and Ephraim again, changed greatly. In Eirika's route, he convinces her to give him the stone, then abruptly changes back to his evil form and destroys it; in Ephraim's route, he freezes Ephraim in place and forcefully takes it. In the end, he travels to the Black Temple to finalize the Demon King's resurrection. Lyon dies and the Demon King appears.
First, his soul is trapped in the Sacred Stone of Rausten. However, his body still remains to be fought. The Demon King is the final boss of the game; only in this battle is he actually referred to as "Fomortiis", and only in his status screen. After he is defeated, peace returns to the continent of Magvel. The calamity predicted by Lyon and the other mages does happen, with a huge landslide killing thousands. Ephraim decides to travel there, to help Lyon's vision of a peaceful world, and to help the people.
Stats
Stats with two figures separated by a ~ are presented as a range, representing stats that vary due to random growths. The figures to the left and right of the ~ are the stat's minimum and maximum possible values respectively.
Fomortiis is the game's thirtieth Mythic Hero, and was added to the game in a dedicated Mythic Hero update, made available for summoning as part of a summoning event alongside Gotoh released on January 27, 2023. Only one variation of Fomortiis is currently available in Heroes, based on his The Sacred Stones incarnation; he uses Lyon as his untransformed sprite.
Fomortiis additionally appears as a manifestation for the attacking animation of the corrupted Lyon's Blood Tome.
Starting stats
Fomortiis: Demon King is only available at 5★ rarity.
Skill set
Personality and character
Fomortiis is a centuries-old demon whose ultimate goal is to be revived and retake the world under his control. During the story, he uses Lyon for this, and is shown to be very skilled at manipulation. In Eirika's route, he pretends to be back to normal "Lyon", and persuades Eirika into giving him the Sacred Stone, which he then destroys.[3] He has great contempt for mankind and seems to wish to destroy the world or somehow rule over it, mockingly telling Eirika and Ephraim's army to prepare for great catastrophe.[4] He is extremely cruel, keeping Lyon only barely alive inside the body just to watch as he kills Eirika.[5] A merciless demon, he is a truly evil villain.
Quotes
Battle quotes
| | | | |
| --- | --- | --- | --- |
| " | Do you challenge me? You humans are so inconstant. You've forgotten what it is to fear me. | " | — Fomortiis in Lyon's body, Chapter 17 |
| | | | |
| --- | --- | --- | --- |
| " | Heh heh... Wretched girl. Are you listening, Lyon? Is this truly the girl you loved? Then I will use these hands to tear her limb from limb! | " | — Fomortiis in Lyon's body, vs Eirika, Chapter 17 |
| | | | |
| --- | --- | --- | --- |
| " | Heh heh... What a splendid fool you make. Shall I dress you in a jester's cap? Shall we watch you jape in my demon's court? Lyon is dead. I devoured him. Can you not understand? | " | — Fomortiis in Lyon's body, vs Ephraim, Chapter 17 |
| | | | |
| --- | --- | --- | --- |
| " | Come, and face your death! I'm waiting, you miserable fool. Your corpse will make a perfect offering in my resurrection. | " | — Fomortiis in Lyon's body, Final Chapter |
| | | | |
| --- | --- | --- | --- |
| " | Hah, do you really think your blade can hurt me? Cut me and see! If you can even hit me, that is. | " | — Fomortiis in Lyon's body, vs Eirika, Final Chapter |
Death quotes
Fomortiis does not have a death quote as the final boss.
| | | | |
| --- | --- | --- | --- |
| " | Heh...... | " | — Fomortiis in Lyon's body, Chapter 17 |
"
Ha...
Ha ha...
HAAA HAHAHAHA!
"

— Fomortiis in Lyon's body, Final Chapter
Heroes quotes
Main article: Fomortiis/Quotes (Heroes)
Other appearances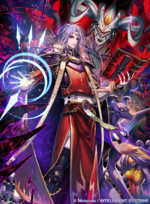 Fomortiis is featured on one card in Fire Emblem Cipher. Additionally, he has appeared in the background of three cards, Ephraim's and Eirika's SR combined artwork cards and Lyon's R card, all from set 11.
Fire Emblem Cipher data for Fomortiis
Darkness-Ruling Demon King, Fomortiis
"Humans... Lament your fate. Weep for the dead. Despair for the living. Wail and tremble in grief. I am returned."
Attack: 80
Support: 0
Range: 1
Deploy Cost: 5
Class: Demon King
Tier: Base
Class Change Cost: --
Controlled by Evil:

[Special]

If no allied "Fomortiis" is present, you may Level Up an allied "Lyon" into this card.
Resurrection of the Demon King:

[Trigger]

When you Level Up into this unit, you may choose up to 2 cards from your Retreat Area, and deploy them.
A Land Awash With Miasma:

[Activate]

[Once per turn]

[Send 2 cards from your hand to the Retreat Area] Choose up to 2 cards with a Deployment Cost of 3 or lower from your Retreat Area, and add them to your hand.
Card #B22-049HN • Artist: Yoneko
Some card information translation provided by Serenes Forest.
For more detailed strategic information on these cards, see their TCG wiki article on Fomortiis .
Flavor text
Game
Text
(English)
Text
(Japanese)

The Sacred Stones

The Demon King, lord of darkness. His
sole desire is to remake the world.

闇に君臨する暗黒の王
現世への完全なる復活を渇望する

Heroes

The Demon King who once threatened all of
Magvel before being defeated by five heroes
and sealed in the Sacred Stones. Appears in
Fire Emblem: The Sacred Stones.

かつてマギ・ヴァル大陸に現れた魔王。
5人の勇者たちに敗れ、【聖石】に封じられた。
(登場:『ファイアーエムブレム 聖魔の光石』)
Trivia
In what is presumably a minor oversight, it is possible for Fomortiis to call Myrrh a human in his generic Chapter 17 boss quote.[6]
Fomortiis has a large third eye on his forehead in his appearance on Lyon's Fire Emblem Cipher card. This is possibly inspired by the king of the Fomorians, Balor, who is described as having a destructive eye on his forehead.[7] Fomortiis's appearance in

The Sacred Stones

does have a round, though not explicitly eyelike, structure on his forehead that he focuses magic into when casting Demon Light.

Balor is also known as the king of demons,[7] like Fomortiis.

Despite bearing the title of "Demon King" and being a transformation of the male character Lyon, Fomortiis is considered to be a genderless character in Cipher for reasons unknown.
Etymology and other languages
Names, etymology and in other regions
Language
Name
Definition, etymology, and notes
English

Fomortiis

In Irish mythology, the Fomoiri or Fomorians were a group of sea demons comparable to the Titans of Greek myth. While they were normally terrible and vicious, Ethniu, daughter of Fomoiri leader Balor, married the hero Cian and bore him the son Lugh.[8] May also incorporate French mort "death".

Japanese

フォデス

Officially romanized as Fodeth.

Spanish

Fomortiis

--

French

Fomortiis

--

German

Fomortiis

--

Italian

Fomortiis

--

Portuguese

Fomortiis

--

Traditional Chinese

弗德斯

Fodeth
Gallery

Sprite Gallery

References