Site News
Warning: This wiki contains spoilers. Read at your own risk!


Social media: If you would like, please join our Discord server, and/or follow us on Twitter or Tumblr!

Engage info: As the game has only recently released, we lack much key information. Please help add any info that you can.
Arete
From Fire Emblem Wiki, your source on Fire Emblem information. By fans, for fans.
Arete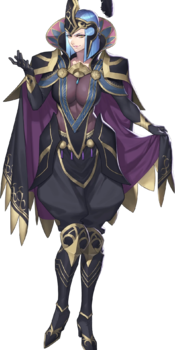 Artwork of Arete from Heroes.
---
The combination of her alluring figure and her songbird voice are said to have entranced royals everywhere from Valla to Nohr.
| | |
| --- | --- |
| Gender | Female |
| Race | |
| Family | |
| Nationality | |
| Starting class | |
| Voiced by | |
| Appearance(s) | |
Arete (pronounced /⁠ˈɑɹəteɪ⁠/[key][2]; Japanese: シェンメイ Shenmei) was the former Queen of Nohr and Valla in Fire Emblem Fates.
Role
Birthright and Conquest
Arete died before the events of Fates. She was the mother of Azura, and is briefly mentioned in Birthright Chapter 22 and Conquest Chapter 16.
Revelation
Arete only appears in Revelation, and as an enemy to Corrin's forces. Her first appearance, albeit obscured, is in Chapter 7. The means of her appearance remains unexplained for a fair portion of the game, though it is eventually revealed that the Vallite king Anankos is able to enslave and command the dead, with Arete being one such servant.
Arete makes a total of three boss appearances, with her first boss appearance being in Chapter 18, still under an obscuring shadow. She flees after this encounter.
A while later she appears again in Chapter 22 in a forest of Valla. Arete reveals herself to Corrin and the army. Azura eventually sees that the mysterious woman they met earlier was her deceased mother. Arete battles them and escapes again after the battle.
Her last appearance is in Chapter 23, with a reanimated Scarlet in tow as a 'gift'. After the battle, Arete is finally dealt a mortal blow. During her dying moments she remembers who she was and who Azura is. Arete spends her final minutes in Azura's arms before she dissolves away, leaving the army to harden their resolve to take down Anankos.
Stats
Enemy - Revelation Chapter 18
Enemy - Revelation Chapter 22
Enemy - Revelation Chapter 23
Enemy - Hidden Truths 2
Enemy - Heirs of Fate V
Role
Arete is one of the characters added to the game in the Echoes of Truth update, and was made available to players in the fifty-seventh Grand Hero Battle, which initially ran from July 20, 2021 through July 27, 2021. Only one variation of Arete is currently available in Heroes, based on her Fates incarnation.
Starting stats
Skill set
Skill set
Skill
Rarity
SP cost
Fire
Innate
Elfire
Innate
Rauðrrabbit
★★★
200 SP
Rauðrrabbit+
★★★★★
300 SP
Chilling Wind
★★★
100 SP
Glacies
★★★★
200 SP

A

Atk/Res Push 1
★★★
60 SP

A

Atk/Res Push 2
★★★★
120 SP

A

Atk/Res Push 3
★★★★★
240 SP

C

Res Ploy 1
★★★
60 SP

C

Res Ploy 2
★★★★
120 SP

C

Res Ploy 3
★★★★★
240 SP
Personality and character
What little is known about Arete's character before her passing and resurrection comes from both her daughter and Cassita's recollections. It is said she was a gifted singer[3] and dancer,[4][5] and trained Azura in both areas. She was also very knowledgeable about her homeland, Valla, as most of Azura's grasps of it came from her,[6] incidentally highlighting Arete's self sacrificial nature towards her loved ones, given sharing information from Valla outside its territory would trigger a curse that made them quickly perish.[7] In Revelation, it is shown Arete was revived by Anankos with none of her past memories, leaving her as a husk whose main trait is her loyalty towards the Silent Dragon.[8]
Arete's despiction in Heroes showcases more facets of her persona, thanks to being summoned as her original self. She's cold towards enemies[9] and reserved regarding her past, partly due to disliking reviving umpleasant memories,[10] yet affable and polite to her allies, displaying a fixation towards being useful.[11][12][13] She believes people must be strong in order to survive.[14] Lastly, Arete shows great care and love towards her daughter and her wellbeing,[15][16] and is worried her unique strength could prevent her from living a normal life.[17]
Quotes
Battle quotes
| | | | |
| --- | --- | --- | --- |
| " | Everything that I do, I do in the name of the great Anankos. | " | — Arete as the boss of Revelation Chapter 22 |
"
Arete: King Anankos will see you destroyed.
Azura: ...
"

— Arete, when fighting Azura in Revelation Chapter 22
| | | | |
| --- | --- | --- | --- |
| " | I will not let you go any farther. If you try, I will kill you. | " | — Arete, as the boss of Revelation Chapter 23. |
"
Arete: Why is it that looking at you gives me such an incredible headache?
Azura: I... Could it be...
Arete: No matter—killing you will make the pain go away. Prepare yourself for the next world.
Azura: After our last encounter, I readied myself for this moment. I knew that, if we met again, I might have to be the one to take you down.
"

— Arete, when fighting Azura in Revelation Chapter 23
| | | | |
| --- | --- | --- | --- |
| " | You will die before ever sullying the almighty King Anankos's presence. | " | — Arete, as one of the bosses of V: Endless Dawn |
"
Arete: It was good of you to come and meet your death firsthand. You've been quite the thorn in our side. You and your mother both. Not to mention a pain in my skull. Every time I lay eyes on you... Every time...
Shigure: If you don't understand why that is, then you are truly lost to me. I had hopes...daydreams...about what might happen if you could be saved. What joy we might have shared. What songs we might have sung.
Arete: You flatter yourself. I would I deign to do these things with you?
Shigure: Do you feel nothing when you look at me? At this pendant? It doesn't stir anything at all within you?
Arete: What does the great King Anankos's loyal servant care for such things? Perhaps this pain will stop when I silence you once and for all. But first, let me hear your voice. Sing once more before fading into nothing.
Shigure: If I sing, it will be your funeral dirge. For I see there can be no mercy for you. Farewell, Grandmother...
"

— Arete, when fighting Shigure in V: Endless Dawn
Defeat quotes
| | | | |
| --- | --- | --- | --- |
| " | I'm sorry. | " | — Arete's defeat voice clip |
| | | | |
| --- | --- | --- | --- |
| " | So...you are capable of more than I thought... | " | — Arete's defeat quote in Revelation Chapter 18. |
| | | | |
| --- | --- | --- | --- |
| " | You seem...stronger than before. I should have accounted for that... | " | — Arete's defeat quote quote in Revelation Chapter 22. |
| | | | |
| --- | --- | --- | --- |
| " | I... | " | — Arete's death quote in Revelation Chapter 23. |
| | | | |
| --- | --- | --- | --- |
| " | Ah...finally... I remember at last... | " | — Arete's defeat quote in V: Endless Dawn |
Heroes quotes
Other appearances
Fire Emblem Cipher
Arete is featured on two cards in Fire Emblem Cipher.
Fire Emblem Cipher data for Arete
Queen of Nohr, Arete
"Everyone of you will die here. All are against the will of the demon king Anankos."
Attack: 50
Support: 20
Range: 1-2
Deploy Cost: 3
Class: Strategist
Tier: Advanced
Class Change Cost: 2
Jumbled Memories:

[Activate]

[] If you pay the cost, you may draw one card and reveal it. If the revealed card is not , you must discard a card from your hand.
Descendant of Valla:

[Always]

While you have no face-up cards in your Bond Area, this unit's attack increases by 10.
Card #B06-094HN • Artist: Minori Fuyuzora
Princess of Valla, Arete
"The path you walk belongs to destiny, just let it flow... All of your joy and your pain will fall like the tide, let it flow..."
Attack: 30
Support: 20
Range: –
Deploy Cost: 1
Class: Troubadour
Tier: Base
Class Change Cost: --
Heal:

[Activate]

[] [] Choose a card from your Retreat Area other than "Arete" and add it to your hand.
Miracle Emblem:

[Support]

Until the end of this battle, your opponent's attacking unit cannot perform a Critical Hit.
Card #B06-095N • Artist: Minori Fuyuzora
Some card information translation provided by Serenes Forest.
For more detailed strategic information on these cards, see their TCG wiki article on Arete .
Flavor text
Game
Text
(English)
Text
(Japanese)

Fates

Azura's mother. Once married to King
Garon. Also has strong ties to Valla.
アクアの母。暗夜王ガロンの妻でもあった。
透魔王国とも浅からぬ因縁を持つ。

Heroes

The combination of her alluring figure and her
songbird voice are said to have entranced royals
everywhere from Valla to Nohr. Appears in Fire
Emblem Fates.
透魔においても、暗夜においても――
その姿にまして美しき歌声は、王の心を溶かしたという。
(登場:『ファイアーエムブレム if』)
Trivia
Arete's feather can be purchased from the accessory shop in My Castle.
For whatever reason, Arete has less HP across chapters of the same difficulty. For instance, in the Normal mode version of chapter 22 she has less HP than in the Normal Mode version of chapter 18, though it goes back up by her appearance in the same difficulty of chapter 23.

Likewise, her Luck decreases with each appearance at least on the Normal difficulty, with chapter 18 giving her her highest figure in the stat.
Etymology and other languages
---
This section has been marked as a stub. Please help improve the page by adding information.
---
Names, etymology and in other regions
Language
Name
Definition, etymology, and notes
English

Arete

From the Greek ἀρετή aretḗ, meaning "excellence" or "moral virtue". In Greek mythology, Arete was the beloved wife of Alcinous and the mother of two children, Nausicaa and Laodamas.

Japanese

シェンメイ

Officially romanized as Shenmei. Derived from Chinese shěnměi 審美 meaning "appreciating beauty" or "appreciating the arts".[18]

Spanish

Arete

--

French

Arete

--

German

Arete

--

Italian

Arete

--

Portuguese
(Brazil)

Arete

--

Traditional Chinese

萱玫

Shenmei; distinct from 審美 shěnměi.
Gallery
Heroes artwork
References
| | |
| --- | --- |
| | This article is part of Project Characters, a project focused on writing articles for every character present in the Fire Emblem series. |
Fire Emblem Fates
Playable characters
Birthright

Asugi • Azama • Azura • Caeldori • Corrin • Dwyer • Felicia • Hana • Hayato • Hinata • Hinoka • Hisame • Izana • Jakob • Kaden • Kagero • Kana • Kaze • Kiragi • Midori • Mitama • Mozu • Oboro • Orochi • Reina • Rhajat • Rinkah • Ryoma • Saizo • Sakura • Scarlet • Selkie • Setsuna • Shigure • Shiro • Shura • Silas • Sophie • Subaki • Takumi • Yukimura
Conquest

Arthur • Azura • Benny • Beruka • Camilla • Charlotte • Corrin • Dwyer • Effie • Elise • Felicia • Flora • Forrest • Gunter • Ignatius • Izana • Jakob • Kana • Kaze • Keaton • Laslow • Leo • Midori • Mozu • Niles • Nina • Nyx • Odin • Ophelia • Percy • Peri • Selena • Shigure • Shura • Siegbert • Silas • Soleil • Sophie • Velouria • Xander
Revelation

Arthur • Asugi • Azama • Azura • Benny • Beruka • Caeldori • Camilla • Charlotte • Corrin • Dwyer • Effie • Elise • Felicia • Flora • Forrest • Fuga • Gunter • Hana • Hayato • Hinata • Hinoka • Hisame • Ignatius • Jakob • Kaden • Kagero • Kana • Kaze • Keaton • Kiragi • Laslow • Leo • Midori • Mitama • Mozu • Niles • Nina • Nyx • Oboro • Odin • Ophelia • Orochi • Percy • Peri • Reina • Rhajat • Rinkah • Ryoma • Saizo • Sakura • Scarlet • Selena • Selkie • Setsuna • Shigure • Shiro • Shura • Siegbert • Silas • Soleil • Sophie • Subaki • Takumi • Velouria • Xander

DLC

Anna

amiibo

Ike • Lucina • Marth • Robin
Non-playable characters
Cadros • Cassita • Ikona • Katerina • Layla • Lilith • Moro • Rainbow Sage
Bosses
??? • Anankos • Anthony • Arete • Candace • Daichi • Daniela • Funke • Garon • Gazak • Haitaka • Hans • Iago • Kilma • Kotaro • Kumagera • Llewelyn • Lloyd • Mikoto • Nichol • Omozu • Senno • Sumeragi • Takumi • Tarba • Zhara • Zola

Regalia

and personal weapons
Astral Blessing • Aurgelmir • Bifröst • Bölverk • Brynhildr • Chakram • Excalibur • Fujin Yumi • Ganglari • Hagakure Blade • Missiletainn • Pursuer • Raijinto • Siegfried • Skadi • Waterwheel • Yato
Chapters
Prologue
Pr: Ties That Bind • 1: Nohr • 2: Gift of Ganglari • 3: Journey Begins • 4: Hoshido • 5: Mother • 6: The Path Is Yours
Birthright

6: In the White Light • 7: A Vow Upheld • 8: Fierce Winds • 9: Land of Gods • 10: Ninja Village • 11: To the Sea • 12: Dark Reunion • 13: Another Hope • 14: Light Scatters • 15: Wolfskin Peak • 16: Pleasure Palace • 17: Lost in the Ice • 18: Leo • 19: Rainbow Sage • 20: Fort Dragonfall • 21: Burning Falls • 22: Hidden Capital • 23: Camilla • 24: Tears of a Dragon • 25: Traitor Revealed • 26: Xander • 27: King Garon • Endgame: Dawn Breaks
Conquest

6: Embrace the Dark • 7: A Dragon's Decree • 8: Cold Reception • 9: Another Trial • 10: Unhappy Reunion • 11: Rainbow Sage • 12: Bitter Intrigue • 13: Uprising • 14: Voice of Paradise • 15: The Black Pillar • 16: Invasion • 17: Den of Betrayal • 18: Black & White • 19: Kitsune Lair • 20: Winds of Change • 21: Eternal Stairway • 22: Sakura • 23: Possessed • 24: Hinoka • 25: Ryoma • 26: Treason • 27: The Empty King • Endgame: Night Breaks Through
Revelation

6: Into the Ground • 7: Unspeakable World • 8: Traitor's Brand • 9: Wanderer • 10: Voice of a God • 11: Mutual Enemies • 12: Frozen Sea • 13: A Lost Peace • 14: Orders • 15: Rainbow Sage • 16: White Flames • 17: Black Flames • 18: Veiled Kingdom • 19: Hidden Strings • 20: Seeds of Doubt • 21: Going Forward • 22: Memories • 23: Arete Undone • 24: Days Lost • 25: Blades Drawn • 26: The Vallite King • 27: Hear My Cry • Endgame: Anankos
Paralogues
1: Tragic Start • 2: Dragon Blood • 3: Surprise Duet • 4: Fight or Flight • 5: Bold Approach • 6: Herbal Remedy • 7: Father & Liege • 8: A Great Hunt • 9: Saizo vs. Saizo • 10: Hunter & Prey • 11: A Long Grudge • 12: Sweet Dreams • 13: Truly Talented • 14: After the End • 15: Hidden Bravery • 16: Abducted • 17: Two Defenders • 18: Nutty Family • 19: Great Heroism • 20: Ultimate Power • 21: Bright Smile • 22: Abrupt Clash
Invasions
: Invasion 1 • Invasion 2 • Invasion 3 • : Invasion 1 • Invasion 2 • Invasion 3 • : Invasion 1 • Invasion 2 • Invasion 3
DLC chapters
Ghostly Gold • Boo Camp • Museum Melee • Beach Brawl • Royal Royale • Before Awakening • Hidden Truths 1 • Hidden Truths 2 • Vanguard Dawn • Anna on the Run • Ballistician Blitz • Witches' Trial • A Gift from Anna • Another Gift from Anna • I: In Endless Dreams • II: Realms Collide • III: The Changing Tide • IV: Light's Sacrifice • V: Endless Dawn • End: Lost in the Waves • Hoshidan Festival of Bonds • Nohrian Festival of Bonds
Hero Battles
Hero-King Marth • Radiant Hero Ike • Princess Lucina • Grandmaster Robin
Locations
Deeprealms (My Castle) • Hoshido (Flame Tribe • Izumo • Kohga • Mokushu • Wind Tribe) • Nohr (Dragon's Gate • Ice Tribe • Nestra) • Notre Sagesse • Valla (Bottomless Canyon)
Groups, objects, and concepts
Dragon Vein • My Castle
Related topics
Ancient Texts • Downloadable content • Fire Emblem Fates: Crown of Nibelung • Name chart • Pre-release information (Unused content) • Soundtrack