Site News
Warning: This wiki contains spoilers. Read at your own risk!


Social media: If you would like, please join our Discord server, and/or follow us on Twitter or Tumblr!

Engage info: As the game has only recently released, we lack much key information. Please help add any info that you can.
Iago
From Fire Emblem Wiki, your source on Fire Emblem information. By fans, for fans.
Iago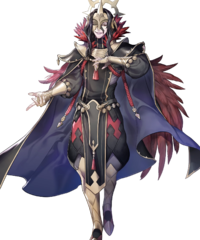 Artwork of Iago from Heroes.
---
Tactician in the service of the Nohrian king, Garon. He uses cruel schemes and malicious magic to plague the enemies of Nohr.
| | | | |
| --- | --- | --- | --- |
| " | Enjoy this brief respite, heh heh heh. Hell is waiting for you as soon as you leave this forest. Prepare to suffer and die! | " | — Iago, in Conquest chapter 7. |
Iago (Japanese: マクベス Makubex) is a recurring boss character in Fire Emblem Fates. He is the secondary antagonist in Birthright and Conquest route and a minor antagonist in the Revelation route. Fightable on all three routes of the game, Iago is one of Garon's loyal retainers.
Role
Iago is Nohr's tactician, and is viewed as a shadow of Garon. Always eager to get into King Garon's good favor, Iago sycophantically agrees with each and every one of his opinions, even if they may be morally unsound. He excels at witchcraft, and employs foul play and manipulation in his schemes to bend others to his will. His role is changed depending on the three paths.
Birthright
Iago manipulates the Hoshidan army into killing several members of the Wind Tribe by using his magic to disguise them as Faceless. After the spell is lifted, Iago arrives and taunts them, knowing that he can easily plot against Corrin with him/her siding with Hoshido and leaves before the Wind Tribe finds out that he was responsible for their deaths. Later on, he causes the Wolfskin to fight the Hoshdians by planting a magical land mine, which detonates and killing one of the Wolfskins, forcing Corrin and the Hoshidians to fight and kill them in self-defense. After his plans failed, Garon sends Iago to ambush the Hoshidians at Palace Macarath, but he fails and is defeated in battle. Before departing, Iago mocks Corrin, telling them that there is a "traitor" operating within their ranks, cackling with glee as he watches Corrin struggle to identify the "traitor".
Iago ambushes the Hoshidan army at Fort Dragonfall, where he informs them that Garon has granted him the power to revive the dragon that is a part of the fortress. After invoking the resurrection of the dragon, Iago, although aware that the army will succumb to the dragon's stomach acid, makes the sadistic decision to speed up their deaths by summoning a horde of Faceless. However, his plan is foiled as the Hoshidan army manage to succeed in breaking out of the fortress, thanks to Azura's song, which breaks the dragon's curse.
Iago encounters the Hoshidan army again at the Grand Staircase leading to the throne room. He taunts Corrin for being weak and still being alive, but Corrin is through playing games and tells him to just get it over with. However, Iago tells Elise to come to his side, to which she refuses because of him being the one who made Xander and Leo fight Corrin those respective times. He then seizes full control over Takumi's mind, compelling him to take Azura as a hostage. Iago thereafter reveals Takumi to be the "traitor", as he knew of their whereabouts thanks to him, and gleefully forces the Hoshidan royalty to decide whether or not to kill him or watch Azura die. However, thanks to Corrin's attempt to reach out to Takumi, he regains temporary control of his senses, allowing Azura to sing Lost in Thoughts All Alone to purify his mind and free him from Iago's curse. Iago attempts to stops her, but Sakura stops him first and manages to halt him long enough for Azura to finish her song. Takumi breaks free and shoots Iago, and declares that he will live up to his title as prince. Iago is shocked and angered that his plans failed yet again, as Corrin then declares that peace is coming and he can't stand in their way any longer and threatens to kill Iago once and for all.
Iago engages the Hoshidan army in one last battle, only to be defeated again. Iago attempts to escape his punishment by falsely claiming that he was under a spell as well, but Corrin doesn't believe him for a second and Leo appears afterwords, having watched the battle. Iago begs Leo to save him, but Leo warns him that he's here to kill him, not save him and and that he will no longer allow him to disgrace Nohr any longer, shocking Iago as he again pleads for his life, but Leo shuts him up and kills Iago with his Brynhildr, putting an end to his schemes for good.
Conquest
When Corrin returns from Hoshido, Iago and Garon are surprised and suspicious of them. Iago states that Corrin could be a spy for Hoshido, and Garon promptly agrees. Garon then orders Xander to kill Corrin, but Xander informs Garon that Corrin had chosen to return to Nohr out of their own free will. Garon then consults an effigy of Anankos on how best the situation should be handled. After much brooding, Garon decides that Corrin will be welcomed back into the Nohrian royal family, but only if they suppress the Ice Tribe's rebellion alone.
While Corrin navigates through the Woods of the Forlorn, Iago summons a group of Faceless in an attempt to make them suffer. His plan fails as Xander had sent Elise, her retainers Arthur and Effie, and Silas to help them with their task. After Corrin stops the rebellion, Garon is initially pleased with their efforts, but Iago points out that they did not complete the task alone, upsetting him. Despite this, Garon welcomes Corrin back into their group, much to Iago's annoyance.
Garon tasks Iago with making Corrin suffer greatly but not kill him/her; something Iago does not fully comprehend, but gladly complies with regardless. On his first attempt at following Garon's orders, Iago sends the group to Palace Macarath to relax for a while, although it is later revealed that he had alerted Ryoma and the Hoshidan army to ambush them there beforehand. This plan of his is foiled as Xander send his retainers, Laslow and Peri to foil Ryoma's ambush and the Nohrian army manages to stage a solid fight and flee from the vicinity.
Iago heads to Cyrkensia and watches a performance along with Garon and his children. During the performance, a mysterious songstress uses her song to curse Garon, causing him extreme discomfort. Iago then orders his men to capture the songstress. Before the songstress could be captured, Kumagera and a band of Hoshidan soldiers arrive to assassinate Garon. After the Hoshidans are defeated and Garon recovers, he orders Corrin to kill all the singers in Nestra. When Corrin protests, Garon has Iago and Hans kill them, and they comply. Later, Iago summons a large horde of Faceless to ambush Corrin and the Nohrian royals at the Eternal Stairway. Iago's plan is again foiled as the Nohrian army manages to break free of the Faceless horde, but Lilith dies in the process.
Iago, along with Hans, kills the surrendering Hoshidan soldiers under the command of Sakura and Yukimura. When they break through and enter the Hoshidan capital, Iago kills several Hoshidan civilians who insult Corrin for being a traitor, claiming that he will protect them from the "street rats". Continuing with their progress, they eventually surround Castle Shirasagi, Iago tasks Corrin again to break through their defenses, this time led by Hinoka and leave no survivors as he believes that they need to kill all the Hoshidian royals. Corrin, not wanting to spill any more innocent blood, spares Hinoka and asks to give her naginata as proof of her demise.
Inside the castle, Iago asks Corrin if he/she had killed Hinoka, and they show him her naginata. Iago is not completely convinced and asks if he/she had spared her, only to be stopped by Garon. The Nohrians confront Ryoma and Iago throws Hinoka's naginata towards him, and tells him Corrin killed Hinoka. Ryoma challenges Corrin to a duel, but is defeated by them. Garon then orders Corrin to kill Ryoma or face execution if he/she refuses, but they are unable to and Ryoma commits seppuku instead. Iago attempts to have Corrin executed for not complying with Garon's orders, but Garon does not care anymore and allows it to pass as they have conquered Hoshido, annoying Iago as Corrin foiled his schemes once more.
Iago, angered that Corrin is still alive, had sent out a group to search for survivors while they were fighting Ryoma. When Garon tells everyone to wait outside the throne room, including his loyalist, Iago attacks Corrin and finds out that Corrin had indeed spared Hinoka and Iago, angered that he/she let her go, which also foiled his schemes to kill all the Hoshidian royals, attempts to murder him/her for "treason" along with Hans. However, they are stopped by Xander and their Nohrian siblings, who have become distrustful of Iago for his selfishness and obsession over trying to kill Corrin and swear to make him and Hans pay for their lifes for ruining Nohr's reputation with their cowardly schemes and warns him that Garon cannot protect him from their wraith, much to his horror, as he attempts to dissuade them from killing him, but to no avail. Corrin also stands up to Iago and Hans, threatening them that they may be from Nohr, but he/she will punish them all the same. With Garon occupied in the Hoshidan Throne Room, no longer there to protect him, Iago is forced to fight against Corrin and the Nohrian siblings alongside Hans and Garon's loyalist.
Despite their efforts, Garon's loyalist and Hans are killed in battle and Iago is finally defeated. Surrounded by Corrin and the Nohrians royals, Iago disgracefully attempts to save his skin by accusing Garon of placing him to fight and that he is "innocent" and he does not deserve to die. The Nohrian siblings ignore his pleas and Leo silences Iago's pitiful attempt to receive mercy, citing his numerous atrocities, especially causing great suffering towards Corrin and warns him to accept his fate. Iago watches helplessly as he is executed by Leo once and for all, dying in vain as he failed to kill Corrin and the Hoshidian royals, as well as failing to make Corrin suffer. His death, as well as Garon's afterwords, provides retribution to the innumerable lives lost at the hands of Iago's schemes as well as ending their reign of tyranny over the innocent.
Revelation
Iago plays a much smaller role in this route compared to the other two routes. Iago first appears during the Eternal Stairway, once again leading Corrin's army into a trap against the Wind Tribe. After Corrin discovers that the Faceless that they had fought are Wind Tribe members in actuality, and after witnessing the debacle, he quietly chuckles and then teleports out of the vicinity (unlike in Birthright where he taunted them), pleased with his progress.
Later, Iago welcomes Xander back to Castle Krakenberg after his return from Crykensia. Xander seeks an audience with Garon, and Iago wonders if Corrin was a bad influence on him. Xander ignores him and goes to see Garon. Hans joins Iago, asserting the impossibility of Xander being convinced to join Corrin's cause, to which Iago disagrees. Iago then brings up the fact that Camilla had joined Corrin's army to support his disagreement, resolutely maintaining a stance of suspicion against Xander. They are unaware that Elise was eavesdropping on them, who escapes to join Corrin.
Iago is among the Nohrian forces attempting to stop Corrin from meeting with their siblings at the Hoshido-Nohr border. Following the defeat of Hans, Iago leads a small force to defeat Corrin's troops in the Bottomless Canyon. However, thanks to Xander and Leo's decision to join Corrin's cause, Iago is swiftly killed once and for all.
Stats
Enemy - Birthright Chapter 16
Enemy - Birthright Chapter 25
Enemy - Conquest Chapter 26
Enemy - Revelation Chapter 17
Role
Iago is one of the characters added to the game in the Dreaming Reality update, and was made available to players in the forty-second Grand Hero Battle, which initially ran from April 12, 2020 through April 22, 2020. Only one variation of Iago is currently available in Heroes, based on his Fates incarnation.
Starting stats
Skill set
Skill set
Skill
Rarity
SP cost
Flux
Innate
Ruin
Innate
Fenrir
★★★
200 SP
Iago's Tome
★★★★★
400 SP
Rising Wind
★★★
150 SP
Blazing Wind
★★★★
300 SP

A

Attack +1
★★★
30 SP

A

HP/Atk 1
★★★
100 SP

A

HP/Atk 2
★★★★
200 SP

C

Atk Opening 1
★★★
60 SP

C

Atk Opening 2
★★★★
120 SP

C

Atk Opening 3
★★★★★
240 SP
Personality and character
Iago is a cowardly, dishonorable, uncomplimentary and manipulative schemer, showing no hesitation to employ any method he deems necessary to achieve his goals, even if they are lacking in sound morals. He is also known to be an individual of sadistic tendencies, reveling in the agony of others, especially if their suffering happens to be the result of his plans. Arrogant and egoistic to a fault, Iago believes his intelligence to be unrivaled, although this belief of his is ironically contrasted by the stark failure of the vast majority of the plans that he crafts, and despite his plans falling many times, always comes up with new plans to take down his enemies. Iago is, ultimately, a deceitful coward who abuses power for his selfish gain and thinking only for himself.
When fighting against Hoshido, he arrogantly mocks and taunts them whenever he faces off with them, mocking Corrin's feelings and trust in hopes of turning them against one another. He also had no problem using Corrin's allies against them, making Xander and Leo fight Corrin (according to Elise) and using Takumi against them, when it is revealed he used him as a spy to know his enemies location each time, and nearly succeeded killing them, but failed when the Hoshidans siblings outsmarted him and foiling his plans.
His arrogance, combined with his self-righteous grudge against Corrin, earned Iago no respect from the Nohrians siblings or even Garon and is greatly despised by them, (mainly Leo and Xander) as they show discontent against him for disgracing Nohr's honor and attempting to have Corrin killed many times. They even defend Corrin against him when he attempts to kill Corrin for sparing Hinoka. Garon also doesn't think much of him, describing him as a useless pawn, and shows no concern when Iago is killed by the Hoshidians.
His own selfish and delusional ego would eventually lead to his downfalls in all three paths, when his plans and schemes fail and backed into a corner by his enemies (Hoshido or Nohr), Iago will beg and plea for his life to be spared without even a shred of shame, regret or dignity, even though he certainly wouldn't have done the same had it been the other way around, and even attempts to put the blame on Garon, despite being his loyal adviser, in order to trick them into killing Garon and not him. Despite this, his pleas falls deaf on their ears and gets killed for his cruel actions. These negative traits of Iago's were what led to his deserved/justified death at the hands of Leo.
Quotes
Battle quotes
| | | | |
| --- | --- | --- | --- |
| " | Pfft. What do you think you're doing, minion? Bring on Corrin! | " | — Iago, as the boss in Birthright Chapter 16. |
"
Iago: And here we are, at last. I've been waiting for you.
Corrin: I'm done talking. It's time to finish this.
Iago: Oh, I agree. HAH!
"

— Iago, when fighting Corrin in Birthright Chapter 16.
| | | | |
| --- | --- | --- | --- |
| " | You poor fool. Doing Corrin's dirty work for him/her... | " | — Iago, as the boss in Birthright Chapter 25. |
"
Iago: You're like a rather pesky cockroach, you know that? Just when I think I've got you under my foot, you scamper away.
Corrin: Sure. Just keep talking. It's what you do best. I'm through talking.
Iago: Well, then! I'll save the rest of my clever analogies for another time... And kill you right now. HAAH!
"

— Iago, when fighting Corrin in Birthright Chapter 25.
"
Takumi: Yes! I was hoping I'd get a chance to kill you myself. This is for everything you've put me through!
Iago: *yawn* You know I chose you because you were the weakest, right? You should never have come out of that spell - now you're going to suffer!
Takumi: Wrong! Now that my head is clear, my aim is truer than ever. I'm going to turn your face into my own personal bull's-eye.
"

— Iago, when fighting Takumi in Birthright Chapter 25.
| | | | |
| --- | --- | --- | --- |
| " | You impertinent traitor! Your ragtag group is no match for my army! Let your death serve as an example to all those who dare oppose King Garon! | " | — Iago, as the boss in Conquest Chapter 26. |
"
Iago: Are you ready to pay for your betrayal, Lord/Lady Corrin?
Corrin: No, Iago, I am ready to kill you.
Iago: Oh my, how very frightening. I'm trembling! I am the highest-ranking general in the Nohrian army, you fool. Do you really think I'll be so easy to kill? But before you die, I have something to tell you. A parting gift, if you will. It was I who sent the Faceless who killed that flying rat, Lilith.
Corrin: What?!
Iago: Oh, and that's not all. It was I who suggested to King Garon that you be forced to kill Prince Ryoma. And I who told the enemy about your journey to Macarath. Did you enjoy my little gifts of sorrow? I put ever so much thought into them!
Corrin: I will never forgive you for all that, Iago. Prepare to die!
Iago: Ha! So the imprisoned little prince/princess fancies himself/herself all grown up. The king ordered me to make you suffer without killing you... But I can no longer comply. In order to see my plans to fruition, you must die! Say your prayers, Lord/Lady Corrin!
"

— Iago, when fighting Corrin in Conquest Chapter 26.
| | | | |
| --- | --- | --- | --- |
| " | I must congratulate you for making it as far as you have. However, it is now your time to die. With you out of the way, the world will be King Garon's for the taking. Enjoy reflecting on all your mistakes...in the afterlife! | " | — Iago, as the boss in Revelation Chapter 17. |
Death/retreat quotes
| | | | |
| --- | --- | --- | --- |
| " | You think... you've won... | " | — Iago's defeat voice clip. |
| | | | |
| --- | --- | --- | --- |
| " | This is nothing...compared to what King Garon will do... | " | — Iago's defeat quote in Birthright Chapter 16. |
| | | | |
| --- | --- | --- | --- |
| " | Save me...King Garon... | " | — Iago's death quote in Birthright Chapter 25. |
| | | | |
| --- | --- | --- | --- |
| " | GAAAAH!! This can't...be happening! How could I lose?! King Garon, please...save...me... | " | — Iago's death quote in Conquest Chapter 26. |
| | | | |
| --- | --- | --- | --- |
| " | This...this can't be happening... My plan...was perfect... I... King Garon... H-help...me... | " | — Iago's death quote in Revelation Chapter 17. |
Heroes quotes
Main article: Iago/Quotes (Heroes)
Other appearances
Fire Emblem Warriors
Iago appears as a boss in chapter 13 in Story Mode.
Fire Emblem Cipher
Iago is featured on one card in Fire Emblem Cipher.
Fire Emblem Cipher data for Iago
Nohrian Tactician, Iago
"Well, then! I'll save the rest of my clever analogies for another time… And kill you right now. HAAH!""
Attack: 50
Support: 20
Range: 1-2
Deploy Cost: 3
Class: Sorcerer
Tier: Advanced
Class Change Cost: 2
Underhanded Sacrifice:

[Activate]

[Once per turn]

[] [Destroy another ally] Your opponent must choose one of their units besides the Main Character. Destroy the chosen unit.
Nohrian Tactics:

[Trigger]

When this unit's 'Underhanded Sacrifice' destroys an enemy, you may move this unit.
Card #B10-085N • Artist: Yoneko
Some card information translation provided by Serenes Forest.
For more detailed strategic information on these cards, see their TCG wiki article on Iago .
Flavor text
---
This section has been marked as a stub. Please help improve the page by adding information.
---
Game
Text
(English)
Text
(Japanese)

Fates

General of the Nohrian army and a skilled
illusionist. Enjoys making devious plans.
暗夜王国の軍師。幻術を得意とする。
卑劣な策を弄し暗躍するのを好む。

Heroes

Tactician in the service of the Nohrian king,
Garon. He uses cruel schemes and malicious
magic to plague the enemies of Nohr. Appears
in Fire Emblem Fates.
暗夜王ガロンに仕える軍師。
冷酷な策略と幻術で数多くの敵対者を苦しめた。
(登場:『ファイアーエムブレム if』)

Warriors

A tactician from the world of Fire
Emblem Fates, Iago is retainer and
chief strategist for King Garon of
the Kingdom of Nohr.
Iago has shown that he's willing to
do anything to further King Garon's
ambitions, as he continues to deceive
and torment the Hoshidan royal family.
??
Trivia
Unlike the rest of the game's Sorcerers, Iago has the capability of wielding staves, more in line with the class's portrayal in

Shadow Dragon

and

New Mystery of the Emblem

.
Iago's Japanese name,

マクベス

Makubesu, is shared with Macbeth, a boss from Fire Emblem: Genealogy of the Holy War.
Iago was the only major Fire Emblem Warriors antagonist not revealed in any trailers or promotional materials.
Revelation is the only path where Iago is not killed by Leo, but is instead killed by the combined might of Hoshido and Nohr.
Etymology and other languages
Names, etymology and in other regions
Language
Name
Definition, etymology, and notes
English

Iago

Direct reference to Iago, the antagonist of the Shakespearian play Othello.[2]

Japanese

マクベス

Romanized in internal data as Makubex. A reference to MakubeX, an antagonistic character from GetBackers, a work of Shin Kibayashi, the writer of Fates's basic story, done under one of his numerous pen names.

Spanish

Iago

As above

French

Iago

As above

German

Iago

As above

Italian

Iago

As above

Portuguese
(Brazil)

Iago

As above

Korean

이아고

Iago

Traditional Chinese

馬克白

Makubeth
Gallery
References
| | |
| --- | --- |
| | This article is part of Project Characters, a project focused on writing articles for every character present in the Fire Emblem series. |
Fire Emblem Fates
Playable characters
Birthright

Asugi • Azama • Azura • Caeldori • Corrin • Dwyer • Felicia • Hana • Hayato • Hinata • Hinoka • Hisame • Izana • Jakob • Kaden • Kagero • Kana • Kaze • Kiragi • Midori • Mitama • Mozu • Oboro • Orochi • Reina • Rhajat • Rinkah • Ryoma • Saizo • Sakura • Scarlet • Selkie • Setsuna • Shigure • Shiro • Shura • Silas • Sophie • Subaki • Takumi • Yukimura
Conquest

Arthur • Azura • Benny • Beruka • Camilla • Charlotte • Corrin • Dwyer • Effie • Elise • Felicia • Flora • Forrest • Gunter • Ignatius • Izana • Jakob • Kana • Kaze • Keaton • Laslow • Leo • Midori • Mozu • Niles • Nina • Nyx • Odin • Ophelia • Percy • Peri • Selena • Shigure • Shura • Siegbert • Silas • Soleil • Sophie • Velouria • Xander
Revelation

Arthur • Asugi • Azama • Azura • Benny • Beruka • Caeldori • Camilla • Charlotte • Corrin • Dwyer • Effie • Elise • Felicia • Flora • Forrest • Fuga • Gunter • Hana • Hayato • Hinata • Hinoka • Hisame • Ignatius • Jakob • Kaden • Kagero • Kana • Kaze • Keaton • Kiragi • Laslow • Leo • Midori • Mitama • Mozu • Niles • Nina • Nyx • Oboro • Odin • Ophelia • Orochi • Percy • Peri • Reina • Rhajat • Rinkah • Ryoma • Saizo • Sakura • Scarlet • Selena • Selkie • Setsuna • Shigure • Shiro • Shura • Siegbert • Silas • Soleil • Sophie • Subaki • Takumi • Velouria • Xander

DLC

Anna

amiibo

Ike • Lucina • Marth • Robin
Non-playable characters
Cadros • Cassita • Ikona • Katerina • Layla • Lilith • Moro • Rainbow Sage
Bosses
??? • Anankos • Anthony • Arete • Candace • Daichi • Daniela • Funke • Garon • Gazak • Haitaka • Hans • Iago • Kilma • Kotaro • Kumagera • Llewelyn • Lloyd • Mikoto • Nichol • Omozu • Senno • Sumeragi • Takumi • Tarba • Zhara • Zola

Regalia

and personal weapons
Astral Blessing • Aurgelmir • Bifröst • Bölverk • Brynhildr • Chakram • Excalibur • Fujin Yumi • Ganglari • Hagakure Blade • Missiletainn • Pursuer • Raijinto • Siegfried • Skadi • Waterwheel • Yato
Chapters
Prologue
Pr: Ties That Bind • 1: Nohr • 2: Gift of Ganglari • 3: Journey Begins • 4: Hoshido • 5: Mother • 6: The Path Is Yours
Birthright

6: In the White Light • 7: A Vow Upheld • 8: Fierce Winds • 9: Land of Gods • 10: Ninja Village • 11: To the Sea • 12: Dark Reunion • 13: Another Hope • 14: Light Scatters • 15: Wolfskin Peak • 16: Pleasure Palace • 17: Lost in the Ice • 18: Leo • 19: Rainbow Sage • 20: Fort Dragonfall • 21: Burning Falls • 22: Hidden Capital • 23: Camilla • 24: Tears of a Dragon • 25: Traitor Revealed • 26: Xander • 27: King Garon • Endgame: Dawn Breaks
Conquest

6: Embrace the Dark • 7: A Dragon's Decree • 8: Cold Reception • 9: Another Trial • 10: Unhappy Reunion • 11: Rainbow Sage • 12: Bitter Intrigue • 13: Uprising • 14: Voice of Paradise • 15: The Black Pillar • 16: Invasion • 17: Den of Betrayal • 18: Black & White • 19: Kitsune Lair • 20: Winds of Change • 21: Eternal Stairway • 22: Sakura • 23: Possessed • 24: Hinoka • 25: Ryoma • 26: Treason • 27: The Empty King • Endgame: Night Breaks Through
Revelation

6: Into the Ground • 7: Unspeakable World • 8: Traitor's Brand • 9: Wanderer • 10: Voice of a God • 11: Mutual Enemies • 12: Frozen Sea • 13: A Lost Peace • 14: Orders • 15: Rainbow Sage • 16: White Flames • 17: Black Flames • 18: Veiled Kingdom • 19: Hidden Strings • 20: Seeds of Doubt • 21: Going Forward • 22: Memories • 23: Arete Undone • 24: Days Lost • 25: Blades Drawn • 26: The Vallite King • 27: Hear My Cry • Endgame: Anankos
Paralogues
1: Tragic Start • 2: Dragon Blood • 3: Surprise Duet • 4: Fight or Flight • 5: Bold Approach • 6: Herbal Remedy • 7: Father & Liege • 8: A Great Hunt • 9: Saizo vs. Saizo • 10: Hunter & Prey • 11: A Long Grudge • 12: Sweet Dreams • 13: Truly Talented • 14: After the End • 15: Hidden Bravery • 16: Abducted • 17: Two Defenders • 18: Nutty Family • 19: Great Heroism • 20: Ultimate Power • 21: Bright Smile • 22: Abrupt Clash
Invasions
: Invasion 1 • Invasion 2 • Invasion 3 • : Invasion 1 • Invasion 2 • Invasion 3 • : Invasion 1 • Invasion 2 • Invasion 3
DLC chapters
Ghostly Gold • Boo Camp • Museum Melee • Beach Brawl • Royal Royale • Before Awakening • Hidden Truths 1 • Hidden Truths 2 • Vanguard Dawn • Anna on the Run • Ballistician Blitz • Witches' Trial • A Gift from Anna • Another Gift from Anna • I: In Endless Dreams • II: Realms Collide • III: The Changing Tide • IV: Light's Sacrifice • V: Endless Dawn • End: Lost in the Waves • Hoshidan Festival of Bonds • Nohrian Festival of Bonds
Hero Battles
Hero-King Marth • Radiant Hero Ike • Princess Lucina • Grandmaster Robin
Locations
Deeprealms (My Castle) • Hoshido (Flame Tribe • Izumo • Kohga • Mokushu • Wind Tribe) • Nohr (Dragon's Gate • Ice Tribe • Nestra) • Notre Sagesse • Valla (Bottomless Canyon)
Groups, objects, and concepts
Dragon Vein • My Castle
Related topics
Ancient Texts • Downloadable content • Fire Emblem Fates: Crown of Nibelung • Name chart • Pre-release information (Unused content) • Soundtrack