Site News
Warning: This wiki contains spoilers. Read at your own risk!


Social media: If you would like, please join our Discord server, and/or follow us on Twitter or Tumblr!

Engage info: As the game has only recently released, we lack much key information. Please help add any info that you can.
Ivy
From Fire Emblem Wiki, your source on Fire Emblem information. By fans, for fans.
---
This article's subject is about a recently released game or expansion. As such, key information is likely to be missing. Please help out and add the information that you can.
---
---
This page has been marked as a stub. Please help improve the page by adding information.
---
Ivy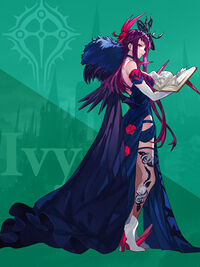 Official artwork of Ivy from Engage.
---
The mysterious, melancholy crown princess of Elusia. She never relaxes her icy royal decorum.
| | |
| --- | --- |
| Gender | Female |
| Race | Human |
| Age | 20 |
| Birthday | November 17th |
| Height | 172 cm (5'8") |
| Family | |
| Nationality | |
| Title(s) | Princess of Elusia |
| Starting class | |
| Voiced by | |
| Appearance(s) | |
Ivy (Japanese: アイビー Ivy) is a playable character in Fire Emblem Engage.
Biography
Ivy is the first princess of Elusia.[1]
Role
Ivy is a playable character. She begins in an antagonistic role.
Starting stats and growth rates
Playable
| | |
| --- | --- |
| | Recruitment: Chapter 11, automatically from turn 6. |
Enemy - Chapter 8
Enemy - Chapter 9
---
This section is missing stats, calculations, or growth rates which may be currently unknown. If this information is available, please help improve the page by adding it.
---
Personality and character
Ivy is serious and quiet, and never forgets her royal dignity and stature.[1]
Endings
Snow Queen Ivy
As queen of Elusia, Ivy strove to rebuild her war-torn nation, and to improve its insular culture through diplomacy with Brodia. Her decision to import ore gave rise to a lucrative mineral processing industry.
Ivy's legacy endured even after Alear had passed on.
Divine Dragon Alear & Snow Queen Ivy
Alear became the new Divine Dragon Monarch. His/Her bonds with the rulers of each nation resulted in lasting peace.
Ivy took the throne as queen and worked with the Divine Dragon Monarch to restore Elusia. She showed her devotion to her faith by fostering it in her homeland.
Quotes
---
This section has been marked as a stub. Please help improve the page by adding information.
---
Battle quotes
| | | | |
| --- | --- | --- | --- |
| " | With this Emblem's strength and my own, there will be no defeating me! | " | — Ivy as an enemy in Chapter 8. |
"
Ivy: What a pleasure it is to see you up close, Divine One.
Alear: That ring should be in Lythos Castle. Return it.
Ivy: Hm-hm! If I say no, will you come nearer?
"

— Ivy as an enemy, when fighting Alear in Chapter 8.
| | | | |
| --- | --- | --- | --- |
| " | Ivy: My father's orders were plain. You will not pass. | " | — Ivy as an enemy in Chapter 9. |
"
Corrupted Hyacinth: Ivy.
Ivy: Father. I've not seen you since we were at the Brodian border. That was our in farewell. In this life, at least.
Corrupted Hyacinth: It need not be. I can appeal to Lord Sombron-ask him to welcome you back as our ally.
Ivy: No. You are...not you. I will not cling tearfully to my father's shadow. But I am grateful for this. Grateful for the chance to thank you, say goodbye, and tell you that as Elusia's queen...I will surpass you.
"

— Ivy fighting Corrupted Hyacinth in Serenity in Ruin.
| | | | |
| --- | --- | --- | --- |
| " | You have always been my source of strength. Allow my faith, just this once, to be yours. | " | — Ivy in The Last Engage. |
"
Ivy: It feels a little strange to fight you. I'm reminded of my father and all that happened.
Lyn: Oh? I'm rather happy about this fight myself. Facing someone as skilled as you is a pleasure.
Ivy: If only he had been so encouraging. Very well, let's begin.
"

— Ivy and Lyn in The Lady of the Plains.
Critical quotes
| | | | |
| --- | --- | --- | --- |
| " | There is no escape. | " | — Ivy |
Defeat quotes
| | | | |
| --- | --- | --- | --- |
| " | No, the ring... | " | — Ivy as an enemy in Chapter 8. |
| | | | |
| --- | --- | --- | --- |
| " | Father... I'm sorry... | " | — Ivy as an enemy in Chapter 9. |
Flavor text
Game
Text
(English)
Text
(Japanese)

Engage

The mysterious, melancholy crown
princess of Elusia. She never relaxes
her icy royal decorum.

ミステリアスで物憂げなイルシオン王女。
王族らしい威厳と凛とした姿勢を崩さない。
Etymology and other languages
Names, etymology and in other regions
Language
Name
Definition, etymology, and notes
English

Ivy

From the plant.

Japanese

アイビー

Officially romanized as Ivy.

Spanish

Ivy

--

French

Ivy

--

German

Ivy

--

Italian

Ivy

--

Korean

아이비

Ivy

Simplified Chinese

艾比

Ivy

Traditional Chinese

艾比

Ivy
Gallery
References
| | |
| --- | --- |
| | This article is part of Project Characters, a project focused on writing articles for every character present in the Fire Emblem series. |