Site News
Warning: This wiki contains spoilers. Read at your own risk!


Social media: If you would like, please join our Discord server, and/or follow us on Twitter or Tumblr!

Engage info: As the game has only recently released, we lack much key information. Please help add any info that you can.
Dark Reunion
From Fire Emblem Wiki, your source on Fire Emblem information. By fans, for fans.
| | |
| --- | --- |
| | It has been requested that image(s) be placed in this page or section. Please submit images to help improve this page and talk on this page's talk page about what images are needed. Remove this when this has been fixed. |
Dark Reunion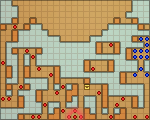 | | |
| --- | --- |
| Location | Opera House |
| New units | |
| Boss(es) | |
| Previous chapter(s) | |
| Next chapter(s) | |
| | | | |
| --- | --- | --- | --- |
| " | Very well. My mother lives in a small village a few miles from here. She's old and frail, and I'm told the end could come at any moment. I really need to go and see her right away, but there's a problem... I'm a singer, and I have a performance scheduled today...for King Garon. | " | — Layla |
Dark Reunion (Japanese: 楽園の再会 Reunion in Paradise) is the twelfth chapter of the Birthright campaign in Fire Emblem Fates. In this chapter, Corrin and their army finally arrive on Nohrian shores in Cyrkensia, in the kingdom of Nestra, en route toward Cheve in search of Ryoma. After Azura attempts to ring-in for a famous local singer, only to fail to deceive the intended target, Corrin's army find themselves in battle against the Nohrians--and the man they knew as their older brother.
Plot
Main article: Dark Reunion/Script
Corrin's army finally arrives on Nohrian shores in Cyrkensia, a city in the kingdom of Nestra; Corrin, mistaking this area as being Cheve, deduces that Ryoma probably doesn't need their help if he's in the area, to which Hinoka explains their actual location to Corrin--Nestra being another neutral kingdom much like Izumo, people from both Hoshido and Nohr vacation in Cyrkensia even during times of war, after which Corrin and Azura start to discuss the city's nightlife. Kaden runs into the group and introduces himself to them, to which he and Corrin discuss shapeshifting and Azura revealing him to be a Hoshidan kitsune; Kaden's MO for being in the area is revealed to be performin a favor for a human who was nice to him, after which we meet Layla. Layla's plight involves wanting to return home to visit her mother right away, yet a performance is scheduled for that evening and Garon will be in attendance; Azura offers to perform in Layla's stead as an opportunity to take the Nohrians by surprise, and when Kaden reveals that Azura and Layla look nothing alike, Azura reveals that Zola can rectify that. Azura reveals that, while Garon is distracted by her song, others can approach undetected--and should they manage to capture Garon, Nohr would have no choice but to negotiate for peace; Zola, despite being hesitant at what Garon might do should he found out, agrees to help and states that he can change Azura's appearance but not her voice, after which Corrin and Hinoka bring up Azura's skill at singing. After Layla leaves the scene, Kaden asks Corrin if he could join his/her army and reveals how he can transform with his beaststone; Sakura states that there isn't much time left before the show begins, after which Corrin asks Zola to work his magic.
Inside the opera house, Takumi asks where Garon is, to which Corrin points to a roped-off area; Takumi then asks who's with Garon, after which we spot Elise states that she hopes the music will distract her from what's going on, to which Corrin, introducing Elise as their sister, notices the change in her demeanor, apologizes to her for deciding to stand against her, and states that he/she hopes she understands the decisions they made. As the show starts, Elise and Garon discuss the upcoming performance, as Azura begins singing Lost in Thoughts All Alone to Corrin's shock; (Cutscene: "Light Song") Azura performs the first verse of the song, to which we see Garon visibly discomforted. Once the cutscene ends, Corrin starts to prepare for a sneak operation when Garon notices them and orders his soldiers to capture them, revealing that Garon was not deceived by the ring-in; after Elise shows concern for Corrin, and Corrin asks how Garon could have anticipated this. Garon states that he couldn't believe Corrin would willingly let Zola travel with them, revealing that Zola was behind the deception falling apart. Zola attempts to beg for mercy, hoping Leo could spare him and Corrin could be pardoned, only to be immediately killed by Garon, much to Elise's horror. Corrin calls him out for being heartless and using his own men for his selfish needs, and dispose them like it's nothing. Takumi suggests that the group go after Garon, to which Corrin states it's too risky as there are too many Nohrians, to which they state that they need to retreat and regroup. The battle begins at this point.
At the end of turn 3 on player phase, Corrin notices arriving reinforcements, after which Xander, Laslow and Peri arrive; Xander announces his anger towards Corrin for daring to attack Garon, whom they once called "Father". Corrin and Silas attempt to reason with Xander, stating that Garon's dark ambition is the sole cause of this war and he must be stopped or both kingdoms with continue to suffer, but Xander declares that their words mean nothing and denounce them both as traitors and dares Corrin to take him on in battle. At the start of turn 5, Azura points out the escape route Corrin is supposed to use to escape the area and tells them to hurry before they get overwhelm.
Once the battle ends, Corrin states that they believe they're safe where they've ended up, only for Xander to quickly catch up, telling Corrin that theu cannot escape from him; Xander once again scolds them for betraying Garon and their family, and express regret at once calling them his family and attempts to engage Corrin again, but Elise arrives to distract him and offer herself in their stead. Corrin begs her not to do this, but Azura suggests that Corrin and the rest of the army take advantage of the situation and run away. Xander warns Corrin they can't run forever and that he will always find them, because it is their destiny to face him. Over at the docks, Takumi states that he believes the army really has shaken the Nohrians this time, but Corrin states they're gonna have to settle the score with Xander once and for all and they got a lot of work to do before they'll be his equal in battle. Corrin goes to seek out Azura only to find her visibly tired; once Azura recovers a bit, she quickly changes the subject and states that Ryoma is still out there and leaves the scene, to Corrin's concern.
Summary
Having narrowly survived a vicious attack at sea, Corrin arrives at the port city of Cyrkensia. A chance encounter offers the group an unexpected opportunity.
Chapter data
Character data
Characters
New Units
Required Characters

Available Characters



















Note: Felicia is only a returning character if Corrin is male, while Jakob is only a returning character if Corrin is female. The returning characters list does not include any characters recruitable in paralogues or xenologues, as the player may not have taken on any available paralogue chapters yet. The list also does not include any bonus units, as they are recruitable at the player's discretion.
Item data
There are no event tiles during the events of the chapter. When returning to the area for skirmishes, the following event tiles appear:
The Dragon Vein in this chapter is stated to have the effect "Freeze the water to make it passable". It is located as follows:
Enemy data
Name
Class
Lv
#
HP
Str
Mag
Skill
Spd
Lck
Prf
Def
Res
Cha
Con
Mov
Inventory and Skills
Nohrian
Knight
10
6
26
11
0
9
5
6
11
4
4

Steel Lance

•

Javelin

The three not surrounding Garon begin moving unprovoked on turn 5.
Nohrian
Great Knight
1
1
37
19
0
15
12
7
20
10
7

Hammer

Begins moving unprovoked on turn 5.
Nohrian
Cavalier
10
1
23
9
0
9
9
6
10
7
7

Steel Lance

•

Javelin

Begins moving unprovoked on turn 5.
Nohrian
Great Knight
1
1
37
19
0
15
12
7
20
10
7

Steel Axe

•

Javelin

Begins moving unprovoked on turn 5.
Nohrian
Cavalier
10
6
23
9
0
9
9
6
10
7
7

Steel Sword

•

Javelin

Begins moving unprovoked on turn 5.
Nohrian
Outlaw
11
6
22
6
1
9
14
3
5
9
5

Steel Bow

Begins moving unprovoked on turn 5.
Nohrian
Fighter
10
4
26
11
0
11
10
3
8
4
5

Steel Axe

•

Hand Axe

Begins moving unprovoked on turn 5.
Nohrian
Outlaw
11
1
22
6
1
9
14
3
5
9
5

Iron Bow

•

3000G




Locktouch

Prioritizes opening a chest, then escaping via the south.
Garon
Nohrian King
30
1
48
28
16
24
19
4
24
21
-

Bölverk




Draconic Hex

•

Dragonskin

--
Reinforcements
Boss data
Main article: Garon
Strategy
This section details unofficial strategies that may help with completion of the chapter. This may not work for everybody.
Trivia
Etymology and other languages
Names, etymology and in other regions
Language
Name
Definition, etymology, and notes
English

Dark Reunion

--

Japanese

楽園の再会

Reunion in Paradise

French

Sombre retrouvailles

Dark Reunion

German

Dunkles Wiedersehen

Dark Reunion

Korean

낙원에서의 재회
Gallery
---
This section has been marked as a stub. Please help improve the page by adding information.
---
References
Fire Emblem Fates
Playable characters
Birthright

Asugi • Azama • Azura • Caeldori • Corrin • Dwyer • Felicia • Hana • Hayato • Hinata • Hinoka • Hisame • Izana • Jakob • Kaden • Kagero • Kana • Kaze • Kiragi • Midori • Mitama • Mozu • Oboro • Orochi • Reina • Rhajat • Rinkah • Ryoma • Saizo • Sakura • Scarlet • Selkie • Setsuna • Shigure • Shiro • Shura • Silas • Sophie • Subaki • Takumi • Yukimura
Conquest

Arthur • Azura • Benny • Beruka • Camilla • Charlotte • Corrin • Dwyer • Effie • Elise • Felicia • Flora • Forrest • Gunter • Ignatius • Izana • Jakob • Kana • Kaze • Keaton • Laslow • Leo • Midori • Mozu • Niles • Nina • Nyx • Odin • Ophelia • Percy • Peri • Selena • Shigure • Shura • Siegbert • Silas • Soleil • Sophie • Velouria • Xander
Revelation

Arthur • Asugi • Azama • Azura • Benny • Beruka • Caeldori • Camilla • Charlotte • Corrin • Dwyer • Effie • Elise • Felicia • Flora • Forrest • Fuga • Gunter • Hana • Hayato • Hinata • Hinoka • Hisame • Ignatius • Jakob • Kaden • Kagero • Kana • Kaze • Keaton • Kiragi • Laslow • Leo • Midori • Mitama • Mozu • Niles • Nina • Nyx • Oboro • Odin • Ophelia • Orochi • Percy • Peri • Reina • Rhajat • Rinkah • Ryoma • Saizo • Sakura • Scarlet • Selena • Selkie • Setsuna • Shigure • Shiro • Shura • Siegbert • Silas • Soleil • Sophie • Subaki • Takumi • Velouria • Xander

DLC

Anna

amiibo

Ike • Lucina • Marth • Robin
Non-playable characters
Cadros • Cassita • Ikona • Katerina • Layla • Lilith • Moro • Rainbow Sage
Bosses
??? • Anankos • Anthony • Arete • Candace • Daichi • Daniela • Funke • Garon • Gazak • Haitaka • Hans • Iago • Kilma • Kotaro • Kumagera • Llewelyn • Lloyd • Mikoto • Nichol • Omozu • Senno • Sumeragi • Takumi • Tarba • Zhara • Zola

Regalia

and personal weapons
Astral Blessing • Aurgelmir • Bifröst • Bölverk • Brynhildr • Chakram • Excalibur • Fujin Yumi • Ganglari • Hagakure Blade • Missiletainn • Pursuer • Raijinto • Siegfried • Skadi • Waterwheel • Yato
Chapters
Prologue
Pr: Ties That Bind • 1: Nohr • 2: Gift of Ganglari • 3: Journey Begins • 4: Hoshido • 5: Mother • 6: The Path Is Yours
Birthright

6: In the White Light • 7: A Vow Upheld • 8: Fierce Winds • 9: Land of Gods • 10: Ninja Village • 11: To the Sea • 12: Dark Reunion • 13: Another Hope • 14: Light Scatters • 15: Wolfskin Peak • 16: Pleasure Palace • 17: Lost in the Ice • 18: Leo • 19: Rainbow Sage • 20: Fort Dragonfall • 21: Burning Falls • 22: Hidden Capital • 23: Camilla • 24: Tears of a Dragon • 25: Traitor Revealed • 26: Xander • 27: King Garon • Endgame: Dawn Breaks
Conquest

6: Embrace the Dark • 7: A Dragon's Decree • 8: Cold Reception • 9: Another Trial • 10: Unhappy Reunion • 11: Rainbow Sage • 12: Bitter Intrigue • 13: Uprising • 14: Voice of Paradise • 15: The Black Pillar • 16: Invasion • 17: Den of Betrayal • 18: Black & White • 19: Kitsune Lair • 20: Winds of Change • 21: Eternal Stairway • 22: Sakura • 23: Possessed • 24: Hinoka • 25: Ryoma • 26: Treason • 27: The Empty King • Endgame: Night Breaks Through
Revelation

6: Into the Ground • 7: Unspeakable World • 8: Traitor's Brand • 9: Wanderer • 10: Voice of a God • 11: Mutual Enemies • 12: Frozen Sea • 13: A Lost Peace • 14: Orders • 15: Rainbow Sage • 16: White Flames • 17: Black Flames • 18: Veiled Kingdom • 19: Hidden Strings • 20: Seeds of Doubt • 21: Going Forward • 22: Memories • 23: Arete Undone • 24: Days Lost • 25: Blades Drawn • 26: The Vallite King • 27: Hear My Cry • Endgame: Anankos
Paralogues
1: Tragic Start • 2: Dragon Blood • 3: Surprise Duet • 4: Fight or Flight • 5: Bold Approach • 6: Herbal Remedy • 7: Father & Liege • 8: A Great Hunt • 9: Saizo vs. Saizo • 10: Hunter & Prey • 11: A Long Grudge • 12: Sweet Dreams • 13: Truly Talented • 14: After the End • 15: Hidden Bravery • 16: Abducted • 17: Two Defenders • 18: Nutty Family • 19: Great Heroism • 20: Ultimate Power • 21: Bright Smile • 22: Abrupt Clash
Invasions
: Invasion 1 • Invasion 2 • Invasion 3 • : Invasion 1 • Invasion 2 • Invasion 3 • : Invasion 1 • Invasion 2 • Invasion 3
DLC chapters
Ghostly Gold • Boo Camp • Museum Melee • Beach Brawl • Royal Royale • Before Awakening • Hidden Truths 1 • Hidden Truths 2 • Vanguard Dawn • Anna on the Run • Ballistician Blitz • Witches' Trial • A Gift from Anna • Another Gift from Anna • I: In Endless Dreams • II: Realms Collide • III: The Changing Tide • IV: Light's Sacrifice • V: Endless Dawn • End: Lost in the Waves • Hoshidan Festival of Bonds • Nohrian Festival of Bonds
Hero Battles
Hero-King Marth • Radiant Hero Ike • Princess Lucina • Grandmaster Robin
Locations
Deeprealms (My Castle) • Hoshido (Flame Tribe • Izumo • Kohga • Mokushu • Wind Tribe) • Nohr (Dragon's Gate • Ice Tribe • Nestra) • Notre Sagesse • Valla (Bottomless Canyon)
Groups, objects, and concepts
Dragon Vein • My Castle
Related topics
Ancient Texts • Downloadable content • Fire Emblem Fates: Crown of Nibelung • Name chart • Pre-release information (Unused content) • Soundtrack