Site News
Warning: This wiki contains spoilers. Read at your own risk!


Social media: If you would like, please join our Discord server, and/or follow us on Twitter or Tumblr!

Engage info: As the game has only recently released, we lack much key information. Please help add any info that you can.
Going Forward
From Fire Emblem Wiki, your source on Fire Emblem information. By fans, for fans.
| | |
| --- | --- |
| | It has been requested that image(s) be placed in this page or section. Please submit images to help improve this page and talk on this page's talk page about what images are needed. Remove this when this has been fixed. |
Going Forward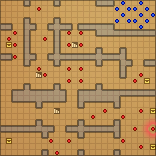 | | |
| --- | --- |
| Location | Cursed Ruins |
| Boss(es) | |
| Previous chapter(s) | |
| Next chapter(s) | |
| | | | |
| --- | --- | --- | --- |
| " | Yeesh... We told you we thought Anthony wasn't trustworthy. Though I suppose now is no time for "I told you so"! | " | — Leo |
Going Forward (Japanese: 進むべき道 The Way Forward) is the twenty-first chapter of the Revelation campaign of Fire Emblem Fates. In this chapter, Corrin's loyalty to others—and to Anthony—is turned against him/her.
Plot
Main article: Going Forward/Script
As Corrin and the others rest from the previous encounter, Anthony comes up to speak to him/her. Aware of the group's distrust for him, he suggests going through the front entrance to Gyges instead of the back entrance as he previously planned. Corrin refuses this, opting to go through the back way anyways. As they reach a set of ruins that leads to the back, Anthony thanks Corrin for his/her trust, only to immediately summon Vallite soldiers to kill him. Anthony reveals he was ordered by Anankos to kill every last one of them, though Corrin responds that he/she had anticipated this, and left a message with the group to come if he/she didn't return. As Corrin fends off the ambush, Takumi, Leo and the others come in to rescue him/her, reprimanding him/her as they do. As Xander and Gunter attack Anthony, Anankos transforms him into a Faceless for his failure. The group then fights through the ruins and finally kills him despite his pleas for mercy.
After the battle, Corrin apologizes to everyone for bringing them into this battle. Xander then reprimands him/her, saying that his/her tendency to trust others is his/her greatest weakness. Despite this, he asks him/her not to stop trusting people, as he would not be able to follow him/her anymore. Ryoma tells him/her to keep trusting in others and to let them handle any trouble that it may cause. Corrin thanks them all for their own loyalty to him/her.
Summary
The group grows distrustful of Anthony after he seemed to lead them into a trap. Nevertheless, they travel deeper into Valla, seeking the castle's back entrance.
Chapter data
In this chapter, red areas cause enemies in base classes to change to advanced classes, while blue areas cause enemies in advanced classes to change to base classes. These effects happen after an enemy's turn ends, meaning if an enemy starts a turn in an advanced class, when they initiate combat on that turn, they will still be in that advanced class for the duration of combat. These areas do not affect playable units. Reinforcements, all of advanced class initially, will not be affected by these areas at the point of their appearance; for example, a reinforcement appearing in a blue area will remain advanced-class until they complete their turn in a blue area.
Character data
Characters
New Units
Required Characters
Available Characters









































Note: The returning characters list does not include any characters recruitable in paralogues or xenologues, as the player may not have taken on any available paralogue chapters yet. The list also does not include any bonus units, as they are recruitable at the player's discretion.
Item data
There are no event tiles during the events of the chapter. When returning to the area for skirmishes, the following event tiles appear:
Column 3, row 3: Two squares east, two squares south of the northwestern corner of the map (in a red room)
Column 10, row 20: Adjacent to the southwestern stairs (in a blue room)
Note that, while the visual room color effect remains in place, enemies cannot change their promotion tier in skirmishes.
Dragon Veins in this chapter are stated to have the effect "Swap the red and blue areas". They are as follows:
Column 1, row 15: In the lower left corner of the furthest western room
Column 26, row 15: In the lower right corner of the furthest eastern room
Enemy data
Stats with two figures separated by a ~ are presented as a range. The figures to the left of the ~ represent the unit's stats in a base class; the figures to the right of the ~ represent the unit's stats in an advanced class.
Reinforcements
Turn 5
Turn 8
Turn 10

1 Sniper from the westernmost stairs

Turn 12
Turn 15

1 General from the southernmost stairs

Turn 16
Turn 20

3 Berserkers from the room north of the southwestern chest room

Turn 25
Turn 30
Upon entering the furthest southwestern room
Upon reaching halfway through the southern room leading to Anthony's room (column 17, row 23)
Boss data
Main article: Anthony
Strategy
This section details unofficial strategies that may help with completion of the chapter. This may not work for everybody.
---
This section has been marked as a stub. Please help improve the page by adding information.
---
Etymology and other languages
Names, etymology and in other regions
Language
Name
Definition, etymology, and notes
English

Going Forward

--

Japanese

進むべき道

The Way Forward

French

Détour fatidique

Fateful detour

German

Weiter voran

Continues to advance

Korean

가야 할 길

The way forward
Gallery
References
Fire Emblem Fates
Playable characters
Birthright

Asugi • Azama • Azura • Caeldori • Corrin • Dwyer • Felicia • Hana • Hayato • Hinata • Hinoka • Hisame • Izana • Jakob • Kaden • Kagero • Kana • Kaze • Kiragi • Midori • Mitama • Mozu • Oboro • Orochi • Reina • Rhajat • Rinkah • Ryoma • Saizo • Sakura • Scarlet • Selkie • Setsuna • Shigure • Shiro • Shura • Silas • Sophie • Subaki • Takumi • Yukimura
Conquest

Arthur • Azura • Benny • Beruka • Camilla • Charlotte • Corrin • Dwyer • Effie • Elise • Felicia • Flora • Forrest • Gunter • Ignatius • Izana • Jakob • Kana • Kaze • Keaton • Laslow • Leo • Midori • Mozu • Niles • Nina • Nyx • Odin • Ophelia • Percy • Peri • Selena • Shigure • Shura • Siegbert • Silas • Soleil • Sophie • Velouria • Xander
Revelation

Arthur • Asugi • Azama • Azura • Benny • Beruka • Caeldori • Camilla • Charlotte • Corrin • Dwyer • Effie • Elise • Felicia • Flora • Forrest • Fuga • Gunter • Hana • Hayato • Hinata • Hinoka • Hisame • Ignatius • Jakob • Kaden • Kagero • Kana • Kaze • Keaton • Kiragi • Laslow • Leo • Midori • Mitama • Mozu • Niles • Nina • Nyx • Oboro • Odin • Ophelia • Orochi • Percy • Peri • Reina • Rhajat • Rinkah • Ryoma • Saizo • Sakura • Scarlet • Selena • Selkie • Setsuna • Shigure • Shiro • Shura • Siegbert • Silas • Soleil • Sophie • Subaki • Takumi • Velouria • Xander

DLC

Anna

amiibo

Ike • Lucina • Marth • Robin
Non-playable characters
Cadros • Cassita • Ikona • Katerina • Layla • Lilith • Moro • Rainbow Sage
Bosses
??? • Anankos • Anthony • Arete • Candace • Daichi • Daniela • Funke • Garon • Gazak • Haitaka • Hans • Iago • Kilma • Kotaro • Kumagera • Llewelyn • Lloyd • Mikoto • Nichol • Omozu • Senno • Sumeragi • Takumi • Tarba • Zhara • Zola

Regalia

and personal weapons
Astral Blessing • Aurgelmir • Bifröst • Bölverk • Brynhildr • Chakram • Excalibur • Fujin Yumi • Ganglari • Hagakure Blade • Missiletainn • Pursuer • Raijinto • Siegfried • Skadi • Waterwheel • Yato
Chapters
Prologue
Pr: Ties That Bind • 1: Nohr • 2: Gift of Ganglari • 3: Journey Begins • 4: Hoshido • 5: Mother • 6: The Path Is Yours
Birthright

6: In the White Light • 7: A Vow Upheld • 8: Fierce Winds • 9: Land of Gods • 10: Ninja Village • 11: To the Sea • 12: Dark Reunion • 13: Another Hope • 14: Light Scatters • 15: Wolfskin Peak • 16: Pleasure Palace • 17: Lost in the Ice • 18: Leo • 19: Rainbow Sage • 20: Fort Dragonfall • 21: Burning Falls • 22: Hidden Capital • 23: Camilla • 24: Tears of a Dragon • 25: Traitor Revealed • 26: Xander • 27: King Garon • Endgame: Dawn Breaks
Conquest

6: Embrace the Dark • 7: A Dragon's Decree • 8: Cold Reception • 9: Another Trial • 10: Unhappy Reunion • 11: Rainbow Sage • 12: Bitter Intrigue • 13: Uprising • 14: Voice of Paradise • 15: The Black Pillar • 16: Invasion • 17: Den of Betrayal • 18: Black & White • 19: Kitsune Lair • 20: Winds of Change • 21: Eternal Stairway • 22: Sakura • 23: Possessed • 24: Hinoka • 25: Ryoma • 26: Treason • 27: The Empty King • Endgame: Night Breaks Through
Revelation

6: Into the Ground • 7: Unspeakable World • 8: Traitor's Brand • 9: Wanderer • 10: Voice of a God • 11: Mutual Enemies • 12: Frozen Sea • 13: A Lost Peace • 14: Orders • 15: Rainbow Sage • 16: White Flames • 17: Black Flames • 18: Veiled Kingdom • 19: Hidden Strings • 20: Seeds of Doubt • 21: Going Forward • 22: Memories • 23: Arete Undone • 24: Days Lost • 25: Blades Drawn • 26: The Vallite King • 27: Hear My Cry • Endgame: Anankos
Paralogues
1: Tragic Start • 2: Dragon Blood • 3: Surprise Duet • 4: Fight or Flight • 5: Bold Approach • 6: Herbal Remedy • 7: Father & Liege • 8: A Great Hunt • 9: Saizo vs. Saizo • 10: Hunter & Prey • 11: A Long Grudge • 12: Sweet Dreams • 13: Truly Talented • 14: After the End • 15: Hidden Bravery • 16: Abducted • 17: Two Defenders • 18: Nutty Family • 19: Great Heroism • 20: Ultimate Power • 21: Bright Smile • 22: Abrupt Clash
Invasions
: Invasion 1 • Invasion 2 • Invasion 3 • : Invasion 1 • Invasion 2 • Invasion 3 • : Invasion 1 • Invasion 2 • Invasion 3
DLC chapters
Ghostly Gold • Boo Camp • Museum Melee • Beach Brawl • Royal Royale • Before Awakening • Hidden Truths 1 • Hidden Truths 2 • Vanguard Dawn • Anna on the Run • Ballistician Blitz • Witches' Trial • A Gift from Anna • Another Gift from Anna • I: In Endless Dreams • II: Realms Collide • III: The Changing Tide • IV: Light's Sacrifice • V: Endless Dawn • End: Lost in the Waves • Hoshidan Festival of Bonds • Nohrian Festival of Bonds
Hero Battles
Hero-King Marth • Radiant Hero Ike • Princess Lucina • Grandmaster Robin
Locations
Deeprealms (My Castle) • Hoshido (Flame Tribe • Izumo • Kohga • Mokushu • Wind Tribe) • Nohr (Dragon's Gate • Ice Tribe • Nestra) • Notre Sagesse • Valla (Bottomless Canyon)
Groups, objects, and concepts
Dragon Vein • My Castle
Related topics
Ancient Texts • Downloadable content • Fire Emblem Fates: Crown of Nibelung • Name chart • Pre-release information (Unused content) • Soundtrack