Site News
Warning: This wiki contains spoilers. Read at your own risk!


Social media: If you would like, please join our Discord server, and/or follow us on Twitter or Tumblr!

Engage info: As the game has only recently released, we lack much key information. Please help add any info that you can.
Defense
From Fire Emblem Wiki, your source on Fire Emblem information. By fans, for fans.
This article is about the stat. For the staff from New Mystery of the Emblem, see Defense Staff.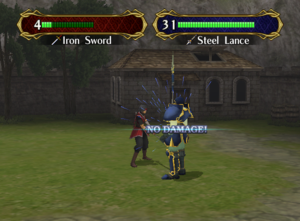 Defense (Japanese: 守備 defense), abbreviated Def, is a statistic belonging to units which determines a unit's ability to resist physical damage. It is used to reduce the hit point damage taken from incoming physical attacks fueled by the strength stat. When attacking physically—for instance, with lances, swords or bows—a unit's calculated attack has their target's defense subtracted from it to produce the damage they actually deal against this target, and vice versa. Defense can be temporarily enhanced by taking shelter in terrain types which give defense boosts, such as forests or forts, and can also be boosted through some support bonuses.
Some classes, most notably the various members of the Knight class family, are built to possess very high defense on average compared to other classes. As a general rule, units and classes with high defense tend to be slow, while it is common for units and classes with high skill and speed (such as the Myrmidon class family) or who wield magic to have poor defense. There is also a correlation between defense and hit points, where units and classes with high defense will also frequently have high HP.
A unit's defense stat will not protect them against magical attacks at all. When a unit is defending against an enemy who is using tomes or magic weapons, their resistance stat is used to reduce damage instead.
Calculations
Damage
Note that this does not include alterations to damage from critical hits, skills, special effects on items and weapons, etc.
Items and skills affecting defense
Weapons, items, and skills providing equipping bonus
Item
Defense increase
Games
Firestone

+12

/

+20

/

+9

when equipped.

Shadow Dragon & the Blade of Light

,

The Binding Blade

,

Shadow Dragon

,

New Mystery of the Emblem

Divinestone
+15 when equipped.

Shadow Dragon & the Blade of Light

,

The Binding Blade

,

Shadow Dragon

,

New Mystery of the Emblem

Magestone

+16

/

+20

/

+11

when equipped.

Shadow Dragon & the Blade of Light

,

The Binding Blade

,

Shadow Dragon

,

New Mystery of the Emblem

--
Earthstone
+23 when equipped.

Shadow Dragon & the Blade of Light

Leather Shield

+3

/

+1

when equipped.

Gaiden

,

Echoes: Shadows of Valentia

,

Three Houses

Steel Shield

+5

/

+3

when equipped.

Gaiden

,

Echoes: Shadows of Valentia

,

Three Houses

Silver Shield

+7

/

+4

when equipped.

Gaiden

,

Echoes: Shadows of Valentia

,

Three Houses

Blessed Shield
+13 against monsters when equipped.

Gaiden

,

Echoes: Shadows of Valentia

Dracoshield
+13 when equipped.

Gaiden

,

Echoes: Shadows of Valentia

Safeguard
+7 when equipped.

Genealogy of the Holy War

Gungnir
+10 when equipped.

Genealogy of the Holy War

,

Thracia 776

(Unused)
Gáe Bolg

+10

/

+5

when equipped.

Genealogy of the Holy War

,

Awakening

Helswath

+20

/

+5

when equipped.

Genealogy of the Holy War

,

Awakening

Valflame
+10 when equipped.

Genealogy of the Holy War

Naga

+20

/

+5

when equipped.

Genealogy of the Holy War

,

Awakening

Shield Ring
+5 when in inventory.

Genealogy of the Holy War

Paragon Sword
+5 when equipped.

Thracia 776

Binding Blade
+5 when equipped.

The Binding Blade

Armads
+5 when equipped.

The Binding Blade

,

The Blazing Blade

,

Awakening

Spear (Vaida's)
+4 when equipped.
Fire Emblem: The Blazing Blade
Flametongue
+20 when equipped.
Fire Emblem: The Blazing Blade
Vidofnir
+5 when equipped.

The Sacred Stones

Ivaldi
+5 when equipped.

The Sacred Stones

Wretched Air
+20 when equipped.

The Sacred Stones

Ravager
+15 when equipped.

The Sacred Stones

Demon Light
+10 when equipped.

The Sacred Stones

Dragonstone

+15

/

+10

/

+4

when equipped.

The Sacred Stones

,

Awakening

,

Fates

Amiti
+3 when equipped.

Path of Radiance

,

Radiant Dawn

Vague Katti
+3 when equipped.

Path of Radiance

,

Radiant Dawn

Alondite
+3 when equipped.

Path of Radiance

,

Radiant Dawn

Ragnell

+5

/

+3

when equipped.

Path of Radiance

,

Radiant Dawn

,

Awakening

,

Fates

Double Bow

+3

/

+5

when equipped.

Path of Radiance

,

Radiant Dawn

,

Awakening

Rexaura
+3 when equipped.

Path of Radiance

,

Radiant Dawn

Knight Ward
+2 when equipped.

Path of Radiance

Unlock
+1 when equipped.

Radiant Dawn

Ward
+2 when equipped.

Radiant Dawn

Hammerne
+3 when equipped.

Radiant Dawn

Rescue
+4 when equipped.

Radiant Dawn

Matrona
+5 when equipped.

Radiant Dawn

Ashera Staff
+1 when equipped.

Radiant Dawn

Rudol Gem
+10 when in inventory.

Radiant Dawn

Icestone
+13 when equipped.

New Mystery of the Emblem

Wyvernstone
+8 when equipped.

New Mystery of the Emblem

Pisces Shard
+1 when in inventory.

New Mystery of the Emblem

Taurus Shard
+1 when in inventory.

New Mystery of the Emblem

Cancer Shard
+2 when in inventory.

New Mystery of the Emblem

Starsphere
+2 when in inventory.

New Mystery of the Emblem

Binding Shield
+2 when in inventory.

New Mystery of the Emblem

Finn's Lance
+2 when equipped.

Awakening

Hector's Axe
+2 when equipped.

Awakening

Micaiah's Pyre
+2 when equipped.

Awakening

Beaststone
+1 when equipped.

Awakening

Beaststone+
+4 when equipped.

Awakening

Dragonstone+

+13

/

+9

when equipped.

Awakening

,

Fates

Defense +2
+2 when active.

Awakening

,

Fates

,

Three Houses

All Stats +2
+2 when active.

Awakening

Visitation Seal
+2 when in inventory.

Fates

Master Emblem
+1 when in inventory.

Fates

Siegfried
+4 when in inventory.

Fates

Xander's Lance
+2 when equipped.

Fates

Nohrian Blade
+3 when equipped

Fates

Camilla's Axe
+3 when equipped.

Fates

Ike's Backup
+3 when equipped.

Fates

Arthur's Axe
+3 when equipped.

Fates

Yato
Grim and Alpha forms: +2 when in inventory.
Shadow and Omega forms: +4 when in inventory.

Fates

Guard Naginata
+5 when equipped.

Fates

All naginata other than the Guard Naginata, Bold Naginata, and Hinoka's Spear
+1 when equipped.

Fates

Adamant Club
+4 when equipped.

Fates

Ox Spirit
+1 when equipped.

Fates

Dragon Spirit
+1 when equipped.

Fates

Calamity Gate
+1 when equipped.

Fates

Horse Spirit
+3 when equipped.

Fates

Sheep Spirit
+1 when equipped.

Fates

Beastrune
+4 when equipped.

Fates

Iron Shield

+4

/

+2

when equipped.

Echoes: Shadows of Valentia

,

Three Houses

Rion Shield
+2 when equipped.

Echoes: Shadows of Valentia

Fugue Shield
+2 when equipped.

Echoes: Shadows of Valentia

Royal Shield
+3 when equipped.

Echoes: Shadows of Valentia

Sage's Shield
+5 when equipped.

Echoes: Shadows of Valentia

Duma's Shield
+2 when equipped.

Echoes: Shadows of Valentia

Eleven Shield
+4 when equipped.

Echoes: Shadows of Valentia

Hexlock Shield
+2 when equipped.

Three Houses

Aurora Shield
+3 when equipped.

Three Houses

Kadmos Shield
+3 when equipped.

Three Houses

Lampos Shield
+3 when equipped.

Three Houses

Seiros Shield
+5 when equipped.

Three Houses
Items and skills providing a temporary boost
Item
Defense increase
Games
Ninis's Grace
+10 to one adjacent ally for one turn. Activated via the Dance/Play command.
Fire Emblem: The Blazing Blade
Adamant
+1 to all allies for the duration of the map

*

.

Shadow Dragon

,

New Mystery of the Emblem

Defense Bond
+2 for the duration of one mission when used.

New Mystery of the Emblem

Defense Tonic
+2 for the duration of one mission when used.

New Mystery of the Emblem

,

Awakening

,

Fates

,

Engage

Rainbow Tonic
+2 for the duration of one mission when used.

New Mystery of the Emblem

,

Fates

Kris's Confect
+2 for the duration of one mission when used.

Awakening

Tiki's Tear
+2 for the duration of one mission when used.

Awakening

Defender
+1 when Pair Up is is in effect.

Awakening

,

Fates

Special Dance
+2 to one adjacent ally for one turn. Activated via the Dance command.

Awakening

Rally Heart
+2 to all allied units in a 3-tile radius of the user for one turn.

Awakening

Rally Defense
+4 to all allied units in a

3

/

2

-tile radius of the user for one turn/

to an adjacent allied unit for one turn

.

Awakening

,

Fates

,

Three Houses

Rally Spectrum

+4

/

+2

to all allied units in a

3

/

4

-tile radius of the user for one turn.

Awakening

,

Fates

Armored Blow

+10

/

+6

if unit initiates the combat.

Fates

,

Three Houses

Defensetaker
+2 when defeating an enemy.

*

Fates

Staunch Shield
+4 for one turn when choosing to wait.

Three Houses

Defiant Defense
+8 if HP ≤ 25%.

Three Houses

Absolute Defense
+6 to all allied units within its area of effect for one turn.

Three Houses
Weapons and skills providing a temporary decrease after use
Item/skill
Defense change
Games
Bronze Dagger
If user's attack hit the target, inflicts -2 debuff on the target after combat.

Fates

Iron Dagger
If user's attack hit the target, inflicts -3 debuff on the target after combat.

Fates

Steel Dagger
If user's attack hit the target, inflicts -4 debuff on the target after combat.

Fates

Silver Dagger
If user's attack hit the target, inflicts -4 debuff on the target after combat.

Fates

Soldier's Knife
If user's attack hit the target, inflicts -5 debuff on the target after combat.

Fates

Fruit Knife
If user's attack hit the target, inflicts -3 debuff on the target after combat.

Fates

Hunter's Knife
If user's attack hit the target, inflicts -3 debuff on the target after combat.

Fates

Kris Knife
If user's attack hit the target, inflicts -4 debuff on the target after combat.

Fates

Quill Pen
If user's attack hit the target, inflicts -1 debuff on the target after combat.

Fates

Stale Bread
If user's attack hit the target, inflicts -3 debuff on the target after combat.

Fates

Raider Knife
If user's attack hit the target, inflicts -2 debuff on the target after combat.

Fates

Votive Candle
If user's attack hit the target, inflicts -3 debuff on the target after combat.

Fates

Sacrificial Knife
If user's attack hit the target, inflicts -5 debuff on the target after combat.

Fates

Felicia's Plate
If user's attack hit the target, inflicts -4 debuff on the target after combat.

Fates

Jakob's Tray
If user's attack hit the target, inflicts -4 debuff on the target after combat.

Fates

Pebble
If user's attack hit the target, inflicts -4 debuff on the target after combat.

Fates

Iago's Tome
If user's attack hit the target, inflicts -4 debuff on the target after combat.

Fates

Brass Shuriken
If user's attack hit the target, inflicts -2 debuff on the target after combat.

Fates

Iron Shuriken
If user's attack hit the target, inflicts -3 debuff on the target after combat.

Fates

Steel Shuriken
If user's attack hit the target, inflicts -4 debuff on the target after combat.

Fates

Silver Shuriken
If user's attack hit the target, inflicts -4 debuff on the target after combat.

Fates

Spy's Shuriken
If user's attack hit the target, inflicts -5 debuff on the target after combat.

Fates

Dual Shuriken
If user's attack hit the target, inflicts -4 debuff on the target after combat.

Fates

Sting Shuriken
If user's attack hit the target, inflicts -3 debuff on the target after combat.

Fates

Barb Shuriken
If user's attack hit the target, inflicts -4 debuff on the target after combat.

Fates

Flame Shuriken
If user's attack hit the target, inflicts -4 debuff on the target after combat.

Fates

Chakram
If user's attack hit the target, inflicts -6 debuff on the target after combat.

Fates

Chopstick
If user's attack hit the target, inflicts -1 debuff on the target after combat.

Fates

Hair Pin
If user's attack hit the target, inflicts -2 debuff on the target after combat.

Fates

Caltrop
If user's attack hit the target, inflicts -8 debuff on the target after combat.

Fates

Kaze's Needle
If user's attack hit the target, inflicts -4 debuff on the target after combat.

Fates

Saizo's Star
If user's attack hit the target, inflicts -4 debuff on the target after combat.

Fates

Kagero's Dart
If user's attack hit the target, inflicts -3 debuff on the target after combat.

Fates

Setsuna's Yumi
If user's attack hit the target, inflicts -4 debuff on the target after combat.

Fates

Enfeeble
If user's attack hit the target, inflicts -4 debuff on the target after combat.

Fates

Draconic Hex
If user survives, inflicts -4 debuff on the target after combat.

Fates

Etymology and other languages

Names, etymology and in other regions
Language
Name
Definition, etymology, and notes
English

Defense

--

Japanese

• 守備
• しゅびりょく

• Defense. Used in Mystery of the Emblem and games from Thracia 776 onward.
• Defensive power. Used in Shadow Dragon & the Blade of Light, Gaiden, and Genealogy of the Holy War.

Spanish

Defense

Defense

French

Défense

Defense

German

Verteidigung

Defense

Italian

Abilità di difesa

Defense ability

Dutch

Verdediging

Defense

Korean

수비

Defense

Simplified Chinese

防守

Defense

Traditional Chinese

防守

Defense

Gallery

References