Site News
Warning: This wiki contains spoilers. Read at your own risk!


Social media: If you would like, please join our Discord server, and/or follow us on Twitter or Tumblr!

Engage info: As the game has only recently released, we lack much key information. Please help add any info that you can.
Another Gift from Anna
From Fire Emblem Wiki, your source on Fire Emblem information. By fans, for fans.
Another Gift from Anna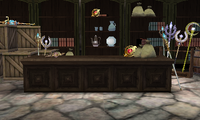 | | | | |
| --- | --- | --- | --- |
| " | This Paragon item gives extra experience, and we could all use more of that! But wait, there's more! Got places to be? These Boots increase your Move stat! Now how much would you pay? | " | — Anna |
Another Gift from Anna (Japanese: アンナの贈り物2 Anna's Gift: 2) is a downloadable content xenologue chapter in Fire Emblem Fates. Another Gift from Anna is part of the third series of Japanese DLC releases and the second series of international DLC releases.
This chapter was first made available on March 4, 2016 in Japan, May 5, 2016 in North America, and July 21-22 in the PAL regions.
This chapter does not contain any maps or battles; instead it is comprised of a single cutscene where the player is given several items; in this case, a Paragon book and a pair of Boots. This chapter can only be played once; if attempted to be played a second time, a prompt will state the player has already received the items and go straight to the save screen.
Plot
Main article: Another Gift from Anna/Script
Anna welcomes the player into her shop and thanks them for stopping by; she then states that when the player saw "Wave 1" (in reference to the international first series of the DLC), they wondered what was in "Wave 2". Anna states she has some good news, that they're finally ready to show the player—since they've waited patiently, she has a very special gift for them. Anna then proceeds to plug the Paragon skill book and the Boots stat booster, then asks the player how much they'd pay; Anna then states both the Paragon book and Boots item are free, and that's just how much she appreciates the player. They are then given the Paragon book and Boots item.
Anna then states that while she has them in the area, that the player might consider picking up the maps in the Heirs of Fate arc, and mentions the first one's discounted; Anna then bids the player farewell, telling them not to be a stranger and not forget their pocketbook.
Website summary
American and Australian: Get both the Boots and Paragon items.[1][2]
European: If you speak to Anna at the Dragon's Gate, you will receive the Boots and Paragon items.[3]
North American eShop summary
A one-time offer! Get both the Boots and Paragon items.
Chapter data
Victory: N/A
Player
Enemy
Defeat: N/A
N/A
N/A
Difficulty rating: N/A
Map dimensions:
N/A columns by N/A rows
Block sizes:
Japan: ??
North America: 2


PAL region

: ??
Map phase music: N/A
Battle phase music: N/A

Pricing:
Japan: ¥0 (Free)
United States: $0.00 (Free)
Europe: €0.00 (Free)
United Kingdom: £0.00 (Free)
Australia: $0.00 (Free)
New Zealand: $0.00 (Free)
Also available in: Series 3 (Japan)
Map Pack 2 (international) Pack
Japan: ¥900
United States: $7.99
Europe: €7.99
United Kingdom: £7.19
Australia: $10.40
New Zealand: $13.60
Character data
Note: The returning characters list represents the minimum characterbase recruitable by the point the player can first access the Dragon's Gate. Felicia is only a returning character if Corrin is male, while Jakob is only a returning character if Corrin is female. If more chapters along the chosen main story path are cleared, or if any paralogues are cleared, the player can have access to characters not listed here by the point the chapter is first started. As bonus units are recruitable at the player's discretion, the returning characters list does not list them either.
Item data
| | Name | Obtainment Method |
| --- | --- | --- |
| | Paragon | Automatically during the chapter |
| | Boots | Automatically during the chapter |
Trivia
Despite being presented as a full chapter, Another Gift from Anna lacks any maps or battles, playing more like an interlude (such as A New Journey from

The Sacred Stones

). While there have been battle-free full chapters in the past (such as chapter 29x (31x Hector) of

The Blazing Blade

), this is the second example of a full chapter in the Fire Emblem series that lacks a map (assuming pre-split Chapter 6 is counted together with each of the post-split Chapter 6s), with the first example being A Gift from Anna).

Another Gift from Anna also lacks any sort of choice for the player to make (such as in Chapter 6 from Fates where the player chooses their campaign).

Another Gift from Anna is the first DLC chapter in the franchise whose official European and Australian website descriptions differ from one another, as the Australian website description matches the American website's as opposed to the European one's.
Etymology and other languages
Names, etymology and in other regions
Language
Name
Definition, etymology, and notes
English

Another Gift from Anna

--

Japanese

アンナの贈り物2

Anna's Gift: 2

German

Ein weiteres Geschenk

Another Gift

Korean

안나의 선물2

Anna's gift 2
Gallery
References
↑ DLC - Fire Emblem™ Fates for Nintendo 3DS - Revelations, Maps, fireemblem.nintendo.com (archived by the Wayback Machine), Retrieved: November 4, 2016
↑ Fire Emblem Fates, gamesites.nintendo.com.au (archived by the Wayback Machine), Retrieved: November 4, 2016
↑ Fire Emblem Fates, nintendo.co.uk, Retrieved: November 4, 2016
Fire Emblem Fates
Playable characters
Birthright

Asugi • Azama • Azura • Caeldori • Corrin • Dwyer • Felicia • Hana • Hayato • Hinata • Hinoka • Hisame • Izana • Jakob • Kaden • Kagero • Kana • Kaze • Kiragi • Midori • Mitama • Mozu • Oboro • Orochi • Reina • Rhajat • Rinkah • Ryoma • Saizo • Sakura • Scarlet • Selkie • Setsuna • Shigure • Shiro • Shura • Silas • Sophie • Subaki • Takumi • Yukimura
Conquest

Arthur • Azura • Benny • Beruka • Camilla • Charlotte • Corrin • Dwyer • Effie • Elise • Felicia • Flora • Forrest • Gunter • Ignatius • Izana • Jakob • Kana • Kaze • Keaton • Laslow • Leo • Midori • Mozu • Niles • Nina • Nyx • Odin • Ophelia • Percy • Peri • Selena • Shigure • Shura • Siegbert • Silas • Soleil • Sophie • Velouria • Xander
Revelation

Arthur • Asugi • Azama • Azura • Benny • Beruka • Caeldori • Camilla • Charlotte • Corrin • Dwyer • Effie • Elise • Felicia • Flora • Forrest • Fuga • Gunter • Hana • Hayato • Hinata • Hinoka • Hisame • Ignatius • Jakob • Kaden • Kagero • Kana • Kaze • Keaton • Kiragi • Laslow • Leo • Midori • Mitama • Mozu • Niles • Nina • Nyx • Oboro • Odin • Ophelia • Orochi • Percy • Peri • Reina • Rhajat • Rinkah • Ryoma • Saizo • Sakura • Scarlet • Selena • Selkie • Setsuna • Shigure • Shiro • Shura • Siegbert • Silas • Soleil • Sophie • Subaki • Takumi • Velouria • Xander

DLC

Anna

amiibo

Ike • Lucina • Marth • Robin
Non-playable characters
Cadros • Cassita • Ikona • Katerina • Layla • Lilith • Moro • Rainbow Sage
Bosses
??? • Anankos • Anthony • Arete • Candace • Daichi • Daniela • Funke • Garon • Gazak • Haitaka • Hans • Iago • Kilma • Kotaro • Kumagera • Llewelyn • Lloyd • Mikoto • Nichol • Omozu • Senno • Sumeragi • Takumi • Tarba • Zhara • Zola

Regalia

and personal weapons
Astral Blessing • Aurgelmir • Bifröst • Bölverk • Brynhildr • Chakram • Excalibur • Fujin Yumi • Ganglari • Hagakure Blade • Missiletainn • Pursuer • Raijinto • Siegfried • Skadi • Waterwheel • Yato
Chapters
Prologue
Pr: Ties That Bind • 1: Nohr • 2: Gift of Ganglari • 3: Journey Begins • 4: Hoshido • 5: Mother • 6: The Path Is Yours
Birthright

6: In the White Light • 7: A Vow Upheld • 8: Fierce Winds • 9: Land of Gods • 10: Ninja Village • 11: To the Sea • 12: Dark Reunion • 13: Another Hope • 14: Light Scatters • 15: Wolfskin Peak • 16: Pleasure Palace • 17: Lost in the Ice • 18: Leo • 19: Rainbow Sage • 20: Fort Dragonfall • 21: Burning Falls • 22: Hidden Capital • 23: Camilla • 24: Tears of a Dragon • 25: Traitor Revealed • 26: Xander • 27: King Garon • Endgame: Dawn Breaks
Conquest

6: Embrace the Dark • 7: A Dragon's Decree • 8: Cold Reception • 9: Another Trial • 10: Unhappy Reunion • 11: Rainbow Sage • 12: Bitter Intrigue • 13: Uprising • 14: Voice of Paradise • 15: The Black Pillar • 16: Invasion • 17: Den of Betrayal • 18: Black & White • 19: Kitsune Lair • 20: Winds of Change • 21: Eternal Stairway • 22: Sakura • 23: Possessed • 24: Hinoka • 25: Ryoma • 26: Treason • 27: The Empty King • Endgame: Night Breaks Through
Revelation

6: Into the Ground • 7: Unspeakable World • 8: Traitor's Brand • 9: Wanderer • 10: Voice of a God • 11: Mutual Enemies • 12: Frozen Sea • 13: A Lost Peace • 14: Orders • 15: Rainbow Sage • 16: White Flames • 17: Black Flames • 18: Veiled Kingdom • 19: Hidden Strings • 20: Seeds of Doubt • 21: Going Forward • 22: Memories • 23: Arete Undone • 24: Days Lost • 25: Blades Drawn • 26: The Vallite King • 27: Hear My Cry • Endgame: Anankos
Paralogues
1: Tragic Start • 2: Dragon Blood • 3: Surprise Duet • 4: Fight or Flight • 5: Bold Approach • 6: Herbal Remedy • 7: Father & Liege • 8: A Great Hunt • 9: Saizo vs. Saizo • 10: Hunter & Prey • 11: A Long Grudge • 12: Sweet Dreams • 13: Truly Talented • 14: After the End • 15: Hidden Bravery • 16: Abducted • 17: Two Defenders • 18: Nutty Family • 19: Great Heroism • 20: Ultimate Power • 21: Bright Smile • 22: Abrupt Clash
Invasions
: Invasion 1 • Invasion 2 • Invasion 3 • : Invasion 1 • Invasion 2 • Invasion 3 • : Invasion 1 • Invasion 2 • Invasion 3
DLC chapters
Ghostly Gold • Boo Camp • Museum Melee • Beach Brawl • Royal Royale • Before Awakening • Hidden Truths 1 • Hidden Truths 2 • Vanguard Dawn • Anna on the Run • Ballistician Blitz • Witches' Trial • A Gift from Anna • Another Gift from Anna • I: In Endless Dreams • II: Realms Collide • III: The Changing Tide • IV: Light's Sacrifice • V: Endless Dawn • End: Lost in the Waves • Hoshidan Festival of Bonds • Nohrian Festival of Bonds
Hero Battles
Hero-King Marth • Radiant Hero Ike • Princess Lucina • Grandmaster Robin
Locations
Deeprealms (My Castle) • Hoshido (Flame Tribe • Izumo • Kohga • Mokushu • Wind Tribe) • Nohr (Dragon's Gate • Ice Tribe • Nestra) • Notre Sagesse • Valla (Bottomless Canyon)
Groups, objects, and concepts
Dragon Vein • My Castle
Related topics
Ancient Texts • Downloadable content • Fire Emblem Fates: Crown of Nibelung • Name chart • Pre-release information (Unused content) • Soundtrack