Site News
Warning: This wiki contains spoilers. Read at your own risk!


Social media: If you would like, please join our Discord server, and/or follow us on Twitter (X) or Tumblr!
Event tile
From Fire Emblem Wiki, your source on Fire Emblem information. By fans, for fans.
This article uses a conjectural title. It is unknown if an official title for the subject of this article exists, so it has been given an appropriate title by its editors. If you can find an official title for this subject, please move this article to the official title, and provide an appropriate source for that title.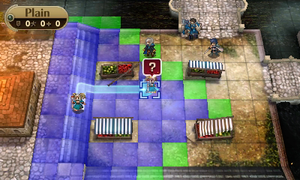 Event tiles are a gameplay mechanic first appearing in Fire Emblem Awakening. In Awakening, event tiles appear in the majority of the game's battle maps, and give random benefits to units that stop on one. In Fire Emblem Fates, event tiles are much less numerous, appearing mostly in skirmishes, and rarely in main chapter battles; they are completely absent in Fates: Conquest. In both games all feature a distinct sparkling effect floating above them to indicate their position, and they also display a question mark bubble when a unit is moved on top of them.
With the exception of the Endgame's map (which lacks event tiles), all chapter maps available in the vanilla Awakening game each have two event tiles placed on them, and the same is true for all of the series 1 DLC maps with the exception of the Rogues & Redeemers series (all of which lack event tiles). Series 2 DLC maps tend to lack event tiles; the exceptions are the Scramble maps, in which Harvest Scramble sports 18 event tiles, Summer Scramble sports 15 event tiles, and Hot-Spring Scramble sports 20 event tiles.
In Fates, main chapters and paralogues normally have no event tiles, while skirmishes usually have exactly two event tiles.
In Awakening, there are four possible outcomes when stopping on an event tile: gaining experience, gaining weapon proficiency, finding a random item, and boosting support (if paired up units stand on the tile). In Fates, only the first three can occur. Each of the non-bonus characters has a unique line tied to each of the first three events, and multiple lines tied to the fourth event.
Types of bonuses
Experience points
A character that gets this bonus will be given a random amount of experience points. This event works exactly the same as the event at the Barracks.
Weapon experience
Main article: Weapon experience
A character that gets this bonus will be given a random amount of weapon experience for all visible weapon types. The bonus can be wasted, but this only happens when the unit already has an A rank for all visible weapon types.
Random item
A unit getting this bonus will be given a random item, that is then placed into their inventory; if the character's inventory is full upon getting the item, the player can choose to send that item to the convoy or any other item in the character's inventory. Using a different set of currently-unknown percentage ratios, one of the following items will be randomly obtained when this bonus appears:
Items obtained in Awakening
This is the same list that is also used for the Barracks.
With the exception of the Glass weapons (which debuted in the previous game in the series) and the Seed of Trust (which reappeared in the following game), all of these items are unique to Awakening.
Items obtained in Fates
---
This section has been marked as a stub. Please help improve the page by adding information.
---
Support boost
This bonus is only available to a unit who's paired up with another unit and capable of supporting with that unit. After a conversation, the two units involved will gain some support points. It works exactly the same as the equivalent Barracks event.
Trivia
The Premonition chapter has two event tiles available to its map; however, these event tiles are placed outside the area where Chrom and the Avatar are restricted to, making these event tiles inaccessible, so the first accessible event tiles are the ones in the Prologue.