Site News
Warning: This wiki contains spoilers. Read at your own risk!


Social media: If you would like, please join our Discord server, and/or follow us on Twitter or Tumblr!

Engage info: As the game has only recently released, we lack much key information. Please help add any info that you can.
Aurgelmir
From Fire Emblem Wiki, your source on Fire Emblem information. By fans, for fans.
Aurgelmir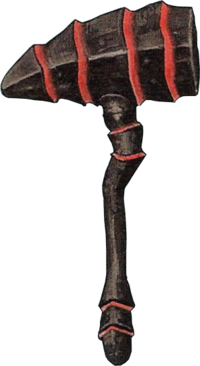 Concept artwork of Aurgelmir from Fates.
---
After use in combat, haves Str until wielder attacks again.
Aurgelmir (Japanese: アウルゲルミル Aurgelmir) is an axe that debuted in Fire Emblem Fates; it is regalia of Nohr. It is tied with the Pursuer for the strongest of all weaponry in Fates, has respectable accuracy as compared to most axes, and has a sizable critical rate; using Aurgelmir halves the user's strength after combat, however. Only Berserkers, Nohrian Kings and Empty Vessels may acquire the requisite weapon level to wield it, though Berserkers are the only playable units able to wield the Aurgelmir as no playable unit is classed as a Nohrian King or an Empty Vessel.
Stats
In the main Fire Emblem series
In other Fire Emblem series titles
Game
Icon
Level
Might
Weight
Hit
Crit
Range
Uses
Worth
WEXP
Other effects and notes

Heroes

16
--
--
--
1
--
400 SP
--
Boosts user's attack by 3.
If user initiates combat or is not adjacent to an ally, boosts user's attack and speed during combat by 6 each, user makes a guaranteed follow-up attack, reduces damage from foe's first attack by 40%, and boosts damage of user's next attack by damaged reduced from foe's attack.
Locations
Fates
Heroes
| | |
| --- | --- |
| Units | Hans: Ambitious Brute |
Flavor text
Game
Text
(English)
Text
(Japanese)

Fates

After use in combat, halves Str until
wielder attacks again.
戦闘後、次攻撃まで力半減

Heroes

Grants Atk+3. If unit initiates combat or is not
adjacent to an ally, grants Atk/Spd+6 to unit
during combat, unit makes a guaranteed
follow-up attack, and also reduces damage
from foe's first attack by 40% and unit's
next attack deals damage equal to total
damage reduced (by any source, including
other skills). Resets at end of combat.
攻撃+3

自分から攻撃した時、または、
周囲1マス以内に味方がいない時、
戦闘中、攻撃、速さ+6、絶対追撃、かつ
最初に受けた攻撃のダメージを40%軽減し、
軽減した値を、自身の次の攻撃のダメージに+
(その戦闘中のみ。軽減値はスキルによる軽減効果も含む)
Etymology and other languages
Names, etymology and in other regions
Language
Name
Definition, etymology, and notes
English

Aurgelmir

Another name for Ymir, the ancestor of all jǫtnar in Norse mythology.

Japanese

アウルゲルミル

Aurgelmir

Spanish

Aurgelmir

--

French

Aurgelmir

--

German

Aurgelmir

--

Italian

Aurgelmir

--

Portuguese

Aurgelmir

--

Korean

아우르겔미르

Aurgelmir

Traditional Chinese

奧爾蓋爾米爾

Aurgelmir
Gallery
References
See also
Fire Emblem Fates
Playable characters
Birthright

Asugi • Azama • Azura • Caeldori • Corrin • Dwyer • Felicia • Hana • Hayato • Hinata • Hinoka • Hisame • Izana • Jakob • Kaden • Kagero • Kana • Kaze • Kiragi • Midori • Mitama • Mozu • Oboro • Orochi • Reina • Rhajat • Rinkah • Ryoma • Saizo • Sakura • Scarlet • Selkie • Setsuna • Shigure • Shiro • Shura • Silas • Sophie • Subaki • Takumi • Yukimura
Conquest

Arthur • Azura • Benny • Beruka • Camilla • Charlotte • Corrin • Dwyer • Effie • Elise • Felicia • Flora • Forrest • Gunter • Ignatius • Izana • Jakob • Kana • Kaze • Keaton • Laslow • Leo • Midori • Mozu • Niles • Nina • Nyx • Odin • Ophelia • Percy • Peri • Selena • Shigure • Shura • Siegbert • Silas • Soleil • Sophie • Velouria • Xander
Revelation

Arthur • Asugi • Azama • Azura • Benny • Beruka • Caeldori • Camilla • Charlotte • Corrin • Dwyer • Effie • Elise • Felicia • Flora • Forrest • Fuga • Gunter • Hana • Hayato • Hinata • Hinoka • Hisame • Ignatius • Jakob • Kaden • Kagero • Kana • Kaze • Keaton • Kiragi • Laslow • Leo • Midori • Mitama • Mozu • Niles • Nina • Nyx • Oboro • Odin • Ophelia • Orochi • Percy • Peri • Reina • Rhajat • Rinkah • Ryoma • Saizo • Sakura • Scarlet • Selena • Selkie • Setsuna • Shigure • Shiro • Shura • Siegbert • Silas • Soleil • Sophie • Subaki • Takumi • Velouria • Xander

DLC

Anna

amiibo

Ike • Lucina • Marth • Robin
Non-playable characters
Cadros • Cassita • Ikona • Katerina • Layla • Lilith • Moro • Rainbow Sage
Bosses
??? • Anankos • Anthony • Arete • Candace • Daichi • Daniela • Funke • Garon • Gazak • Haitaka • Hans • Iago • Kilma • Kotaro • Kumagera • Llewelyn • Lloyd • Mikoto • Nichol • Omozu • Senno • Sumeragi • Takumi • Tarba • Zhara • Zola

Regalia

and personal weapons
Astral Blessing • Aurgelmir • Bifröst • Bölverk • Brynhildr • Chakram • Excalibur • Fujin Yumi • Ganglari • Hagakure Blade • Missiletainn • Pursuer • Raijinto • Siegfried • Skadi • Waterwheel • Yato
Chapters
Prologue
Pr: Ties That Bind • 1: Nohr • 2: Gift of Ganglari • 3: Journey Begins • 4: Hoshido • 5: Mother • 6: The Path Is Yours
Birthright

6: In the White Light • 7: A Vow Upheld • 8: Fierce Winds • 9: Land of Gods • 10: Ninja Village • 11: To the Sea • 12: Dark Reunion • 13: Another Hope • 14: Light Scatters • 15: Wolfskin Peak • 16: Pleasure Palace • 17: Lost in the Ice • 18: Leo • 19: Rainbow Sage • 20: Fort Dragonfall • 21: Burning Falls • 22: Hidden Capital • 23: Camilla • 24: Tears of a Dragon • 25: Traitor Revealed • 26: Xander • 27: King Garon • Endgame: Dawn Breaks
Conquest

6: Embrace the Dark • 7: A Dragon's Decree • 8: Cold Reception • 9: Another Trial • 10: Unhappy Reunion • 11: Rainbow Sage • 12: Bitter Intrigue • 13: Uprising • 14: Voice of Paradise • 15: The Black Pillar • 16: Invasion • 17: Den of Betrayal • 18: Black & White • 19: Kitsune Lair • 20: Winds of Change • 21: Eternal Stairway • 22: Sakura • 23: Possessed • 24: Hinoka • 25: Ryoma • 26: Treason • 27: The Empty King • Endgame: Night Breaks Through
Revelation

6: Into the Ground • 7: Unspeakable World • 8: Traitor's Brand • 9: Wanderer • 10: Voice of a God • 11: Mutual Enemies • 12: Frozen Sea • 13: A Lost Peace • 14: Orders • 15: Rainbow Sage • 16: White Flames • 17: Black Flames • 18: Veiled Kingdom • 19: Hidden Strings • 20: Seeds of Doubt • 21: Going Forward • 22: Memories • 23: Arete Undone • 24: Days Lost • 25: Blades Drawn • 26: The Vallite King • 27: Hear My Cry • Endgame: Anankos
Paralogues
1: Tragic Start • 2: Dragon Blood • 3: Surprise Duet • 4: Fight or Flight • 5: Bold Approach • 6: Herbal Remedy • 7: Father & Liege • 8: A Great Hunt • 9: Saizo vs. Saizo • 10: Hunter & Prey • 11: A Long Grudge • 12: Sweet Dreams • 13: Truly Talented • 14: After the End • 15: Hidden Bravery • 16: Abducted • 17: Two Defenders • 18: Nutty Family • 19: Great Heroism • 20: Ultimate Power • 21: Bright Smile • 22: Abrupt Clash
Invasions
: Invasion 1 • Invasion 2 • Invasion 3 • : Invasion 1 • Invasion 2 • Invasion 3 • : Invasion 1 • Invasion 2 • Invasion 3
DLC chapters
Ghostly Gold • Boo Camp • Museum Melee • Beach Brawl • Royal Royale • Before Awakening • Hidden Truths 1 • Hidden Truths 2 • Vanguard Dawn • Anna on the Run • Ballistician Blitz • Witches' Trial • A Gift from Anna • Another Gift from Anna • I: In Endless Dreams • II: Realms Collide • III: The Changing Tide • IV: Light's Sacrifice • V: Endless Dawn • End: Lost in the Waves • Hoshidan Festival of Bonds • Nohrian Festival of Bonds
Hero Battles
Hero-King Marth • Radiant Hero Ike • Princess Lucina • Grandmaster Robin
Locations
Deeprealms (My Castle) • Hoshido (Flame Tribe • Izumo • Kohga • Mokushu • Wind Tribe) • Nohr (Dragon's Gate • Ice Tribe • Nestra) • Notre Sagesse • Valla (Bottomless Canyon)
Groups, objects, and concepts
Dragon Vein • My Castle
Related topics
Ancient Texts • Downloadable content • Fire Emblem Fates: Crown of Nibelung • Name chart • Pre-release information (Unused content) • Soundtrack