Site News
Warning: This wiki contains spoilers. Read at your own risk!


Discord and Twitter: If you would like, please join our Discord server, and/or follow us on Twitter at @FEWikiOfficial!
amiibo
From Fire Emblem Wiki, your source on Fire Emblem information. By fans, for fans.
For the combat art from Fire Emblem Echoes: Shadows of Valentia, see amiibo (skill).
---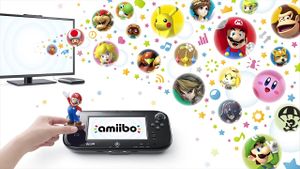 amiibo (Japanese: アミーボ amiibo) is Nintendo's series of interactive figurines designed to work with various games for the Wii U, Nintendo 3DS, and Nintendo Switch consoles. amiibo work through near field communication (NFC), and are scanned by the consoles when running compatible games to use that amiibo's data to access various types of content that may require specific figurines.
Eleven Fire Emblem series amiibo are currently available for purchase.
Available amiibo
Super Smash Bros. series
The Super Smash Bros. amiibo series intends to release an amiibo figurine based on every playable character in Super Smash Bros. for Nintendo 3DS and Wii U and Super Smash Bros. Ultimate, including all currently known downloadable content characters. As of June 2015, 56 of these amiibo have been released through four waves of release, including five of the six Fire Emblem characters featured in Super Smash Bros.
Release
Fire Emblem amiibo released
Other amiibo released
Wave 1
NANovember 21, 2014
EUNovember 28, 2014
AUSNovember 29, 2014
JPDecember 6, 2014

#12 Marth
#1 Mario • #2 Peach • #3 Yoshi • #4 Donkey Kong • #5 Link • #6 Fox • #7 Samus • #8 Wii Fit Trainer • #9 Villager • #10 Pikachu • #11 Kirby
Wave 2
JPDecember 6, 2014
AUSDecember 12, 2014
NADecember 14, 2014
EUDecember 19, 2014
--
#13 Zelda • #14 Diddy Kong • #15 Luigi • #16 Little Mac • #17 Pit • #18 Captain Falcon
Wave 3
JPJanuary 22, 2015
EU

Jan. 23rd

/

Feb. 20

, 2015
AUSJanuary 29, 2015
NAFebruary 1, 2015

#24 Ike
#19 Rosalina • #20 Bowser • #21 Lucario • #22 Toon Link • #23 Sheik • #25 Shulk • #26 Sonic the Hedgehog • #27 Mega Man • #28 King Dedede • #29 Meta Knight
Wave 4
JP

Apr. 29th

/

May 28th

, 2015
EU

Apr. 24th

/

May 29th

, 2015
AUS

Apr. 25th

/

May 30th

, 2015
NAMay 29, 2015

#30 Robin • #31 Lucina
#32 Wario • #33 Charizard • #34 Ness • #35 Pac-Man • #36 Greninja • #37 Jigglypuff
Wave 5
JPJune 11, 2015
EUJune 26, 2015
AUSJuly 4, 2015
NA

Jul. 27th

/

29th

/

Sept. 11th

, 2015
--
#38 Palutena • #39 Dark Pit • #40 Zero Suit Samus • #41 Ganondorf
Wave 6
EUJuly 17, 2015
AUSJuly 23, 2015
JPJuly 30, 2015
NASeptember 11, 2015
--
#42 Dr. Mario • #43 Bowser Jr. • #44 Olimar
EUSeptember 25, 2015
NASeptember 25, 2015
AUSSeptember 26, 2015
JPOctober 29, 2015
--
#45 Mr. Game & Watch • #46 R.O.B. • #47 Duck Hunt
Wave 7
JPSeptember 10, 2015
EUSeptember 25, 2015
AUSSeptember 26, 2015
NANovember 1, 2015
--
#48 Mii Brawler • #49 Mii Swordfighter • #50 Mii Gunner
EUOctober 23, 2015
AUSOctober 24, 2015
JPOctober 29, 2015
NANovember 13, 2015

--
#51 Mewtwo
JP November 5, 2015
NANovember 20, 2015
EUNovember 20, 2016
AUS November 21, 2015
--
#52 Falco
Wave 8
JP December 17, 2015
NAJanuary 22, 2016
EUJanuary 29, 2016
AUS January 30, 2016
--
#53 Lucas
Wave 9
NAMarch 18, 2016
EUMarch 18, 2016
AUSMarch 19, 2016
JPApril 28, 2016

#55 Roy
#54 R.O.B. (Famicom Colors)NAEU • #56 Ryu
Wave 10
NAJuly 21, 2017
EUJuly 21, 2017

#59 Corrin • #60 Corrin (Player 2)
#57 Cloud • #58 Cloud (Player 2) • #61 Bayonetta • #62 Bayonetta (Player 2)
Wave 11
NADecember 7th, 2018
EUDecember 7th, 2018
--
#63 Wolf • #64 Inkling • #65 Ridley
Fire Emblem series
With the release of Fire Emblem Echoes: Shadows of Valentia the Fire Emblem series got its own amiibo line, instead of being part of the Super Smash Bros. line. The first two Fire Emblem characters featured were Echoes: Shadows of Valentia's protagonists, Alm and Celica. The Fire Emblem line of amiibo appears to be ongoing for the foreseeable future. Fire Emblem line amiibo are distinguished visually from the Super Smash Bros. line of amiibo by the appearance of the base: Fire Emblem series amiibo feature a brick pattern on the base instead of the Super Smash Bros. logo.
Release
Fire Emblem amiibo released
JPApril 20, 2017
NAMay 19, 2017
EUMay 19, 2017

Alm • Celica
JPSeptember 28, 2017
NAOctober 20, 2017
EUOctober 20, 2017

Chrom • Tiki
Other series
Several other themed series of amiibo have been released or are due for release, including Animal Crossing, Splatoon, Yoshi's Woolly World and Super Mario Bros.. Obviously, none of these contain Fire Emblem characters.
Uses for the Fire Emblem amiibo
Super Smash Bros. for Nintendo 3DS and Wii U was the first set of titles to be compatible with amiibo, with the first amiibo released being themed after it, and a wide range of amiibo are compatible with it, including all Fire Emblem-related amiibo. The games use amiibo to create personalized AI characters, dubbed "Figure Players", to participate in battles in the game. When first scanned, the player can name the amiibo and assign it a specific alternate costume and a set of special moves, then they can take the Figure Player into matches with them. Unlike other AIs in the game, Figure Players are "trainable" and are assigned a level which increases as they gain experience through fighting, reaching a maximum of level 50.
Code Name: S.T.E.A.M. is compatible with the Fire Emblem amiibo on a read-only basis. When one of these amiibo is scanned, the character joins the player's party and can be deployed in battles, coming with their own unique equipment and skills. Unlike an ordinary character, the Fire Emblem characters cannot be revived at checkpoints mid-battle should they be killed, and instead they must be scanned again after the battle to rejoin the party.[1] If all four Fire Emblem amiibo characters are deployed, the usual background music will be replaced with special Fire Emblem-related tracks. Given the poor sales figures of Code Name: S.T.E.A.M. and the shift away from the Nintendo 3DS, it is unlikely that compatibility for the Roy and Corrin will be added in the future.
Fire Emblem Fates is compatible with the Fire Emblem amiibo on a read-only basis. When one of these amiibo is scanned, it introduces the relevant character into the game as a powerful bonus unit who appears in the player's My Castle. The player can then challenge the character to a battle, and if they win, the character will join their army.[2][3] The Roy and Corrin amiibo are not compatible.
Yoshi's Woolly World is compatible with every known amiibo, including the Fire Emblem ones, on a read-only basis. Scanning an amiibo will unlock a wearable pattern for Yoshi based on that character; patterns based on Marth, Ike, Lucina and Robin are available. While the Roy and Corrin amiibo are compatible, they do not give a special costume for Yoshi.
Super Mario Maker is compatible with numerous amiibo on a read-only basis. When a compatible amiibo is scanned, the player can add them to a map they have designed in the form of a Mystery Mushroom power-up which transforms Mario into an 8-bit version of that character. The amiibo of Marth, Ike, Robin and Lucina are all compatible. In keeping with the 8-bit theme, all four of these costumes use sound effects from Fire Emblem: Shadow Dragon & the Blade of Light. The Roy and Corrin amiibo are not compatible.
In Kirby: Planet Robobot, Kirby can inhale amiibo which are scanned, giving him copy abilities relating to the character. The Marth, Ike, Lucina, and Roy amiibo give Kirby the Sword ability, while Robin gives him the Spark ability.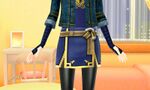 In Style Savvy: Fashion Forward, the player can scan a Lucina amiibo[4] to summon a special customer to their boutique. This character will relate a tale similar to that of Lucina's time in her "Marth" disguise, and ask the player to design an outfit to match their skirt, which is based on a part of Lucina's outfit. If the player successfully designs an outfit to this character's liking, they will be rewarded with a copy of the Warrior Skirt to use in their own outfits.
Fire Emblem Echoes: Shadows of Valentia utilizes Smash Bros. amiibo to summon Illusory Heroes (if a Fire Emblem character) or generic ghostly versions of classes (if another character) to aid the player for a single turn. The Alm and Celica amiibo have three functions: to access two dungeons, Duma's Ordeals and Mila's Ordeals respectively, via Mila's Turnwheel; to have Alm and Celica's stats written to their respective amiibo; and, if scanned during battle, to summon spectral versions of their respective characters to battle for one turn, with that character using the stats previously written to that amiibo. This is a combat art used by Alm and Celica which costs 10 HP.
Main article: amiibo Gazebo
Fire Emblem: Three Houses is compatible with any amiibo on a read-only basis through the amiibo Gazebo at the Garreg Mach Monastery. When one of these amiibo is scanned, a variety of items will spawn around the gazebo, which refresh every week. Scanning any Fire Emblem character amiibo will unlock an exclusive music track to play during auxiliary battles and also unlock a unique area, The Holy Tomb, which can be accessed during New Game +.
Trivia
When amiibo were first revealed at E3 2014, their trailer showed a title card (pictured above) illustrating their function with a variety of characters featured. Lucina was among them.
Etymology and other languages
Names, etymology and in other regions
Language
Name
Definition, etymology and notes
English

amiibo

Japanese

アミーボ

amiibo

Spanish

amiibo

French

amiibo

German

amiibo

Italian

amiibo
References
External links
amiibo official Japanese website
amiibo official United States website
amiibo official British website