Site News
Warning: This wiki contains spoilers. Read at your own risk!


Social media: If you would like, please join our Discord server, and/or follow us on Twitter or Tumblr!

Engage info: As the game has only recently released, we lack much key information. Please help add any info that you can.
End: Lost in the Waves
From Fire Emblem Wiki, your source on Fire Emblem information. By fans, for fans.
End: Lost in the Waves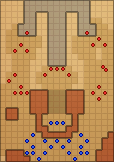 | | | | |
| --- | --- | --- | --- |
| " | I'll begin the song now. I ask that you all watch over me until the end. | " | — Shigure |
End: Lost in the Waves (Japanese: 終 :果てぬ黎明 End: Unfinished Dawn) is a downloadable content chapter, and the sixth and final part of the six-part Heirs of Fate saga of Fire Emblem Fates.End: Lost in the Waves is part of the third series of Japanese DLC releases and the second series of international DLC releases.
This chapter was first made available on March 23, 2016 in Japan; June 9, 2016 in North America; July 28 in Europe; and June 29 in Australia.
In this chapter, the entire cast of Fates's children characters come together to fight their ultimate foe, Anankos, with the hopes of saving their Deeprealms, parents, and others who died in their stead. Obstacles the children have to overcome include soldiers based from the fixed parents of nineteen of the children.
Plot
Main article: End: Lost in the Waves/Script
The party refuses to accept Shigure's sacrifice, and Ophelia and Soleil reveal that their fathers gave them two similar teleportation stones that can theoretically bring them back to Anankos. The party is initially skeptical of the plan, but Lilith appears and offers to power up the stones.
Shigure confronts Anankos and refuses his offer to find a realm that they can rule together. As he prepares to sing the deadly song, the party arrives and reaffirms their loyalty to Shigure. The Kanas then combine their power, turning their Yatos into their Omega forms. The group then challenges Anankos.
If the player defeats Anankos without friendly casualties, then the group celebrates their victory. Anankos, restored to sanity before death, thanks Ophelia and Soleil for keeping their fathers' promise to him and reconciles with Lilith before departing. If the player has lost at least one ally unit, then the group mourns the fallen. Either way, Shigure honors his mother's last wish and discards his pendant.
Website summary
The next generation assaults their ultimate foe. The Heirs of Fate finale.[1][2][3]
North American eShop summary
The next generation assaults their ultimate foe. The Heirs of Fate finale.
Rewards: Point Blank
Chapter data
Victory: Defeat Anankos's soul
Player
Enemy
Defeat: Male Kana, female Kana, or Shigure dies
22
25

+6

+∞

Difficulty rating: ★★★
Map dimensions:
19 columns by 27 rows
Block sizes:
Japan: ??
North America: 357


PAL region

: ??
Map phase music: Lost in the Waves
Battle phase music: Lost in the Waves
Note: Due to known flaws in how the game's downloadable content system handles music, the game may fail to load the music assigned to this chapter. If this happens, the music normally assigned to skirmishes in the base game will play.
Pricing:
Japan: ¥

???


United States: $1.99
Europe: €1.99
United Kingdom: £1.79
Australia: $2.60
New Zealand: $3.40
Also available in: Series 3 (Japan)
Map Pack 2 (international) Pack
Japan: ¥900
United States: $7.99
Europe: €7.99
United Kingdom: £7.19
Australia: $10.40
New Zealand: $13.60
This chapter's map is 19 columns by 27 rows.
Character data
In this chapter, the player controls characters separate from their normal game progress. As such, these setups are used only in this chapter and do not affect gameplay in any other instance. The first tab cluster below primarily indicates the Hoshidan characters, while the second tab cluster below primarily indicates the Nohrian charaters. Shigure, who wasn't playable in any of the first four Heirs of Fate chapters, has been grouped with the Hoshidans for simplicity of organization.
If a unit was promoted using a Master Seal during the previous chapter, they will receive an additional item as well as the level 15 skill of their promoted class. They will also be in the chosen class instead of their default.
Shigure Kana♀ Shiro Kiragi Selkie Midori Caeldori Rhajat Hisame Asugi Mitama
Kana♂ Siegbert Forrest Velouria Ignatius Sophie Percy Soleil Ophelia Nina Dwyer
Item data
This item is obtained as a reward to be used in the player's actual game progress:
| | Name | Obtainment Method |
| --- | --- | --- |
| | Point Blank | Clear chapter with no friendly casualties |
No enemies drop items for use specifically in this chapter.
There are no event tiles in this chapter.
No Dragon Veins are initially present in this chapter; two veins appear after both of Anankos's claws have been defeated, and are stated to have the effect "Grants power to the Kanas and Shigure". Each opens a path to Anankos, and when both are activated, the area in front of Anankos will become Dragon Vein terrain. These veins are located as follows:
Column 4, row 21: Three squares west of the square with its nearest effect
Column 16, row 21: Three squares east of the square with its nearest effect
Enemy data
Note: Non-generic enemies in this stage apart from Anankos are named in their profiles as if they were generic Vallites, but their real names appear in their death quotes, as well as certain other dialogue when fighting a blood relative (

mostly their fixed children and, if applicable, their brother's fixed children

). The link reading "Vallite" in these characters' listings will lead to that character's article.
Reinforcements
Boss data
Main article: Anankos

Claws
Head
Soul
Strategy
This section details unofficial strategies that may help with completion of the chapter. This may not work for everybody.
You are forced to split your units into three groups. Shigure and the Kanas are cut off from your army in the center of the map. With Shigure as the team medic, they should have no trouble dealing with the paltry force of 5 that stands between them and Anankos' head. In order to maximize the effects of your C-supports and balance out your teams against the foes you face, send Shiro, Asugi, Siegbert, Soleil, Sophie, Caeldori, Midori, Ignatius, and Dwyer up the right side and Kiragi, Hisame, Forrest, Nina, Ophelia, Percy, Rhajat, Selkie, Velouria, and Mitama up the left side. Start pushing upwards, making your way to Anankos' hands. Use Shiro, Siegbert, Percy, Velouria, and Ignatius as your main tanks. The first big problem is Benny, who makes good use of his massive bulk and Wary Fighter to prove difficult to take down. Asugi's Flame Shuriken and Soleil's Armorslayer are your friends. Kaden is very evasive, but Kiragi with Velouria as his Pair-Up partner is having none of it. The enemy reinforcements will start spawning at the beginning of Turn 4. Don't be there when it happens.
Once you've cleared the path to Anankos' hands, leave Ignatius, Caeldori, Midori, Sophie, Selkie, Velouria, Percy, and Rhajat as your rearguard. Keep the rearguard away from the bottom of the map, because that's where the remaining fathers will spawn when the hands go down. Send the royal siblings, their retainers, and your main medics Dwyer and Mitama to take out the hands. The Kanas should start heading to the north end of their segment, while Shigure flits about and heals anyone who needs it. For the right hand, pair up a fully-healed Shiro and Asugi and attack. If Shiro dodges the counter, good. If not, have Dwyer use his Mend staff on Shiro, have Siegbert Shelter Dwyer, and have Soleil take Dwyer so he can Physic Shiro. The next turn, Anankos' counterattack will give Shiro a Dual Guard, and you can overwhelm him through sheer force of numbers at that point. For the left hand, pair up Kiragi and Hisame and have Kiragi attack. Have Mitama and Forrest use Mitama's Sun Festal to keep him alive, using Ophelia and/or Nina to transfer it between the two.
Once the hands go down, the head will pop up, two Dragon Veins will appear, and the final first-gen units will show up at the bottom of the map. If your rearguard is too far in to escape, don't be afraid to use your Rescue staves. Pair up the Kanas and have them start whacking away at Anankos during the Enemy Phase while Shigure heals them. Send your royal siblings to use the Dragon Veins for some nice power ups for your Kanas. If you stay out of the first-gen units' attack ranges, they won't attack you until you use the respective Dragon Vein. Have the Kanas beat Anankos to death while your other units continue to play defensively. Also beware that the enemies will begin spawning behind your lines on Turn 12. If all goes well, Point Blank is yours.
Trivia
End: Lost in the Waves is the largest single DLC chapter in the main Fire Emblem series currently released internationally at 357 blocks for the North American version. (The Hidden Truths maps are larger by four blocks when purchased outside of its map pack, but that purchase has two chapters.)

End: Lost in the Waves by itself is more than one-third the size of the entire slate of Awakening DLC put together.
Etymology and other languages
Names, etymology and in other regions
Language
Name
Definition, etymology, and notes
English

End: Lost in the Waves

--

Japanese

終 : 果てぬ黎明

End: Unfinished Dawn

German

Finale: Tosende Wellen

Final: Crashing Waves

Korean

종장: 끝없는 새벽빛

Final chapter: endless dawn
Gallery
---
This section has been marked as a stub. Please help improve the page by adding information.
---
References
↑ DLC - Fire Emblem™ Fates for Nintendo 3DS - Revelations, Maps, fireemblem.nintendo.com (archived by the Wayback Machine), Retrieved: January 13, 2017
↑ Fire Emblem Fates, nintendo.co.uk, Retrieved: January 13, 2017
↑ Fire Emblem Fates, gamesites.nintendo.com.au (archived by the Wayback Machine), Retrieved: January 13, 2017
Fire Emblem Fates
Playable characters
Birthright

Asugi • Azama • Azura • Caeldori • Corrin • Dwyer • Felicia • Hana • Hayato • Hinata • Hinoka • Hisame • Izana • Jakob • Kaden • Kagero • Kana • Kaze • Kiragi • Midori • Mitama • Mozu • Oboro • Orochi • Reina • Rhajat • Rinkah • Ryoma • Saizo • Sakura • Scarlet • Selkie • Setsuna • Shigure • Shiro • Shura • Silas • Sophie • Subaki • Takumi • Yukimura
Conquest

Arthur • Azura • Benny • Beruka • Camilla • Charlotte • Corrin • Dwyer • Effie • Elise • Felicia • Flora • Forrest • Gunter • Ignatius • Izana • Jakob • Kana • Kaze • Keaton • Laslow • Leo • Midori • Mozu • Niles • Nina • Nyx • Odin • Ophelia • Percy • Peri • Selena • Shigure • Shura • Siegbert • Silas • Soleil • Sophie • Velouria • Xander
Revelation

Arthur • Asugi • Azama • Azura • Benny • Beruka • Caeldori • Camilla • Charlotte • Corrin • Dwyer • Effie • Elise • Felicia • Flora • Forrest • Fuga • Gunter • Hana • Hayato • Hinata • Hinoka • Hisame • Ignatius • Jakob • Kaden • Kagero • Kana • Kaze • Keaton • Kiragi • Laslow • Leo • Midori • Mitama • Mozu • Niles • Nina • Nyx • Oboro • Odin • Ophelia • Orochi • Percy • Peri • Reina • Rhajat • Rinkah • Ryoma • Saizo • Sakura • Scarlet • Selena • Selkie • Setsuna • Shigure • Shiro • Shura • Siegbert • Silas • Soleil • Sophie • Subaki • Takumi • Velouria • Xander

DLC

Anna

amiibo

Ike • Lucina • Marth • Robin
Non-playable characters
Cadros • Cassita • Ikona • Katerina • Layla • Lilith • Moro • Rainbow Sage
Bosses
??? • Anankos • Anthony • Arete • Candace • Daichi • Daniela • Funke • Garon • Gazak • Haitaka • Hans • Iago • Kilma • Kotaro • Kumagera • Llewelyn • Lloyd • Mikoto • Nichol • Omozu • Senno • Sumeragi • Takumi • Tarba • Zhara • Zola

Regalia

and personal weapons
Astral Blessing • Aurgelmir • Bifröst • Bölverk • Brynhildr • Chakram • Excalibur • Fujin Yumi • Ganglari • Hagakure Blade • Missiletainn • Pursuer • Raijinto • Siegfried • Skadi • Waterwheel • Yato
Chapters
Prologue
Pr: Ties That Bind • 1: Nohr • 2: Gift of Ganglari • 3: Journey Begins • 4: Hoshido • 5: Mother • 6: The Path Is Yours
Birthright

6: In the White Light • 7: A Vow Upheld • 8: Fierce Winds • 9: Land of Gods • 10: Ninja Village • 11: To the Sea • 12: Dark Reunion • 13: Another Hope • 14: Light Scatters • 15: Wolfskin Peak • 16: Pleasure Palace • 17: Lost in the Ice • 18: Leo • 19: Rainbow Sage • 20: Fort Dragonfall • 21: Burning Falls • 22: Hidden Capital • 23: Camilla • 24: Tears of a Dragon • 25: Traitor Revealed • 26: Xander • 27: King Garon • Endgame: Dawn Breaks
Conquest

6: Embrace the Dark • 7: A Dragon's Decree • 8: Cold Reception • 9: Another Trial • 10: Unhappy Reunion • 11: Rainbow Sage • 12: Bitter Intrigue • 13: Uprising • 14: Voice of Paradise • 15: The Black Pillar • 16: Invasion • 17: Den of Betrayal • 18: Black & White • 19: Kitsune Lair • 20: Winds of Change • 21: Eternal Stairway • 22: Sakura • 23: Possessed • 24: Hinoka • 25: Ryoma • 26: Treason • 27: The Empty King • Endgame: Night Breaks Through
Revelation

6: Into the Ground • 7: Unspeakable World • 8: Traitor's Brand • 9: Wanderer • 10: Voice of a God • 11: Mutual Enemies • 12: Frozen Sea • 13: A Lost Peace • 14: Orders • 15: Rainbow Sage • 16: White Flames • 17: Black Flames • 18: Veiled Kingdom • 19: Hidden Strings • 20: Seeds of Doubt • 21: Going Forward • 22: Memories • 23: Arete Undone • 24: Days Lost • 25: Blades Drawn • 26: The Vallite King • 27: Hear My Cry • Endgame: Anankos
Paralogues
1: Tragic Start • 2: Dragon Blood • 3: Surprise Duet • 4: Fight or Flight • 5: Bold Approach • 6: Herbal Remedy • 7: Father & Liege • 8: A Great Hunt • 9: Saizo vs. Saizo • 10: Hunter & Prey • 11: A Long Grudge • 12: Sweet Dreams • 13: Truly Talented • 14: After the End • 15: Hidden Bravery • 16: Abducted • 17: Two Defenders • 18: Nutty Family • 19: Great Heroism • 20: Ultimate Power • 21: Bright Smile • 22: Abrupt Clash
Invasions
: Invasion 1 • Invasion 2 • Invasion 3 • : Invasion 1 • Invasion 2 • Invasion 3 • : Invasion 1 • Invasion 2 • Invasion 3
DLC chapters
Ghostly Gold • Boo Camp • Museum Melee • Beach Brawl • Royal Royale • Before Awakening • Hidden Truths 1 • Hidden Truths 2 • Vanguard Dawn • Anna on the Run • Ballistician Blitz • Witches' Trial • A Gift from Anna • Another Gift from Anna • I: In Endless Dreams • II: Realms Collide • III: The Changing Tide • IV: Light's Sacrifice • V: Endless Dawn • End: Lost in the Waves • Hoshidan Festival of Bonds • Nohrian Festival of Bonds
Hero Battles
Hero-King Marth • Radiant Hero Ike • Princess Lucina • Grandmaster Robin
Locations
Deeprealms (My Castle) • Hoshido (Flame Tribe • Izumo • Kohga • Mokushu • Wind Tribe) • Nohr (Dragon's Gate • Ice Tribe • Nestra) • Notre Sagesse • Valla (Bottomless Canyon)
Groups, objects, and concepts
Dragon Vein • My Castle
Related topics
Ancient Texts • Downloadable content • Fire Emblem Fates: Crown of Nibelung • Name chart • Pre-release information (Unused content) • Soundtrack