Site News
Warning: This wiki contains spoilers. Read at your own risk!


Social media: If you would like, please join our Discord server, and/or follow us on Twitter or Tumblr!

Engage info: As the game has only recently released, we lack much key information. Please help add any info that you can.
Kempf
From Fire Emblem Wiki, your source on Fire Emblem information. By fans, for fans.
| | |
| --- | --- |
| Gender | Male |
| Race | Human |
| Nationality | |
| Title(s) | General of the Imperial Army's 12th Division[1] |
| Starting class | |
| Voiced by | |
| Appearance(s) | |
| | | | |
| --- | --- | --- | --- |
| " | Hmph, finally I've gotten that annoying little wench taken care of. Now, if she is executed for revolt, then that Reinhardt will lose his position as well. I can't wait to see his face... Hahaha... | " | — Kempf |
Kempf (pronounced /⁠kɛmf⁠/[key][2]; Japanese: ケンプフ Kempf) is a boss and antagonist appearing in Fire Emblem: Thracia 776. He has a burning hatred and jealousy for Reinhardt and, by extension, his sister Olwen. He is a noble of Friege and serves the Grannvale empire in combat and by assisting with the child hunts.
Role
Kempf is first mentioned in Chapter 10; he is discussed by Largo and Olwen as a petty commander who sends people he doesn't like, like Olwen, on menial tasks, like making daily reports on a remote fortress unlikely to be attacked.[3]
During Chapter 11 after the fortress in Noel Canyon ended up being attacked Kempf pays it no mind; he uses the excuse that Olwen did not gather enough data on the attackers to warrant risking the possibility that it is a trap. He also tells Olwen that general Largo, the man defending the fortress, is disposable due to his old age.[4]
Olwen is upset at Kempf's dismissal of Largo, but Kempf cuts her off, threatening her with charges of insubordination.[5] Regardless the altercation escalates after Kempf insults Olwen and tells her that all she can do is "go crying to big brother Reinhardt".[6] Olwen does not directly retaliate until Kempf insults Reinhardt directly,[7] to which Olwen draws her weapon. Kempf is not particularly intimidated and has his nearby guards imprison her in the dungeons for attacking a superior. Fred, a knight seen accompanying Olwen often, confronts Kempf for instigating the fight and Kempf laughs it off and orders him to head the defense force, telling him if he fights to the death Olwen may yet live.[8]
Upon spotting the Leonster army arriving to assault the Dandrum Fortress, he orders the plan "Portcullis" to be executed, in which the enemy is trapped in a corridor while arrows from ballistae hail down on them. When Leonster's forces eventually break through the choke point Kempf flees immediately after being attacked.
Kempf is seen retreating in Chapter 11x to report the fall of Dandrum fortress. He orders Oltoph, one of his subordinates working in the prison under the fortress, to stay behind and fight to the death to buy him more time to retreat. Kempf specifically orders the tactic "Murder Holes", which involves trapping two people in a room together to fight to the death. Additionally, Kempf orders that the prisoners present be executed, citing that they would be a nuisance if they were to escape.[9]
Later, having rejoined with Friege's army at Fort Nohrden, during Chapter 16A Kempf prepares to defend the fortress against Leonster's forces. Shortly before the battle he is chastised by Nikalaf for his cowardice, and is ordered to guard the bridge leading to the fortress and to not leave the cover of their ballistae until reinforcements from Ulster arrive. He disobeys these orders since he wants the credit to go to himself and not Ulster,[10] and orders his troops to attack and leave no one alive. His disobedience earns him a defeat at the hands of Leif's forces.
Stats
Enemy - Chapter 11
Enemy - Chapter 16A
Role
Kempf is one of the characters added to the game in the The Dream update, and was made available to players in the thirty-eighth Grand Hero Battle, which initially ran from December 11, 2019 with through December 20, 2019. Only one variation of Kempf is currently available in Heroes, based on his Thracia 776 incarnation.
Starting stats
Initial Stats Level 40 Stats

Note: This unit requires the usage of Trait Fruit to access any flaws and assets.
Skill set
Skill set
Skill
Rarity
SP cost
Iron Sword
Innate
Steel Sword
Innate
Silver Sword
★★★
200 SP
Venin Edge
★★★★★
400 SP
Holy Vestments
★★★
100 SP
Aegis
★★★★
200 SP

A

Fortress Res 1
★★★
40 SP

A

Fortress Res 2
★★★
80 SP

A

Fortress Res 3
★★★★
160 SP

C

Savage Blow 1
★★★
50 SP

C

Savage Blow 2
★★★★
100 SP

C

Savage Blow 3
★★★★★
200 SP
Personality and character
Kempf is petty and cowardly; he has no reservations of fleeing Dandrum Fortress when Leonster's forces break through. Kempf inherited his position in the Friege army; and is not a leader to be looked up to due to these qualities.[11] Kempf also has little discipline and will ignore orders from his superiors if he thinks it will further his reputation.[10]
Possibly due to becoming generals at roughly the same time and at the same age, Kempf considers Reinhardt something of a rival. Much to Kempf's anger, Reinhardt however does not see a rival relationship between them and appears to pay Kempf little to no mind.[12] Kempf uses Olwen, Reinhardt's younger sister, as an outlet for his frustration with Reinhardt; he often sends her on daily missions to the nearby fortress in Noel Canyon, which apparently had seen little conflict before Leif attacked it.[3] Either way, Kempf does not seek an honorable rivalry with Reinhardt and attempts underhanded tactics, like framing his sister Olwen for treason, to damage Reinhardt's reputation.[13]
Quotes
Battle quotes
| | | | |
| --- | --- | --- | --- |
| " | Damn! Dandrum is invincible...! | " | — Kempf's battle quote in Chapter 11 |
| | | | |
| --- | --- | --- | --- |
| " | Damn! Damn! If it weren't for you... If it only weren't for you...! | " | — Kempf's battle quote in Chapter 16A |
Death/retreat quotes
| | | | |
| --- | --- | --- | --- |
| " | Damn... This can't be... ...Retreat! I'll be back...! | " | — Kempf's retreat quote in Chapter 11 |
| | | | |
| --- | --- | --- | --- |
| " | No...! How could I lose...to you... Gwaaah! | " | — Kempf's death quote in Chapter 16 |
| | | | |
| --- | --- | --- | --- |
| " | I won't forget this! I'll be back! | " | — Kempf, if captured and released in Chapter 16 |
Heroes quotes
Main article: Kempf/Quotes (Heroes)
Flavor text
Game
Text
(English)
Text
(Japanese)

Heroes

General of the 12th division of the Grannvale
Empire's army. A man of ambition and single-
minded focus on his rival, Reinhardt. Appears
in Fire Emblem: Thracia 776.
グランベル帝国軍第12軍団の将軍。
ラインハルトを強く意識する野望の男。
(登場:『ファイアーエムブレム トラキア776』)
Trivia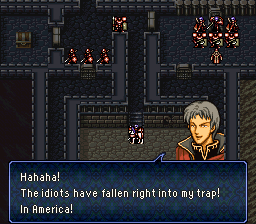 In the Shaya version of Thracia 776 fan translation, Kempf declares "In America!" upon the execution of Portcullis. This is likely a reference to episode 12 of Yu-Gi-Oh! The Abridged Series, in which the character Bandit Keith, who is known for his extreme American patriotism, says a similar line.
Kempf obtained more votes in the 2017 running of Choose Your Legends than Reinhardt; he beat his rival by twenty votes.
Etymology and other languages
Names, etymology and in other regions
Language
Name
Definition, etymology, and notes
English

Kempf

As of Heroes.

English
(unofficial)

• Kempf
• Kempuf

Used in Thracia 776 fan translations.

Japanese

ケンプフ

Officially romanized as Kempf. Variant of the German surname Kämpf, which means "struggle".[14][15]

Spanish

Kempf

--

French

Kempf

--

German

Kempf

--

Italian

Kempf

--

Portuguese
(Brazil)

Kempf

--

Traditional Chinese

肯普夫

Kempf
Gallery
Sprite Gallery
Mage Knight

Sword
(Meisterschwert)

Magic
(all tomes)

Sword

*


(Meisterschwert)

Magic

*


(all tomes)
References
| | |
| --- | --- |
| | This article is part of Project Characters, a project focused on writing articles for every character present in the Fire Emblem series. |