Site News
Warning: This wiki contains spoilers. Read at your own risk!


Social media: If you would like, please join our Discord server, and/or follow us on Twitter or Tumblr!

Engage info: As the game has only recently released, we lack much key information. Please help add any info that you can.
Céline
From Fire Emblem Wiki, your source on Fire Emblem information. By fans, for fans.
---
This article's subject is about a recently released game or expansion. As such, key information is likely to be missing. Please help out and add the information that you can.
---
---
This page has been marked as a stub. Please help improve the page by adding information.
---
Céline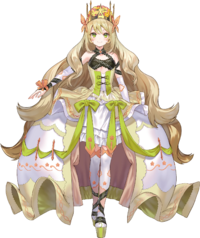 Artwork of Céline from Fire Emblem Heroes.
---
The princess of Firene. Despite her gentle demeanor, she has an iron will when her people must be protected.
Gender

Female

Race

Human

Age

17

Birthday

December 18th

Height

155 cm (5'1")

Family
Nationality

Firene

Title(s)

Princess of Firene

Starting class
Voiced by

Rachelle Heger
(English, all appearances)
Akari Kitō
(Japanese, all appearances)[1]

Appearance(s)
Céline (Japanese: セリーヌ Celine) is a playable character in Fire Emblem Engage.
Biography
Céline is the eldest princess of Firene.[1]
Role
Céline is a playable character.
Starting stats and growth rates
| | |
| --- | --- |
| | Recruitment: Chapter 4, automatically from turn 1. |
Analysis
This character analysis section may not be accurate to every player's experience.
Céline is a useful unit with high and well-rounded stat growths. While she is likely to rely on tomes early on, her magic is actually one of her weaker stats, with a growth of just 25%, so if she is to keep dealing competitive damage via magic she will appreciate a promotion into a class that significantly increases said growth, such as Mage Knight.
An arguably more auspicious option is to relegate Céline's magic to a backup role and focus on realizing her solid physical damage potential. The Wyvern Knight is a tempting promotion, as it is a very powerful class that will also give Céline excellent all-around stat growths that align nicely with eventual caps. Céline cannot use brave weapons as a Wyvern Knight but will have good 1-2 range options for both physical and magic damage while also granting the class much-appreciated boosts to speed and resistance caps. All in all, if Céline promotes to Wyvern Knight at level 10 and never looks back, she will perform adequately at every stage of the game, which is not to say that other martial classes are a bad choice for her.
As an alternative to a simple martial path, Céline has access to the unique Vidame class, but its drawbacks arguably outweigh the perks it has in its weapon ranks and Mystical classification. Other than the unimpressive 5 movement, Vidame's stat bases and caps are excellent, but its growths are so low that Céline would need to spend most of the game as a Griffin and Mage Knight before reclassing to Vidame to make use of the extra headroom. Also, even with carefully-planned level-ups, Céline needs to reach level 55 or so to cap strength, magic, or speed in Vidame. While this can be achieved before the end of the game if Divine Paralogues are played late, it is hardly practical, as a Griffin Knight Chloé or Anna can reach the strength and magic of a stat-capped Vidame several levels earlier, while being much faster and more mobile.
Regadless of Céline's role, she can make use of her very high luck growth and cap modifier to deploy dodge-decreasing engravings which would be dangerous for most characters.
Role
Céline is one of the characters added to the game in the King of Light update, and became available for summoning by players on January 17, 2023. Only one variation of Céline is currently available in Heroes, based on her Engage incarnation.
Starting stats
Céline: Joyous Royal is only available at 5★ rarity.
Skill set
Skill set
Skill
Rarity
SP cost
Wind
Innate
Elwind
Innate
Rexcalibur
Innate
Joyous Tome
Innate
Chilling Wind
Innate
Iceberg
★★★★★
200 SP

A

Spd/Res Ideal 1
★★★★★
60 SP

A

Spd/Res Ideal 2
★★★★★
120 SP

A

Spd/Res Ideal 3
★★★★★
240 SP

A

Spd/Res Ideal 4
★★★★★
300 SP

C

Canto Control 1
★★★★★
60 SP

C

Canto Control 2
★★★★★
120 SP

C

Canto Control 3
★★★★★
240 SP
Personality and character
Céline has a gentle heart, and she prefers to negotiate peacefully, but is not opposed to fighting to maintain peace.[1]
Endings
Joyous Royal Céline
Céline dedicated her life to peace in the kingdom of Firene. This sometimes meant taking the unpopular position of punishing those who disturbed order.
Her favorite tea became known as a tea of blessings in Firene. Legend had it that those who drank the tea would find joy.
Divine Dragon Alear & Joyous Royal Céline
Alear became the new Divine Dragon Monarch. His/Her bonds with the rulers of each nation resulted in lasting peace.
Céline's political work involved passing harsh judgements, but her gentle heart persisted. She cherished the time she spent drinking tea with Alear.
Quotes
---
This section has been marked as a stub. Please help improve the page by adding information.
---
Battle quotes
"
Celica: I must admit, going to battle against you is rather strange, Céline.
Céline: Oh, quite. I would rather chat over a cup of tea. Yet, as this is a trial, tea is not an option. So instead of polite conversation, I will fight you to the last, yes?
Celica: Of course. Come at me now. Bring everything you have to bear and claim victory.
"

— Cèline and Celica in The Caring Princess.
| | | | |
| --- | --- | --- | --- |
| " | All flowers must bloom... For you, I will be a gentle rain and a ray of light! | " | — Céline in Chapter 26. |
Critical quotes
| | | | |
| --- | --- | --- | --- |
| " | It's tea time! | " | — Cèline |
| | | | |
| --- | --- | --- | --- |
| " | You need pruning. | " | — Céline |
| | | | |
| --- | --- | --- | --- |
| " | Isn't this your lucky day. | " | — Céline |
Defeat quotes
Other quotes
Main article: Céline/Quotes
Heroes quotes
Main article: Céline/Quotes (Heroes)
Flavor text
Game
Text
(English)
Text
(Japanese)

Engage

The princess of Firene. Despite her
gentle demeanor, she has an iron will
when her people must be protected.

穏やかで花のようなフィレネの王女。
民のため自らの手を汚すことを厭わない。

Heroes

Princess of Firene and Alfred's younger sister.
She has a gentle demeanor and a particular
love for tea. Appears in Fire Emblem Engage.

フィレネ王国第一王女。アルフレッドの妹。
穏やかな性格で、大の紅茶好き。
(登場:『ファイアーエムブレム エンゲージ』)
Etymology and other languages
Names, etymology and in other regions
Language
Name
Definition, etymology, and notes
English

Céline

A French feminine name from Latin, meaning "heavenly".[2]

Japanese

セリーヌ

Officially romanized as Celine.

Spanish

Céline

--

French

Céline

--

German

Céline

--

Italian

Céline

--

Portuguese

Céline

--

Korean

셀린

Céline

Simplified Chinese

锡莉奴

Céline

Traditional Chinese

錫莉奴

Céline
Gallery
Official artwork
Artwork of Céline with other characters from Engage.
Screenshots
References
| | |
| --- | --- |
| | This article is part of Project Characters, a project focused on writing articles for every character present in the Fire Emblem series. |