Site News
Warning: This wiki contains spoilers. Read at your own risk!


Discord and Twitter: If you would like, please join our Discord server, and/or follow us on Twitter at @FEWikiOfficial!
Elthunder
From Fire Emblem Wiki, your source on Fire Emblem information. By fans, for fans.
Elthunder (Japanese: エルサンダー Elthunder) is a thunder tome which debuted in Fire Emblem: Genealogy of the Holy War, appearing only in games which feature the three separate anima magic types of fire, thunder and wind. It acts as the second "stage" of the hierarchy of thunder magic, as a counterpart to Elfire and Elwind; it is superior to the basic Thunder tome but requires a higher weapon level to use, and in turn it is surpassed by the more advanced and powerful Arcthunder and Thoron tomes.
Stats
In the main Fire Emblem series
In other Fire Emblem series titles
Locations
Genealogy of the Holy War
Path of Radiance
Inventory
Calill • Ilyana
Steal
Chapter 27-1, enemy Sage (

×2

)
Armory
Chapters 11, 13, 15, 16, 17, 18, 20, 21, 22, 24, 25, 27, 28, Endgame
Radiant Dawn
Inventory
Bastian • Ilyana
Armory
Part 1: Chapters 6, 7, 8, 9, Endgame
Part 2: Chapters 3, Endgame
Part 3: Chapters 2, 3, 4, 5, 7, 8, 9, 10, 11, Endgame
Part 4: Prologue, Chapters 1, 2, 3, 4, 5, Endgame
Bargains
Part 1: Chapter 5
Awakening
Heroes
Other appearances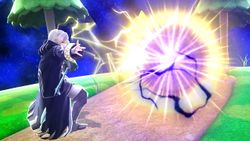 Elthunder is part of Robin's neutral special move, Thunder, in Super Smash Bros. for Nintendo 3DS and Wii U. When charged up for certain periods of time, it will become a stronger thunder spell when released. Elthunder is the second charging stage, achieved when charged up long enough for the electric aura surrounding Robin to turn yellow: it behaves as a slower, more powerful version of Thunder, sending a ball of lightning forward which inflicts 9% damage.
Elthunder's functionality and power is altered slightly when cast through Robin's alternate neutral special moves: Thunder+'s Elthunder has greater knockback, while Speed Thunder's Elthunder is smaller and travels the width of the Final Destination stage. As per Robin's durability mechanic, a successful Elthunder consumes 3 durability points (or 2.5 if the alternate special move is Thunder+).
Flavor text
Game
Text
(English)
Text
(Japanese)

Path of Radiance

Mid-level thunder magic. It is somewhat difficult to
master, but it deals a fair amount of damage.
雷の中位魔法
少しあつかいにくいが そこそこ威力はある

Radiant Dawn

Mid-level thunder magic. It is very effective
against wyverns and dragon tribe laguz.
そこそこ威力のある雷属性の魔法
竜騎士系・竜系に高い効果を誇る

Awakening

Powerful lightning magic.
??
Etymology and other languages
Names, etymology and in other regions
Language
Name
Definition, etymology and notes
English

Elthunder

From "El", a prefix used by the Fire Emblem series to represent a higher second tier of magic, + "thunder".

Japanese

エルサンダー

Elthunder

Spanish

Elthunder

--

French

Eclairs

Lightning (plural)

German

Elfendonner

From Elfen, the German version's equivalent prefix, + Donner, "thunder".

Italian

Tuono d'elfo

From tuono, "thunder", + d'elfo, "elfin", the Italian version's equivalent to the "El" prefix.

Portuguese
(Brazil)

Elthunder

--

Russian

Эльгроза

Elthunder; only in Super Smash Bros. for Nintendo 3DS and Wii U, as no Fire Emblem game has as yet been officially released in Russian.

Traditional Chinese

狂雷

Wild thunder
Gallery
Other appearances
References
See also