Site News
Warning: This wiki contains spoilers. Read at your own risk!


Social media: If you would like, please join our Discord server, and/or follow us on Twitter or Tumblr!
Caellach
From Fire Emblem Wiki, your source on Fire Emblem information. By fans, for fans.
Caellach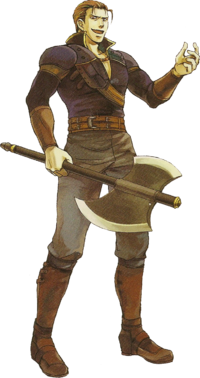 Artwork of Caellach from The Sacred Stones.
---
An ambitious general in Grado's army. He's better known as Tiger Eye.
| | |
| --- | --- |
| Gender | Male |
| Race | |
| Title(s) | Tiger Eye |
| Starting class | |
| Voiced by | |
| Appearance(s) | |
Caellach (Japanese: ケセルダ Cethelreda) is a character in Fire Emblem: The Sacred Stones. He is one of Grado's Imperial Generals, though he originates from Jehanna. He is power-hungry and ruthless, which makes his ascension in the Grado army quick. Once promoted by Vigarde, he sets out destroying each of Magvel's Sacred Stones. Though he is a boss in the main story, he can be recruited as a special character in the game's Creature Campaign feature.
Role
Caellach makes his first appearance at the end of Chapter 3, when the emperor Vigarde calls the generals of Grado together for a meeting. The three original leaders Glen, Selena, and Duessel are introduced to three newcomers: Caellach, Riev, and Valter. Caellach, having been a mercenary of Jehanna, is ordered to join together with Selena and destroy the Sacred Stone of Frelia. The three veteran generals regard the new arrivals, as well as the emperor's recent behavior, with suspicion. Later, during the story sequence Another Journey, which takes place after Chapter 8, he and Selena are shown to have successfully conquered Frelia; they stand at the top of the Tower of Valni. Without hesitation, he destroys the country's Sacred Stone.
Here the story of the game diverges into two paths, each led by one of the twin lords Eirika and Ephraim. In both stories, he is sent by Vigarde to Jehanna, where he plays a major role in Eirika's story, but only a minor part in Ephraim's.
Eirika's route
During the beginning of Chapter 13, Caellach appears to advise his subordinate Aias on the upcoming battle. The two had been mercenaries together, and Caellach urges him not to lose. However, at the end of the chapter, after Eirika has torn through his army, Caellach ruthlessly kills Aias, without any care for his former partner.
He then creates the conflict of Chapter 14 by taking the queen Ismaire hostage. Carlyle, the former general of Jehanna, is in love with the queen; he is bribed by Grado to betray his country with the reward of Ismaire as a bride. Caellach, accompanied by the sickly crown prince Lyon, takes Ismaire. At the end of the chapter, after the queen refuses to hand over the Sacred Stone of Jehanna, he kills her despite Lyon's weak protests. He then destroys the Sacred Stone, and goes on to command an army against the two twins of Renais.
Ephraim's route
At the start of Chapter 12, Caellach appears as the map's boss. After a turn, Riev appears and persuades him to go to Jehanna, where Eirika is causing trouble. He promptly leaves to take care of the situation.
Eirika and Ephraim united
As Eirika and Ephraim finally meet after their respective journeys, in Chapter 15 they are hit by an assault by two separate armies, led by Caellach and Valter. In Ephraim's route only, a small dialogue happens between Lyon and Caellach. He mentions Joshua as having been a partner of his as a mercenary, and makes a show of ambition by vowing to serve Grado well. This conversation compensates for his minor role in Ephraim's story; in Eirika's version of the chapter, a short talk between Riev and Valter is shown instead.
At the chapter's end, he is defeated (if the player is successful), bemoaning his death and inability to rise to fame and power.
Starting stats and growth rates
Stats with two figures separated by a ~ are presented as a range, representing stats that vary due to random growths. The figures to the left and right of the ~ are the stat's minimum and maximum possible values respectively.
Boss, Easy/Normal Boss (Ephraim Ch 12, Eirika Ch 15), Difficult Boss (Ephraim Ch 15), Difficult Playable, Creature Campaign
Role
Caellach is one of the characters added to the game in the Book V launch update, and was made available to players in the fiftieth Grand Hero Battle, which initially ran from December 9, 2020 through December 19, 2020. Only one variation of Caellach is currently available in Heroes, based on his The Sacred Stones incarnation.
Starting stats
Initial Stats Level 40 Stats

Note: This unit requires the usage of Trait Fruit to access any flaws and assets.
Skill set
Skill set
Skill
Rarity
SP cost
Iron Axe
Innate
Steel Axe
Innate
Reprisal Axe
★★★
200 SP
Reprisal Axe+
★★★★★
300 SP
Dragon Gaze
★★★
100 SP
Dragon Fang
★★★★
200 SP

B

Guard 1
★★★
50 SP

B

Guard 2
★★★★
100 SP

B

Guard 3
★★★★★
200 SP

C

Even Def Wave 1
★
60 SP

C

Even Def Wave 2
★★
120 SP

C

Even Def Wave 3
★★★★
240 SP
Personality and character
As a general of Grado, Caellach is fierce and has an unscrupulous sense of ambition. Many times he states a wish to attain power and fame, possibly a result of his roots. He originated as a mercenary, working in the same group as Joshua and Aias, but became a military leader of Grado after the emperor Vigarde had a suspicious change in character. He shows little mercy for others, killing a Frelian soldier and Aias without hesitation, as well as destroying two Sacred Stones without a second thought to the safety of the world. His desire for power outweighs any morality he may have, and in the story he plays a villainous role, by antagonizing the characters in battles as well as doing evil for Grado behind the scenes.
Quotes
Battle quotes
| | | | |
| --- | --- | --- | --- |
| " | You're a stepping-stone... And I'm moving up. Don't take it personally. | " | — Caellach to anyone but Joshua. |
"
Joshua: Caellach.
Caellach: Hey! If it isn't Joshua. It's been a long time. Have you been well?
Joshua: I've been all right. Still working as a mercenary. When did you get all proper and join the Grado army?
Caellach: Didn't I tell you? I wasn't about to waste my life as a nameless soldier. Still, I think back on those days a lot lately... My axe and your sword... The two of us were a deadly pair, eh?
Joshua: ......
Caellach: By the way... I know all about you, Joshua. Who you really are I mean. The prince of Jehanna, huh? When did you plan on sharing the wealth, you sneaky dog?
Joshua: Listen... You can't reduce a nation to loot waiting to be divided. And more importantly, I made a vow to my mother. I'm going to succeed her as ruler of my homeland. Hey Caellach... You're the one who killed my mother, aren't you?
Caellach: Yeah... Sorry 'bout that. Things happen, you know? C'mon, Joshua, don't hate me. This is war. There's nothing you can do about it. Besides, grudges get in the way of work, right?
Joshua: That's true. It's as you say. Listen Caellach... I've got to kill you now. Don't hold it against me.
Caellach: You arrogant... You haven't changed a bit! I've always wanted to show you who's better, Joshua. And I'm even stronger than I used to be. I'm gonna wipe that smug look off your face for good!
"

— Caellach to Joshua in Eirika's route.
"
Joshua: It's been a long time, Caellach.
Caellach: Is that really you, Joshua? How long's it been?
Joshua: About two years... What've you been doing? You know, that innkeeper's still mad you stiffed him.
Caellach: Oh please... You telling me that old dog's still alive? ...How's the rest of the troop doing?
Joshua: They're getting by. Some of them ended up feeding the crows, though...
Caellach: Is that so? Those were good times, weren't they, Joshua? We were terrors on the battlefield and worse off it.
Joshua: Yeah, we were. You'd get carried away and pick fights with me... You always said the same thing: "I will be King!"
Caellach: Yeah, that's my dream. And I'll do anything to make it true. What do you say, Joshua? Let's team up again? Leave those losers you're with and work for me.
Joshua: Sorry, can't do it. I'm not going to let you use me for anything.
Caellach: Bah... You're a cold fish, aren't you. That's one thing that hasn't changed about you.
Joshua: You haven't changed much either. You're still as shameless as ever.
Caellach: Ha ha! That's the truth. Well... You want to get started?
Joshua: Mm. Sure.
Caellach: I'm stronger than I used to be. No offense, but you're not in my league anymore. Don't hate me, Joshua.
Joshua: Same to you.
"

— Caellach to Joshua in Ephraim's route.
Death quote
| | | | |
| --- | --- | --- | --- |
| " | Bla... Blast... A bit more, and...a crown... would have been...mine... | " | — Caellach, as boss of Chapter 15. |
Heroes quotes
Main article: Caellach/Quotes (Heroes)
Flavor text
Game
Text
(English)
Text
(Japanese)

The Sacred Stones

An ambitious general in Grado's army.
He's better known as Tiger Eye.
グラド帝国将軍の1人
【虎目石】と呼ばれる 野心の男

Heroes

The Tiger Eye of Grado's six generals. Rose
from mercenary life doing whatever it takes
to achieve his goals. Appears in Fire Emblem:
The Sacred Stones.
グラド帝国の帝国六将【虎目石】。
傭兵からの成り上がりで、目的達成への手段を選ばない。
(登場:『ファイアーエムブレム 聖魔の光石』)
Trivia
Caellach has the highest luck stat of any enemy in The Sacred Stones.
In the Official Nintendo Power Guidebook for The Sacred Stones, Caellach's base stats are mistakenly listed as those from the Japanese version of the game instead of the Western version.[1]
Etymology and other languages
Names, etymology and in other regions
Language
Name
Definition, etymology and notes
English

Caellach

A Gaelic name meaning "war", "strife", or "bright-headed". [2]

Japanese

ケセルダ

Officially romanized as Cethelreda.

Spanish

Caellach

As above.

French

Caellach

As above.

German

Caellach

As above.

Italian

Caellach

As above.

Portuguese
(Brazil)

Caellach

--

Traditional Chinese

凱瑟爾達

Cethelreda
Gallery

Sprite Gallery
Hero

Sword

*


Axe
Battle animations
References
↑ Mekkah, So How Bad is the Official FE8 Nintendo Power Guidebook?, YouTube, Published: September 21, 2018, Retrieved: July 1, 2021
↑ Meaning, origin and history of the name Ceallach, Behind the Name, Retrieved: April 15, 2018
| | |
| --- | --- |
| | This article is part of Project Characters, a project focused on writing articles for every character present in the Fire Emblem series. |