Site News
Warning: This wiki contains spoilers. Read at your own risk!


Social media: If you would like, please join our Discord server, and/or follow us on Twitter or Tumblr!

Engage info: As the game has only recently released, we lack much key information. Please help add any info that you can.
Mustafa
From Fire Emblem Wiki, your source on Fire Emblem information. By fans, for fans.
---
This page has been marked as a stub. Please help improve the page by adding information.
---
Mustafa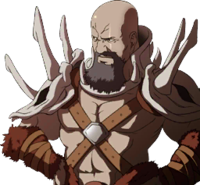 Mustafa's portrait from Awakening.
---
The Plegian commander. A pacifist.
| | | | |
| --- | --- | --- | --- |
| " | Ylisseans! I offer you mercy! Surrender to me now and live! | " | — Mustafa |
Mustafa (Japanese: ムスタファー Mustafa) is a Plegian general and the boss of chapter 10 of Fire Emblem Awakening. Mustafa and his regiment were assigned to block the escape of Chrom and the Shepherds in the aftermath of Emmeryn's execution.
Mustafa offered the Shepherds a chance to not fight, but Frederick refused on behalf of the group; thus, the two sides clashed. Mustafa wished to grant a small band of thieves mercy, as long as the fight was kept mainly against the Shepherds; as the fight went on, some his own subordinates started to doubt why they even had to fight the Shepherds, resulting in Mustafa dismissing those subordinates and willing to accept punishment from Gangrel on their behalf. Mustafa is eventually defeated by the Shepherds, but uses his dying breath to ask the Shepherds to spare his remaining subordinates.
Stats
Role
Mustafa is one of the characters added to the game in the Wallowing in Love update, and became available for summoning by players on June 5, 2020. Only one variation of Mustafa is currently available in Heroes, based on his Awakening incarnation.
Starting stats
| | | |
| --- | --- | --- |
| | Initial Stats Level 40 Stats | |
Skill set
Skill set
Skill
Rarity
SP cost
Iron Axe
Innate
Steel Axe
Innate
Barrier Axe
★★★
200 SP
Barrier Axe+
★★★★★
300 SP
Glowing Ember
★★★
100 SP
Bonfire
★★★★
200 SP

A

Water Boost 1
★★★
50 SP

A

Water Boost 2
★★★★
100 SP

A

Water Boost 3
★★★★★
200 SP

C

Def Tactic 1
★★★
60 SP

C

Def Tactic 2
★★★
120 SP

C

Def Tactic 3
★★★★
240 SP
Quotes
Battle quote
| | | | |
| --- | --- | --- | --- |
| " | I am General Mustafa of Plegia. If you wish to keep your lives, then you must win them! | " | — Mustafa |
Death quote
| | | | |
| --- | --- | --- | --- |
| " | Well done, Ylisseans...Hrrggh! Please...spare my...men... | " | — Mustafa |
Heroes quotes
Main article: Mustafa/Quotes (Heroes)
Flavor text
Game
Text
(English)
Text
(Japanese)

Awakening

The Plegian commander.
A pacifist.
ペレジア王国の将
戦争を望んでいない

Heroes

General of Plegia. He is endlessly loyal to his
king, but he is a military man who prefers a fair
fight to besting his foes through trickery.
Appears in Fire Emblem Awakening.
ペレジアの将軍。王命に忠実だが
敵への非道は禁ずる、正々堂々とした武人。
(登場:『ファイアーエムブレム 覚醒』)
Trivia
Etymology and other languages
Names, etymology and in other regions
Language
Name
Definition, etymology, and notes
English

Mustafa

Mustafa is an Arabic name meaning "the chosen one", originally a title borne by the Islamic prophet Muhammad.[1]

Japanese

ムスタファー

Mustafa

Spanish

Mustafa

As above

French

Mustafa

As above

German

Mustafa

As above

Italian

Mustafa

As above

Portuguese
(Brazil)

Mustafa

As above

Traditional Chinese

穆斯塔法

Mustafa
Gallery
References