Site News
Warning: This wiki contains spoilers. Read at your own risk!


Social media: If you would like, please join our Discord server, and/or follow us on Twitter or Tumblr!

Engage info: As the game has only recently released, we lack much key information. Please help add any info that you can.
Pawns of Loki
From Fire Emblem Wiki, your source on Fire Emblem information. By fans, for fans.
Pawns of Loki is a game mode in Fire Emblem Heroes. It is a mode that plays out like a board game in which players strategically set up their pieces to take on CPU opponents in a set number of rounds, hoping to rack up high scores.
Overview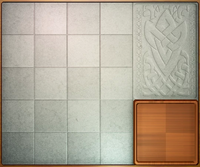 Each Pawns of Loki event takes place over three 44-hour rounds, with each individual match taking place over a set number of turns dependent on the round; in the first two rounds, matches last nine turns, while matches last ten turns in the third round. There are two phases per turn, a setup phase and a battle phase.
On the setup phase, players are allowed to purchase additional units from a randomized selection of five from the player's selected brigade (much like those used in Rival Domains, Grand Conquests, and Relay Defense); on the first turn, one random unit is already set up from the outset. Players have eight spaces on the bottom two rows of the main gameboard in which to place active units, plus four additional spaces to the right of the eight active spaces to put units in reserve. Mode-specific currency known as war funds are used to purchase additional units, of which players receive a set value of (turn number × 2) of at the start of each turn; higher-leveled units require more war funds in order to purchase, and unused war funds carry over to subsequent rounds. War funds can also be used to make usage of the mulligan button, which shuffles the selection from the unit shop; the first press of the mulligan button on a turn is free, but each subsequent press of the mulligan button costs two war funds. Players may also trade in pieces they no longer wish to use in exchange for additional war funds; the first such exchange in a round returns the unit's full value, while subsequent exchanges returns half the unit's value. Should a player set up three of the same character on their board, those units will merge into a single unit ten levels higher; this is independent from the gradual increase of levels that take place throughout the match. Players can move around their units within their play area and reserves based on how to best strategize against the opposing team, which occupies the top two rows of the main gameboard.
The battle phase plays out automatically, with all moves made by the CPU. Units in a side's front row make their moves before those in the rear, always attacking the nearest enemy. All units make their moves in order of their level with higher levels moving first, with ties within a level being broken by Speed. After every unit has either made their move or been defeated, the combined HP of each side is compared, and the higher combined HP value wins the turn. Sides can earn score bonuses based on having weapon types deployed that match a designated set of bonus weapons that rotate per round; range-1 weapons have the bonus in round 1, range-2 weapons have the bonus in round 2, all weapons have the bonus in round 3. There are also additional combinations that can be made based on specific combinations of weapon types and movement types to gain additional bonuses, as follows:
Additional combinations
Weapon-Type
Move-Type Mix
Move-Type Pair
(Two of each specified type)
At the end of the match, the player's score is added to their cumulative score for the event, and their highest individual score factors into their ranking within their interval.
Rewards
Tier rewards are awarded at the end of a round based on a player's interval, and cumulative score rewards are awarded upon reaching certain plateaus.
Tier rewards
Interval
Items
11
×3 + ×5000 +
10
×3 + ×4000 +
9
×3 + ×3000 +
8
×3 + ×2000 +
7
×2 + ×1600
6
×2 + ×1300
5
×2 + ×1000
4
×1 + ×800
3
×1 + ×600
2
×1 + ×400
1
×1 + ×200

Cumulative score rewards
Rank
Item
40,000
×1
36,000
×2
32,000
×6
28,000
×2
25,000
×6
22,000
×2
19,000
×25
16,000
×2
13,000
×1
10,000
×2
7,000
×4
4,000
×2
2,000
×4
1,000
×2
400
×15
200
×2
Note: Divine Code: Ephemera numbers vary between events.
List of Pawns of Loki events
Note: All date ranges begin at 7:00 AM UTC on the first listed date and end at 2:59 AM UTC on the second listed date.
List of Pawns of Loki events
Dates
Notes
Event 1
November 12, 2020 – November 18, 2020
--
Event 2
December 16, 2020 – December 18, 2020
December 28, 2020 – December 30, 2020
January 4, 2021 – January 6, 2021
Event's three rounds split between three non-consecutive two-day sessions
Event 3
January 15, 2021 – January 17, 2021
January 23, 2021 – January 25, 2021
January 30, 2021 – February 1, 2021
Event's three rounds split between three non-consecutive two-day sessions
Event 4
February 8, 2021 – February 10, 2021
February 19, 2021 – February 21, 2021
March 1, 2021 – March 3, 2021
Event's three rounds split between three non-consecutive two-day sessions
Event 5
March 13, 2021 – March 15, 2021
March 20, 2021 – March 22, 2021
April 2, 2021 – April 4, 2021
Event's three rounds split between three non-consecutive two-day sessions
Event 6
April 9, 2021 – April 11, 2021
April 22, 2021 – April 24, 2021
May 2, 2021 – May 4, 2021
Event's three rounds split between three non-consecutive two-day sessions
Event 7
May 19, 2021 – May 21, 2021
May 30, 2021 – June 1, 2021
June 6, 2021 – June 8, 2021
Event's three rounds split between three non-consecutive two-day sessions
Event 8
June 19, 2021 – June 21, 2021
June 26, 2021 – June 28, 2021
July 2, 2021 – July 4, 2021
Event's three rounds split between three non-consecutive two-day sessions
Event 9
July 11, 2021 – July 13, 2021
July 21, 2021 – July 23, 2021
July 28, 2021 – July 30, 2021
Event's three rounds split between three non-consecutive two-day sessions
Event 10
August 21, 2021 – August 23, 2021
September 25, 2021 – September 27, 2021
October 23, 2021 – October 25, 2021
Event's three rounds split between three non-consecutive two-day sessions
Event 11
November 22, 2021 – November 24, 2021
January 5, 2022 – January 7, 2022
January 31, 2022 – February 2, 2022
Event's three rounds split between three non-consecutive two-day sessions
Event 12
March 6, 2022 – March 8, 2021
March 21, 2022 – March 23, 2021
April 23, 2022 – April 25, 2021
Event's three rounds split between three non-consecutive two-day sessions
Event 13
June 6, 2022 – June 8, 2022
July 5, 2022 – July 7, 2022
August 7, 2022 – August 9, 2022
Event's three rounds split between three non-consecutive two-day sessions
Event 14
August 29, 2022 – August 31, 2022
September 23, 2022 – September 25, 2022
October 22, 2022 – October 24, 2022
Event's three rounds split between three non-consecutive two-day sessions
Event 15
November 23, 2022 – November 25, 2022
Round 2's dates unannounced
Round 3's dates unannounced
Event's three rounds split between three non-consecutive two-day sessions
Etymology and other languages
Names, etymology and in other regions
Language
Name
Definition, etymology, and notes
English

Pawns of Loki
Gallery