Site News
Warning: This wiki contains spoilers. Read at your own risk!


Social media: If you would like, please join our Discord server, and/or follow us on Twitter or Tumblr!

Engage info: As the game has only recently released, we lack much key information. Please help add any info that you can.
Ludveck
From Fire Emblem Wiki, your source on Fire Emblem information. By fans, for fans.
| | |
| --- | --- |
| Gender | Male |
| Race | |
| Nationality | |
| Title(s) | Duke of Felirae |
| Starting class | |
| Appearance(s) | |
| | | | |
| --- | --- | --- | --- |
| " | Could our situation be any better? Just look at these fragile defenses... As fragile as the queen's reign! | " | — Ludveck |
Ludveck (Japanese: ルドベック Rudbeck) is a Crimean nobleman and duke of the territory of Felirae. In the years after the Mad King's War, he raised a rebellion against Crimea's new queen, Elincia, accusing her of being a weak ruler who would lead Crimea to ruin. His aim was to turn the people of Crimea against Elincia, exploiting fears and doubts already present in the people, and rally them to depose her and install himself as the new Crimean monarch.
Biography
In the aftermath of Daein's liberation war and the coronation of its new king, Pelleas, Queen Elincia chose to acknowledge Pelleas and the new Daein as legitimate with the intent of ensuring peace between the two nations. However, this decision was very poorly received by both the commoners and nobles of Crimea, leading to growing resentment of Elincia's rule over Crimea.[1] Ludveck took advantage of this discontent, and of the absence of Elincia's most trusted political mind, Bastian,[2] to stir it up even further into a call for rebellion. He sent several of his soldiers, led by Yeardley, on a mission around Crimean towns to conduct rallies to convince the Crimean people to serve Ludveck's cause.[3] Elincia's retainers, Lucia and Geoffrey, had seen signs and heard rumors that Ludveck was conducting this campaign, but it was not until they received reports from Nephenee and Brom, who defeated Yeardley when he tried holding a rally in their village of Ohma, that they had their suspicions confirmed.[4] Before acting on this, Lucia visited Ludveck at Felirae under the pretense of taking several laguz guests - Lethe, Mordecai, Leanne, and Nealuchi - on a tour to sample the fruits of the Felirae region, then the following night raided a nearby cave to retrieve written proof of Ludveck's amibitions.
Soon after, Geoffrey led the Crimean Royal Knights to Felirae on a mission to apprehend Ludveck and put down the rebellion, but Ludveck had already planned for this and left a defensive force behind to act as an unknowing decoy, intending for them to sacrifice themselves to occupy the Royal Knights while he led his army to target Elincia herself at the capital.[5] He also successfully infiltrated an informant network used by Lucia to pass on information and strategies, killing one messenger and then abducting Lucia herself, leaving behind her cut hair as a warning to Elincia.
Having learned that Elincia had been moved to Fort Alpea for protection, Ludveck led an assault on the fortress to defeat Elincia and claim the Crimean throne. Although the siege itself was foiled through the efforts of Elincia, her allies, and the arrival of Geoffrey and the Royal Knights, and although Ludveck himself was arrested and imprisoned, Ludveck had one final trap to play: his minions had erected a gallows outside Alpea for use on Lucia, threatening to kill her unless Elincia released Ludveck. Ludveck attempted to convince Elincia to surrender in order to save Lucia, but to his surprise, Elincia refused, expressing determination to do right by the people of Crimea even if it meant losing Lucia. Even though Elincia's courage had foiled his plan completely, and even though he remained imprisoned, Ludveck delighted in knowing that Elincia would have to suffer through watching Lucia die and may even beg for mercy. However, even this was foiled by one last move from Bastian who, although not in Crimea, had been aware of Ludveck's scheme before he left for Daein, and had hired Ike and the Greil Mercenaries to save Lucia at the very last moment.[2] Bastian and Ike's actions put an end to Ludveck's schemes once and for all, and he presumably remained imprisoned by Elincia.
Role
Ludveck is the boss of the Part II, Endgame and acts as the commander of the Rebel Army units. The chapter is a defensive map, so Ludveck does not have to be fought, but defeating him will immediately end the chapter.
Stats
Personality and character
On the surface, Ludveck is personable and charismatic, which allowed him to spark a fierce loyalty and devotion in his followers. The likes of Tashoria saw him as a trustworthy leader who would honor his word and aid them in battle.[6] He was confident in his plans to the point of arrogance, believing even to the very end that Elincia would surely cave to his demands and that he had left no way out for her. Unsurprisingly, he had a very low opinion of Elincia and believed her to be a helpless coward, and was surprised when she personally led the defense of Alpea against him.[7] In the end he at least claimed to have done what he did out of love for Crimea and a desire to save it from Elincia, although it was possible that he made this up to make his greed for the crown sound more credible and legitimate.
Ludveck is cold, cunning, and lacking in sympathy. Ludveck viewed Elincia's compassion as a dangerous and weak quality in a ruler, claiming that her inability to make difficult, cold decisions and her compassion for her people, even when they oppose her, only get in the way of her ability to be an effective queen and are the cause of all of the crises that led to his rebellion against her.[8] He himself was more than willing to sacrifice the lives of his followers in massive numbers in order to achieve the aims of his larger plan, viewing them all as disposable pawns.[5] He was very fond of Lucia to the point of having his servants actively keep track of all of her activities and movements, through which he found out about her network of informants,[9] and although Maraj had tried to warn him of the dangers she posed to his plans, Ludveck did not listen.[10] However, once she proved to be a legitimate obstacle to his plans, Ludveck did not hesitate to use Lucia as a tool to defeat Elincia, or to order her execution.
Quotes
Battle quotes
"
The day is upon us... A day that will stand proudly in the history of Crimea. Today, a weak queen falls...and a new king prevails!
"

— Ludveck, as the boss of the Part II, Endgame in

Radiant Dawn

.
| | | | |
| --- | --- | --- | --- |
| " | Throwing laguz into the ranks? How very like the queen. | " | — Ludveck, when fighting a laguz in the Part II, Endgame in Radiant Dawn. |
"
Ludveck: Queen Elincia...
Elincia: Ludveck.
Ludveck: Looking quite gallant, aren't we? I thought you would surely be fleeing by now... or pleading for your life. I must commend you on your unexpected bravery.
Elincia: I am the ruler of Crimea. I will not abandon that role.
Ludveck: Oh, I see... Self-sacrifice, is it? How very honorable of you. By the way, Your Majesty, Lady Lucia is often in your company. Wherever could she have gone to?
Elincia: Where is she?! Tell me she's safe! Tell me–now!
Ludveck: Oh my, you look pale. You two grew up like sisters... You must be worried, then? Ha! Yet another facet of your weakness.
"

— Ludveck, when fighting Elincia in the Part II, Endgame of Radiant Dawn.
| | | | |
| --- | --- | --- | --- |
| " | A heron on the battlefield? And I though I'd seen it all... Just as weak as the queen, I imagine. | " | — Ludveck, when fighting Leanne in the Part II, Endgame in Radiant Dawn. |
"
Geoffrey: That's enough, Duke Ludveck! You have no chance of victory. The Royal Knights are here, and we have our queen to lead us.
Ludveck: Ho ho... It's the valiant Geoffrey. I assume, General, that you have yet to hear about Lady Lucia?
Geoffrey: Lucia? What's happened?
Ludveck: Well... I could tell you, but what would that gain me? Now, if you were to turn on the queen and grovel at my feet, I might reconsider telling you.
Geoffrey: How dare you, you rotten...
"

— Ludveck, when fighting Geoffrey in the Part II, Endgame of Radiant Dawn.
Death/defeat quotes
"
Elincia! I yield to you! Please... You may imprison me. Your Majesty, be merciful! Spare our lives. We surrender our weapons.
"

— Ludveck, as the boss of the Part II, Endgame in

Radiant Dawn

.
Trivia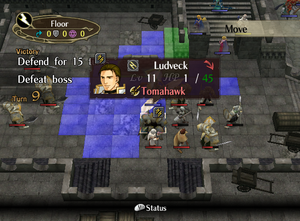 When he is defeated, Ludveck does not fade off the map like most defeated units do. Instead, he collapses and remains on the map until it fades out to the closing cutscene. This leads to an unusual behavior: if he is defeated by a unit who has Canto, the player has a chance to examine the collapsed Ludveck and view his stats, which reveal that he has 1 hit point remaining and that he still has his Tomahawk, even though he dropped it and it is already in the possession of the unit who defeated him.
Etymology and other languages
Names, etymology and in other regions
Language
Name
Definition, etymology, and notes
English

Ludveck

--

Japanese

ルドベック

Romanized as RUDBECK in his internal file name.

Spanish

Ludveck

--

French

Ludveck

--

German

Ludveck

--

Italian

Ludveck

--

Portuguese

Ludveck

Used in the Choose Your Legends polls for Fire Emblem Heroes.

Traditional Chinese

路德貝克

Rudbeck
Gallery
References
| | |
| --- | --- |
| | This article is part of Project Characters, a project focused on writing articles for every character present in the Fire Emblem series. |