Site News
Warning: This wiki contains spoilers. Read at your own risk!


Social media: If you would like, please join our Discord server, and/or follow us on Twitter (X) or Tumblr!

Cross-Wiki Week 2023: From September 23 to October 1, make contributions to NIWA wikis and participating affiliates that you normally don't edit for a chance to win a Nintendo eShop gift card! See here for more details.
Warp Powder
From Fire Emblem Wiki, your source on Fire Emblem information. By fans, for fans.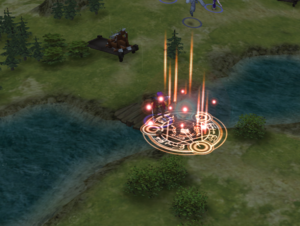 | | | | |
| --- | --- | --- | --- |
| " | Plus, as you know, the Black Knight is in possession of warp powder. If someone of his might has the ability to appear and disappear at will, it may be that he is without equal... | " | — Petrine |
Warp powder (Japanese: 転移の粉 warp powder) is a magical substance found in Tellius which is used to instantly travel over long distances to a destination of its user's choosing. It was notoriously used by the Black Knight throughout the Mad King's War and in the years afterward.
Overview
Warp powder has a very long transportation range, being frequently used to transport its users across most of Tellius. While very effective, it has a notorious side effect: warp powder has a draining effect on a person's stamina when used, to the point of completely exhausting ordinary beorc.[1] While stronger individuals such as the Black Knight are not completely drained by it, it still takes a toll on their strength, which discourages overuse of the powder.[2]
The use of warp powder does not appear to have been particularly widespread in Tellius, given how Ashnard describes it as "fey and of unknown origin" when talking about the Black Knight's use of it.[2] Warp powder was historically used by the senators of Begnion, but by the year 648, they had invented the Rewarp staff to allow them to transport themselves without suffering the exhausting side effect of warp powder.[1] The Black Knight's master was involved with the Begnion senate, so he is probably the source of the Black Knight's powder supply, along with his blessed armor and his sword, Alondite.
Gameplay
Warp Powder


Icon of Warp Powder from Radiant Dawn.
---
IF THIS APPEARS IT'S A BUG. REPORT IT.
Warp powder was evidently planned to appear as an item in Fire Emblem: Radiant Dawn, but in the finished game all that remains is an unfinished unused item with no functionality programmed at all. Localizations of the game label it as "dummy" and do not give it a proper name string, and its description in all languages is the same debug string used by almost all unused items in Radiant Dawn. The Warp Powder finally gained a usable role in Fire Emblem Heroes, when it was added to the game in the Guided by a Dream update as a type-B passive skill usable by Zelgius and allowing him to warp to the side of a nearby ally when his health is high. It is unknown what the extent of the Warp Powder's intended use in Radiant Dawn, although it might have been intended to be an item variation of the Rewarp staff in line with its role in the story as well as its effect in Heroes.
Other than this, warp powder only ever appears in Path of Radiance and Radiant Dawn in scripted cutscenes where the Black Knight uses it to warp in and out of maps in which he appears.
Data
In the main Fire Emblem series
In other Fire Emblem series titles
Game
Icon
Effect
Activation

Capacity

Notes

Heroes

User may move adjacent to any ally within two spaces.
If user's HP ≥ 80%
--
Cost: 300 SP
Cannot be inherited
Availability
Heroes
Flavor text
Game
Text
(English)
Text
(Japanese)

Radiant Dawn


(Unused)
IF THIS APPEARS IT'S A BUG. REPORT IT.
表示されていたらバグですので
すみやかにご報告ください

Heroes

If unit's HP ≥ 80%, unit can move to a space
adjacent to any ally within 2 spaces.
自身のHPが80%以上の時、
周囲2マス以内の味方の隣接マスに移動可能
Trivia
In the Japanese version of Radiant Dawn, the Black Knight's defeat by Ike in Path of Radiance is attributed to his warp powder failing to properly transport him into Castle Nados. The localization modifies this to say that the Black Knight let Ike win, to let him someday become a worthier challenge.
Etymology and other languages
Names, etymology, and in other regions
Language
Name
Definition, etymology, and notes
English

Warp powder

--

Japanese

転移の粉

Romanized as WARPPOWDER in the unused item's internal file name in Radiant Dawn; literally "transition powder".

Spanish

Poder mágico
Polvo mágico

Magic powder; used in Path of Radiance and Radiant Dawn.
Magic dust; used in Heroes.

French

Poudre magique

Magic powder

German

Teleportier-Puder

Teleportation powder

Italian

Polvere di sparizione
Sparizione

Vanishing powder; used in Path of Radiance and Radiant Dawn.
Disappearance; used in Heroes.

Portuguese
(Brazil)

Pó mágico

Magic powder

Traditional Chinese

轉移粉末

Transition powder
Gallery
References
↑ 1.0 1.1 "Our empire's magical research has made leaps and bounds. This rewarp staff is our latest invention. With this staff, one can get to any desired destination instantly. Isn't that just wonderful? Before this lovely little item, we used that ghastly warp powder. It worked well enough, but would completely exhaust whoever used it. What's the use of someone traveling anywhere they wish if they're too exhausted to do anything afterward? It'd take a very strong soldier to withstand the powder's side effects. The rewarp staff solves that problem." — Lekain, Fire Emblem: Radiant Dawn
↑ 2.0 2.1 "Ashnard: Ha! Don't tell me it was difficult! I know you! I know you use that arcane powder to travel about at will.
Black Knight: The powder drains my strength. For that reason, I would rather not use it unless absolutely necessary.
Ashnard: You are an enigma, dark one. Everything you possess is fey and of unknown origin." — Ashnard and the Black Knight, Fire Emblem: Path of Radiance
Type B passive skills in Heroes