Site News
Warning: This wiki contains spoilers. Read at your own risk!


Social media: If you would like, please join our Discord server, and/or follow us on Twitter (X) or Tumblr!
Ancient language
From Fire Emblem Wiki, your source on Fire Emblem information. By fans, for fans.
Not to be confused with the Ancient Letters of Valentia and Ylisse or the Ancient Texts of Fates.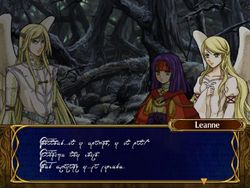 The ancient language (Japanese: 古代語 ancient language), also known occasionally as the Old Tongue, is one of two languages native to the continent of Tellius as seen in Fire Emblem: Path of Radiance and Radiant Dawn, and is a rare and esoteric language with deep ties to the magical practices of the realm. Its counterpart and opposite is modern speech, or the "Tellius language",[1] which is the basic, common tongue spoken by the overwhelming majority of the modern inhabitants of Tellius.
History
The ancient language was first devised by the beorc of Tellius, and for a time saw wide use among all of the land's people. However, its complexity proved to be a significant obstacle for it to be learned by laguz, and so the modern "Tellius language" was created and soon supplanted it as the continent's dominant tongue. The exception to this was Hatari, which was evidently isolated from the rest of Tellius before the rise of modern speech and thus retained the ancient language as its primary language.[2]
Afterward, the ancient language diminished drastically in its significance in Tellius, and became nearly unheard of among beorc society. Ironically, it survived primarily through certain laguz, specifically the heron and dragon clans of Serenes Forest and Goldoa; Queen Nailah of Hatari would later theorize that the long life spans of these particular laguz clans offered them all the time they need to master the ancient language, something which both beorc and the other laguz tribes lack in comparison.
Composition
In its presentation in the games, the ancient language is divided into two parts: the visual text seen on-screen and spoken language heard in cutscenes. These two components, when deciphered, actually have no connection to each other outside the in-universe context.
Written
In written form, the script of the ancient language has an elaborate, cursive form perhaps more reminiscent of the Arabic alphabet or devanagari than of the Latin alphabet. However, from a technical standpoint the ancient language is little more than a simple font applied on top of sentences, which are themselves written internally in normal text. Every ancient language letter directly matches a Latin letter, and so sections of the games' script written in the ancient language can theoretically be "translated" by somebody familiar with the script (or read by looking at extracted script files).
In the Japanese version, the Japanese text is transliterated to the Latin alphabet before applying the font.
A

a

B

b

C

c

D

d

E

e

F

f

G

g

H

h

I

i

J

j

A a
B b
C c
D d
E e
F f
G g
H h
I i
J j

K

k

L

l

M

m

N

n

O

o

P

p

Q

q

R

r

S

s

T

t

K k
L l
M m
N n
O o
P p
Q q
R r
S s
T t

U

u

V

v

W

w

X

x

Y

y

Z

z

.

,

!

U u
V v
W w
X x
Y y
Z z
.
,
!

0

1

2

3

4

5

6

7

8

9

0
1
2
3
4
5
6
7
8
9
Spoken
Its spoken component, occasionally heard in cutscenes when characters perform galdrar, is actually comprised of Japanese dialogue spoken backwards. The Japanese lyrics are written out in the Latin alphabet, spelled completely backwards, then sung in this state. For example, the first stanza of the song "Life Returns" from Path of Radiance was likely "translated" into the ancient language as follows, as interpreted by members of the Japanese fan site Pegasus Knight:
"Life Returns"[3]
Line 1
Line 2
Line 3
Line 4
Ancient language
imisanakikeganonawot
orokokumorodametemotowikot
uaerufetotetiarahowimay
oditiuomami
Japanese
永久の嘆き悲しみ
時を止めて まどろむ心
闇を払い 手と手触れ合う
今もう一度
Hepburn
towa no nageki kana

shi

mi
toki

o

tomete madoromu kokoro
yami

o

harai te to te fureau
ima

mō

i

chi

do
Translation

*

Endless grief and sorrow
Hearts slumbering to stop time
Hands joined to clear the darkness
Now, once more
Two complete songs were written and performed in the ancient language: "Life Returns" in Path of Radiance, which is the basis for the galdr of rebirth; and "Dawn Awakens" in Radiant Dawn.
In the opening cinematic of Radiant Dawn, Micaiah also briefly chants in the ancient language to cast Light. The English localization's version of this chant ("Ekarif Magae Teiodasto Ieraka!") does not follow the usual ancient language rules and seems to be original, Latin-like chanting.
Applications
Every-day speech
The ancient language is still used primarily among the heron tribe of Serenes Forest. Of the three heron laguz encountered during the events of Path of Radiance and Radiant Dawn, only Leanne speaks the language near-exclusively, although the latter has her starting to learn the modern language. Her brothers, Rafiel and Reyson, are primarily seen speaking in the modern language, but use the ancient language on some occasion.
Despite its decline in the rest of Tellius, the ancient language remained the dominant language of the isolated kingdom Hatari, as it had no knowledge of modern speech. Volug speaks near-exclusively in the ancient language as a result, and Nailah only learned the common language after coming into contact with Rafiel.[2]
Magic
The ancient language's only remaining common usage among beorc cultures is, according to Ike, by practitioners of magic.[1] In the events of the two games, this is primarily demonstrated by Micaiah, who on several occasions in several pieces of dialogue is seen briefly chanting in the ancient language before attacking with her light magic.
In Fire Emblem: Radiant Dawn, if studied carefully, ancient language text can also be seen as part of the glowing runes appearing around a magic user when using certain tomes. The same text is reused verbatim in Fire Emblem Awakening's tome-casting runes, most notably being visible on Valflame; the ancient language otherwise does not actually appear in Awakening. The text does not translate into anything coherent or meaningful in either language's version of the ancient language, and is nothing more than decorative gibberish.[4]
Galdrar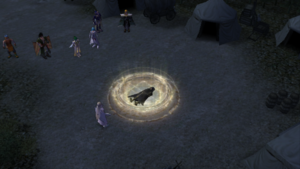 In addition to its usage in conventional beorc magic, the ancient language is also the foundation of a type of lyrical magic known as "seid magic". A galdr (Japanese: 呪歌 galdr; plural: galdrar) is a song in the ancient language performed in this manner. Galdrar are almost entirely used by members of the heron clan, although owing to drawing lineage from Lehran, the apostles of Begnion are capable of using certain galdrar as well and are taught one of the most important.
These galdrar have been seen in action or discussed in the course of the games' story events:
These four galdrar, which each perform a unique function, are learned progressively by the playable herons as part of their Galdrar skill:
Vigor: A common galdr used to refresh allies during a fight, allowing them to move again.[12] This is the only galdr to be present both in gameplay and in cutscenes, and is known by default by all playable herons as part of their Galdrar skill.
Bliss: Learned at level 15, raises an adjacent ally's biorhythm to its highest point.
Sorrow: Also learned at level 15, lowers the biorythm of adjacent enemies to its lowest point.
Valor: Learned at level 30, completely fills an allied laguz's transformation gauge.
Recovery: Learned at level 40, completely restores the HP and removes any status effects of adjacent allies.
Trivia
In the Japanese versions of Path of Radiance and Radiant Dawn, any dialogue written in the ancient language is internally stored as romaji versions of the respective Japanese words, and like in English and other translations, is presented by applying the ancient language font on top of these specific lines. As a result, the ancient language writing system is identical and no changes to the ancient language's script system were necessary when the games were localized.
Gallery
References