Site News
Warning: This wiki contains spoilers. Read at your own risk!


Social media: If you would like, please join our Discord server, and/or follow us on Twitter or Tumblr!

Engage info: As the game has only recently released, we lack much key information. Please help add any info that you can.
Silvia
From Fire Emblem Wiki, your source on Fire Emblem information. By fans, for fans.
For the character from TearRing Saga Series: Berwick Saga, see Silvia.
Silvia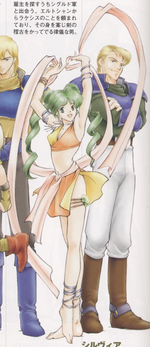 Artwork of Sylvia and Beowolf from Treasure.
| | | | |
| --- | --- | --- | --- |
| " | You see, my heart is on fire! | " | — Silvia |
Silvia (Japanese: シルヴィア Silvia) is a Jugdrali dancer distantly related to the nobility of Grannvale's House Edda. She was orphaned at a young age and raised by a man who trained her to be a dancer but abused her, whom she eventually escaped in her late teens.[2] A year after doing so, while travelling in Agustria she met Lewyn and joined him in fighting in Sigurd's army in its war with Agustria and beyond. Silvia survived the Battle of Belhalla, but surrendered her infant children Lene and Coirpre to a convent in Dahna before disappearing.[3]
Role
Silvia was in an Agustrian village north of Mackily Castle, having spent some time with Lewyn, during the Grannvale-Agustria war. When Lewyn departed to fight a swarm of bandits dispatched to raid the villages by Lord Macbeth, Silvia insisted on following him into combat upon spotting him leaving the village, thinking he was abandoning her.
Starting stats and growth rates
Analysis
This character analysis section may not be accurate to every player's experience.
Silvia is a Dancer who joins in Chapter 2 alongside Lewyn. Silvia primarily offers utility through her dances, refreshing up to four adjacent units. Four units with extra turns can greatly increase the speed at which enemies are defeated or distance is traversed, especially if those units are strong mounts such as Sigurd or Lachesis. However, as an infantry unit, she will fall behind any mounts she dances for, and may not catch up to other infantry units that get ahead of her; she can use well the Leg and Knight Rings. Silvia cannot obtain the Leg or Knight Rings directly, and must purchase them—they cost 60,000 gold in total; Silvia starts near the village that provides the Bargain Band, reducing the total cost to 30,000 gold, though the Bargain Band is an item many units may want, and Silvia she may still struggle to obtain the required gold.
Silvia offers little aside from her powerful dances. With her low strength and low weapon level, her combat is poor; her stats are primarily for her own defense. As she lacks Follow-Up, she cannot double enemies, but her high speed can prevent enemies from doubling her—in Chapter 2 with a Slim Sword, only Waltz and Erinys have the attack speed to double her, and only by one point. Her low HP, defense, and resistance limit her survivability—every enemy in Chapter 2 deals enough damage to reduce her to below half HP. When reduced to low HP, Miracle can boost her avoid to give her a chance to survive, potentially to the point where she cannot be hit; however, Miracle only boosts her avoid for one turn at a time, and requires that she be at risk to activate.
Though her combat is poor, Silvia can use Miracle to reliably clear the arena. By equipping or de-equipping Safeguard—which Silvia can obtain by visiting a village near Tófa in Chapter 4—she can influence her defense to be put in Miracle range and avoid all of her opponent's attacks; if her opponent does not reduce her to into a convenient Miracle range, she can be allowed to lose then partially healed to the point where they will, though enemies that one-shot her will still do so. This tactic can be used outside the arena to aid Silvia's survivability, though she will still do poor damage. This tactic does not work against magical opponents who target resistance; though Silvia has a decent resistance growth, she is unlikely to survive more than one or two attacks.
If Silvia is alive and has a lover at the end of Chapter 5, she will have two children: Lene and Coirpre. Her fastest pairings are with Lewyn, Claud, and Alec; she has events with Alec and Claude (in Chapters 2 and 4, respectively) that boost love points, and she has an event with Erinys in Chapter 4 that boosts both of their points with Lewyn.
Lene, like Silvia, is a Dancer, and fulfils a similar purpose; she inherits her mother's items, and is relatively unaffected by her father. Silvia can pass the Leg and Knight Rings to Lene, though they are items many units in the second generation may want; if Silvia passes the Bargain Band to Lene or marries Dew—who passes the Bargain skill—Lene can instead purchase both items at a reduced price. If Lex or Arden marry Silvia, Lene will inherit Vantage; with the Sleep Sword, she can put an enemy to sleep before they attack, allowing her to clear the arena more reliably than she could with only Miracle.
Coipre's best father is Claude, who will pass Major Bragi Holy Blood and all his staves, including Valkyrie. If Lewyn promoted, he can also use staves, and thus can also pass them down to Coirpre; Lewyn will also pass his Major Forseti blood and the Forseti if he obtained it. However, Lewyn is a father in high demand, and of the three children who can potentially use Forseti—Arthur, Ced, and Coirpre—Coirpre is the worst; he joins the latest, has the lowest movement, and must promote to use it. In contrast, Claud is not in high demand; he has two other notable pairings—Edain and Erinys—but both have other good options.
If Silvia is dead or unmarried at the end of Chapter 5, her children will be replaced by their substitutes: Laylea and Charlot. Laylea is a Dancer, like Lene and Silvia; she has Charm—boosting the hit and avoid of nearby units—and a unique event that provides the Barrier Blade, but lacks Miracle and cannot receive inheritance, and must thus purchase the Leg and Knight Rings herself. Charlot also performs similarly to Coirpre; though he cannot receive inheritance, he does have a unique event with Hannibal in Chapter 9 that provides the Berserk staff, potentially improving the reliability strategies involving berserking enemies that may have been difficult with only the Berserk Sword.
Role
Silvia is one of the characters added to the game in the Seeping Poison update, and became available for summoning by players on September 7, 2018. Only one variation of Silvia is currently available in Heroes, based on her Genealogy of the Holy War incarnation.
Starting stats
| | | |
| --- | --- | --- |
| | Initial Stats Level 40 Stats | |
Skill set
Skill set
Skill
Rarity
SP cost
Iron Sword
Innate
Steel Sword
Innate
Barrier Blade
★★★
200 SP
Barrier Blade+
★★★★★
300 SP
Dance
★★★★★
150 SP

A

Warding Stance 1
★★★
50 SP

A

Mirror Stance 1
★★★★
120 SP

A

Mirror Stance 2
★★★★★
240 SP

B

Torrent Dance 1
★★★
50 SP

B

Deluge Dance 1
★★★
120 SP

B

Deluge Dance 2
★★★★
240 SP
Personality and character
---
This section has been marked as a stub. Please help improve the page by adding information.
---
Love growths and events

Silvia
Dancer

Naoise
Initial: 0
Per turn: 3

Alec
Initial: 0
Per turn: 3

Arden
Initial: 0
Per turn: 3

Finn
Initial: 0
Per turn: 3

Midir
Initial: 0
Per turn: 3

Midir
Initial: 0
Per turn: 3

Lewyn
Initial: 200
Per turn: 2

Chulainn
Initial: 0
Per turn: 3

Azelle
Initial: 0
Per turn: 3

Jamke
Initial: 0
Per turn: 3

Claud
Initial: 190
Per turn: 1

Beowolf
Initial: 0
Per turn: 3

Lex
Initial: 0
Per turn: 3

Dew
Initial: 0
Per turn: 3
See
love
for more details on the love system.
Quotes
Battle quotes
---
This section has been marked as a stub. Please help improve the page by adding information.
---
Death quotes
| | | | |
| --- | --- | --- | --- |
| " | Why... Why am I... [lover]... Do something! Please... | " | — Silvia's death quote if married |
Heroes quotes
Main article: Silvia/Quotes (Heroes)
Other appearances
Silvia was featured on three TCG cards.
Fire Emblem Trading Card Game data for Silvia
Class: Dancer
Level 1 Infantry
Direct Attack
Energy: 2
Atk.: 1 / Counter: 1
WLv.: C
Equip: Slim Sword
Skills: Dance • Miracle • Adept
Card #040 • Rarity: ★★ • Artist: Mayumi Hirota
Class: Dancer
Level 10 Infantry
Direct Attack
Energy: 3
Atk.: 2 / Counter: 1
WLv.: C
Equip: Iron Sword
Skills: Dance • Miracle • Adept
Card #2-020 • Rarity: ★★ • Artist: Koya Katsuyoshi
Class: Dancer
Level 15 Infantry
Direct Attack
Energy: 3
Atk.: 1 / Counter: 1
WLv.: C
Equip: Safeguard
Skills: Dance • Miracle • Adept
Card #P032 • Rarity: ☆★★ • Artist:

Asahi Maminami

Card scans and information translation provided by Aquantis.
Silvia is featured on one card in Fire Emblem Cipher.
Fire Emblem Cipher data for Silvia
Wayfaring Dancer, Silvia
"If you think it'll help everyone cheer up a bit, then I'm gonna dance my feet off!"
Attack: 20
Support: 10
Range: 1
Deploy Cost: 2
Class: Dancer
Tier: Base
Class Change Cost: --
Dance [] [] Choose an ally unit that is tapped and untap it.
Card #B06-036R, B06-036ST • Artist: HMK84
Some card information translation provided by Serenes Forest.
For more detailed strategic information on these cards, see their TCG wiki article on Sylvia .
Notable merchandise
Flavor text
Game
Text
(English)
Text
(Japanese)

Heroes

A dancer who travels the world. She looks
sweet, but she doesn't necessarily act that way.
Descendant of the high priest Bragi. Appears in
Fire Emblem: Genealogy of the Holy War.
各地を放浪するダンサー。可憐な見た目に反して言動は
意外と荒っぽい。大司祭ブラギの血を引く。
(登場:『ファイアーエムブレム 聖戦の系譜』)
Trivia
One of Geneology of the Holy War's title screen scenes shows Silvia attacking Lewyn and Erinys with a broken sword, accusing them of being in a relationship together.[4]
Etymology and other languages
Names, etymology and in other regions
Language
Name
Definition, etymology, and notes
English

Silvia

As of Heroes.

English
(unofficial)

Sylvia

Used in the Genealogy of the Holy War fan translation.

Japanese

シルヴィア

Officially romanized as Sylvia and listed as such in the Super Tactics Book. A feminine given name and the French form of Sylvie, from the Latin silva meaning "spirit of the wood". In Roman mythology, Silvia is the the goddess of the forest, and Rea Silvia is the mother of two twins, Romulus and Remus.

Spanish

Silvia

As above

French

Silvia

As above

German

Silvia

As above

Italian

Silvia

As above

Portuguese
(Brazil)

Silvia

As above

Traditional Chinese

希薇雅

Sylvia
Gallery
References
| | |
| --- | --- |
| | This article is part of Project Characters, a project focused on writing articles for every character present in the Fire Emblem series. |