Site News
Warning: This wiki contains spoilers. Read at your own risk!


Social media: If you would like, please join our Discord server, and/or follow us on Twitter or Tumblr!

Engage info: As the game has only recently released, we lack much key information. Please help add any info that you can.
Brunnya
From Fire Emblem Wiki, your source on Fire Emblem information. By fans, for fans.
Brunnya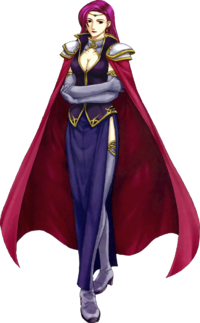 Artwork of Brunnya from The Binding Blade.
---
One of Bern's Wyvern Generals. Led the attack on Sacae.
| | | | |
| --- | --- | --- | --- |
| " | If you will allow my opinion, I would not place so much trust in that...woman. | " | — Brunnya, to Zephiel |
Brunnya (Japanese: ブルーニャ Brunnya) was one of the Wyvern Generals of Bern at the time of the Disturbance of Bern. Unwavering in her loyalty and devotion to King Zephiel, she led the invasion of Sacae at the Disturbance's onslaught. At the war's climax, she was tasked by Zephiel with the protection of Idunn, to ensure the entire war did not go to waste.
Biography
Early in the war after conquering Sacae, working with Narcian, Brunnya led an assault on Castle Araphen, where the leaders of the Lycian League were conferring on the matter of going to war with Bern. They decimated the League's army and defeated and severely wounded Lord Hector of Ostia, the League's leader. Shortly after, Zephiel himself arrived and requested that Brunnya bring Hector before him. After finishing with Hector, Brunnya informed Zephiel that she was to return to Sacae, but first voiced the concerns of the army by inquiring about Zephiel's work with a sinister figure like Idunn; Zephiel deflected her question by informing her that one of her level of faith in and devotion to him should not question his wisdom and should simply follow orders, to which she complied.
Later, at Taras, Brunnya received news of the fall of Bern-controlled Aquileia and the death of Narcian. Roartz and Arcardo had fled to the Bern-occupied territory, and attempted to seek refuge with Bern; Brunnya reassured the two that as allies of Bern they would not be abandoned, tasked them with the defense of Bulgar and Taras respectively, and reminded them that the two had it incredibly easy compared to the trials conquered by Roy. Once she had left, she mentioned to one of her soldiers that she was not at all impressed with their cowardice and betrayal of their country.
As the Etrurian army headed by Roy approached Bern Keep, Zephiel entrusted Idunn to Brunnya in order to ensure that the purpose of the war could still be carried out. Brunnya traveled to the Dragon Sanctuary and in turn entrusted Idunn to Jahn, while she and the remnants of the Bern army prepared to defend the Sanctuary from the inevitable pursuit by Roy's forces, well aware that the odds were against them and that the fight would be futile. When Roy did come, Brunnya informed her forces that because of the futility, any of them could leave now with no consequences; almost no-one left, and the army expressed its solidarity with Brunnya and Bern. In spite of her determination, she died for her homeland in the battle, much as she expected.
Role
Brunnya is the boss of Chapter 23, and thus is only fought in the game's good ending. She is also available as a bonus playable character in the Trial Map mode, unlocked by clearing the game four times.
Stats
See also: The Ghosts of Bern
Stats with two figures separated by a ~ are presented as a range, representing stats that vary due to random growths. The figures to the left and right of the ~ are the stat's minimum and maximum possible values respectively.[2]
Role
Brunnya is one of the characters added to the game in the Heavenly Witness update, and was made available to players in the twenty-first edition of the Tempest Trials+, "Sands of Time", which initially ran from November 22, 2019 through December 2, 2019. Only one variation of Brunnya is currently available in Heroes, based on her The Binding Blade incarnation.
Starting stats
Skill set
Skill set
Skill
Rarity
SP cost
Thunder
Innate
Elthunder
Innate
Thoron
Innate
Fimbulvetr
★★★★★
400 SP
Chilling Wind
Innate
Glacies
★★★★
200 SP

A

Death Blow 1
★★★★
50 SP

A

Death Blow 2
★★★★
100 SP

A

Death Blow 3
★★★★★
200 SP

C

Res Smoke 1
★★★★
60 SP

C

Res Smoke 2
★★★★
120 SP

C

Res Smoke 3
★★★★
240 SP
Personality and character
---
This section has been marked as a stub. Please help improve the page by adding information.
---
Quotes
Battle quotes
"
You are a knight of Bern. You have chosen to follow Princess Guinivere. You have chosen your path as I have chosen mine. If you believe in it, then fight for it!
"

— Brunnya, when fighting Melady or Zeiss in Chapter 23 of

The Binding Blade

.
Death quotes
Heroes quotes
Main article: Brunnya/Quotes (Heroes)
Other appearances
Brunnya's official artwork from The Binding Blade can be viewed in Path of Radiance's extras menu if a copy of The Binding Blade is connected to a Japanese copy of Path of Radiance. This artwork, along with all other The Binding Blade related artwork, is inaccessible in the international versions of the game, owning to the fact that The Binding Blade was not released in those regions.
Brunnya is featured on two cards in Fire Emblem Cipher.
Fire Emblem Cipher data for Brunnya
Proud Beautiful General, Brunnya
"We walk different paths, you and I... But the pride of Bern is at stake, and I will not see it sullied!"
Attack: 60
Support: 20
Range: 1-2
Deploy Cost: 4
Class: Sage
Tier: Advanced
Class Change Cost: 3
Wyvern General's Lightning:

[Always]

If this unit is attacking your opponent's lord, this unit gains +10 attack.
Liege-Devoted Magic:

[Trigger]

[Once per turn]

When your opponent's lord is destroyed, if you have an allied "Zephiel", draw 1 card.
Card #B17-080HN • Artist: Tatsuro Iwamoto
Loyal-Hearted Female Mage, Brunnya
"Your will shall be done, Your Majesty."
Attack: 30
Support: 20
Range: 1-2
Deploy Cost: 1
Class: Mage
Tier: Base
Class Change Cost: --
Fimbulvetr, the Blizzard Tome:

[Activate]

[Once per turn]

[Send 1 from your hand to the Retreat Area] Until the end of the turn, this unit gains +20 attack.
Magic Emblem:

[Support]

Draw 1 card. Choose 1 card from your hand, and send it to the Retreat Area.
Card #B17-081N • Artist: Tatsuro Iwamoto
Some card information translation provided by Serenes Forest.
For more detailed strategic information on these cards, see their TCG wiki article on Brunnya .
Flavor text
Game
Text
(English)
Text
(Japanese)

The Binding Blade

One of Bern's Wyvern Generals.

Led the attack on Sacae.

*

ベルン王国『三竜将』の一人
サカ地方を指揮する

Heroes

One of three Wyvern Generals of Bern. Although
Zephiel causes her heartache, she is very loyal to
him. Appears in Fire Emblem: The Binding Blade.

ベルン【三竜将】第二の将。変わりゆく
ゼフィールの姿を憂いながらも、忠愛を貫く。
(登場:『ファイアーエムブレム 封印の剣』)
Etymology and other languages
Names, etymology and in other regions
Language
Name
Definition, etymology, and notes
English

Brunnya

From Old Norse brynja "coat of plate", from Proto-Germanic *brunjǭ "breastplate"; may alternately derive from the Norse Goddess Brunhild, whose name derives from *brunjǭ and is the namesake of Brynhildr.

English
(unofficial)

Brunja

Used in the most recent version of the Binding Blade fan translation.

Japanese

ブルーニャ

Officially romanized as Brunnya.

Spanish

Brunnya

--

French

Brunnya

--

German

Brunnya

--

Italian

Brunnya

--

Portuguese

Brunnya

--

Traditional Chinese

碧爾妮婭

Brunnya
Gallery

Sprite Gallery
Sage

Anima

Staff

*
Official artwork
CG images
Battle animations
References
| | |
| --- | --- |
| | This article is part of Project Characters, a project focused on writing articles for every character present in the Fire Emblem series. |