Site News
Warning: This wiki contains spoilers. Read at your own risk!


Social media: If you would like, please join our Discord server, and/or follow us on Twitter or Tumblr!
Goldoa
From Fire Emblem Wiki, your source on Fire Emblem information. By fans, for fans.
Goldoa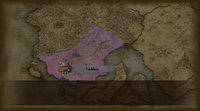 Map of Tellius, with Goldoa marked, from Radiant Dawn.
| | |
| --- | --- |
| Capital | Castle Goldoa |
| Demonym | Goldoan |
| Government | Monarchy |
| Continent | |
| | | | |
| --- | --- | --- | --- |
| " | Would you see the laguz and beorc destroyed? Would you see all of Tellius awash in blood? No, unless destruction comes to seek us at our door, Goldoa will not move, for the sake of future generations. | " | — Dheginsea |
Goldoa (pronounced /⁠ɡoʊlˈdoʊə⁠/[key][1]; Japanese: ゴルドア Goldoa) is a laguz-inhabited nation of Tellius, and the home of the dragon tribe. It has long maintained a strict policy of isolationism and neutrality, and has been almost entirely closed to outsiders for nearly a millennium.
Geography
Goldoa lies on the south-western edge of Tellius, bordering Gallia and Begnion, on the coast of the Gazaleah Sea to the west and the South Sea. Its territory is ringed with mountains,[2] and its landscape is composed mainly of open plains. It is located in a volcanic region[3] and the lava-filled Kauku Caves of Begnion contain a passage that leads into Goldoa, as well as one that leads into Gallia.[4]
History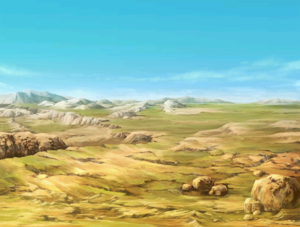 Goldoa is the second-oldest of all of the nations of Tellius, founded by Dheginsea, one of the three heroes who defeated the dark god. At the time, the beorc and laguz all lived in Begnion, but Dheginsea believed that the dragon tribe was too powerful to co-exist peacefully with other races, so shortly after Begnion's foundation, Dheginsea and all of the dragon laguz moved to the remote south-west of Tellius, far away from any other civilizations at the time, and founded Goldoa.[5] Dheginsea soon established a strict isolationist policy which forbade any foreigners from entering Goldoa without permission, and in exchange, Dheginsea forbade Goldoans from interfering with the outside world. Even when laguz in the rest of Tellius were suffering from beorc slavery, oppression, and other horrors, Dheginsea declared that Goldoa would not move to do anything about this in an attempt to prevent a war and to uphold the pledge with Ashera.[6]
Despite Dheginsea's best efforts, during the Mad King's War of 645, it was ironically Dheginsea's own children who violated the Goldoan rule of sequestration and inadvertently made massive contributions to conflicts in the outside world. Dheginsea's daughter, Almedha, left Goldoa out of disagreement with her father's non-violent policies and married Daein's Mad King Ashnard, which in turn led her brother Rajaion to depart Goldoa and become trapped by Ashnard, transformed into a Feral One, and used as his personal steed. Numerous other dragons entered Daein's service because of Almedha's actions, including Rajaion's pregnant fiancée Ena, her grandfather Nasir, and a platoon of red dragons who also became Feral Ones.[7] However, none of this was widely known for much of the war, and early in its course Dheginsea hosted a conference of the reigning laguz kings and princes in Goldoa, and attempted to convince the other rulers to not haphazardly engage in the war and to avoid releasing the dark god. Even so, toward the end of the war Goldoa came dangerously close to entering it themselves and engaging on a vengeful rampage after Dheginsea learned of the fate of Rajaion, and this was narrowly averted only by Ike's victory over Ashnard at Melior.[7]
Three years later, during the conflict between Begnion and the Laguz Alliance, Dheginsea once again tried to keep Goldoa completely neutral in the conflict, and when the Alliance accidentally entered Goldoa through the Kauku Caves, he almost ordered them to go back in and inevitably die despite the immense number of wounded among them, swayed only by Ena and Nasir reminding him of the debt they owe to Reyson. Despite his wishes, his last son Kurthnaga eventually entered the war on the side of Daein in order to aid Almedha and her son, Pelleas. This war ultimately resulted in the awakening of Ashera and Yune, and in the former petrifying almost everybody on Tellius as her judgement. In response to this, Dheginsea and all of Goldoa, aside from Kurthnaga, Almedha, and Ena, allied with Ashera, as Dheginsea was committed to following through on the consequences of failing to uphold his pledge to Ashera. Dheginsea and the army of Goldoa fought against Ike, Micaiah, and Kurthnaga at the Tower of Guidance to stop them from confronting Ashera, and Dheginsea was defeated, dying shortly after the battle. Kurthnaga succeeded him as the new king of Goldoa after Ashera's defeat and the restoration of the people of Tellius.
Characters from Goldoa
Character
Description
Appears in

Dheginsea
The black dragon king of Goldoa. One of the three heroes who defeated the dark god. While his own power is nearly godlike, he has removed himself from all affairs outside Goldoa.

Path of Radiance

,

Radiant Dawn


Kurthnaga
The black dragon prince of Goldoa. He is the son of King Dheginsea, and the youngest of all the dragons. He has established friendly ties with the outside world.

Path of Radiance

,

Radiant Dawn


Rajaion
A dragon laguz from Goldoa. His reason and his very identity were stolen by King Ashnard, who then used him as a personal steed.

Path of Radiance


Almedha
The mother of King Pelleas, and former concubine of Ashnard. She was separated from her son when he was an infant, and spent her life searching for him. She is a very doting mother.

Radiant Dawn


Nasir
A dragon laguz from Goldoa. He played the role of a double agent of the Mad King's War to aid his granddaughter, Ena. In the end, his friendship with Ike guided his actions and loyalties.

Path of Radiance

,

Radiant Dawn


Ena
A dragon laguz from Goldoa. She once served Daein on behalf of her missing fiancé, Rajaion. Her calm and analytical mind makes her a natural tactician.

Path of Radiance

,

Radiant Dawn


Gareth
A red dragon laguz from Goldoa. He is a powerful and reliable vassal assigned to watch over Prince Kurthnaga.

Path of Radiance

,

Radiant Dawn
Flavor text
Game
Text
(English)
Text
(Japanese)

Radiant Dawn

The ancestral home of the dragon tribe laguz, located in a volcanic area of southwestern Tellius. Its policy of isolationism has been unchanged for many centuries of King Dheginsea's rule.
竜鱗族の国。
テリウス大陸の南西にあり、
国土のほとんどは火山地帯。
基本的に他国との交流を持たず
鎖国同然の状態にある。
現王はデギンハンザー。
Etymology and other languages
Names, etymology and in other regions
Language
Name
Definition, etymology, and notes
English

Goldoa

--

Japanese

ゴルドア

Officially romanized as Goldoa.

Spanish

Goldoa

As above.

French

Goldoa

As above.

German

Goldoa

As above.

Italian

Goldoa

As above.

Portuguese

Goldoa

Used in Heroes as an option for the player's location in their profile card.

Traditional Chinese

格魯多亞

Goldoa; used in Heroes as an option for the player's location in their profile card.
Gallery
References