Site News
Warning: This wiki contains spoilers. Read at your own risk!


Social media: If you would like, please join our Discord server, and/or follow us on Twitter or Tumblr!

Engage info: As the game has only recently released, we lack much key information. Please help add any info that you can.
Yune
From Fire Emblem Wiki, your source on Fire Emblem information. By fans, for fans.
Yune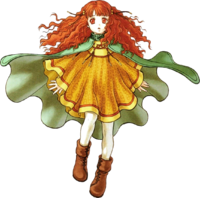 Artwork of Yune from Radiant Dawn.
---
The goddess of chaos. She is both sister and polar opposite to the goddess Ashera. Imprisoned in Lehran's Medallion as an evil god, she was freed when Micaiah sang the galdr of release. She helps Micaiah and Ike rescue the beorc and laguz who have been turned to stone.
| | | | |
| --- | --- | --- | --- |
| " | I am neither holy nor base, neither angel nor devil. I am...freedom. Chaos. Transformation. Future. Mystery. I am Yune. | " | — Yune |
Yune (pronounced /⁠ˈjuneɪ⁠/[key][1] or /⁠ˈjun⁠/[key][2]; Japanese: ユンヌ Yune) is the Goddess of Chaos, and a significant figure in the history of Tellius. She was originally part of the Goddess of Dawn, Ashunera, and was formed when Ashunera split her emotions from herself and became the Goddess of Order, Ashera. Yune is widely known and reviled among the people of Tellius as a "dark god", alleged to be responsible for causing the devastating Great Flood of ancient times.
Biography
Origins
Yune was originally a part of Ashunera, the Goddess of Dawn, and is the form taken by Ashunera's emotions in the aftermath of the Tellius's Great Flood. Ashunera's outrage and grief at the people of the world warring against each other led to her losing control and unleashing the Great Flood on the world, killing countless people and leaving Tellius as the only known land in the world.[3] On the advice of Lehran and others (though they would later consider it a bad idea), Ashunera cast away her emotions entirely, turning into the Order Goddess Ashera while her emotions became Yune. Although Yune deeply regretted the consequences of "her" actions, Ashera wished to destroy Yune to prevent such a tragedy from occurring again. With Altina and Lehran's advice, she relented and instead allowed Yune to be spared and sealed within Lehran's Medallion through the power of seid magic. Yune consented to this on the promise that someday, she would be restored to Ashera.
Lehran again tried to appeal to Ashera to restore Yune to herself, again without success. Instead, Ashera arranged a covenant with Lehran, Altina, Soan and Dheginsea: she and Yune would enter a deep sleep for one thousand years, and if upon awakening the beorc and laguz had built a lasting peace and put an end to war, the two would reunite into Ashunera; however, if they failed to do so, she would rain divine retribution for the people's sins upon them. She also granted them the right to awaken the goddesses prematurely if they succeeded or failed sooner than the thousand-year mark. With this covenant agreed to by the four representatives of the laguz and beorc, Yune remained sealed asleep in the medallion while Ashera herself also entered a thousand-year slumber.
In the years since the goddesses' descent into sleep, while Ashera became revered as the guardian goddess of Tellius, Dheginsea set about depicting Yune as a wicked, dark god who brought Tellius to ruin, in an attempt to discourage people from ever seeking to release her as part of his plans to ensure the world survived its judgement by Ashera.[4] Her medallion—which later became known as "Lehran's Medallion" or the "Fire Emblem", remained in the possession of Lehran's kin, the heron royalty of the Serenes Forest, for the following centuries. Soon after, the Begnion Empire was established, and its line of ruling apostles claimed to hold the ability to hear Ashera's voice; however, the fact that Micaiah—the most recent member of the apostle dynasty—heard Yune's voice instead throughout her life suggests that all apostles actually heard Yune's voice.
The medallion and the bird
Yune remained asleep in the medallion for the following 780 years, unable to do anything except let the energies of her chaos radiate from the medallion. Throughout this time, she was regularly serenaded by heron galdrar which soothed her and kept her at peace, and she would later remark that even trapped inside the medallion she never felt lonely, a contrast to Ashera's isolation of herself.[5]
Some time after the Mad King's War, Yune began to manifest herself outside the medallion in the form of a small bird. In this form, she appeared before Micaiah in Daein and landed on her finger, soon after the foundation of the Dawn Brigade. After this, the two became almost inseparable; Micaiah learned Yune's name when the word popped into her head upon first touching the bird, and she believed that she simply named the bird after that word.[6] In bird form, Yune traveled with Micaiah and the Dawn Brigade throughout the war for Daein's liberation and remained with her when she led the Daein army to fight the Laguz Alliance. Micaiah would always send her away before battle, and call her back afterward; when she was apprehended by Jarod after assisting Laura, she sent Yune to find and warn Sothe, aiding in her quick escape.
Ashera's judgement
Ultimately, the people of Tellius would never even reach the thousand-year threshold of their covenant, as the continent became embroiled in the war between the Laguz Alliance and Begnion. The chaotic energies of the warring threatened to break Yune free, reaching a critical point in Daein's last stand to stop the advance of the Greil Mercenaries. At the suggestion of Mist, who received the instruction as a voice in her head presumably from Yune, Sanaki and Micaiah performed the Galdr of Release, freeing Yune. As she lacked a body of her own, Yune took possession of Micaiah's, and felt Ashera delivering her judgement before she could put a word of her own in.
Through Micaiah, Yune explained her true nature and the reality of Ashera's judgement to the assembled group, and recruited them to help fight back against Ashera to save Tellius from her wrath. On her advice, the armies sorted themselves into three new armies, led by Ike, Micaiah, and Elincia and Tibarn, and set out on three paths to the Tower of Guidance in the Begnion capital. Yune set off on her own to try and find more help for their cause, occasionally returning to Micaiah's army to pass on news to them. Her last stop was in Goldoa, where she discovered that not only had the dragons survived the judgement, but that they had all sided with Ashera and already departed for the Tower of Guidance themselves.
On reaching the Tower of Guidance, she—still through Micaiah—guided Ike, Sanaki, Kurthnaga and a small group of elite warriors up through the tower, relating to them pieces of history as they went. She also experienced visions of scenes from the life of Sephiran as they went.[7] Before the group fought Dheginsea, she blessed Ragnell and the other weapons used by the group to allow them to properly harm Dheginsea and any other bearers of Ashera's blessings, but was worn out by this act and rested throughout the actual battle. Having woken up by the time the battle was over, she had a final word with Dheginsea before he died, where he apologized for being the one to brand her a dark god.
The penultimate obstacle to Yune's path to Ashera was Lehran—a.k.a. Sephiran—himself, who revealed his role in orchestrating the judgement of Tellius. Following his defeat, Yune lamented her failure to help him when he needed it the most, but in the last moment before he died, she had Micaiah use her power to save him, successfully tricking the door to Ashera into believing he had died and thus into opening. Wanting nothing more than for Lehran to live, she told him she'd be awaiting him to come to their aid against Ashera, despite everything he had done.
Yune accompanied Ike and Micaiah into the final confrontation with Ashera at the top of the Tower of Guidance. She tried to convince Ashera to surrender, but failed, and so was committed to defeating her instead. In the final moments of the battle, she joined with Ike to bestow all of his power upon him, setting Ragnell ablaze with blue flames, and with her power Ike dealt the final blow to defeat Ashera. After Ashera fell, the flames coalesced off of Ike and reformed into a spectral apparition of her humanoid form. She asked Ike for forgiveness and lamented that the people of the world had no need for gods, but Ike offered her encouragement that gods inspire people to do better and give them a reason to live, and forgave her just as she forgave the people of Tellius for all they had done to her. Resolved to try to help the world, she flew away in her bird form and journeyed across Tellius, using her powers to undo Ashera's curse and restore life to the laguz and beorc.
Thousands of years later, Ashera and Yune would ultimately reunite to form Ashunera once more.
Role
Yune appears in cutscenes throughout Radiant Dawn, both in bird form and possessing Micaiah, and appears only in her own humanoid form in the final cutscene after defeating Ashera.
Partway through the Part IV, Endgame, before its third stage begins, Yune will bless the currently equipped weapons of all units taken into the Endgame. Her blessing grants the weapons infinite durability to prevent them from breaking, and allows them to bypass the Mantle skill and damage any units bearing it; this is necessary in order to use these weapons against the subsequent bosses. All blessed weapons have their names written in bold blue text.
Before she gives the blessing, Yune gives the player the opportunity to pick which beorc units' weapons they want blessed by equipping their units; however, Ragnell is the only weapon she will allow Ike to have blessed, and she will force it to be equipped before proceeding. All laguz units can only have their strike weapon blessed, as they can wield nothing else. When Gareth and Nasir are recruited at the end of the chapter, their Breaths will be blessed as well. Equipped staves will not be blessed at all, so if a unit has a staff equipped, that is effectively wasting the blessing as it will not be applied to any weapons in their possession instead.
In Easy Mode, Yune's blessing also awards a +5 bonus to the strength, magic, skill, speed, luck, defense, and resistance stats of every unit in the party, even if they do not currently have a blessed weapon equipped. No similar bonus exists in Normal or Hard Mode.
Role
Yune is the game's third Mythic Hero, and as such was added to the game in a dedicated Mythic Hero update, and was made available for summoning as part of a summoning event released on March 29, 2018. Only one variation of Yune is currently available in Heroes, based on her Radiant Dawn incarnation.
Starting stats
Yune: Chaos Goddess is only available at 5★ rarity.
Rarity
★★★★★
Weapon type
Movement type

Mythic Hero




Initial Stats Level 40 Stats

Skills
Chaos Manifest


--


Chilling Wind

Skill set
Skill set
Skill
Rarity
SP cost
Wind
Innate
Elwind
Innate
Rexcalibur
Innate
Chaos Manifest
Innate
Chilling Wind
Innate
Glacies
★★★★★
200 SP

A

Atk/Res Bond 1
★★★★★
60 SP

A

Atk/Res Bond 2
★★★★★
120 SP

A

Atk/Res Bond 3
★★★★★
240 SP

A

Atk/Res Unity
★★★★★
300 SP

B

Sabotage Res 1
★★★★★
60 SP

B

Sabotage Res 2
★★★★★
120 SP

B

Sabotage Res 3
★★★★★
240 SP

C

Chaos Named
★★★★★
300 SP

C

Chaos Named+
★★★★★
300 SP
Personality and character
Being the result of Ashunera expunging her emotions, Yune is emotion incarnate. She is very quick to emotionally respond with shunning anger when she feels she has been insulted, and is equally quick to change tack and continue speaking kindly to somebody who hasn't annoyed her, in a manner almost like a young child.[8] As the embodiment of chaos, she firmly believes that the unpredictability of living creatures is in fact a good thing for both them and the world, that the chance of their future evolution into something more is absolutely worth taking,[9] and that their imperfections are, like the gods, what make them so interesting and deserving to continue to live.[10] She often reflects on how, even during her imprisonment in the medallion, she was never alone and was often comforted by the presence of the herons, something which she felt greatly helped her and which Ashera's lack thereof led to her becoming as cold as she was.[11]
Like Ashera, Yune is terrified of her own power as a result of the Great Flood, having instantly regretted causing it, and sought to do whatever she could to atone for the disaster.[12] Despite everything that happened, she still cares deeply for Ashera, but did not hesitate to criticize or challenge her.[13]
Quotes
Heroes quotes
Main article: Yune/Quotes (Heroes)
Other appearances
Yune is featured on two card in Fire Emblem Cipher.
Fire Emblem Cipher data for Yune
Sealed Goddess, Yune
"Hmmm... "dark god." "Dark god"... No, I'm pretty sure I'm not one of those. I am... freedom. Chaos. Transformation. Future. Mystery. I am Yune."
Attack: 30
Support: 20
Range: -
Deploy Cost: 1
Class: Chaos Incarnate
Tier: Base
Class Change Cost: --
Neither Holy Nor Base:

[Always]

If this unit is in the Back Line, enemies cannot attack this unit, and this unit cannot be destroyed as the cost or effect of a skill.
Man-Loving Goddess:

[Always]

During your turn, if you have no orbs, your lord gains +10 attack.
Card #P12-003PR • Artist: Tobi
Goddess of Freedom and Chaos, Yune
"Even if we disagree, I will try... One more time."
Attack: 0
Support: 20
Range: -
Deploy Cost: 6
Class: Chaos Incarnate
Tier: Base
Class Change Cost: --
Guardian of the Evolution of People:

[Activate]

[] Until the end of your opponent's next turn, your Main Character gains +30 attack.
Chaos Named:

[Trigger]

At the end of your turn, you and your opponent each return all of your non-Main Character units to your own Decks. Afterwards, you each shuffle your Decks.
Card #B20-097SR • Artist: Geso Umiu
Some card information translation provided by Serenes Forest.
For more detailed strategic information on these cards, see their TCG wiki article on Yune .
Flavor text
Game
Text
(English)
Text
(Japanese)

Radiant Dawn

The goddess of chaos. She is both sister and polar opposite to the goddess Ashera. Imprisoned in Lehran's Medallion as an evil god, she was freed when Micaiah sang the galdr of release. She helps Micaiah and Ike rescue the beorc and laguz who have been turned to stone.
別名【負】の女神。
女神アスタルテと対をなす存在。
"邪神" としてメダリオンに
封じられていた。
ミカヤの謡う【解放】の呪歌によって
目覚め、石化した人たちを元に戻すため
力を貸してくれる。

Heroes

A being that is half of the goddess Ashunera.
The goddess of chaos, who is said to have
thrown the world into disorder long ago.
Appears in Fire Emblem: Radiant Dawn.
女神アスタテューヌの半神。神話の時代に
世界を混沌に陥れたとされる【負の女神】。
(登場:『ファイアーエムブレム 暁の女神』)
Trivia
Etymology and other languages
Names, etymology and in other regions
Language
Name
Definition, etymology, and notes
English

Yune

Japanese

ユンヌ

Officially romanized as Yune.

Spanish

Yune

French

Yune

German

Yune

Italian

Yune

Portuguese
(Brazil)

Yune

Traditional Chinese

芸娜

Yune
Gallery
Official artwork
Screenshots
Screenshot of Yune in bird form with other characters in Engage.
References
| | |
| --- | --- |
| | This article is part of Project Characters, a project focused on writing articles for every character present in the Fire Emblem series. |