Site News
Warning: This wiki contains spoilers. Read at your own risk!


Social media: If you would like, please join our Discord server, and/or follow us on Twitter or Tumblr!

Engage info: As the game has only recently released, we lack much key information. Please help add any info that you can.
Just Cause
From Fire Emblem Wiki, your source on Fire Emblem information. By fans, for fans.
| | |
| --- | --- |
| | It has been requested that image(s) be placed in this page or section. Please submit images to help improve this page and talk on this page's talk page about what images are needed. Remove this when this has been fixed. |
Just Cause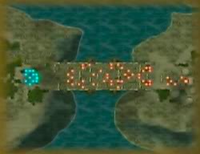 | | |
| --- | --- |
| Location | Oribes Bridge |
| New units | |
| Boss(es) | |
| Previous chapter(s) | |
| Next chapter(s) | |
| | | | |
| --- | --- | --- | --- |
| " | ...I am puzzled by this. Why does Daein support the senate? | " | — Sanaki |
Just Cause (Japanese: 退けぬ理由 Un-Set Aside Reason) is the eleventh chapter of Part III of Fire Emblem: Radiant Dawn. In this chapter, the Laguz Alliance unites with Apostle Sanaki, and their combined armies march into Daein to face off against invaders.
Plot
Main articles: Just Cause/Script and Just Cause/Conversations
In Castle Crimea, Apostle Sanaki holds a meeting with Caineghis, Tibarn, Rafiel, Reyson, Leanne, and Elincia. Sanaki clarifies that, when she received the letter that the herons were scapegoated for the former apostle's assassination, she and Sephiran investigated the senate; when they attempted this, they were imprisoned by the senators. She reveals that she had to flee Begnion to escape further persecution from them. She then requests that the laguz tribes assist her in retaking Begnion from the senators; Caineghis accepts on the conditions that Begnion ends laguz slavery, that diplomacy can be restarted on a clean slate, and that a full alliance be made between their countries. Elincia agrees to this, and states that Crimea will join the alliance. Tibarn asks if Sanaki intends to return the Serenes Forest to the herons, which she confirms she will; Tibarn then agrees to join with her alliance. Sanaki thanks all of them for aiding her, and promises to accomplish the goals she laid out.
Afterwards, Sanaki meets with Ike and relays what happened during the meeting. Ike assures Sanaki that he and the Greil Mercenaries will continue to aid her; in response she then appoints him as the commander of all the combined forces, stating that, other than Zelgius who is unavailable, he is the only one who can command respect from all the forces involved. Ike reluctantly agrees, and is taken to meet the new troops he will lead.
Ike then relays his plan of action to Sanaki: that the army will march to Flaguerre once again, due to the Laguz Alliance's familiarity with the area. He also once again criticizes Sanaki for his position, saying that she will have to pay an incredible bill after the war is over. As a sort of payment ahead of time, Sanaki bestows the Ragnell to him once again. She recounts its history as one of the blades used by Altina, and Ike thanks her for it. Shortly after, they receive news that the Daein army has begun to approach Crimea, demanding custody of Sanaki on behalf of Begnion. As a result, the army is forced to redirect their attention from Flaguerre to Daein. Gallia stays behind for the battle, under Ike's command to keep his force's numbers low. He then begins his assault on the bridge leading to Daein.
As they continue the assault, Tibarn arrives alongside two other hawks and Leanne. Tibarn explains that Reyson passed out earlier and could not come with them. After Ike and the army clear out the bridge, Ike comments on how much stronger Daein has become. Sigrun and Tanith remark that the soldiers seemed obsessed with the "Maiden of Dawn"; in response, Ike compares her with Sanaki and the devotion the Holy Guard has for her. On the other side, Sothe gives Micaiah news that their front line has been broken. Micaiah orders a retreat, even though a Begnion inspector urges her to simply destroy the bridge altogether. After the inspector leaves, Micaiah collapses from exhaustion, and states that she feels her powers of foresight are fading away. Back in Gallia, Rafiel and Reyson hear a strange voice out of the blue. Sensing that it is coming from Daein, they decide to travel that way.
Beginning log
Apostle Sanaki arrives without warning at the Central Army's main camp in Crimea. With a strength born of conviction, she exposes the senators' vile plot to undermine and usurp her. Valtome counterattacks with a claim crafted by the senate-- that the apostle is a fraud who, along with her prime minister, Sephiran, is attempting to deceive all of Begnion and lead them away from the goddess's graces. To the citizens of Begnion, the senators are chosen by the goddess and are worthy of the same respect given to the apostle. As for the apostle, her image is tarnished when the senate imprisons Prime Minister Sephiran in her name. An ever-growing number of Begnion's citizens are willing to believe the senators' claim that the apostle is an agent of evil trying to deceive them. So it is that the Central Army is divided. One camp believes in the apostle, and the other supports the senate. This new turmoil fans the flames of chaos into a mighty conflagration, burning across Tellius.
Chapter data
Bonus EXP
| Requirement | Easy | Normal | Hard |
| --- | --- | --- | --- |
| Clear the chapter | 7,000 | 7,000 | 3,500 |
| Clear the chapter in 10/15 turns or less | 3,500/1,750 | 3,500/1,750 | 1,750/875 |
| Experience gained by partner units | Varies | Varies | Varies |
This map's elemental affinity is Fire.
This chapter features pitfalls; these tiles will trap any grounded unit that steps on them, even if the unit does not end their turn on that tile. When stepped on, they inflict shock status for one turn and drop the unit to a lower altitude. After the unit leaves the pitfall, the tile becomes untraversable by grounded units. Enemy units will never step on tiles that are pitfalls.
Character data
Characters
New Units
Required Characters





Available Characters






























At the start of this chapter, the Greil Mercenaries and the Crimean Royal Knights merge into one army; this grants the player access to the combined supply convoy and funds of both armies.
Item data
Shop data
Armory and vendor
Swords Lances Axes Bows Knives Tomes Staves Items Bargains
Enemy data
Reinforcements
After reaching the first Onager (reaching column 31)
After reaching the next two Onagers (reaching column 38)
Partner data
| | Name | Class | Lv | # | HP | Str | Mag | Skill | Spd | Lck | Prf | Def | Res | Cha | Con | Mov | Inventory and Skills |
| --- | --- | --- | --- | --- | --- | --- | --- | --- | --- | --- | --- | --- | --- | --- | --- | --- | --- |
Reinforcements
Upon passing the first set of enemies (reaching column 18)
Boss data
Main article: Goran
Strategy
---
This section has been marked as a stub. Please help improve the page by adding information.
---
This section details unofficial strategies that may help with completion of the chapter. This may not work for everybody.
Trivia
In the Japanese version, there are two Master Crowns added to the Supply Convoy in the beginning of this chapter. They are never brought to the player's attention and simply appear there without notice. These were removed in the Western version.
Etymology and other languages
Names, etymology and in other regions
Language
Name
Definition, etymology, and notes
English

Just Cause

--

Japanese

退けぬ理由

Un-Set Aside Reason

Spanish

Causa justa

Just cause

French

Juste cause

Just cause

German

Mit gutem Grund

With a good cause

Italian

Una giusta causa

A just cause
Gallery
---
This section has been marked as a stub. Please help improve the page by adding information.
---