Site News
Warning: This wiki contains spoilers. Read at your own risk!


Social media: If you would like, please join our Discord server, and/or follow us on Twitter or Tumblr!

Engage info: As the game has only recently released, we lack much key information. Please help add any info that you can.
Branded
From Fire Emblem Wiki, your source on Fire Emblem information. By fans, for fans.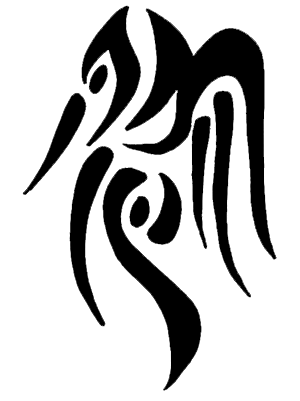 | | | | |
| --- | --- | --- | --- |
| " | This is proof that the blood of both beorc and laguz course through me. And so, I am anathema to both. | " | — Micaiah |
The Branded (Japanese: 印付き Marked Ones) are a race present in Fire Emblem: Path of Radiance and Fire Emblem: Radiant Dawn. They are the result of breeding between laguz and beorc,[1] and bear a mark signifying their heritage.[2] In both laguz and beorc societies in Tellius, they are a stigmatized race, looked down upon by both as less than human owing to their mutual mythologies falsely claiming the sexual union of a laguz and beorc to be a crime against the goddess:[3] the beorc call them "Branded" in reference to their mark, while the laguz call them "parentless" and typically refuse to acknowledge them. According to laguz legend, when a parentless one comes into being, a century of destruction follows.[4]
History
The first branded in history was the child of Altina, first empress of Begnion, and Lehran, her heron advisor and husband.[5] Dheginsea and Soan, close friends of the lovers, celebrated the glorious pregnancy, thinking the child would be a symbol of peace between the two races, laguz and beorc.[6] Not long after the child's birth, it became apparent that Lehran had lost his laguz ability to transform and sing galdrar.[7] He recognized that this news would not go over well with the people of Tellius, and went into hiding to find a solution to the problem.[8] When he emerged, he told Altina to tell the people he died in an accident, and that the birth of their child was a false rumor.[9] Lehran went to Goldoa and lived in secret with Dheginsea,[10] while Altina found a new, beorc husband, and with him raised the child as if it was theirs.[11]
From then on, unions between laguz and beorc became known as "crimes against the goddess."[12] Still, there were couples that did mate, and pregnancies occasionally resulted. However, these were quickly covered up once the parents learned of the consequences.[13] The child was raised by the beorc parent, and everything was assumed to be normal.[14]
However, generations later, some descendants of these unions began to bear marks—reminders of their ancestor's sins. The marks happened to look a bit like those of Spirit Charmers. The bearers of the marks then tried to cover themselves up by dabbling in the dark arts. In time, they found they aged much slower than other beorc,[15] and most chose to hide, living outside normal society. Rumors had spread though, and everywhere people started shunning the Branded—laguz even executed them in honor killings.[16] They were marked unclean beings, doomed to a life of hatred and oppression.
At some point in time, an independent settlement of branded was founded in the middle of the Grann Desert. Stefan resides there, and, in support conversations with Soren invites him to join the settlement and be with others like him.[17] Soren denies the offer, preferring to stay with Ike. After the events of Radiant Dawn, Stefan's settlement grows larger, eventually becoming its own nation.[18]
Characteristics
Physical appearance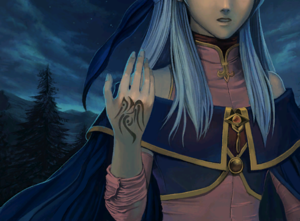 Branded are generally very similar in appearance to beorc. In fact, they do not show any of the distinct characteristics of a laguz. The most obvious trait of a branded is the mark they bear on their skin, the placement of which differs among members of the race. For example, Micaiah and her grandmother Misaha both show their mark on their right hands, but Soren and Stefan refer to their marks as being on their foreheads, and Zelgius' brand can be seen on his back. The shape of the brand seems to differ depending on the tribe of the laguz ancestor. Micaiah and Misaha's brands are the same shape, indicating their heron ancestor, Lehran. Soren's is different, indicating his dragon heritage. Zelgius' mark appears to be different from the two previously mentioned, and probably indicates his laguz ancestor was either a hawk or a raven. Many branded cover up their marks with pieces of clothing, if they are able, to try and conceal their heritage.
Extended lifespan
In addition, Branded age slower than normal beorc. This is less noticeable during childhood, but eventually, the difference in age becomes quite apparent. The rate slows differently depending on the type of laguz blood the person has.[19] Branded with dragon ancestors, for example, age much slower than Branded with any other type of blood.
The first volume of Tellius Recollection goes into some detail to the average lifespan of Branded based on which laguz tribe they share heritage with. It states that Branded with black dragon heritage have an average lifespan of 185 years, those of lion heritage 94 years, and tiger heritage 65 years.[20]
Behavior
Because of all the persecution Branded face, many live reclusive or nomadic lives. They hide among the beorc, covering their brands and not getting close to anyone. It's nearly impossible for Branded to live with laguz, because the laguz have a certain instinct for identifying them. Some laguz can sense Branded more easily than others, and the ones that can't quickly catch on. The laguz then treat the Branded as if they don't exist, referring to them as "parentless", and denying that laguz blood flows in their veins.
Branded also have a knack for identifying each other, as does Yune (and presumably Ashera). Stefan very easily identifies Soren as Branded, and Soren and Micaiah recognize each other's heritage.[21] Yune identifies all three as something she's never seen before,[22] at first thinking Micaiah was the only one in existence.
Branded are known for having special powers that normal beorc don't have. This is typically affected by the type of laguz blood given by their ancestors. Beast tribe blood can contribute to strength, while bird tribe blood may contribute to speed, and heron blood to magical powers. Not much is known of these powers, other than they are the main factor contributing to Branded hatred among beorc.[23]
Notable Branded characters
Micaiah

Micaiah is a heron branded, descended from Lehran and Altina, and granddaughter of Misaha. She was assumed to have been killed by the heron clan along with her grandmother, but she actually survived, and ended up in Daein. Her branded heritage allows her to hear the voice of Yune and sing the galdr of release. It also gives her the power to sense what people are feeling, predict future events, and heal people without staves. Her companion, Sothe, advises her to keep these powers secret as they travel together, but her motivation to help people is too powerful, and she becomes famous for her abilities.
Soren

Soren is a black dragon branded, son of Ashnard and Almedha. Ashnard thought that if his offspring was borne of dragon blood, he would be a powerful asset in helping him rule the world. However, when Soren was born without any dragon traits, Ashnard abandoned him. Soren was then raised by another woman for a while, then sold to a sage who assumed he was a Spirit Charmer. Eventually the sage died, and Soren wandered around Gallia until Ike found him and took him in. Soren's tactical genius is a result of his branded heritage.
Stefan

Stefan is most likely a lion branded, as evidenced by his ending in Radiant Dawn, which refers to him as "Lion-blooded", as well as his Japanese name, Soanvalcke, the first four letters of which are the same as the great lion hero, Soan. He lives in an independent colony in the Grann Desert, gathering other branded people to live a life away from the judgement of the laguz and beorc. Having suffered under the burden of his blood, he harbors a hatred for most other creatures, mainly the people of Begnion. His branded heritage contributes to his skill with the sword.
Zelgius

Zelgius is revealed to be branded in one of Sephiran's memory scenes at the end of Radiant Dawn. Zelgius entrusts him to Sephiran, vowing to serve him and showing him the brand on his back. Zelgius becomes a great general, and is eventually given command of the Begnion army. He is a man of many secrets, and reports only to Sephiran, regardless of what others may believe. He is very reclusive, and lets no one get to know him, save Sephiran. His branded heritage contributes to his great strength and speed, even while wearing his heavy armor. Given this, as well as Kyza's description of him being "raven-haired"[24], it is likely that he is a raven branded.
Petrine

Petrine is revealed to be branded in a special boss conversation with Soren. She recognizes the mark on his forehead, and refers to herself as being the same; her own mark appears to be situated on the right side of her chest. Petrine serves as one of Daein's Four Riders, taking orders from King Ashnard. She has a very intense hatred of laguz, out of spite for spoiling her blood and condemning her to a life of prejudice. Being in the Daein army, she has plenty of opportunities to seek revenge on them, and does so without hesitation. Being liked by none and feared by most, she is the perfect candidate for one of Ashnard's generals.
Misaha

Misaha is a heron branded, descended from Lehran and Altina, and grandmother of Micaiah and Sanaki. Her heritage endowed her with the ability to hear the voice of the goddess. As Apostle of Begnion, she was one of the most beloved rulers of her time. She was a strong woman, and had every intention of ruling her country justly, despite her competition: the power-hungry senate. In an effort to inform her people of the true nature of the Apostles, she decided to reveal her branded heritage to her people. In retaliation, the senate assassinated her, blaming the murder on the heron clan that gave Misaha her branded blood.
Amy

Amy is the adopted child of Calill and Largo. She is revealed to be branded in a conversation between Stefan and Yune. Yune mentions "the little girl who stays by the Queen of Crimea" (in reference to Amy) in a list of people with blood like Stefan's. Amy lived with her adoptive parents in their bar until Ashera cast her judgement upon Tellius. Amy was one of the few civilians who was not turned to stone, and was found by Geoffrey crying before her petrified father. She accompanied Geoffrey on their journey to the Tower of Guidance, and was reunited with her mother on the way.
Flavor text
Game
Text
(English)
Text
(Japanese)

Radiant Dawn

A small number of beorc who are born with a brand upon their skin denoting they have a laguz ancestor. It is not uncommon to find people of rare talents and abilities among the Branded. They live longer and age more slowly than average beorc. The laguz refer to them as Parentless.
ラグズとの混血によって体の何処かに
"印" を持って生まれてきた者を指す。
全ての混血児が "印付き" に
なるわけではなく、むしろ稀。
"印" を持つ者は常人より
優れた能力を有することが多く、
その寿命も混じった血の種類に応じて
ベオクより長くなり成長も遅れる。
ラグズの間では "親無し" と呼ばれる。
Etymology and other languages
Names, etymology and in other regions
Language
Name
Definition, etymology, and notes
English

Branded

--

Japanese

印付き

Marked One(s)

Spanish

Estigmatizado

Stigmatized

French

Marqué

Marked

German

Gezeichnet

Marked

Italian

Marchiato

Marked

Traditional Chinese

帶印者[25]

Mark-bearer(s)
Gallery
References
See also