Site News
Warning: This wiki contains spoilers. Read at your own risk!


Social media: If you would like, please join our Discord server, and/or follow us on Twitter or Tumblr!

Engage info: As the game has only recently released, we lack much key information. Please help add any info that you can.
Ashera
From Fire Emblem Wiki, your source on Fire Emblem information. By fans, for fans.
Not to be confused with Shura, who is known as "Ashura" by some Japanese name-related sources.
---
| | |
| --- | --- |
| Gender | Female |
| Race | |
| Family | |
| Title(s) | Goddess of Order |
| Starting class | |
| Voiced by | |
| Appearance(s) | |
| | | | |
| --- | --- | --- | --- |
| " | Ashera is neither kind nor loving to the beings of this world. Neither is she holy nor base, angel nor devil. She is...restriction. Order. Stability. Past. Certainty. Restraint. She is Ashera. | " | — Yune |
Ashera (pronounced /⁠ˈæʃəɹə⁠/[key][1] or /⁠əˈʃɛɹə⁠/[key][2]; Japanese: アスタルテ Astarte) is the Goddess of Order and the patron deity of the continent Tellius. Originally one half of the Goddess of Dawn, Ashunera, she was formed when Ashunera split her emotions from herself; these emotions took the form of Yune, the Goddess of Chaos and Ashera's counterpart.
Biography
Origins
Ashera was originally Ashunera, the Goddess of Dawn, and is the form taken by Ashunera in the aftermath of the Tellius's Great Flood; on the advice of Lehran and others (though they would later consider it a bad idea), Ashunera cast away her emotions entirely, which took the form of the chaos goddess Yune, while Ashunera herself thus became Ashera. Ashera wished to destroy Yune entirely to erase her own chaos, but on Altina and Lehran's advice she consented to have Yune imprisoned in a medallion, although even this slowly drove Ashera toward being cold and unfeeling.
Lehran again tried to appeal to Ashera to restore Yune to herself, again without success. Instead, Ashera arranged a covenant with Lehran, Altina, Soan and Dheginsea: she and Yune would enter a deep sleep for one thousand years, and if upon awakening the beorc and laguz had built a lasting peace and put an end to war, the two would reunite into Ashunera; however, if they failed to do so, she would rain divine retribution for the people's sins upon them. She also granted them the right to awaken the goddesses prematurely if they succeeded or failed sooner than the thousand-year mark. With this covenant agreed to by the four representatives of the laguz and beorc, Ashera thus entered her long sleep within the peak of the Tower of Guidance.
In the years since her descent into sleep, Ashera displaced her original form as the guardian of Tellius in the eyes of its people, and came to be worshipped as a kind and loving goddess by the people of Begnion and other lands,[3] with awareness of her true nature as being entirely cold and calculating becoming obfuscated. The Begnion ruling family also came to be comprised of the "apostles", descendants of Altina and (unknowingly) Lehran gifted with the ability to hear Ashera's voice as she slept, or so the empire's mythology claims; it is uncertain how true this actually was, as Micaiah—the most recent known descendant—instead heard Yune's voice throughout much of her life.
Judgement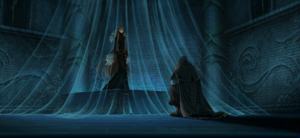 Ultimately, Ashera would never even reach the thousand-year threshold, as she was awoken only 780 years later in the year 648. Her awakening was triggered by the galdr of release performed by Micaiah and Sanaki at the peak of the war between Begnion and the laguz, as planned by Lehran. Lehran advised her that the past centuries had been dominated by war and so her covenant with the people of Tellius had been broken, and so Ashera handed down her judgement despite the full term not being met.[4] She unleashed a wave of power which froze almost every beorc and laguz in Tellius, accidentally sparing only those in Yune's presence and all Branded.
Aware as she was of the presence of those who survived her judgement, these being Ike, Elincia and Micaiah's parties, she freed a small number of Begnion soldiers and politicians to form an army for herself, the Disciples of Order, to eliminate them before they could have a chance to confront her; none of the Disciples, including their leader Lekain, were made aware of Ashera's true nature and were misled into believing it was Yune who petrified the world.[5] The Disciples failed consistently and only ended up dead, and so Ashera resurrected them from the dead over and over to ceaselessly bombard Ike's company as they prepared to scale the Tower of Guidance.[6]
Once they reached the tower's peak, Ike's company confronted Ashera and unsuccessfully convinced her to stand down. Yune attempted to explain to her how the evolution of the Zunanma's descendants, namely the Branded, meant the people of Tellius had a chance to grow into something even better and more decent, but Ashera maintained that the chaotic nature of people and their evolution without her guidance was a threat in need of destruction. With their pleas falling on dead ears, Ike's party thus engaged Ashera in battle, defeating the auroras shielding her and the elemental spirits in her service. Ike dealt the final blow backed with Yune's power, thus defeating Ashera. Ashera dissipated and vanished completely, her judgement at an end.
Thousands of years later, Ashera and Yune would ultimately reunite to form Ashunera once more.
Role
Ashera is the final boss of Fire Emblem: Radiant Dawn, fought in the fifth stage of the Part IV, Endgame. She starts the battle shielded by eight auroras, who must be defeated before Ashera herself can be attacked. The only way to defeat Ashera is for Ike to land the killing blow with Ragnell, otherwise she will regenerate immediately after reaching 0 HP.
Stats
Boss, Part IV, Endgame (5) (Ashera) Enemy, Part IV, Endgame (5) (Auroras)
Ashera is the game's twentieth Mythic Hero, and was added to the game in a dedicated Mythic Hero update, made available for summoning as part of a summoning event released on May 31, 2021. Only one variation of Ashera is currently available in Heroes, based on her appearance in Radiant Dawn.
Starting stats
Ashera: Order Goddess is only available at 5★ rarity.
Rarity
★★★★★
Weapon type
Movement type

Mythic Hero




Initial Stats Level 40 Stats

Skills
Order's Sentence


--


Iceberg

Skill set
Skill set
Skill
Rarity
SP cost
Stone
Innate
Elstone
Innate
Atlas
Innate
Order's Sentence
Innate
Iceberg
Innate
Glacies
★★★★★
200 SP

A

Atk/Res Ideal 1
★★★★★
60 SP

A

Atk/Res Ideal 2
★★★★★
120 SP

A

Atk/Res Ideal 3
★★★★★
240 SP

A

Atk/Res Ideal 4
★★★★★
300 SP

B

Lull Spd/Res 1
★★★★★
60 SP

B

Lull Spd/Res 2
★★★★★
120 SP

B

Lull Spd/Res 3
★★★★★
240 SP

C

Order's Restraint
★★★★★
300 SP
Personality and character
As a result of expunging her emotions, Ashera is absolutely neutral in terms of personality. As the personification of order, she has come to view Tellius's sapient species as inherently chaotic to the point of jeopardizing her world, and that the only way for the world to survive is for the beorc and laguz to be erased completely and for life to start over.[7] She believes she needs to be absolutely perfect in order to protect her world, and views her emotions—and thus Yune—as unstable, a hindrance and a legitimate threat to the world as a result of the Great Flood, and thus firmly believes they are too dangerous to be allowed to exist,[8] although as far as Ashera is concerned, sealing them away is the same as destroying them completely.
Ashera is absolutely certain of all decisions she makes, and swaying her into changing her mind is exceedingly difficult; the only known instance of this happening is when Lehran convinced her only to leave Yune imprisoned rather than to destroy her, to which she agreed only because of Lehran's record of being a wise disciple to her.[9]
Quotes
Battle quotes
"
You would face me in battle? I need no further evidence of your kind's imperfections. This will hardly be a battle at all. Simply an end. Perish, flawed one.
"

— Ashera, in the Part IV, Endgame (5) of

Radiant Dawn

.
"
Ashera: It is tragic that you are too limited to see how hopeless this is. You cannot hope to defeat the divine.
Ike: You're right. We can't hope to defeat you.
Ashera: Then why continue?
Ike: You haven't left us much choice. I'd rather die like this instead of being turned into some mindless statue.
Ashera: Simpleminded fool...
"

— Ashera, when fighting Ike in Part IV, Endgame (5) of Radiant Dawn.
"
Ashera: Don't waste your energy, fleshling. You are physically unable to harm me.
Micaiah: Yune... I'm fine. I can hear you. No, I'm not afraid. I know you're with me.
"

— Ashera, when fighting Micaiah in Part IV, Endgame (5) Radiant Dawn.
"
Ashera: Ah, son of the dragon king... You may be the greatest among the enfleshed, but you are no match for me.
Kurthnaga: Goddess Ashera, please listen to me. We know that we are clearly imperfect, but you, unnaturally created of pure order... Might that not be considered an imperfection?
Ashera: No, I am perfect. Free of emotion, I have no doubts. Therefore I commit no errors.
"

— Ashera, when fighting Kurthnaga in Part IV, Endgame (5) of Radiant Dawn.
"
Ashera: Lehran, you have joined my enemies?
Lehran: My goddess... Never before have I defied you in even the least thing. But I have seen the error of my ways and wish to save the people whom I once desired to destroy. I am one man, and my life is precious. How much more precious are the lives of the countless multitudes?
"

— Ashera, when fighting Lehran in Part IV, Endgame (4) of Radiant Dawn.
Death quotes
"
Ashera: ...
Ike: It's over. It's all over...
Micaiah: We did it. Our fighting is finally done. Now the people...
Ike: Now the people should all turn back to normal.
Micaiah: Yes!
Ike: Let's get out of here. I'm sure the others are getting tired of waiting outsider.
Yune: Wait!
Ike: Huh?!
"

— Ashera, when defeated by anyone but Ike in Part IV, Endgame (5) of

Radiant Dawn

.
"
Ashera: ...
Ike: What... What's going on? This is insane! We defeated her...
Ashera: You defeated nothing. This is nothing at all out of the ordinary. Mortals cannot defeat the divine. It is not possible.
Micaiah: But... We won... General Ike... We have to fight one more time! The people out there need our help!
Ashera: You can try as many times as you like. The result will always be the same. There is no way for you to win.
Micaiah: I can't believe that! General Ike, you can do it! Forge a new destiny for us! Ike, please... You've got to!
Ike: I don't need encouragement. I'd fight to the end no matter what. Ashera, you can't stop me. It doesn't matter if you're a goddess. It doesn't matter if I have no way to win. Fighting defines me, and I will not lose.
Ashera: When will you tiresome gnats surrender?
"

— Ashera, when defeated by Ike in Part IV, Endgame (5) of Radiant Dawn.
Heroes quotes
Main article: Ashera/Quotes (Heroes)
Other appearances
Fire Emblem Cipher
Ashera is featured on two cards in Fire Emblem Cipher.
Fire Emblem Cipher data for Ashera
Goddess of Order, Ashera
"You will know my judgment. You will pay for your sins, each of you to the last. All of the peoples of this world will die."
Attack: 30
Support: 0
Range: -
Deploy Cost: 1
Class: Order Incarnate
Tier: Base
Class Change Cost: --
Neither Holy Nor Base:

[Always]

If this unit is in the Back Line, enemies cannot attack this unit, and this unit cannot be destroyed as the cost or effect of a skill.
Man-Judging Goddess:

[Always]

If you have no orbs, your lord acquires "Mantle". ("Mantle":

[Always]

This unit cannot be destroyed by attacks from enemies with a deployment cost of 2 or lower.)
Card #B12-047HN • Artist: Setsu
Goddess Who Judges the World, Ashera
"You expect me to reverse my judgment? The goddess of order cannot be so... mercurial. My decision is final."
Attack: 70
Support: 0
Range: 1-2
Deploy Cost: 5
Class: Order Incarnate
Tier: Base
Class Change Cost: --
Premature Awakening:

[Special]

If you have 3 or more bond cards, the deployment cost of this card while in your hand is reduced by 2.
Light of Judgement:

[Activate]

[Once per turn]

Reveal the topmost card of your deck. Destroy all non-lord enemies with the same Deployment Cost as that card. Send the revealed card to your Retreat Area.
Mantle:

[Always]

This unit cannot be destroyed by attacks from enemies with a Deployment Cost of 2 or lower.
Card #B16-088R • Artist: Setsu
Some card information translation provided by Serenes Forest.
For more detailed strategic information on these cards, see their TCG wiki article on Ashera .
Flavor text
Game
Text
(English)
Text
(Japanese)

Radiant Dawn

The goddess of order. She awakens from her slumber and begins turning beorc and laguz to stone as part of her thousand-year judgment.

別名【正】の女神。
"千年の審判" によって
人たちを石に変えてしまう。

Engage

Dark Emblem from Micaiah's realm.
Embodies a goddess who subjected
humankind to harsh judgment.

ソンブルが顕現させた闇の紋章士。
ミカヤと同じ異界より喚び出された存在で
人類を裁くことを望む、女神の力を持つ。

Heroes

The once-slumbering goddess of order, half
of the goddess Ashunera. She desires to create
a world of structure and peace. Appears in Fire
Emblem: Radiant Dawn.

【暁の女神】アスタテューヌの半神。平和と秩序の世界が
築かれることを願い、眠りについた【正の女神】。
(登場:『ファイアーエムブレム 暁の女神』)
Etymology and other languages
Names, etymology and in other regions
Language
Name
Definition, etymology, and notes
English

Ashera

From Asherah, a mother goddess who was revered in numerous ancient Middle Eastern religions as the goddess of fertility and motherhood.

Japanese

アスタルテ

Officially romanized as Astarte. From Astarte, the Greek name given to the ancient Mesopotamian goddess Ishtar.

Spanish

Ashera

As above.

French

Ashera

As above.

German

Ashera

As above.

Italian

Ashera

As above.

Portuguese
(Brazil)

Ashera

--

Traditional Chinese

亞絲塔爾蒂

Astarte
Gallery
References
| | |
| --- | --- |
| | This article is part of Project Characters, a project focused on writing articles for every character present in the Fire Emblem series. |