Site News
Warning: This wiki contains spoilers. Read at your own risk!


Social media: If you would like, please join our Discord server, and/or follow us on Twitter or Tumblr!

Engage info: As the game has only recently released, we lack much key information. Please help add any info that you can.
Raise the Standard (stage 1)
From Fire Emblem Wiki, your source on Fire Emblem information. By fans, for fans.
| | |
| --- | --- |
| | It has been requested that image(s) be placed in this page or section. Please submit images to help improve this page and talk on this page's talk page about what images are needed. Remove this when this has been fixed. |
Raise the Standard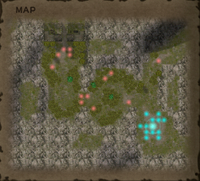 | | |
| --- | --- |
| Location | Turin[sic] |
| New units | |
| Boss(es) | None |
| Previous chapter(s) | |
| Next chapter(s) | |
Raise the Standard (Japanese: 掲げよ旗を Raise the Flag) is the sixth chapter of Part I of Fire Emblem: Radiant Dawn. In this chapter, the Dawn Brigade begins rousing support across Daein. This page covers the first stage of the chapter.
Plot
Main articles: Raise the Standard (stage 1)/Script and Raise the Standard/Conversations
In the free state of Marado, a group of Begnion soldiers are punishing civilians for seemingly no reason. In the distance, Fiona witnesses one kill a civilian. Jarod then arrives, informing her that Marado's army has been ordered to fight against the Daein Liberation Army. While Fiona is skeptical, she answers the order and deploys herself to the field. Jarod, meanwhile, orders a soldier to keep an eye on her to ensure she does not rebel.
Back at the Daein Liberation Army's camp, Izuka reveals that rumors of his works have spread throughout Daein, and announces his next plan to the army. He states that they will move to Talrega next, though Micaiah objects, stating that the rain and landslides would impede them, flustering Izuka. She instead suggests moving to Terin, which has more predictable arid weather. When Jill asks Micaiah how she knows of the landslides, Sothe replies that she is a powerful seer. Izuka takes note of her foresight and quickly agrees with Micaiah's plan.
The army then moves to Terin, where a Begnion commander, Laverton, discusses his trap with his troops. Fiona comes in and asks if she should be deployed, though Laverton commands against it, asking her to wait. Following this, the Daein Liberation Army begins their charge.
Beginning log
Three years past, Daein mustered all of its formidable military might and cut a bloody swath through neighboring Crimea in a sudden invasion. Daein was defeated, however, and the dreams of its ruler, Mad King Ashnard, died with him. Ashnard's son, Pelleas, possesses a gentle sincerity that is a bright counterpoint to his late father's violence and duplicity. Ill-suited though he seems for these troubled times, his presence is a welcome sight to Micaiah's eyes. Pelleas, declared rightful heir to the throne, finds his name becoming a rallying cry for Daein. At his side is the only person he believes can lead his liberation army... the Silver-Haired Maiden.
Chapter data
Bonus EXP
| Requirement | Easy | Normal | Hard |
| --- | --- | --- | --- |
| Clear the chapter | 600 | 600 | 300 |
| Clear the chapter in 10/13 turns or less | 300/150 | 300/150 | 150/75 |
Note: Bonus experience is rewarded at the end of stage 2.
This map's elemental affinity is Water.
Character data
Characters
New Units
Required Characters




Available Characters







Item data
Shop data
Armory and vendor
Swords Lances Axes Bows Knives Tomes Staves Items Bargains
Enemy data
Reinforcements
Strategy
---
This section has been marked as a stub. Please help improve the page by adding information.
---
This section details unofficial strategies that may help with completion of the chapter. This may not work for everybody.
Etymology and other languages
Names, etymology and in other regions
Language
Name
Definition, etymology, and notes
English

Raise the Standard

--

Japanese

掲げよ旗を

Raise the Flag

Spanish

Arriba el estandarte

Raise the standard

French

Etendard levé

Raised standard

German

Hisst die Flagge

Raise the flag

Italian

Su lo stendardo!

On the standard!
Gallery
---
This section has been marked as a stub. Please help improve the page by adding information.
---