Site News
Warning: This wiki contains spoilers. Read at your own risk!


Social media: If you would like, please join our Discord server, and/or follow us on Twitter or Tumblr!
Greil Mercenaries
From Fire Emblem Wiki, your source on Fire Emblem information. By fans, for fans.
Greil Mercenaries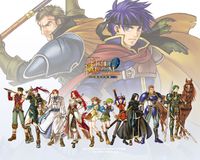 The twelve members of the Greil Mercenaries
Leader
Size

9 members (as of 645)
11 members (as of 648)

Headquarters

A hideout in rural Crimea

Group type

Mercenary force

Purpose

To be hired to fight bandits and protect villages

Appearance(s)
| | | | |
| --- | --- | --- | --- |
| " | We have Father's legacy to look after, as well: the Greil Mercenaries. | " | — Mist |
The Greil Mercenaries (Japanese: グレイル傭兵団 Greil's Mercenaries) are a mercenary force based in Crimea.
Overview
The band was founded by Greil at some point after the year 626, following his departure from the Daein army and after spending some time as a mercenary in Gallia under King Caineghis; his deputy was Titania, a former Crimean knight whom he met in Gallia. Following Greil's death, his son Ike succeeded him as the band's leader, with Titania continuing as his deputy and Soren now as their tactician. For most of their existence, they devoted themselves to serving Crimea.
In the year 645, the Greil Mercenaries rose to prominence in their role in the Mad King's War. While on a scouting mission to observe the onset of the war, the Mercenaries encountered Elincia, the errant Crimean princess, as she fled Melior pursued by Daein soldiers. They entered her service to escort her to refuge in Gallia, during which Greil was slain by the Black Knight in a duel. After consulting with Caineghis, the Mercenaries and Elincia departed to Begnion to attempt to raise support from Apostle Sanaki for opposing Daein, and in order to do so were tasked with investigating Senator Oliver of Tanas. Once this task was accomplished, the Mercenaries – now with the support of Begnion's army under General Zelgius – traveled back to Daein and conquered it, before pressing on to reclaim Crimea and defeat King Ashnard.
In the War's aftermath, the Mercenaries disbanded temporarily while Ike served as a Crimean noble, but reformed them after departing the Crimean court 2 1/2 years later[1]. From there, the Mercenaries spent most of their time taking on smaller jobs which didn't pay particularly well[2], until they were hired by Bastian to act as a fail-safe to stop Ludveck's civil war, intervening only at the last moment when Lucia was about to be executed.
Their next job was with the Laguz Alliance, assisting Gallia, Phoenicis and Kilvas in their war on Begnion. Late in this war, the Mercenaries were assimilated into the Apostle's Army when Empress Sanaki allied with them in opposition to her nation's treacherous senators, with Ike again serving as the army's general. Following Ashera's judgement upon the world, the Greil Mercenaries, along with other members of the united forces, temporarily formed the Greil Army while traveling to the Tower of Guidance. After the restoration of the world, the Greil Mercenaries continued their work, serving under an unspecified leader following Ike's departure; some members, like Oscar and Mia, also departed.
Members
Flavor text
Game
Text
(English)
Text
(Japanese)

Radiant Dawn

A mercenary group that operates out of Crimea. It is led by Ike, and it won fame for its prowess in the Mad King's War.
クリミアを中心に活動する傭兵団。
現団長はアイク。
デイン=クリミア戦役で活躍し
一躍名を馳せた。
Etymology and other languages
Names, etymology and in other regions
Language
Name
Definition, etymology, and notes
English

Greil Mercenaries

--

Japanese

グレイル傭兵団

Officially romanized as Greil's Mercenaries in the Sound Room of Fire Emblem: Path of Radiance.

Spanish

Mercenarios de Greil

Greil Mercenaries

French

Mercenaires de Greil

Greil Mercenaries. Abbreviated to Mercenaires in gameplay due to space restrictions.

German

Greils Söldner

Greil Mercenaries

Italian

Mercenari di Greil

Greil Mercenaries

Portuguese

Mercenários de Greil

Greil Mercenaries; used in Heroes.

Korean

그레일 용병단

Greil Mercenaries; first used in the trophy description of Ike in Super Smash Bros. Brawl.

Traditional Chinese

格萊爾傭兵團

Greil mercenary group
References