Site News
Warning: This wiki contains spoilers. Read at your own risk!


Social media: If you would like, please join our Discord server, and/or follow us on Twitter or Tumblr!

Engage info: As the game has only recently released, we lack much key information. Please help add any info that you can.
Rajaion
From Fire Emblem Wiki, your source on Fire Emblem information. By fans, for fans.
| | |
| --- | --- |
| Gender | Male |
| Race | |
| Family | |
| Appearance(s) | |
Rajaion (Japanese: ラジャイオン Rajaion) is a key non-playable character in Fire Emblem: Path of Radiance. Rajaion is a dragon laguz who was twisted and used by the Mad King of Daein, his brother-in-law Ashnard, and made to serve as his "wyvern" mount.
Biography
Nineteen years[1] before the Mad King's War (after Almedha, Rajaion's younger sister, gave birth to Ashnard's son Soren), Rajaion left Goldoa to rescue Almedha and Soren.[2] Unfortunately, when Rajaion arrived in Daein, he was captured by Ashnard and transformed into a Feral One, corrupting his mind and locking him into draconic state.
Ena then left Goldoa, and found Rajaion warped and serving Ashnard in Daein. After discovering this, she asked her grandfather Nasir to help her save, or at least be near, Rajaion. Nasir left Goldoa at his granddaughter's request. Ena's devotion to this task was single-minded, as she wished to be with her lover Rajaion, or to be dead.
Role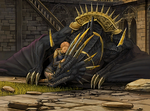 Rajaion appears in the final battle, as mentioned above, serving as Ashnard's mount. After Ashnard is killed in battle Rajaion regained his sanity in the aftermath and had the galdr of rebirth chanted to him, but still died peacefully in Ena's arms.
Due to ambiguities in the translation for the English release of Path of Radiance, it was initially unclear if Rajaion actually survived the events of the game. It wasn't until clarification in the sequel, Radiant Dawn, particularly as told by his brother Kurthnaga in chapter 1 of part 4,[3] as well as the game's relationship chart, was it clearly known that Rajaion did in fact die at the end of Path of Radiance.
Role
Rajaion, being deceased during the events of Radiant Dawn, makes no appearances; he is mentioned by some characters and appears in the game's glossary.
Other appearances
Fire Emblem Cipher
Rajaion is featured on two cards in Fire Emblem Cipher.
Fire Emblem Cipher data for Rajaion
Prince Who Degenerated into a Mad Dragon, Rajaion
"''--------!!!!!!''"
Attack: 70
Support: 20
Range: 1
Deploy Cost: 4
Class: Feral One
Tier: Base
Class Change Cost: --
Twisted Body:

[Always]

If you have no allied "Ashnard", this unit cannot evade.
Black Roar:

[Always]

Your allied "Ashnard" in the same Area as this unit gains +20 attack.
Mad King's Wyrm Steed:

[Activate]

[Once per turn]

Move your allied "Ashnard". Once you do, move this unit to the same Area as your allied "Ashnard".
Card #B12-045HN • Artist: Cherokee
Eldest Child of Goldoa, Rajaion
"Ena... We'll always be together, from this day forth."
Attack: 40
Support: 20
Range: 1
Deploy Cost: 1
Class: Dragon Tribe
Tier: Base
Class Change Cost: --
Black Dragon Prince:

[Always]

This unit gains +20 attack. ( comes into effect if a total of 2 or more cards are stacked with this unit.)
Oath to a Fiancée:

[Always]

If you have an allied "Ena", this unit gains +10 attack.
Fate Emblem:

[Support]

If the attacking unit is , draw 1 card, then choose 1 card from your hand and place it on top of your deck.
Card #B12-046N • Artist: Cherokee
Some card information translation provided by Serenes Forest.
For more detailed strategic information on these cards, see their TCG wiki article on Rajaion .
Flavor text
Game
Text
(English)
Text
(Japanese)

Radiant Dawn

A dragon laguz from Goldoa. His reason and his very identity were stolen by King Ashnard, who then used him as a personal steed.
ゴルドア王国の竜鱗族。
デイン王アシュナードの策謀に
よってその意識を奪われ、
彼の騎竜として使役される。
Trivia
Etymology and other languages
Names, etymology and in other regions
Language
Name
Definition, etymology, and notes
English

Rajaion

Japanese

ラジャイオン

Officially romanized as Rajaion.

Spanish

Rajaion

French

Rajaion

German

Rajaion

Italian

Rajaion

Portuguese

Rajaion

Used in Heroes.

Traditional Chinese

拉賈昂

Rajaion; used in Heroes.
Gallery
References
| | |
| --- | --- |
| | This article is part of Project Characters, a project focused on writing articles for every character present in the Fire Emblem series. |