Site News
Warning: This wiki contains spoilers. Read at your own risk!


Social media: If you would like, please join our Discord server, and/or follow us on Twitter or Tumblr!

Engage info: As the game has only recently released, we lack much key information. Please help add any info that you can.
Pirates Aground
From Fire Emblem Wiki, your source on Fire Emblem information. By fans, for fans.
Pirates Aground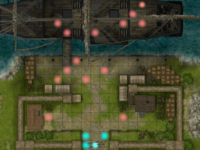 | | |
| --- | --- |
| Location | Port Talma |
| New units | |
| Boss(es) | |
| Previous chapter(s) | |
| Next chapter(s) | |
| | | | |
| --- | --- | --- | --- |
| " | Feathering sea scum is like shooting apples off a tree. Let's do the job and get out of here. | " | — Shinon |
Pirates Aground (Japanese: 海賊討伐 Pirate supression) is the third chapter of Fire Emblem: Path of Radiance. Ike is assigned to help Titania, Shinon and Gatrie rid Port Talma of some pirates that have been hounding the citizens. The addition of a bow-user to the party once again adds to the strategy of the gameplay.
Plot
Main article: Pirates Aground/Script
The chapter begins with Ike, Boyd, Rhys and Oscar all trying to accept responsibility for disobeying Titania's orders the previous day. Greil acknowledges that the comrades all willingly shield each other from punishment, but nevertheless confines Ike to his quarters for ten days. However, in light of all the work there is to be done, Greil postpones the punishment until after things settle down. He then takes Boyd, Rhys and Oscar with him while Titania takes Ike, Shinon and Gatrie.
The scene changes to a pirate ship, where Havetti orders his men to raid Port Talma for some rations. Titania speaks briefly with an elder of the village, who asks her to rid the port of the pirates' terror. Titania orders Shinon and Gatrie to soften the pirates up with their "thunder and lightning" tactics, then she and Ike will come to sweep up whatever they leave behind.
When Ike and company get close enough to the pirate ship, Marcia appears and confronts Havetti, demanding to know of her brother's whereabouts. The pirates tell Marcia that they've seen him, but they threw him overboard because he tried to cheat them out of money they won gambling with him. Marcia, furious, calls the pirates horrid and threatens to run them through with her lance. The pirates accept the challenge, eager to battle with Marcia.
When Ike reaches Marcia, she complains of being unable to fight any further. Ike reassures her that he and his team will take out the pirates, and that Marcia can escape to safety. When Marcia insists that she repay him somehow, he denies payment, requesting only that she get herself someplace safe. She asks for his name, and gives him hers, adding that she's a Pegasus Knight from Begnion. She then leaves, promising to see him again.
After the mercenaries defeat Havetti, Titania speaks to the town elder, assuring him that the pirates will not terrorize them any longer, and telling him to contact the mercenaries once again if they experience troubles. The elder tells her that the mercenaries are fit to be in the Crimean Army, questioning their humble work, but leaves regardless.
Afterward, Shinon and Gatrie begin to express their boredom with mercenary work. They claim that their talents are being wasted, and could be used better elsewhere. This angers Titania slightly, who is proud of the work that she does and wants her comrades to be proud as well. In an attempt to end the argument, she insists that the troops return to their base. Ike assures Titania that he has pride for the Greil Mercenaries, and is glad to be a part of the group.
Chapter data
Easy/Normal Difficult Maniac
Bonus EXP
Requirement
Easy
Normal/Difficult
Maniac
Clear the chapter in 6 turns or less
(-penalty per # of turns after)
300 (-15)
200 (-10)
100 (-5)
Character data
Characters
New Units
Required Characters



Available Characters
None
Undeployable Characters



Item data
Enemy data
Stats with two figures separated by a ~ are presented as a range, representing stats that vary due to random growths. The figures to the left and right of the ~ are the stat's minimum and maximum possible values respectively.
Easy Normal Difficult Maniac
NPC data
| | Name | Class | Lv | # | HP | Str | Mag | Skill | Spd | Lck | Prf | Def | Res | Cha | Con | Mov | Inventory and Skills |
| --- | --- | --- | --- | --- | --- | --- | --- | --- | --- | --- | --- | --- | --- | --- | --- | --- | --- |
Reinforcements
After passing the fence (reaching row 7)

Marcia from the western side of the ship
Boss data
Main article: Havetti
Easy Normal Difficult/Maniac
Strategy
This section details unofficial strategies that may help with completion of the chapter. This may not work for everybody.
This stage presents a party of only four fighters to command from the south, consisting of Titania, Gatrie, Ike and Shinon. Under normal circumstances, Ike is considerably weaker than these other three, who are all a higher level than him. The Sniper Shinon in particular, like Titania, is a promoted class unit, and as such will gain very little experience from any enemy on this stage other than the boss.
The goal of this chapter is to move toward the pirate ship, and defeat their captain, the Bandit Havetti who, again, is two levels higher than the previous boss. He is equipped, however, with a Hand Axe, allowing him to strike from range and in melee. Unlike the previous bosses, he will approach and attack anyone who gets in range of him. Defeating him immediately ends the chapter.
There is a house that can be Visited to the right of the starting area, which offers an Elixir to whoever visits.
As Ike's team makes their way to the ship, they will run into a multitude of fighters, all of which could overwhelm Ike and kill him. Moving as a group is necessary to mitigate damage, and draw it toward the units who can take it. Titania is still immensely powerful compared to everyone else, but Gatrie is also able to resist damage effectively. Shinon, despite being unable to attack in melee, is also a good distraction, since he can dodge attacks easily, and enemies are Provoked into attacking him whenever possible.
Once Ike's party crosses the gate into the port, a cutscene is triggered once the enemy's turn is over, and Marcia, a level 5 Pegasus Knight appears on the left side of the ship itself to attack the pirates. How much damage she accumulates after her first turn is up to chance, but she is not likely to die unless left alone for too long. She will not move from the area she occupies, and if hurt, will use a Vulnerary to heal herself on her turn. If Ike can Talk to Marcia before she is slain, she will leave the area, and then return later in the game, in Chapter 9: Gallia to join Ike's team.
On Hard Mode, the area is more-or-less the same, but enemies are placed differently. Additionally, another Bandit appears near the visitable house, and will destroy it if not stopped immediately.
Bonus experience can be earned here, based on how many turns it took to defeat Havetti. This experience cannot be spent until Chapter 8: Despair and Hope.
Trivia
Etymology and other languages
Names, etymology and in other regions
Language
Name
Definition, etymology, and notes
English

Pirates Aground

--

Japanese

海賊討伐

Pirate supression

Spanish

Piratas encallados

Pirates aground

French

Pirates

Pirates

German

Piraten

Pirates

Italian

Contro i pirati

Against the pirates
Gallery