Site News
Warning: This wiki contains spoilers. Read at your own risk!


Social media: If you would like, please join our Discord server, and/or follow us on Twitter or Tumblr!

Engage info: As the game has only recently released, we lack much key information. Please help add any info that you can.
Dheginsea
From Fire Emblem Wiki, your source on Fire Emblem information. By fans, for fans.
---
This page has been marked as a stub. Please help improve the page by adding information.
---
Dheginsea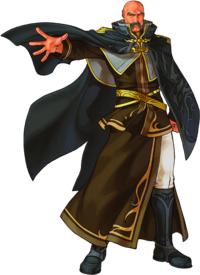 Artwork of Dheginsea from Radiant Dawn.
---
The black dragon king of Goldoa. One of the three heroes who defeated the dark god. While his own power is nearly godlike, he has removed himself from all affairs outside Goldoa.
| | |
| --- | --- |
| Gender | Male |
| Race | |
| Family | |
| Title(s) | King of Goldoa |
| Starting class | |
| Voiced by | |
| Appearance(s) | |
| | | | |
| --- | --- | --- | --- |
| " | Goldoa will not move. | " | — Dheginsea, in a flashback |
Dheginsea (pronounced /⁠dəˈɡɪnsiə⁠/[key][1]; Japanese: デギンハンザー Dheginhansea), also known as Deghinsea in Path of Radiance and PAL regions of Radiant Dawn, is the king of Goldoa, land of the dragon laguz. He is one of Ashera's Three Heroes who deafeated the Dark God Yune. He has three children: Almedha, Rajaion, and Kurthnaga. He has two grandchildren: Soren and another from Rajaion. He wishes to live in peace and tries to prevent the other laguz tribes from fighting.
In Radiant Dawn, he sides with Ashera after her judgment.
Role
Dheginsea's only formal appearance in the events of this story is in a cutscene, which takes place shortly after the Greil Mercenaries arrive in Begnion. In the cutscene, he arranges a meeting between all of the laguz kings, in order to discuss the ongoing conflict spurred by Mad King Ashnard. There, he advises the other kings on how to proceed, stressing that they keep in mind Lehran's Medallion and the dark god trapped within, which could be freed if the war engulfs the entire continent of Tellius.
Dheginsea never gets involved directly in the war, for the sake of preserving the seal on the medallion. However, it is implied that he was strongly tempted by Ashnard to join the fray, when the Mad King enslaved his son, Rajaion and used the feral dragon as his personal mount.
Role
Dheginsea first appears at the ending cutscene of Part III, Chapter 8. After the Laguz Alliance emerges from Kauku Caves, entering Goldoa by mistake, they are taken to the King to be held trail for their trespass, however unintentional. It is only through the wishes of his subjects Nasir and Ena that the alliance is spared, and allowed to return by land to Gallia, rather than be forced to return via the fiery caves.
Later on, after Ashera's judgment turns almost everyone on Tellius to stone, it is revealed that Dheginsea, along with most of his people, were called to side with Ashera, and prevent Yune's army from reaching her in the Tower of Guidance. In Part IV, Endgame, the dragon prince and Dheginsea's last surviving son, prince Kurthnaga, faces off against his father, along with Ike and his party. Because Dheginsea refuses to believe that Yune was released from Lehran's Medallion by means of the Galdr of Release, he stands fast, along with most of his dragon subjects, and fights them. Despite his immense power, being far and away the strongest non-divine being in the world, and his lingering blessing from Ashera many centuries ago, he is defeated by Yune's army. With his last breath, he passes on his crown to Kurthnaga, and makes amends with Yune, despite having rewritten history against her. After giving his final regards to his people, he succumbs to his wounds in the tower and dies.
Stats
See also: Rebirth (3)
Role
Dheginsea was first made available to be summoned by players on October 8, 2020 in a special Halloween variation as part of the summoning event surrounding the Dragons Harvest update. The aforementioned Halloween variation of Dheginsea is the only one currently available in Heroes, based on his Radiant Dawn incarnation.
Dheginsea: Harvest Goldoan
Starting stats
Dheginsea: Harvest Goldoan is only available at 5★ rarity.
Skill set
Skill set
Skill
Rarity
SP cost
Fire Breath
Innate
Fire Breath+
Innate
Blackfire Breath
Innate
Blackfire Breath+
Innate
Dragon Gaze
Innate
Draconic Aura
★★★★★
200 SP

A

Fierce Stance 1
★★★★★
50 SP

A

Sturdy Stance 1
★★★★★
120 SP

A

Sturdy Stance 2
★★★★★
240 SP

A

Sturdy Stance 3
★★★★★
300 SP

B

Slick Fighter 1
★★★★★
60 SP

B

Slick Fighter 2
★★★★★
120 SP

B

Slick Fighter 3
★★★★★
240 SP
Quotes
Battle quotes
| | | | |
| --- | --- | --- | --- |
| " | Feel the power of Ashera's faithful! | " | — Dheginsea, when using Judge in Radiant Dawn. |
"
Dheginsea: You... you're one of the parentless...
Micaiah: You know me?
Dheginsea: Yes. I knew the first of your kind. I have been alive for a very long time... Perhaps too long. But soon it will all be over.
"

— Dheginsea, when fighting Micaiah in Part IV, Endgame (3) of Radiant Dawn.
"
Dheginsea: In my eyes, the mightiest of you looks no different than an infant. Can you hope to stand a chance?
Sanaki: Of... of course. I am Sanaki, 37th empress of Begnion. It is my duty to save my people. Even the world's mightiest dragon will not dissuade me from that calling.
Dheginsea: All right, then, child. Fulfil your duty.
"

— Dheginsea, when fighting Sanaki in Part IV, Endgame (3) of Radiant Dawn.
"
Dheginsea: Have at you, follower of Yune.
Sothe: I won't live as long as you have, and I'll never be as powerful. Things like saving the world and fighting goddesses are just beyond me. They're out of my reach. That's why I've always chosen to fight for the smaller things in life and the people close to me. If that means I have to fight you to protect them, then so be it.
"

— Dheginsea, when fighting Sothe in Part IV, Endgame (3) of Radiant Dawn.
"
Ike: Dheginsea, Dragon King. I can see you have no intention of letting us pass.
Dheginsea: I follow my goddess's decrees. My will is unwavering.
Ike: I have no choice, then. Be on your guard.
Dheginsea: Very well, beorc general. Our blessings may be equal and opposite, but your strength is a mere fraction of mine. Show me your best!
"

— Dheginsea when fighting Ike in Part IV, Endgame (3) of Radiant Dawn.
"
Dheginsea: You, too, deign to oppose the goddess Ashera?
Elincia: I will do whatever is required to rescue those who were petrified. I beg of you, Dragon King, please reconsider what Prince Kurthnaga has told you.
Dheginsea: It is too late. People, in our weakness, betray the goddess, and are meant to be punished for it.
Elincia: I cannot believe that. People are capable of both terrible and wonderful things. To describe them so simply and cynically does them a disservice.
Dheginsea: If I am defeated today, that may convince me that I am wrong. Come... I'm waiting.
"

— Dheginsea when fighting Elincia in Part IV, Endgame (3) of Radiant Dawn.
"
Dheginsea: Naesala, you dare challenge me?
Naesala: Heh. It's funny you should ask that... I'm not deluded enough to think that I can beat you. The goddess herself would hesitate to fight you. But my people are frozen solid, and I have to delude myself enough to think that I can help save them.
Dheginsea: You are a true king, Naesala. I am ready when you are.
Naesala: I'll be thrilled if I land even a single blow. I'm much better at fleeing than fighting.
"

— Dheginsea when fighting Naesala in Part 4 Engame-3 of Radiant Dawn.
"
Dheginsea: You... are of the wolf people?
Nailah: Yes. After the floods, we built our country to the east of the great desert.
Dheginsea: ...So we weren't the only ones to survive...
Nailah: Until we met Rafiel, we too thought ours were the only people left.
Dheginsea: In your country, are there only people of the wolf tribe?
Nailah: No, beorc live there, as well. There are also a number of what you call the "parentless." Children born of both laguz and beorc parents are still relatively few.. but they live normally among us.
Dheginsea: Is that so?
Nailah: That's probably enough chatting. Do you still intend to block our path?
Dheginsea: ...I will not deny my goddess.
Nailah: And I won't deny my conscience. I will revive those turned to stone, and you cannot stop me.
"

— Dheginsea, when fighting Nailah in Part IV, Endgame (3) of Radiant Dawn.
"
Caineghis: King Dheginsea, I owe you an apology. You warned me often of the danger of open war, but I did not listen. I want you to know how truly sorry I am for the strife that has once again engulfed our world, and my part in it. However... I will not meekly accept judgment by the goddess. Regardless of my duty to her, the petrified people must be saved.
Dheginsea: Caineghis, king of beasts. I regret that we must stand on opposing sides. Now we must determine which one of us is in the right.
"

— Dheginsea, when fighting Caineghis in Part IV, Endgame (3) of Radiant Dawn.
"
Tibarn: I never would have believed that one day I'd be facing off against you. Life sure is funny, sometimes.
Dheginsea: Even you, Tibarn? Don't make me kill you. You haven't got a chance.
Tibarn: Don't be so sure about that. You just might be surprised. Besides, you've got a lot to answer for, Dheginsea. You'll finally pay the price for all those years of inaction and indifference as your kin were butchered and enslaved.
Dheginsea: You shortsighted fool, you still don't understand... All right, I'm waiting. Show me what you've got.
"

— Dheginsea, when fighting Tibarn in Part IV, Endgame (3) of Radiant Dawn.
"
Kurthnaga: Father! Please think about what you're doing.
Dheginsea: The time for words has passed. The only option remaining is to stop you with brute force.
Kurthnaga: Why? Father, why?
Dheginsea: That is enough! No more snivelling! You, Kurthnaga, were to rule the dragon tribe in years to come. Show me that you would have been capable!
Kurthnaga: But— Yes, sir... I'll show you.
"

— Dheginsea, when fighting Kurthnaga in Part IV, Endgame (3) of Radiant Dawn.
"
Ena: Your Majesty...
Dheginsea: Come now, Ena. Fight.
Ena: I'm sorry, I can't. I may have turned my back on my king and left my own country, but I still belong to the dragon tribe. I wouldn't dare attack my own king. I couldn't.
Dheginsea: Then as your king, I order you. I order you to fight for Kurthnaga's life.
Ena: My king!
Dheginsea: You and he need each other. You are different from other dragons.
Ena: ... Very well, Your Majesty.
"

— Dheginsea, when fighting Ena in Part IV, Endgame (3) of Radiant Dawn.
Death quote
| | | | |
| --- | --- | --- | --- |
| " | No...unh... Has my body grown old? Or is it...my heart... | " | — Dheginsea in Radiant Dawn. |
Heroes quotes
Main article: Dheginsea/Quotes (Heroes)
Other appearances
Fire Emblem Cipher
Dheginsea is featured on two cards in Fire Emblem Cipher.
Fire Emblem Cipher data for Dheginsea
King of Goldoa, Dheginsea
"Now I, as one of the three heroes, bearer of the goddess Ashera's blessings, shall show you my power!"
Attack: 70
Support: 20
Range: 1-2
Deploy Cost: 6
Class: Dragon King
Tier: Base
Class Change Cost: --
Ire:

[Activate]

[Once per turn]

[] If you have fewer orbs than your opponent, choose one of your opponent's orbs and destroy it.
Mantle:

[Always]

This unit cannot be destroyed by attacks from enemies with a Deployment Cost of 2 or less.
Card #B09-099R • Artist: Daisuke Izuka
Dragon Tribe's Mightiest Warrior, Dheginsea
"Ashera bestowed on her strongest warriors some of her power. Dheginsea, the leader of the dragon tribe, was blessed so."
Attack: 70
Support: 20
Range: 1-2
Deploy Cost: 6
Class: Dragon Tribe
Tier: Base
Class Change Cost: --
Blessed Dragon Fang:

[Trigger]

During your turn, this unit gains +30 attack.
Black Dragon Breath:

[Activate]

[Once per turn]

[] Choose either the Front Line or the Back Line. Destroy all non-Main Character enemies present in the chosen area. ( becomes usable if a total of 2 or more cards are stacked with this unit.)
Card #B20-094HN • Artist: Daisuke Izuka
Some card information translation provided by Serenes Forest.
For more detailed strategic information on these cards, see their TCG wiki article on Dheginsea .
Flavor text
Game
Text
(English)
Text
(Japanese)

Radiant Dawn

The black dragon king of Goldoa. One of the three heroes who defeated the dark god. While his own power is nearly godlike, he has removed himself from all affairs outside Goldoa.
ゴルドア王国の【黒竜王】。
かつて女神の加護を受けて
邪神を倒したとされる【三雄】の一人。
神に次ぐ力を持ちながら
他国には干渉しない姿勢を貫き、
いかなる戦争にも加わろうとはしない。

Heroes

One of the Three Heroes who saved Tellius
from chaos. Joined the harvest festival after
hearing dragons are somehow involved.
Appears in Fire Emblem: Radiant Dawn.
テリウス大陸を救った【三雄】の生き残り。
竜鱗族に所縁ある祭りと聞き、収穫祭に参加。
(登場:『ファイアーエムブレム 暁の女神』)
Trivia
Etymology and other languages
Names, etymology and in other regions
Language
Name
Definition, etymology, and notes
English

• Deghinsea
• Dheginsea

• Used in the North American English release of Path of Radiance.
• Used in the North American English release of Radiant Dawn and Heroes. It is more similar to the official romanization used in Japanese materials. No official commentary has been provided for the reason behind this change.

English
(Europe)

Deghinsea

Unlike the North American releases, PAL regions use the same spelling since Path of Radiance.

Japanese

デギンハンザー

Officially romanized as Dheginhansea.

Spanish
(Spain)

Deghinsea

Used in Path of Radiance, Radiant Dawn, and the European Spanish localization of Heroes.

Spanish
(Latin America)

Dheginsea

Used in the American Spanish localization of Heroes.

French

Deghinsea

As above.

German

Deghinsea

As above.

Italian

Deghinsea

As above.

Portuguese
(Brazil)

Dheginsea

As above.

Traditional Chinese

德金漢薩

Dheginhansea
Gallery
References