Site News
Warning: This wiki contains spoilers. Read at your own risk!


Social media: If you would like, please join our Discord server, and/or follow us on Twitter (X) or Tumblr!

Cross-Wiki Week 2023: From September 23 to October 1, make contributions to NIWA wikis and participating affiliates that you normally don't edit for a chance to win a Nintendo eShop gift card! See here for more details.
Misaha
From Fire Emblem Wiki, your source on Fire Emblem information. By fans, for fans.
Misaha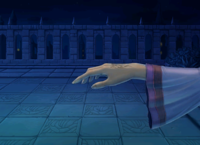 Artwork of Misaha's hand Radiant Dawn.
---
A former apostle of Begnion. She ordered the emancipation of laguz slaves in order to build a nation of equality for beorc and laguz. King Ashnard played a role in her assassination, blaming the herons.
Gender

Female

Race
Family
Nationality
Title(s)

Empress of Begnion
Apostle

Voiced by

Appearance(s)
| | | | |
| --- | --- | --- | --- |
| " | But I will not be deterred. If I am to lead this nation, I cannot allow it to be corrupted by prejudice and hatred. I can put the life the goddess has given me to no greater good than this. | " | — Misaha |
Misaha (Japanese: ミサハ Misaha) was the 36th empress and apostle of the Begnion Empire, and the grandmother of her successor Sanaki. She reigned for thirty years until her assassination, which was the catalyst for the Serenes Massacre and, unknown to many, the wars which plagued Tellius decades later.
Biography
Apostle
Misaha took the throne of Begnion and the title of apostle in the year 595, succeeding her mother. She inherited the Begnion imperial family's Branded heron blood and the ability to hear the voice of the goddess, receiving revelations of the immediate future of Begnion.[1] During her life she had children and eventually grandchildren, only one of whom was born during her lifetime.[2]
Misaha was an extremely popular ruler among the people of Begnion, said to have been more beloved by her subjects than any other apostle in history.[3] She was strictly opposed to the practice of laguz slavery which was still endemic in Begnion, so in the year Begnion 624, she passed the Laguz Emancipation Act into law, ordering the immediate release of all laguz slaves and the end of the laguz slave trade. However, despite her best efforts, the law was only partially successful: while the slave trade totally ceased among the common population of Begnion, for decades later the empire's nobles continued to practice laguz slavery in secret without suffering the consequences.[4]
In 625, Misaha had the opportunity to meet with her ancestor, Lehran. Meeting with him, the source of her Branded blood, convinced her that there was no shame in her Branded heritage, and she resolved to reveal to the world that she was Branded in order to put an end to the anti-Branded bigotry that was rife in not just Begnion, but the rest of Tellius. Lehran was inspired by her courage and resolved to tell the Goldoans of this sign of hope for the future of laguz-beorc relations. Shortly after this, however, the senate put into motion a plot against her orchestrated by the senator Lekain.[5] Misaha was murdered by forces loyal to the senators, and her infant granddaughter was believed to have died along with her as well.[2]
Legacy
Immediately after her murder, the senate issued an announcement to the people of Sienne that Misaha had been assassinated by the herons of Serenes. Beloved as she was by the people, they were enraged and grief-stricken at the news and demanded revenge against the herons for their "crime". This led to the Serenes Massacre, where Begnion mobs assaulted the Serenes Forest and nearly drove the herons to extinction. Lehran was driven mad by the loss of both Misaha and his tribe, and in response he concocted a plan to awaken the goddess and bring her judgement upon Tellius in revenge for the senate's crimes.
The throne of Begnion was left vacant for fifteen years after Misaha's death, during which time her second granddaughter, Sanaki, was born. At only five years old, Sanaki was installed as the new empress and apostle by the senate in 640, with their intent being to use her as a puppet ruler to placate the masses as they passed whatever legislation they pleased. However, they were consistently thwarted by Sanaki and her prime minister, Sephiran, who instead worked to improve life for beorc and laguz against the senate's will. This eventually culminated in their coup d'etat against her during the war with the Laguz Alliance.[6]
Role
Misaha appears in a flashback in the opening of the first part of the Part IV, Endgame, when Micaiah/Yune receives a vision of her meeting with Lehran. Only her right arm is physically seen in this flashback, although she does have a voice-acted speaking role.
Personality
Misaha held a deep, passionate determination to do right by all the peoples of Tellius, not just the beorc, and to use her position of privilege and power to fight to rid Begnion of racism and hatred. She knew very well how her actions would make powerful enemies of the senate, but refused to be scared by the threat they posed and even considered their response even more of a reason to pursue her vision of equality.[7] For much of her life, she felt deep guilt and shame at not only being Branded, but at how she and her ancestors kept this completely secret from everybody, but on meeting Lehran she came to the realization that there was no shame or sin in her Branded nature and became determined to put an end to the secrecy and reveal her nature to the world, though she was assassinated before she could do this.[8]
Flavor text
Game
Text
(English)
Text
(Japanese)

Radiant Dawn

A former apostle of Begnion. She
ordered the emancipation of laguz
slaves in order to build a nation
of equality for beorc and laguz.
King Ashnard played a role in her
assassination, blaming the herons.
ベグニオン帝国の先代神使。
ラグズ奴隷解放令を公布するなど
ラグズとの共存を強く望んでいた。
セリノス王国の鷺の民によって
暗殺されたことになっている。
Trivia
Although only her arm is ever seen, the sleeve of her attire bears a distinct resemblance to the outfit worn by her granddaughter, Micaiah, after she is promoted to the Light Priestess class.
In the English version of Radiant Dawn, Misaha's Introduction page erroneously states that Ashnard had a role in her assassination when in actuality it was Lekain who had a role in her assassination. This error was not present in the Japanese version.
Etymology and other languages
Names, etymology, and in other regions
Language
Name
Definition, etymology, and notes
English

Misaha

--

Japanese

ミサハ

Misaha

Spanish

Misaha

As above.

French

Misaha

As above.

German

Misaha

As above.

Italian

Misaha

As above.
Gallery
References
| | |
| --- | --- |
| | This article is part of Project Characters, a project focused on writing articles for every character present in the Fire Emblem series. |