Site News
Warning: This wiki contains spoilers. Read at your own risk!


Social media: If you would like, please join our Discord server, and/or follow us on Twitter or Tumblr!

Engage info: As the game has only recently released, we lack much key information. Please help add any info that you can.
Incandescent Glow
From Fire Emblem Wiki, your source on Fire Emblem information. By fans, for fans.
| | |
| --- | --- |
| | It has been requested that image(s) be placed in this page or section. Please submit images to help improve this page and talk on this page's talk page about what images are needed. Remove this when this has been fixed. |
Incandescent Glow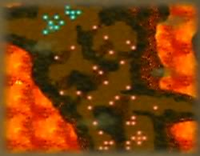 | | |
| --- | --- |
| Location | Kauku Caves |
| Boss(es) | |
| Previous chapter(s) | |
| Next chapter(s) | |
| | | | |
| --- | --- | --- | --- |
| " | Caves? Oh...yeah, those are the Kauku Caves. We don't want to go there. | " | — Ranulf |
Incandescent Glow (Japanese: 灼熱の果て Incandescent End) is the eighth chapter of Part III of Fire Emblem: Radiant Dawn. In this chapter, the Laguz Alliance traverses the dangerous Kauku Caves to retreat to Gallia.
Plot
Main articles: Incandescent Glow/Script and Incandescent Glow/Conversations
At the edge of the Serenes Forest, the Laguz Alliance attempts to retreat back to Gallia, but they are closely pursued by Begnion's main forces. Soren notes that using the secret passage to Gallia would alert Begnion of its existence, which could spell doom for the nation. Ike states that fighting in Serenes is also not an option, due to both terrain disadvantage and its damaged state. The only other option to them is the Kauku Caves, which are notoriously dangerous and labyrinthine. Soren takes this option, noting Begnion's possible unwillingness to face the danger.
After they head in, Levail informs Zelgius of the Alliance's movements. Not wanting to risk further casualties, Zelgius elects not to pursue them; however, he is met with Senator Valtome, the newly appointed commander-in-chief of the Imperial Army. Valtome orders most of the army to approach Gallia from another route, while leaving the northern force to continue pursuing the Alliance through the Kauku Caves. Zelgius objects, but he is nonetheless forced to comply.
Inside the caves, General Septimus moans over his assignment to blockade them from the Alliance. Ranulf and Janaff see his forces, and inform Ike of the force's small size. Ike and his forces then begin to strike them down, as to give Skrimir's division more time to find the exit. Ike and company succeed, and Skrimir leads them to the exit. Unfortunately, the exit he found did not lead to Gallia, but to Goldoa, the land of the dragons. To make amends for their trespass, Tibarn explains the situation to the king of Goldoa, Dheginsea. Dheginsea orders them to leave immediately, back through the caves. Skrimir is infuriated by this, and Tibarn tells him that the dragon tribes have neglected the other laguz in the past as well. Dheginsea attempts to uphold his nation's neutrality, though Ike challenges his orders. Two other dragons, Ena and Nasir, then arrive, requesting that they may guide the Alliance to Gallia. Dheginsea allows them as such, and the two then lead the Alliance back home.
Beginning log
The diversion created by the Greil Mercenaries allows the Laguz Alliance to slip successfully past the Daein army's blockade. Yet General Zelgius and his Central Army show no mercy and continue their relentless pursuit of the Laguz Alliance. The weakened alliance is forced to a hard choice: they must pass through the northern edge of the Serenes Forest. From there, they will try to make their way to a hidden road that will lead them out of Begnion and back to Gallia.
Chapter data
Bonus EXP
| Requirement | Easy | Normal | Hard |
| --- | --- | --- | --- |
| Clear the chapter | 5,500 | 5,500 | 2,750 |
| Clear the chapter in 20/25 turns or less | 2,750/1,375 | 2,750/1,375 | 1,375/687.5 |
This map's elemental affinity is Earth. This is an indoor chapter, meaning mounted units receive a -2 movement penalty.
This chapter features lava geysers; these tiles deal 10 damage to any units standing on them at the start of player phase. They are visible on the map as dark, burnt patches of ground.
Character data
Characters
New Units
Required Characters


Available Characters
























Item data
Shop data
Armory and vendor
Swords Lances Axes Bows Knives Tomes Staves Items Bargains
Enemy data
Reinforcements
Turn 6

1 Halberdier from the eastern border of the map
1 Sniper from the eastern border of the map

Turn 7
After approaching Septimus's chamber
Boss data
Main article: Septimus
Strategy
---
This section has been marked as a stub. Please help improve the page by adding information.
---
This section details unofficial strategies that may help with completion of the chapter. This may not work for everybody.
Etymology and other languages
Names, etymology and in other regions
Language
Name
Definition, etymology, and notes
English

Incandescent Glow

--

Japanese

灼熱の果て

Incandescent End

Spanish

Cuevas ardientes

Burning caves

French

Feux ardents

Raging fires

German

Strahlender Schein

Radiant glow

Italian

Bagliore incandescente

Incandescent glow
Gallery
---
This section has been marked as a stub. Please help improve the page by adding information.
---