Site News
Warning: This wiki contains spoilers. Read at your own risk!


Discord and Twitter: If you would like, please join our Discord server, and/or follow us on Twitter at @FEWikiOfficial!

Cross-Wiki Week 2022: From September 23–30, make contributions to NIWA wikis that you normally don't edit, or Halopedia, for a chance to win a Nintendo eShop gift card! See here for more details.
Steel Blade
From Fire Emblem Wiki, your source on Fire Emblem information. By fans, for fans.
Steel Blade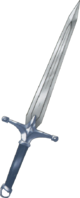 Artwork of a Steel Blade from the Fire Emblem Trading Card Game.
---
A mighty sword with a large blade. It's hard to handle, and its weight limits consecutive strikes.
The Steel Blade (Japanese: 鋼の大剣 Steel Greatsword) is an uncommon sword which was introduced in Fire Emblem: Genealogy of the Holy War. It is the mid-range member of the blade family of weapons, a series of large, heavy swords which trade the reliability of ordinary swords for sheer power. Compared to its ordinary sword counterpart, the Steel Sword, the Steel Blade typically has improved might in exchange for significantly higher weight, worse accuracy and lower durability. As a result, while it has immense power, units lacking in their speed or constitution stats are greatly weighed down by it and have their avoid and chance of being able to follow-up attack crippled by its weight.
Stats
| Game | Icon | Level | Might | Weight | Hit | Crit | Range | Uses | Worth | Exp | Other effects and notes |
| --- | --- | --- | --- | --- | --- | --- | --- | --- | --- | --- | --- |
| Genealogy of the Holy War | | A | 16 | 6 | 60 | -- | 1 | 50 | 6,000 | -- | -- |
| The Binding Blade | | C | 11 | 14 | 60 | 0 | 1 | 25 | 1,250 | 1 | -- |
| The Blazing Blade | | C | 11 | 14 | 65 | 0 | 1 | 25 | 1,250 | 2 | -- |
| The Sacred Stones | | C | 11 | 14 | 65 | 0 | 1 | 25 | 980 | 2 | -- |
| Path of Radiance | | C | 11 | 17 | 75 | 0 | 1 | 35 | 700 | 2 | -- |
| Radiant Dawn | | B | 13 | 17 | 65 | 0 | 1 | 35 | 1,400 | 4 | -- |
Locations
Genealogy of the Holy War
The Binding Blade
The Blazing Blade
The Sacred Stones
Path of Radiance
Radiant Dawn
Flavor text
Game
Text
(English)
Text
(Japanese)

The Binding Blade

??
扱いづらいがより威力のある大剣

Path of Radiance

A sword with a heavy steel blade. It is
large and fairly powerful.
??

Radiant Dawn

A mighty sword with a large blade. It's hard to
handle, and its weight limits consecutive strikes.
扱いの難しい大振りの剣
かなり威力はあるが重いために追撃がでにくい
Etymology and other languages
Names, etymology and in other regions
Language
Name
Definition, etymology and notes
English

Steel Blade

--

Japanese

鋼の大剣

Romanized as STEELBLADE in its internal file name in Path of Radiance and Radiant Dawn; literally "steel greatsword".

Spanish

• Hoja de acero
• Sable acero

• Steel blade. This weapon is known by this name only in The Blazing Blade. Abbreviated to H de acero due to space restrictions.
• Steel saber. This weapon is known by this name in every game except The Blazing Blade.

French

Lame acier

Steel blade

German

Stahlklinge

Steel blade

Italian

Lama acciaio

Steel blade
Gallery
References
See also