Site News
Warning: This wiki contains spoilers. Read at your own risk!


Social media: If you would like, please join our Discord server, and/or follow us on Twitter or Tumblr!

Engage info: As the game has only recently released, we lack much key information. Please help add any info that you can.
Phoenicis
From Fire Emblem Wiki, your source on Fire Emblem information. By fans, for fans.
Phoenicis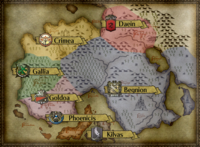 Map of Tellius from Path of Radiance. Phoenicis is marked in light brown.
Capital

Phoenicis Hall

Demonym

Phoenician (noun)
Phoenicisian (adjective)

Government

Monarchy

Continent
| | | | |
| --- | --- | --- | --- |
| " | I've seen many countries with my own eyes, but Phoenicis is the best! | " | — Janaff |
Phoenicis (pronounced /⁠ˈfinɪkɪs⁠/[key][1]; Japanese: フェニキス Phoenicis) is a laguz-inhabited island nation on the south-eastern coast of Tellius. It is the home of the hawk clan of the bird tribes.
Geography
Phoenicis is situated in the South Sea of Tellius[2] and occupies the westernmost of three islands off the coasts of Goldoa and Begnion; Kilvas occupies a smaller island to its east. Its terrain is highly mountainous, and many of its inhabitants appear to build their dwellings into the faces of the mountains themselves. Since all of its inhabitants are bird laguz and are thus all able to fly, Phoenicis has no port infrastructure at all and, likely because of its mountainous nature, this leaves no way to access Phoenicis by ship and greatly limits ways into the country for those who cannot fly.[3] Phoenicisian cuisine specializes in seafood and in the use of berries whose trees grow in its highest peaks, which are used to make delicious juices and desserts.[4]
History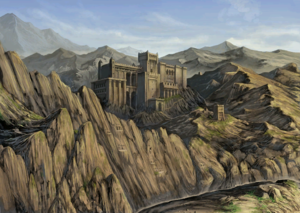 Phoenicis as a nation has its origins in the Great Laguz Movement of 320, when the pressures of oppression and bigotry against laguz in Begnion grew too great. Members of the hawk and raven clans fled to the then-unexplored southern islands, and after Gallia was founded in 355, the birds who had fled called on their brethren who remained in Begnion to join them. While Begnion engaged Gallia in yet another war, the bird tribes took advantage of this confusion to assert themselves as a nation, leading to the foundation of the Kingdom of Phoenicis under King Horus. However, in the year 420, disagreements between the two clans of Phoenicis caused the ravens to leave Phoenicis and form their own country, Kilvas, on another of the southern islands.[5]
Phoenicis had long favored an isolationist standpoint and did not regularly engage in diplomatic relations with other nations, beorc or laguz. According to Janaff, many Phoenicians were entirely content to live by themselves without contact with the outside world.[2] For a time, the only country to be allied with Phoenicis was Serenes, until it was destroyed by beorc mobs in the Serenes Massacre. After the massacre, both Phoenicis and its king, Tibarn, declared all beorc to be their enemy. They took to piracy and joined the ravens of Kilvas in mercilessly raiding ships passing through their territory, although unlike Kilvas, the Phoenicians exclusively targeted Begnion ships as an act of revenge for the loss of the heron clan to Begnion citizens. These acts were all supported by the heron survivor Reyson.[6][7] Although Naesala of Kilvas readily pointed out that these tactics were so relied upon because the Phoenicians could not do anything more to express their grievances toward Begnion,[8] Phoenicisian pirates soon became greatly feared by Begnion for their surprise attacks on their vessels, earning them the nickname "Shipless Pirates".[9]
This stalemate persisted for twenty years after the Serenes Massacre, until the middle of the Mad King's War. The actions of Ike, Elincia, and Sanaki in defending Reyson and Leanne from Oliver earned the trust of the two surviving herons and Tibarn, opening the way for reconciliation between Phoenicis and the beorc.[10] Tibarn and the Phoenicisian army assisted Ike, Elincia, and their Crimean army in opposing the armies of Daein in the later stages of the Mad King's War.
Three years later, Phoenicis joined forces with Gallia, Kilvas, and Ike to form the Laguz Alliance, and declared war on the Begnion senate for its role in causing the Serenes Massacre. However, Kilvas had long been bound to Begnion in a blood pact, and they betrayed the Alliance and concocted a trap with the Begnion forces: while Tibarn and the Phoenicisian army were tricked into fighting Zelgius and the Begnion Central Army, the Kilvas army launched a savage attack on Phoenicis itself, slaughtering its male citizens of fighting age. There were already relatively few Phoenicians before this,[2] but the attack had a devastating effect on the population and left few survivors.[11] Despite this setback, the Pheonician army continued to fight in the conflict and eventually joined forces with Sanaki to retake control of Begnion from its corrupt senate. After the conflict ended, the Phoenicians put aside their differences with Kilvas and the three bird clans chose to abandon their former homes, become one unified nation and move into the Serenes Forest together, all under the rule of Tibarn.[12]
Characters from Phoenicis
Character
Description
Appears in

Tibarn
The king of Phoenicis. A hawk laguz of tremendous size, whose power and skills are respected far and wide. He bears a deep and abiding enmity toward Begnion for its role in the Serenes Massacre.

Path of Radiance

,

Radiant Dawn

--
Lorazieh
The king of Serenes, and father of Rafiel, Reyson and Leanne. He and Reyson were rescued by Tibarn after the Serenes Massacre, but he has been bed-redden for over twenty years.
--

Reyson
A heron prince whose homeland of Serenes was destroyed by the beorc of Begnion. He is known as the White Prince. After the massacre of his people, he spent twenty years living in Phoenicis.

Path of Radiance

,

Radiant Dawn


Leanne
A heron princess whose homeland of Serenes was destroyed by the beorc of Begnion. She survived the massacre, but slept for long years hidden in the forest. She speaks the modern tongue poorly.

Path of Radiance

,

Radiant Dawn


Ulki
A member of the hawk clan of the bird tribe laguz. He is one of King Tibarn's most trusted soldiers. He possesses tremendous hearing and employs the skill Vigilance.

Path of Radiance

,

Radiant Dawn


Janaff
A bird tribe laguz and member of the hawk clan. He is one of King Tibarn's most trusted soldiers. He possesses the skill Insight and has amazing vision. He looks young but is over 100 years old.

Path of Radiance

,

Radiant Dawn


Lotz
A Phoenicisian soldier.

Path of Radiance
Flavor text
Game
Text
(English)
Text
(Japanese)

Radiant Dawn

The ancestral home of the hawk clan laguz, located on the westernmost of a chain of three islands off the southern coast of the continent. It is currently ruled by King Tibarn.
鳥翼族の鷹の民の国。
テリウス大陸の南方の海に浮かぶ
三島のうち、西の島にある。
現王はティバーン。
Etymology and other languages
Names, etymology and in other regions
Language
Name
Definition, etymology, and notes
English

Phoenicis

Possibly named for Phoenicia, an ancient sea-faring civilization in the eastern Mediterranean whose territories are now part of Palestine, Jordan, Syria, Lebanon, and Israel. May also be an allusion to the phoenix, a Greco-Roman mythical bird which is reborn from its own ashes after it dies.

Japanese

フェニキス

Officially romanized as Phoenicis.

Spanish

Phoenicis

As above.

French

Phoenicis

As above.

German

Phoenicis

As above.

Italian

Phoenicis

As above.

Portuguese

Phoenicis

Used in Heroes as an option for the player's location in their profile card.

Traditional Chinese

菲尼奇斯

Phoenicis; used in Heroes as an option for the player's location in their profile card.
Gallery
References