Site News
Warning: This wiki contains spoilers. Read at your own risk!


Social media: If you would like, please join our Discord server, and/or follow us on Twitter (X) or Tumblr!
Winds of Rebellion
From Fire Emblem Wiki, your source on Fire Emblem information. By fans, for fans.
| | |
| --- | --- |
| | It has been requested that image(s) be placed in this page or section. Please submit images to help improve this page and talk on this page's talk page about what images are needed. Remove this when this has been fixed. |
Winds of Rebellion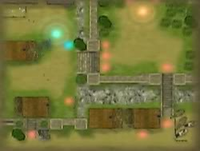 | | |
| --- | --- |
| Location | Ohma, Crimea |
| New units | |
| Boss(es) | |
| Previous chapter(s) | |
| Next chapter(s) | |
| | | | |
| --- | --- | --- | --- |
| " | Clamor all you like, but it won't change a thing. Revolution is taking root across Crimea. | " | — Yeardley |
Winds of Rebellion (Japanese: 反乱の息吹 Breath of Rebellion) is the first chapter of Part II of Fire Emblem: Radiant Dawn. In this chapter, an uprising begins in a rural town of Crimea.
Plot
Main article: Winds of Rebellion/Script
In the rural town of Ohma, the former Crimean soldier Brom tends to his farm while chatting with his friend, Jacob. Suddenly, Nephenee alerts him of a revolution starting, and tells him to put on his armor. In the town square, a man named Yeardley rouses the younger villagers against Elincia, and they suit up with weapons. Nephenee watches from a distance. Once Brom arrives, the two confront the rebellion, vouching for Elincia's character as soldiers who fought alongside her. Yeardley accuses them of being spies that would deceive the citizens and eventually ruin their homes. This leaves Brom and Nephenee with no choice but to fight against the rebels and defeat Yeardley. During their fight, the two learn it is a plot by Duke Ludveck of Felirae to claim the throne for himself.
The young rebels continue to attack Brom and Nephenee, but to little avail. Brom briefly threatens one's life, but quickly lowers his weapon when the rebel comes to his senses. Brom then tells Nephenee to prepare herself, so they can alert Elincia of the ensuing rebellion and Ludveck's plot. As the two leave, they say their farewells to the other villagers.
Beginning log
Queen Elincia encounters and defeats a wing of Begnion dracoknights trespassing in Crimean skies. After rescuing Chamberlain Nealuchi and Princess Leanne, she invites them to be her guests at the royal court. While Elincia's show of loyalty to her laguz allies causes an uproar among the nobles at court, they are aware that the heron princess is under the mutual protection of the mighty laguz hawk king and raven king. Because of this, there is no public show of distaste. However, dissatisfaction with Elincia's rule now spreads from a single faction to a larger group. Crimea's unity is slowly rotting from within. This discord begins to be felt even in country hamlets like the farming village of Ohma.
Chapter data
Bonus EXP
| Requirement | Easy | Normal | Hard |
| --- | --- | --- | --- |
| Clear the chapter | 1,500 | 1,500 | 750 |
| Clear the chapter in 15/20 turns or less | 1,000/500 | 1,000/500 | 500/250 |
| Volunteer enemies survive | 400 per unit | 400 per unit | 200 per unit |
| Experience gained by other units | Varies | Varies | Varies |
This map's elemental affinity is Heaven.
Character data
Characters
New units
Available characters
None
Item data
Enemy data
Reinforcements
NPC data
Reinforcements
Turn 5

Heather from the southeast corner of the map
Boss data
Main article: Yeardley
Strategy
---
This section has been marked as a stub. Please help improve the page by adding information.
---
This section details unofficial strategies that may help with completion of the chapter. This may not work for everybody.
Etymology and other languages
Names, etymology, and in other regions
Language
Name
Definition, etymology, and notes
English

Winds of Rebellion

--

Japanese

反乱の息吹

Breath of Rebellion

Spanish

Vientos de rebelión

Winds of rebellion

French

Vents rebelles

Rebellious winds

German

Wind der Rebellion

Wind of rebellion

Italian

Venti di rivolta

Winds of rebellion
Gallery
---
This section has been marked as a stub. Please help improve the page by adding information.
---