Site News
Warning: This wiki contains spoilers. Read at your own risk!


Social media: If you would like, please join our Discord server, and/or follow us on Twitter or Tumblr!

Engage info: As the game has only recently released, we lack much key information. Please help add any info that you can.
Rebirth (1)
From Fire Emblem Wiki, your source on Fire Emblem information. By fans, for fans.
| | |
| --- | --- |
| | It has been requested that image(s) be placed in this page or section. Please submit images to help improve this page and talk on this page's talk page about what images are needed. Remove this when this has been fixed. |
Rebirth (1)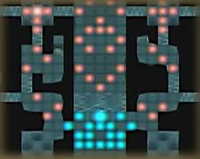 | | |
| --- | --- |
| Location | |
| New units | |
| Boss(es) | |
| Previous chapter(s) | |
| Next chapter(s) | |
| | | | |
| --- | --- | --- | --- |
| " | This tower is Ashera's home territory. She's certain to have her most powerful troops waiting for us up ahead. We must proceed with the utmost caution. | " | — Yune |
Rebirth (1) (Japanese: 再生 [Area1] Rebirth [Area1]) is the first endgame of Part IV of Fire Emblem: Radiant Dawn.
In this chapter, Micaiah, Ike, and Tibarn's armies reunite, and they begin to scale the Tower of Guidance.
Plot
Main articles: Rebirth (1)/Script and Rebirth (1)/Conversations
Ike and company reach the Begnion capital of Sienne, and see the Tower of Guidance shining brighter than ever. They find the gates to the capital shut, however, along with Micaiah's group waiting outside as well, having pitched up tents. As Skrimir becomes impatient, the gate seemingly opens on its own, only for Caineghis, Giffca, Tibarn, and his group to come out of them. Caineghis explains that he received a message from Yune in a dream, and Tibarn tells them that the two met up and cleaned up the Disciples of Order surrounding Sienne already. Yune then begins speaking, and asks everyone to gather around her. She explains that, when she attempted to contact Goldoa, no one was there, suggesting Ashera had gathered its people—the dragon tribe—instead. Yune then calls for everyone to rest up and prepare before entering the tower.
As they finish preparing, an otherworldly chime comes from the tower, and several Disciples of Order warp in to guard its door; Yune explains that these soldiers have actually been brought back from the dead, after their own forces killed them. Yune begins to worry that she has failed, as the Disciples will keep cutting away at their time, but Ike then reassures her that they will be able to defeat Ashera. Yune then asks Ike to select a force of his best soldiers, and after he leaves, grants Micaiah even greater power. After Ike finishes selecting his force, the group enters the tower.
Inside the tower, Ike is concerned by how quiet everything is. Yune then warns everyone that Ashera is certain to have her most powerful followers inside, though after, she experiences a brief vision of what seems to be someone else's memory. In the vision, the former apostle Misaha exposes her brand to an unknown other, who warns her not to reveal the brand to anyone else, but later is swayed by her confidence in the matter.
The group then enters the next door, where they encounter Lekain and Hetzel, with Lekain once again disparaging Sanaki as a false apostle. Micaiah declares him beyond redemption for his blood pacts and many other crimes, and that they will exact justice on him for them. Lekain gloats that none of them will ever touch the blood pact, having been blessed by Ashera herself. He then reveals to Sanaki that Sephiran was appointed Prime Minister almost solely because only he could keep Sanaki in check when she was very young and first appointed apostle. He explains that the two were used as puppets by the senate to ensure they could pass any legislation without public outcry, but that they planned on having the two killed as they began to reveal the corruption of the senate. Sanaki, invoking her title as empress of Begnion, then declares that she will judge him for his crimes, while he threatens her life. The two forces, Yune's chosen and Ashera's chosen, then begin their bloody clash.
After the battle, Sothe returns to Micaiah with the blood pact in hand. With one swift motion, Micaiah tears the parchment in half, eliminating the pact and freeing Daein once and for all. Sothe also finds a second pact on Lekain, which turns out to be one for Naesala. Naesala then takes it, or, if he was not brought along, Sanaki does with the intention of giving it to him. Later on, Sanaki meets with Ike, and the two briefly argue on how to address her. Yune then comes along, and she and Ike muse together about how the sole constant of humanity is how it always changes. Ike wonders if this made Ashera resent them, though Yune still believes that Ashera loved the people.
Beginning log
Ike and company manage to evade their persistent foes, finally arriving in Sienne, the capital of Begnion. The Tower of Guidance. According to the Creed of the Goddess, which has been taught across the continent by Begnion, this is where the goddess Ashera will appear during times of great crisis to lead the people to safety. As even the smallest child in Begnion knows, the tower is sacred, and mere mortals may not enter. With the world edging toward catastrophe, the tower glows like a pillar of pure light, as though to pierce the very heavens.
Chapter data
Bonus EXP
| Requirement | Easy | Normal | Hard |
| --- | --- | --- | --- |
| Clear the chapter | 4,000 | 4,000 | 2,000 |
| Clear the chapter in 10/15 turns or less | 2,000/1,000 | 2,000/1,000 | 1,000/500 |
This map's elemental affinity is Fire.
Character data
Characters
New Units
Required Characters


Available Characters






























































Note: After leaving the base, Micaiah will promote to Light Priestess automatically.
After leaving the base, a party of seventeen units total will be formed by the player. Ike, Micaiah, Sothe, Sanaki, Kurthnaga, and Ena must be allocated to the party, and ten more units can be chosen freely by the player. After choosing the first sixteen units, the player is prompted to choose one of Rafiel, Reyson, or Leanne.
Item data
Shop data
Armory and vendor
Swords Lances Axes Bows Knives Tomes Staves Items Bargains
Enemy data
Reinforcements
Turn 2 (Normal/Hard)/3 (Easy)
Turn 3 (Normal/Hard only)
Turns 4, 5, 7, and 16 (Normal/Hard only)
Turn 6 (Easy only)
Turns 6 and 9 (Normal/Hard only)
Turns 8, 11, 13, and 15 (Normal/Hard only)
Turn 10 (Easy only)
Turns 12 and 14 (Normal/Hard only)
Boss data
Main article: Lekain
Main article: Hetzel
Strategy
This section details unofficial strategies that may help with completion of the chapter. This may not work for everybody.
This is the last time the player will have access to the shop, so use up all of your remaining gold to purchase many items and weapons as needed. Bear in mind that once you leave the base and begin preparations, it is not possible to return, so make sure you have completed any unfinished business before proceeding. Despite the implication that the merchant convoy remains outside of the Tower, the player will still retain access to the convoy throughout the endgame.
When deciding on which units to bring along as the endgame party, bring in your strongest and most efficient units available, as the following chapters will have a very huge difficulty spike; once your decision is confirmed, it is not possible to go back and make any changes. WARNING! Purposely building a team of units with low stats is very likely to render the game unwinnable if done so.
For units that the player will not be bringing into the Tower, be sure to deposit any vital items and weapons in their possessions into the convoy; additionally, unequip their skills and deposit the skill scrolls into the convoy as well. Once the player enters the Tower, all units that are not allocated to the endgame team will no longer be playable for the rest of the game, which will lock out the player from accessing their inventories.
It is strongly recommended to bring Nihil (as an equipped skill or as a skill scroll in the convoy) into the Tower, as some of the endgame bosses have very deadly skills, one of which is able to reflect damage back at the player (this skill, in particular, can also be negated by Parity). If the player has the Dragonfoe skill, they should bring it along as well. Optionally, one should consider bringing in an Imbue scroll, as there is one unit that can make exceptionally great use for it.
Etymology and other languages
Names, etymology and in other regions
Language
Name
Definition, etymology, and notes
English

Rebirth (1)

--

Japanese

再生 [Area1]

Rebirth [Area1]

Spanish

Renacer (1)

Rebirth (1)

French

Renaissance (1)

Rebirth (1)

German

Wiedergeburt (1)

Rebirth (1)

Italian

Rinascita (1)

Rebirth (1)
Gallery
---
This section has been marked as a stub. Please help improve the page by adding information.
---