Site News
Warning: This wiki contains spoilers. Read at your own risk!


Social media: If you would like, please join our Discord server, and/or follow us on Twitter or Tumblr!

Engage info: As the game has only recently released, we lack much key information. Please help add any info that you can.
Alfred
From Fire Emblem Wiki, your source on Fire Emblem information. By fans, for fans.
For the character from TearRing Saga, see Saga:Alfred. For the character from Thracia 776 known as Alfred in some fan translations, see Fred.
---
This article's subject is about a recently released game or expansion. As such, key information is likely to be missing. Please help out and add the information that you can.
---
---
This page has been marked as a stub. Please help improve the page by adding information.
---
Alfred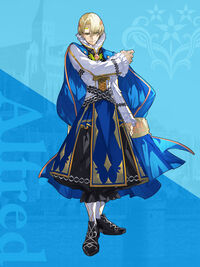 Artwork of Alfred from Engage.
---
The staunch and loyal crown prince of Firene. He trains constantly to strengthen his constitution.
| | |
| --- | --- |
| Gender | Male |
| Race | Human |
| Age | 21 |
| Birthday | August 8th |
| Height | 177 cm (5'9") |
| Family | |
| Nationality | |
| Title(s) | Prince of Firene |
| Starting class | |
| Voiced by | |
| Appearance(s) | |
Alfred (Japanese: アルフレッド Alfred) is a playable character in Fire Emblem Engage.
Biography
Alfred is the eldest prince of Firene.[2]
Role
Alfred is a playable character.
Starting stats and growth rates
| | |
| --- | --- |
| | Recruitment: Chapter 3, automatically from turn 2. |
Analysis
This character analysis section may not be accurate to every player's experience.
Alfred is the second cavalier-type unit who joins your team, along with Boucheron and Etie, shortly after the start of Chapter 2. As a mounted unit, he boasts superior mobility than his infantry peers, making him a solid candidate for Sigurd's Emblem Ring. He sports above average growth rates in many stats barring magic and resistance. Alfred's main disadvantages are his rather low base stats; his low speed in particular gives him issues with double attacking throughout much of the early game unless given significant speed investment, being weighed down by every lance in the game barring the Slim Lance. Not helping his case is that Chloé and Louis, two lancelocked units, join the chapter after Alfred is recruited, and both are immediately more useful right off the bat and are better users of Sigurd's ring than him. While Alfred's high defense growth indicates that he is supposed to be a mobile physical tank, he cannot do the job well in the earlygame due to his low bases. While he can become a decently useful unit with investment, he will face fierce competition from many earlygame units who also desire EXP to grow stronger and would benefit more from the early Master Seals. Overall, this leaves a poor first impression of his performance.
If the player manages to overcome Alfred's rocky start and wishes to continue fielding him in the long run, they have various class options to give him to help him keep up with his team. While his unique Avenir class further accentuates his tank role, gives him a B and A rank in swords and lances respectively (the latter in particular letting him use a Brave Lance), and will eventually grant him the Golden Lotus skill to give him a dexterity% chance of halving incoming damage, it may cause him to wind up as a "jack-of-all-trades-master-of-none"-type unit who can't kill or tank attacks as effectively as the units dedicated to a single role. If one wants to have Alfred as a physical tank, then Great Knight would be a better option to class him for consistent high defense. Alternatively, if the player wants Alfred to kill enemies more reliably as a strong frontliner, classing him as a Paladin, Wolf Knight, Griffin Knight, or Wyvern Knight is ideal; being a Griffin Knight in particular can let Alfred perform some minor staff utility if needed, albeit having lower magic than other staff users. If classed as the lance-wielding variation of the Paladin or Griffin Knight in particular, his blue lance proficiency bumps his lance weapon rank up to S, letting him wield Brionac, a powerful 1-2 range lance.
Role
Alfred is one of the characters added to the game in the King of Light update, and became available for summoning by players on January 17, 2023, as the game's fifth Rearmed Hero. Only one variation of Alfred is currently available in Heroes, based on his Engage incarnation.
Starting stats
Alfred: Floral Protector is only available at 5★ rarity.
Skill set
Skill set
Skill
Rarity
SP cost
Iron Lance
Innate
Steel Lance
Innate
Silver Lance
Innate
Arcane Qiang
Innate
Glowing Ember
Innate
Bonfire
★★★★★
200 SP

A

Self-Improver
★★★★★
300 SP

B

Flow N Trace 1
★★★★★
60 SP

B

Flow N Trace 2
★★★★★
120 SP

B

Flow N Trace 3
★★★★★
240 SP

C

Spur Atk 1
★★★★★
50 SP

C

Spur Atk 2
★★★★★
100 SP

C

Spur Atk 3
★★★★★
200 SP

C

Cross Spur Atk
★★★★★
300 SP
Personality and character
Alfred is kind-hearted, eudaemonist, and loves flowers.[2]
Endings
Floral Protector Alfred
As king of Firene, Alfred forged a new non-aggression pact with Lythos and the other countries, ensuring a long period of peace.
Records reveal Alfred's reign was brief, as he died an early death. However, he was loved by his people, and there is no doubt his life was full of joy.
Divine Dragon Alear & Floral Protector Alfred
Alear became the new Divine Dragon Monarch. His/Her bonds with the rulers of each nation resulted in lasting peace.
Alfred continued training after taking the throne and worked on the behalf of Firene and Lythos. His long life, a blessing of the Divine Dragon Monarch, was full of joy.
Quotes
---
This section has been marked as a stub. Please help improve the page by adding information.
---
Battle quotes
| | | | |
| --- | --- | --- | --- |
| " | We started this journey together-now let's end it together. May our world prosper, Divine One! | " | — Alfred in Chapter 26. |
"
Alfred: Wow, the khans fought in the arena for the right to rule? It's almost like fate brought us here.
Lucina: The khans didn't battle. They picked champions to fight on their behalf.
Alfred: Phew! If that is the case, I think it is fortunate that this place is not the true arena.
Lucina: Haha, indeed. Now, come at me!
"

— Alfred and Lucina in The Exalt.
Critical quotes
| | | | |
| --- | --- | --- | --- |
| " | Scatter like petals. | " | — Alfred |
| | | | |
| --- | --- | --- | --- |
| " | Wither and fall. | " | — Alfred |
| | | | |
| --- | --- | --- | --- |
| " | I'll cut you down. | " | — Alfred |
Defeat quotes
Other quotes
Main article: Alfred/Quotes
Heroes quotes
Main article: Alfred/Quotes (Heroes)
Flavor text
Game
Text
(English)
Text
(Japanese)

Engage

The staunch and loyal crown prince
of Firene. He trains constantly to
strengthen his constitution.

真っ直ぐで純粋なフィレネの王子。
己の強靭な肉体のために鍛錬している。

Heroes

Crown prince of Firene, a peace-loving land.
He trains constantly with the intent of improving
his constitution. Appears in Fire Emblem Engage.

平和を愛する国、フィレネ王国の第一王子。
己の強靭な肉体のために鍛錬している。
(登場:『ファイアーエムブレム エンゲージ』)
Etymology and other languages
Names, etymology and in other regions
Language
Name
Definition, etymology, and notes
English

Alfred

A masculine given name of Anglo-Saxon origin, meaning "elf counsel".

Japanese

アルフレッド

Officially romanized as Alfred.

Spanish

Alfred

--

French

Alfred

--

German

Alfred

--

Italian

Alfred

--

Portuguese

Alfred

--

Korean

알프레드

Alfred

Simplified Chinese

阿尔弗雷德

Alfred

Traditional Chinese

阿爾弗雷德

Alfred
Gallery
Official artwork
Artwork of Alfred from Engage.
Screenshots
References
↑ "I'm joining the main cast of Fire Emblem Engage as Alfred, as well as joining Fire Emblem Heroes." — Nick Wolfhard on Twitter, Twitter, Published: January 16, 2022, Retrieved: January 16, 2022
↑ 2.0 2.1 2.2 "

アルフレッド(CV:木村良平さん)は、「フィレネ王国」の第一王子で、神竜と一緒に戦う爽やかな青年です。優しく鍛錬好きで、花を愛する幸福主義者です。

" — Fire Emblem JP on Twitter, Twitter, Published: October 3, 2022, Retrieved: October 3, 2022
| | |
| --- | --- |
| | This article is part of Project Characters, a project focused on writing articles for every character present in the Fire Emblem series. |