Site News
Warning: This wiki contains spoilers. Read at your own risk!


Social media: If you would like, please join our Discord server, and/or follow us on Twitter or Tumblr!

Engage info: As the game has only recently released, we lack much key information. Please help add any info that you can.
Gatekeeper
From Fire Emblem Wiki, your source on Fire Emblem information. By fans, for fans.
---
This page has been marked as a stub. Please help improve the page by adding information.
---
Gatekeeper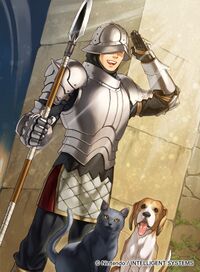 Artwork of the gatekeeper from Cipher.
---
The guard who watches over the gates of Garreg Mach Monastery. A kind man who cares deeply for all Heroes who pass through his gate.
Gender

Male

Race
Family

Older twin brother
Younger twin brother

Nationality
Title(s)

Gatekeeper

Starting class
Voiced by

Kyle McCarley
(English, all appearances)
Shinobu Matsumoto
(Japanese, all appearances)

Appearance(s)
| | | | |
| --- | --- | --- | --- |
| " | Greetings, Professor! Nothing to report! | " | — Gatekeeper's normal greeting to Byleth. |
Only known by his occupation, this unnamed gatekeeper (Japanese: 門番 gatekeeper) is a soldier of the Church of Seiros that diligently guards the entrance of Garreg Mach Monastery.
Biography
The gatekeeper was born in Adrestia. At some point before Imperial year 1180, he left the Empire and joined the Church of Seiros, becoming the guard of Garreg Mach Monastery's entrance. After Edelgard von Hresvelg, the newly crowned emperor of the Adrestian Empire, declares war on the church in 1181, the Gatekeeper remains in his position and protects the main gate from the invading imperial forces.
In 1185 in the Silver Snow, Azure Moon and Verdant Wind routes, the gatekeeper returns to the monastery and resumes his role. In the Crimson Flower route, it is uncertain if it is still the same person or his younger twin brother took over the position. Regardless, it is revealed that his twin is forced to retreat along with the church to the Holy Kingdom of Faerghus.[1]
Role
The gatekeeper is an NPC ally found while exploring Garreg Mach Monastery. Talking to him during Chapter 9 can also allow Byleth to choose the student they can meet during the Goddess Tower event.
Role
The Gatekeeper was first made available starting from August 17, 2021 in a special brave variation as part of the summoning event surrounding the launch of the Howling Descent update. The aforementioned brave variation of the Gatekeeper is the only one currently available in Heroes, based on his Three Houses incarnation.
Starting stats
Gatekeeper: Nothing to Report is only available at 5★ rarity.
Skill set
Skill set
Skill
Rarity
SP cost
Wind
Innate
Elwind
Innate
Rexcalibur
Innate
Charging Horn
Innate
Harsh Command
Innate
Harsh Command+
★★★★★
400 SP

A

Close Counter
★★★★★
300 SP

A

Close Reversal
★★★★★
300 SP

B

Detailed Report
★★★★★
300 SP

C

Spur Def 1
★★★★★
50 SP

C

Drive Def 1
★★★★★
120 SP

C

Drive Def 2
★★★★★
240 SP

C

Joint Drive Def
★★★★★
300 SP
Personality and character
The gatekeeper during his interactions is shown to be somewhat unobservant and inept at his job, almost always claiming there's nothing to report despite the recent events happening in the monastery.
Quotes
---
This page has been marked as a stub. Please help improve the page by adding information.
---
Main article: Gatekeeper/Quotes (Heroes)
Other appearances
The Gatekeeper is featured on one card in Fire Emblem Cipher.
Fire Emblem Cipher data for Gatekeeper
Guard Informing of Calm, Gatekeeper
"My job is to stand at this glorious entrance and leisurely watch over the comings and goings of everyone. Er…and by that, I mean…to vigilantly guard this entrance with my very life!"
Attack: 40
Support: 10
Range: 1
Deploy Cost: 1
Class: Soldier
Tier: Base
Class Change Cost: --
"Nothing to report!":

[Activate]

[] Choose 1 other ally. Until the end of the turn, that ally gains +10 attack.
Monastery Sentry:

[Always]

This unit is unable to attack.
Attack Emblem:

[Support]

Until the end of this combat, your attacking unit gains +20 attack.
Card #P21-006PR • Artist: Senri Kita
Some card information translation provided by Serenes Forest.
For more detailed strategic information on these cards, see their TCG wiki article on Gatekeeper .
The gatekeeper makes a cameo appearance in the Garreg Mach Monastery stage, showing up in the background during the marketplace portion of the battlefield.
Flavor text
Game
Text
(English)
Text
(Japanese)

Heroes

The guard who watches over the gates of
Garreg Mach Monastery. A kind man who cares
deeply for all Heroes who pass through his
gate. Appears in Fire Emblem: Three Houses.
ガルグ=マク大修道院の門を守る兵士。
常に英雄たちを案ずる優しさを持つ。
(登場:『ファイアーエムブレム 風花雪月』)

Warriors: Three Hopes


(Scarlet Blaze)
Gatekeeper for the Imperial Army

Warriors: Three Hopes


(Azure Gleam)
Gatekeeper for the Kingdom Army

Warriors: Three Hopes


(Golden Wildfire Part I)
Gatekeeper for the Alliance Army

Warriors: Three Hopes


(Golden Wildfire Part II)
Gatekeeper for the Federation Army
Etymology and other languages
Names, etymology and in other regions
Language
Name
Definition, etymology, and notes
English

Gatekeeper

--

Japanese

門番

Gatekeeper

Spanish

Guardia

Guard

French

Garde

Guard

German

Torwächter

Gatekeeper

Italian

Piantone

Guard

Portuguese
(Brazil)

Guardião

Guardian

Korean

문지기

Gatekeeper

Simplified Chinese

门卫

Gatekeeper

Traditional Chinese

門衛

Gatekeeper
Gallery
Heroes artwork
References
↑ "My older twin works for the Knights of Seiros, but I think he's just a grunt. Not a noble gate keeper like yours truly. Unlike me, he's very devout. He left the Empire a long time ago." — The gatekeeper while exploring in Crimson Flower Chapter 13, Fire Emblem: Three Houses
| | |
| --- | --- |
| | This article is part of Project Characters, a project focused on writing articles for every character present in the Fire Emblem series. |
Fire Emblem: Three Houses
Playable characters

Black Eagles

Bernadetta • Caspar • Dorothea • Edelgard • Ferdinand • Hubert • Linhardt • Petra

Blue Lions

Annette • Ashe • Dedue • Dimitri • Felix • Ingrid • Mercedes • Sylvain

Golden Deer

Claude • Hilda • Ignatz • Leonie • Lorenz • Lysithea • Marianne • Raphael
Other
Alois • AnnaDLC • Byleth • Catherine • Cyril • Flayn • Gilbert • Hanneman • Jeritza • Manuela • Seteth • Shamir

Ashen Wolves

DLC
Balthus • Constance • Hapi • Yuri
Non-playable characters
AbysskeeperDLC • Duke Aegir • Lord Arundel • Count Bergliez • Count Hevring • Count Gloucester • Count Varley • Fleche • Gatekeeper • Duke Gerth • Glenn • Holst • Ionius IX • Jeralt • Judith • Ladislava • Lambert • Margrave Gautier • Monica • Nader • Patricia • Randolph • Rhea • Rodrigue • Rufus • Seiros • Sitri • Sothis • Tomas • Tiana
Bosses
Acheron • AelfricDLC • Alois • Lord Arundel • Bias • Blaiddyd • Caspar • Catherine • Charon • Chilon • Claude • Cornelia • Daphnel • Dedue • Death Knight • Dimitri • Dominic • Baron Dominic • Edelgard • Felix • Ferdinand • Flame Emperor • Flayn • Fraldarius • Gautier • Gloucester • Goneril • Gwendal • Hubert • Ingrid • The Immaculate One • The Immovable • Judith • Kostas • Kronya • Ladislava • Lamine • Linhardt • Lonato • Lorenz • Mercedes • Metodey • Miklan • Myson • Nader • Nemesis • Baron OchsDLC • Odesse • Pallardó • Pittacus • Randolph • Rhea • Riegan • Rodrigue • Seteth • Shamir • Solon • Sylvain • Thales • Wandering Beast • The Wind Caller
Personal weapons and regalia
Aegis Shield • Areadbhar • Asclepius • Athame • Axe of Ukonvasara • Aymr • Blutgang • Caduceus Staff • Circe Staff • Crusher • Failnaught • Fetters of Dromi • Freikugel • The Inexhaustible • Lance of Ruin • Lúin • Ochain Shield • Rafail Gem • Scythe of Sariel • Seiros Shield • Spear of Assal • Sword of Begalta • Sword of Moralta • Sword of Seiros • Sword of the Creator • Tathlum Bow • Thunderbrand • Thyrsus • Vajra-Mushti
Chapters
Part I

Prologue: An Inevitable Encounter • 1: Three Houses • 2: Familiar Scenery • 3: Mutiny in the Mist • 4: The Goddess's Rite of Rebirth • 5: Tower of Black Winds • 6: Rumors of a Reaper • 7: Field of the Eagle and Lion • 8: The Flame in the Darkness • 9: The Cause of Sorrow • 10: Where the Goddess Dwells • 11: Throne of Knowledge • 12: To War / Outset of a Power Struggle
Part II
Silver Snow

13: Reunion at Dawn • 14: A King Without a Kingdom • 15: Valley of Torment • 16: The Rose-Colored River • 17: The Impregnable Fortress • 18: The Chaos of War • 19: Conclusion of the Crossing Roads • 20: The City Without Light • 21: Following a Dream
Azure Moon

13: Reunion at Dawn • 14: The Delusional Prince • 15: Valley of Torment • 16: The Rose-Colored River • 17: Blood of the Eagle and Lion • 18: The King's Triumphant Return • 19: The Golden Deer's Plea • 20: The Impregnable Fortress • 21: Our Chosen Paths • 22: Oath of the Dagger
Verdant Wind

13: Reunion at Dawn • 14: The Alliance Leader's Ambitions • 15: Valley of Torment • 16: The Rose-Colored River • 17: Blood of the Eagle and Lion • 18: The Golden Scheme • 19: The Chaos of War • 20: Conclusion of the Crossing Roads • 21: The City Without Light • 22: Fódlan's New Dawn
Crimson Flower

13: Beyond Escape • 14: The Master Tactician • 15: Tempest of Swords and Shields • 16: Lady of Deceit • 17: Field of Revenge • 18: To the End of a Dream
Paralogues
Part I
Black Market SchemeDLC • A Cursed RelicDLC • Death Toll • Dividing the World • Falling Short of Heaven • The Forgotten • Land of the Golden Deer • An Ocean View • Oil and Water • Rumored Nuptials • The Secret MerchantDLC • Sword and Shield of Seiros • Tales of the Red Canyon • True Chivalry • War for the Weak
Part II
Darkness Beneath the Earth • Dividing the World • Eternal Guardian • The Face Beneath • Foreign Land and Sky • Forgotten Hero • Insurmountable • Legend of the Lake • Retribution • The Secret MerchantDLC • The Silver Maiden • The Sleeping Sand Legend • Weathervanes of Fódlan
Cindered Shadows
(DLC side story)

1: The Fourth House • 2: What Lies Beneath • 3: The Rite of Rising • 4: Danger in the Dark • 5: Betrayal • 6: Return to Me • 7: Wolf Pack
Locations
Fódlan • Adrestia • Faerghus • Garreg Mach Monastery (Abyss) • Leicester • Almyra • Brigid • Dagda • Sreng • Zahras
Groups, objects and concepts
10 Elites • Ashen Wolves • Black Eagles • Blue Lions • Children of the Goddess • Church of Seiros (Knights of Seiros) • Crests (Crest Stone) • Divine Pulse • Golden Deer • Heroes' Relics • Insurrection of the Seven • Monsters • Those who slither in the dark • Tragedy of Duscur • War of Heroes
Related topics
Music Library • Name chart • Other games (

Warriors: Three Hopes

) • Pre-release information • Unused content • Downloadable content • List of quests • Class mastery
Fire Emblem Warriors: Three Hopes
Playable characters
Scarlet Blaze
Ashe • Balthus • Bernadetta • Byleth • Caspar • Constance • Dorothea • Edelgard • Ferdinand • Hapi • Hubert • Ignatz • Jeralt • Jeritza • Leonie • Linhardt • Lorenz • Lysithea • Manuela • Marianne • Mercedes • Monica • Petra • Raphael • Shamir • Shez • Yuri
Azure Gleam
Annette • Ashe • Balthus • Bernadetta • Byleth • Catherine • Constance • Dedue • Dimitri • Dorothea • Felix • Flayn • Hapi • Ignatz • Ingrid • Jeralt • Jeritza • Linhardt • Lorenz • Marianne • Mercedes • Petra • Raphael • Rodrigue • Seteth • Shamir • Shez • Sylvain • Yuri
Golden Wildfire
Ashe • Balthus • Bernadetta • Byleth • Claude • Constance • Dorothea • Hapi • Hilda • Holst • Ignatz • Jeralt • Leonie • Linhardt • Lorenz • Lysithea • Marianne • Petra • Raphael • Shamir • Shez • Yuri
Other
Arval • Gatekeeper • Rhea • Sothis
Non-playable characters
Acheron • Alois • Anna • Count Bergliez • Captain Berling • Cleobulus • Fleche • Margrave Gautier • Getz • Count Gloucester • Goneril • Gustave • Hanneman • Count Hevring • The Immaculate One • The Immovable • Judith • Ladislava • Lazley • Randolph • Seiros • Solon • Thales • Tomas • Count Varley • The Wind Caller (TBA)
Bosses
Acheron • Duke Aegir • Anaximandros • Lord Arundel • Count Bergliez • Bias • Byleth • Caspar • Catherine • Claude • Cornelia • Cyril • Death Knight • Dimitri • Dolofonos • Epimenides • Ferdinand • Flayn • Fleche • Margrave Gautier • Ingrid • Jeralt • Kostas • Kronya • Ladislava • Metodey • Myson • Nader • Pallardó • Pittacus • Rhea • Rufus • Seteth • Shahid • Shamir • Shez • Solon • Thales • Count Varley (TBA)
Personal weapons and regalia
Aegis Shield • Amalthea • Areadbhar • Asclepius • Athame • Axe of Ukonvasara • Aymr • Blutgang • Caduceus Staff • Circe Staff • Crusher • Dahaka • Failnaught • Fetters of Dromi • Freikugel • Hrotti • Ichor Scroll • The Inexhaustible • Járngreipr • Labraunda • Lance of Ruin • Lúin • Ochain Shield • Rafail Gem • Ridill • Scroll of Talos • Scythe of Sariel • Seiros Shield • Shamshir • Spear of Assal • Suttungr's Mystery • Sword of Begalta • Sword of Moralta • Sword of Seiros • Sword of the Creator • Tathlum Bow • Thunderbrand • Thyrsus • Vajra-Mushti • Wind Caller's Genesis (TBA)
Chapters
Prologue

0: Crossed Roads • 1: A Chance Encounter • 2: Three Houses • 3: The Shadows of Adrestia / Crisis in Fhirdiad / The Battle for the Locket
Scarlet Blaze

4: The Struggle Commences • 5: Skirmish in the Fog • 6: Bridge of Betrayal • 7: The Triumph of Valor • 8: The Maiden's Peril • 9: Unrest in Enbarr • 10: Shifting History • 11: Heroic Bloodlines • 12: The Rising Darkness • 13: Severing the Past • 14A: A Clash of Ambitions • 14B: Torment of the Eagle and Lion • 15: The Hour of Vengeance • 16: Into the Chasm • Final: A Path Forward
Azure Gleam

4: To War! • 5: Skirmish in the Fog • 6: Conspiracy in the Air • 7: The King Awakens • 8: The Blood-Stained Lance • 9: Reunion at the Fortress City • 10: Fanaticism • 11: Reprisal • 12: A Trick of the Goddess • 13: Clash of Torment • 14: The Absent Emperor • 15: The Hour of Vengeance • 16: Into the Chasm • Final: The End of Tragedy
Golden Wildfire

4: To War! • 5: The Golden Guardian • 6: The Leader's Stratagem • 7: A Contest of Beasts • 8: What Makes a King • 9: The End of the Alliance • 10: Love and Loss • 11: The Sword Swings Wide • 12: Two Kings • 13: Darkness Attacks • 14: A Symbol of the Past • 15: The Hour of Vengeance • 16: Into the Chasm • Final: Field of Beginnings
Paralogues

The Ashen Wolves' Reunion • Coming Clean • Cycles of Nostalgia • Eagles, Lions, and Deer • Enshrouded Memories • Evil's Bane and Love's Protection • A Grand Day for the Opera Company • An Incurable Shut-In • Like Cats and Dogs • Love and Hate in Wartime • Mercenary Complications • A Night of Wonder • A Noble Among Nobles • Raiders from the North • A Reason to Fight • Right Where They're Wanted • The Saints' Forge • The Seiros Snare • Under the Protection of the Golden Deer • Unsettling Truths • What Lies Within • Wildflowers for the Future
Locations
Fódlan • Adrestia • Faerghus • Garreg Mach Monastery (Abyss) • Leicester • Almyra • Brigid • Dagda • Sreng • Zahras
Groups, objects and concepts
10 Elites • Ashen Wolves • Black Eagles • Blue Lions • Children of the Goddess • Church of Seiros (Knights of Seiros) • Crests (Crest Stone) • Golden Deer • Heroes' Relics • Insurrection of the Seven • Monsters • Those who slither in the dark • Tragedy of Duscur • War of Heroes
Related topics
Music Player • Name chart • Other games (

Warriors

•

Three Houses

) • Pre-release information (Unused content)