Site News
Warning: This wiki contains spoilers. Read at your own risk!


Social media: If you would like, please join our Discord server, and/or follow us on Twitter or Tumblr!

Engage info: As the game has only recently released, we lack much key information. Please help add any info that you can.
Chloé
From Fire Emblem Wiki, your source on Fire Emblem information. By fans, for fans.
---
This article's subject is about a recently released game or expansion. As such, key information is likely to be missing. Please help out and add the information that you can.
---
---
This page has been marked as a stub. Please help improve the page by adding information.
---
Chloé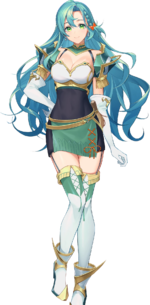 Artwork of Chloé from Fire Emblem Heroes.
---
Princess Céline's retainer. A woman of noble birth who loves fairy tales and sampling folk food.
| | |
| --- | --- |
| Gender | Female |
| Race | Human |
| Age | 18 |
| Birthday | April 27th |
| Height | 167 cm (5'5") |
| Nationality | |
| Starting class | |
| Voiced by | |
| Appearance(s) | |
Chloé (Japanese: クロエ Chloe) is a playable character in Fire Emblem Engage.
Biography
Chloé is a royal castle knight of the Kingdom of Firene.[1]
Role
Chloé is a playable character.
Starting stats and growth rates
| | |
| --- | --- |
| | Recruitment: Chapter 4, automatically from turn 1. |
Analysis
This character analysis section may not be accurate to every player's experience.
Boasting superb all-around stats, Chloé will excel in any role the player chooses for her. Still, there's little reason to stray from her most obvious promotion, the Griffin Knight. It's a very strong class that perfectly complements Chloé's innate growths, giving her an ideal Def/Res balance on top of high evasion, a large HP pool that can absorb one shot from a Silver Bow if need be (mitigating to some degree the Griffin Knight's only weakness), the speed to double any enemy in the game, and enough Str and Mag to one-round most targets as long as she's properly armed. That is best achieved by choosing the sword variant of Griffin Knight and forging a Levin Sword – it is far superior to a Flame Lance and will also outperform a Javelin since Chloé's Mag will eventually outgrow her Str and, more importantly, almost all of the tougher enemies in the game have more Def than Res. A backup physical sword can still be carried to easily eliminate caster-type enemies. Overall, a well-equipped Chloé in the Griffin Knight class is a top-tier unit with good one-round potential for the player phase and good defenses for the enemy phase, all while packing an unrestricted 6 movement and staff utility.
Role
Chloé is one of the characters added to the game in the King of Light update, and became available for summoning by players on January 17, 2023. Only one variation of Chloé is currently available in Heroes, based on her Engage incarnation.
Starting stats
Chloé: Fairy-Tale Flier is only available at 5★ rarity.
Skill set
Skill set
Skill
Rarity
SP cost
Iron Lance
Innate
Steel Lance
Innate
Silver Lance
Innate
Dreaming Spear
Innate
Night Sky
Innate
Glimmer
★★★★★
200 SP

A

Distant Counter
★★★★★
300 SP

A

Distant Stance
★★★★★
300 SP

B

Pegasus Flight 1
★★★
60 SP

B

Pegasus Flight 2
★★★★
120 SP

B

Pegasus Flight 3
★★★★★
240 SP

B

Pegasus Flight 4
★★★★★
300 SP
Personality and character
Chloé is gentle, loves her lord Céline, and likes fairy tales, beautiful scenery, and finding picturesque combinations of the two.[1]
Endings
Fairy-Tale Flier Chloé
Chloé comforted the royal family and her fellow soldiers with deliveries of folk food. Soon, Firene's local delicacies started including more unusual flavors.
Years later, she met someone at a food stall, and they had a fairy-tale, whirlwind romance that blossomed into lifelong love.
Divine Dragon Alear & Fairy-Tale Flier Chloé
Alear became the new Divine Dragon Monarch. His/Her bonds with the rulers of each nation resulted in lasting peace.
Chloé was a steadfast and supportive partner to the busy new monarch. The love they shared spawned many a fairy tale for future generations.
Quotes
---
This section has been marked as a stub. Please help improve the page by adding information.
---
Battle quotes
| | | | |
| --- | --- | --- | --- |
| " | This is the part of the tale where when we fall to the dark or rise to the light. Let's reach for the light! | " | — Chloé in Chapter 26. |
Critical quotes
| | | | |
| --- | --- | --- | --- |
| " | It's tea time! | " | — Chloé |
| | | | |
| --- | --- | --- | --- |
| " | Hungry for more? | " | — Chloé |
| | | | |
| --- | --- | --- | --- |
| " | I'm ready to dig in. | " | — Chloé |
| | | | |
| --- | --- | --- | --- |
| " | I've had my eye on you. | " | — Chloé |
Defeat quotes
Other quotes
Main article: Chloé/Quotes
Heroes quotes
Main article: Chloé/Quotes (Heroes)
Flavor text
Game
Text
(English)
Text
(Japanese)

Engage

Princess Céline's retainer. A woman
of noble birth who loves fairy tales
and sampling folk food.

セリーヌの臣下。
御伽噺と珍味が大好きな淑女。

Heroes

Royal knight of Firene and retainer to Princess
Céline. Descended from a noble line, she also
loves fairy tales and folk food. Appears in
Fire Emblem Engage.

フィレネ王国の王城騎士。セリーヌの臣下。
御伽噺と珍味が大好きな淑女。
(登場:『ファイアーエムブレム エンゲージ』)
Etymology and other languages
Names, etymology and in other regions
Language
Name
Definition, etymology, and notes
English

Chloé

French form of Chloe, a feminine given name of Greek origin meaning "blooming" or "fertility".

Japanese

クロエ

Officially romanized as Chloe.

Spanish

Chloé

--

French

Chloé

--

German

Chloé

--

Italian

Chloé

--

Portuguese

Chloé

--

Korean

클로에

Chloe

Simplified Chinese

克萝艾

Chloe

Traditional Chinese

克蘿艾

Chloe
Gallery
Official artwork
References
↑ 1.0 1.1 1.2 "クロエ(CV:早見沙織さん)は、「フィレネ王国」の王城騎士。おっとりとした性格で、主君である王女セリーヌのことが大好きなようです。おとぎ話や美しい景色が好きで、いつも絵になる組み合わせを探しています。" — Fire Emblem JP on Twitter, Twitter, Published: October 28, 2022, Retrieved: October 29, 2022
| | |
| --- | --- |
| | This article is part of Project Characters, a project focused on writing articles for every character present in the Fire Emblem series. |