Site News
Warning: This wiki contains spoilers. Read at your own risk!


Social media: If you would like, please join our Discord server, and/or follow us on Twitter or Tumblr!

Engage info: As the game has only recently released, we lack much key information. Please help add any info that you can.
Sonia
From Fire Emblem Wiki, your source on Fire Emblem information. By fans, for fans.
This page is about the Elibean Sage; for the Rigelian Mage, see Sonya.
Sonia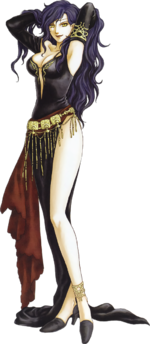 Artwork of Sonia from The Blazing Blade.
---
Brendan's wife, and a devout servant of Nergal.
| | |
| --- | --- |
| Gender | Unknown (lives as female) |
| Race | |
| Family | |
| Starting class | |
| Voiced by | |
| Appearance(s) | |
| | | | |
| --- | --- | --- | --- |
| " | There are two types of people in the world, Ursula. Those chosen to lead and those fit only to serve: human refuse. That's all. Only two types. I am the former, a perfect specimen chosen by Lord Nergal. | " | — Sonia to Ursula |
Sonia (Japanese: ソーニャ Sonia) is one of Nergal's morphs who infiltrated the Black Fang, the adoptive mother of Nino, wife of Brendan Reed and stepmother of Linus and Lloyd, and a major antagonist in the second arc of Eliwood's and Hector's tales of Fire Emblem: The Blazing Blade. Despite being a major character, the player is not required to fight her.
Role
Twelve years prior to any of the game's events, Sonia and Nergal, seeking the secret of the dragons, ambushed a family of four from the most famed house of magic wielders in all of Lycia. The mother of the family, Iris, clutched tight to her daughter Nino during the struggle, but Sonia used the son of the family, Kai, as a human shield; Sonia managed to kill Iris, Kai, and the father of the family, Juge, with her bare hands, only sparing Nino as per Nergal's suggestion. Sonia subsequently raised Nino as if she were her own daughter, treating her badly over the years.
Years later, in order to bring the Black Fang under Nergal's control, Sonia started to get close to its leader, Brendan Reed, eventually marrying him and becoming stepmother to Brendan's two sons, Linus and Lloyd. Linus and Lloyd from the beginning suspected something was amiss about Sonia, and Brendan himself never fully trusted her either, but the five of them began living as a family nonetheless; were it not for Linus and Lloyd, Brendan would likely have been killed around this timeframe. Over the years, Sonia has members of the Black Fang replaced one by one with Nergal's morphs. Linus and Lloyd were not the only ones suspicious of Sonia's motives, as Harken disguised as a Black Fang in both Lloyd's and Linus's versions of Chapter 23 (24 Hector) is shown to have intel on Sonia's motives.
By the time Eliwood's and Hector's tales roll around, thirteen years after Sonia murdered Nino's family, the Black Fang was now largely under Nergal's control, with Brendan squarely under Sonia's thumb. Sonia is first mentioned in chapter 18 (19 Hector), where Nergal asks Limstella to contact her and arrange a meeting with the king of Bern; she is first physically seen two chapters later where Nergal has gathered her and Limstella into the area where Nergal tasks her with using Brendan to move the Black Fang and to make usage of the Four Fangs. The following chapter, Sonia has called together the Four Fangs and assigned them the task of eliminating Eliwood, whom she states is plaguing her by simply living; Eliwood is her designated target even if the player is playing Hector's tale and thus Hector is the player's main lord. Chapter 25 of Hector's tale shows she is the one responsible for releasing Pascal on Nergal's orders, despite Pascal having been imprisoned by her husband's orders.
By the time Chapter 24 (26 Hector) comes around, Sonia has met with King Desmond, and it is made apparent that she is ringleading the plot to have Prince Zephiel killed; the following chapter sees her assign the task to Nino and Jaffar, and assigning the task of stalling the opposing army to either Kenneth or Jerme; once Kenneth/Jerme fails, Sonia attempts to accelerate the operation and, showing her distrust for Nino, gives Jaffar the additional task of killing Nino.
Sonia serves as the boss of Chapter 26x (28x Hector), where she vows to finish off Eliwood herself if she has to despite Limstella's objections; as soon as Brendan arrives on the scene, Sonia shows her true colors to him and kills him, with Limstella harvesting his quintessence. Although injured by Brendan's attempt to defend himself, Sonia declares herself well enough to continue her duties; Sonia subsequently shows her true colors to Nino, who survived the attempt on her life, and is ultimately defeated by the opposing army. Sonia is left to die by Limstella, who reveals that she has no quintessence to harvest, continuing to insist on her humanity and superiority over Limstella even as she dies. Should the player not visit chapter 26x, Nergal finishes Sonia personally, no longer finding her useful, with her failure with the Zephiel assassination being deemed unforgivable.[1]
Stats
See also: Night of Farewells
Stats with two figures separated by a ~ are presented as a range, representing stats that vary due to random growths. The figures to the left and right of the ~ are the stat's minimum and maximum possible values respectively.
Normal Eliwood Hard Hector Hard
Role
Sonia is one of the characters added to the game in the Treachery update, and was made available to players in the fifty-forth Grand Hero Battle, which initially ran from April 7, 2021 through April 15, 2021. Only one variation of Sonia is currently available in Heroes, based on her The Blazing Blade incarnation.
Starting stats
Initial Stats Level 40 Stats

Note: This unit requires the usage of Trait Fruit to access any flaws and assets.
Skill set
Skill set
Skill
Rarity
SP cost
Thunder
Innate
Elthunder
Innate
Blárserpent
★★★
200 SP
Blárserpent+
★★★★★
300 SP
Chilling Wind
★★★
100 SP
Glacies
★★★★
200 SP

A

Fortress Res 1
★★★
40 SP

A

Fort. Def/Res 1
★★★★
100 SP

A

Fort. Def/Res 2
★★★★★
200 SP

C

Threaten Res 1
★★★
50 SP

C

Threat. Atk/Res 1
★★★
100 SP

C

Threat. Atk/Res 2
★★★★
200 SP
Personality and character
Sonia is a morph that sees herself as perfection chosen by Nergal, and has deluded herself to believe that she is human; this is in sharp contrast to her fellow feminine-construct morph Limstella, who embraces her identity as a morph. This leads Sonia to see Limstella as inferior, along with all other morphs. Sonia often refers to morphs as puppets.
Limstella is far from the only person she sees as below her. Nergal's assertions of her perfection empowers Sonia's narcissism, which is also supported by her rank. Sonia insists that treating people as equals leads to failure, and cites Vaida as a person who has failed due to treating others fairly.[2]
Ursula, a member of the Four Fangs, adores Sonia, and Sonia seems to actually like Ursula as well, giving her advice freely.[3] Ursula is one of the few people Sonia doesn't seem to openly look down on.
Sonia despises her adopted daughter, Nino. Sonia thinks of Nino as a failure, and neglects her daughter by not providing education or motherly love. Nino herself brushes this off and still seeks the love and approval of Sonia, but Sonia is all too happy to give Jaffar orders to kill Nino.
Quotes
Battle quotes
| | | | |
| --- | --- | --- | --- |
| " | Lord Nergal will have your quintessence! Only the chosen few will live to see the new world. Perfect people! People like me! | " | — Sonia, in Fire Emblem: The Blazing Blade. |
"
Nino: I thought for so long that you were my true mother...
Sonia: Ha ha ha! Your mother and father looked so much like you. They were so naive it made me want to vomit. I dressed in rags and entered their house with a child in my arms. They were sincerely concerned. Ha ha... Trusting a stranger is so utterly foolish. Oh, they came to regret their trust, but it was too late.
Nino: Aaahhh!!! You're no perfect being! You're a monster in human form! No mercy! No forgiveness!!!
"

— Sonia vs Nino, Fire Emblem: The Blazing Blade.
"
Jaffar: Here I come.
Sonia: Ingrate! You owe your life to Lord Nergal! You and that girl, you're nothing but filth! But it matters not, as long as your essence remains intact. No other part of you now has any value.
"

— Sonia vs Jaffar, Fire Emblem: The Blazing Blade.
Death quote
Heroes quotes
Main article: Sonia/Quotes (Heroes)
Other appearances
Fire Emblem Cipher
Sonia is featured on one card in Fire Emblem Cipher.
Fire Emblem Cipher data for Sonia
Black Flower Blooming in Darkness, Sonia
"Only the chosen few will live to see the new world. Perfect people! People like me!"
Attack: 60
Support: 20
Range: 1-2
Deploy Cost: 4
Class: Sage
Tier: Advanced
Class Change Cost: --
The Fang's Puppetmaster:

[Trigger]

[Once per turn]

When this unit's attack ends, if your opponent's support card failed to support the enemy during that attack, draw 1 card.
Bolting:

[Activate]

[] Until the end of the turn, this unit can attack enemies in the Back Line regardless of range.
Proof of Superiority:

[Support]

Draw 1 card. Choose 1 card from your hand, and send it to the Retreat Area. You may [] and each time you do, this skill is activated again.
Card #B13-045R • Artist: Kokon Konfuzi
Some card information translation provided by Serenes Forest.
For more detailed strategic information on these cards, see their TCG wiki article on Sonia .
Flavor text
Game
Text
(English)
Text
(Japanese)

The Blazing Blade

Brendan's wife, and a
devout servant of Nergal.

【黒い牙】首領の妻
ネルガルのしもべ

Heroes

A mysterious woman who seduced the leader
of the Black Fang. Her true loyalty lies with
Nergal, at whose instruction she secretly
manipulates events. Appears in Fire Emblem:
The Blazing Blade.

【黒い牙】首領の後妻におさまった謎の美女。
実質的な指導者ネルガルに忠誠を誓い、暗躍する。
(登場:『ファイアーエムブレム 烈火の剣』)
Etymology and other languages
Names, etymology and in other regions
Language
Name
Definition, etymology, and notes
English

Sonia

Variant of Sonya.[4]

Japanese

ソーニャ

Officially romanized as Sonia.

Spanish

Sonia

--

French

Sonia

--

German

Sonia

--

Italian

Sonia

--

Portuguese

Sonia

--

Traditional Chinese

索妮婭

Sonia
Gallery

Sprite Gallery
Sage

Anima

Staff

*
Heroes artwork
References